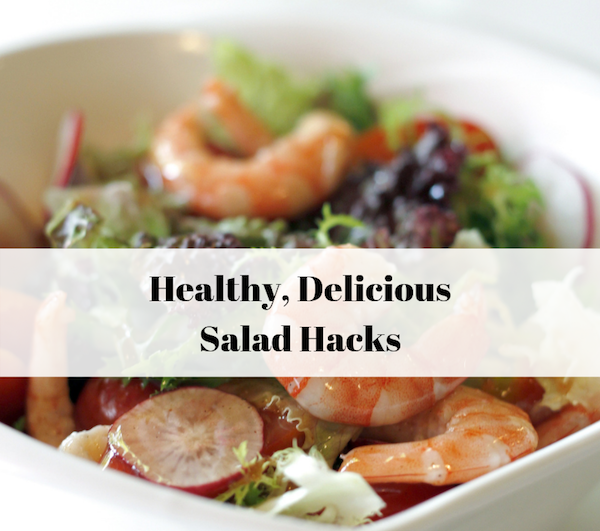 When you think of eating healthy food, what's the first thing that comes to mind?
Salad, right?
If you're trying to eat a little cleaner, you don't need to build your entire meal plan around salads, but they're certainly a nutritious and low-calorie option for lunch and dinner.
If you're like a lot of people though, you probably don't enjoy eating salads that much, so it can be hard to incorporate them into your lifestyle.
Never fear! If you're new to clean eating and struggling to make it work, I've put together some absolutely delicious ways to make salad taste good (without overdoing it on calories).
To make salad taste good, add more flavor and additional textures. Use a controlled amount of dressing, fresh herbs, and spices to make the flavors pop; while adding grains, seeds, and legumes can really bolster a salad and make it a lot more satisfying to eat.
But we'll get into all of those in more detail below — 15 healthy, delicious salad hacks in total!
Let's go!
---
1. Add dressing (or make your own)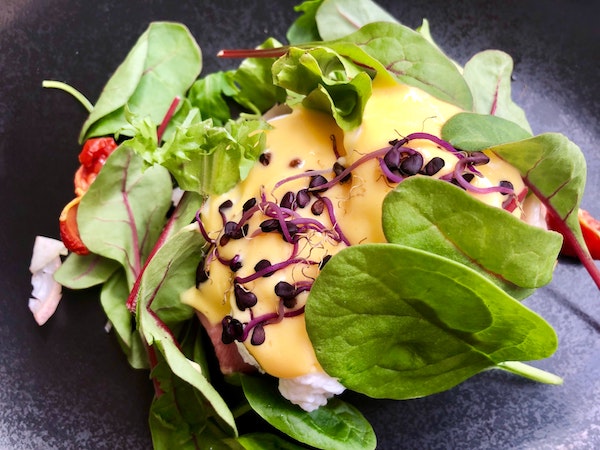 Adding dressing can often be like dropping a calorie bomb on your "healthy" meal.
Just two small tablespoons of full-fat ranch or blue cheese dressing can add over 150 calories to your salad.
Woah!
Instead, opt for oil and vinegar-based dressings, which will have fewer calories and include more healthy fats.
A healthy dose of balsamic vinaigrette or raspberry dressing can really make a salad pop.
(You can also opt for low-fat versions of creamier dressings like ranch.)
Another great choice is to make your own salad dressing at home. It's not that hard and you can control the amount of each ingredient, making it easier to whip up a slightly healthier version of your favorite fatty dressing.
Here's a homemade ranch dressing recipe that uses protein-packed and low-calorie Greek yogurt as the base, for example!
---
2. Add fresh herbs
If you've added a moderate amount of dressing, but you feel your salad is still missing a certain je ne sais quoi, consider throwing in some fresh herbs for more aromas and flavoring.
The best herbs to throw in your salads are:
Basil – Goes great with tomatoes
Parsley – Slightly bitter and pairs great with lemon flavors
Dill – Perfect if you've chosen a healthy cream-based dressing
Cilantro – Gives salads a yummy Mexican or Southwestern vibe; great with avocado, corn, and beans
There are so many other herb options to play with here.
Don't limit yourself to just plain old lettuce and veggies!
A few pinches of herb can really go a long way in spicing up your dish.
---
3. Add grains, nuts, seeds, or legumes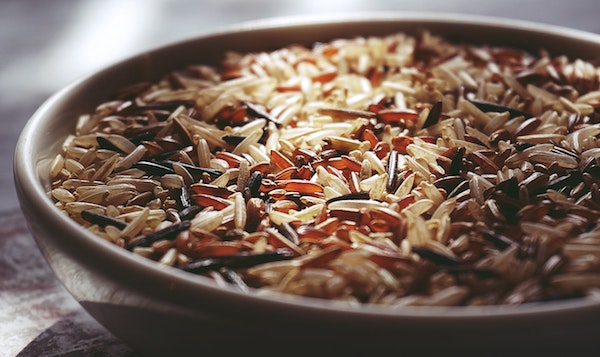 I mentioned at the top of this article that in addition to adding new flavors to your salad, you might really enjoy playing with the texture of it.
Adding grains, nuts, seeds, and legumes is a great way to make a salad feel heartier and more satisfying without adding too many calories.
Brown rice and quinoa will really thicken up a salad and give you some extra whole grains and fiber in your diet.
Almonds, walnuts, and sunflower seeds will give you a super satisfying crunch, plus a nice little boost of protein in a lot of cases!
And don't forget about your legumes. Some chickpeas or black beans will really power up your dish with extra protein, more flavor, and a satisfying texture.
Particularly with grains and legumes, you'll want to use a light touch or even a food scale to make sure you know how many extra calories are going into your salad.
In most cases, the flavor and health benefits will totally be worth the additional calories.
---
4. Add some cheese (just not too much!)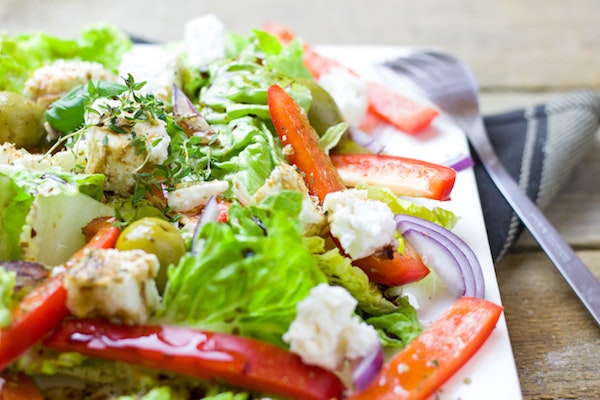 Want to add more protein and healthy fats to your salad?
Throw some cheese on top!
(Oh, and did I mention that cheese makes everything taste amazing?)
A few sprinkles of parmesan cheese will go a long way, only 122 calories for an entire ounce, which includes 10+ grams of protein!
Hunks of fresh mozarella are another great choice, and this is probably one of the tastiest ingredients around.
And goat cheese? Don't even get me started. Yummy.
---
5. Add lean protein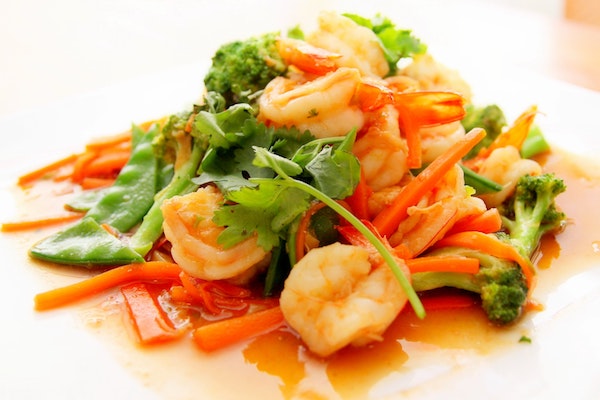 My preferred way to beef up a salad is to add a hefty amount of lean protein.
Grilled chicken, shrimp, and salmon are some of the healthiest and most delicious proteins you could add.
This will make you salad significantly more filling, more satisfying, and actually quite a bit healthier!
The meat will definitely add a few calories, so measure carefully, but the added protein is a huge benefit — especially if you're working out.
---
6. Add avocado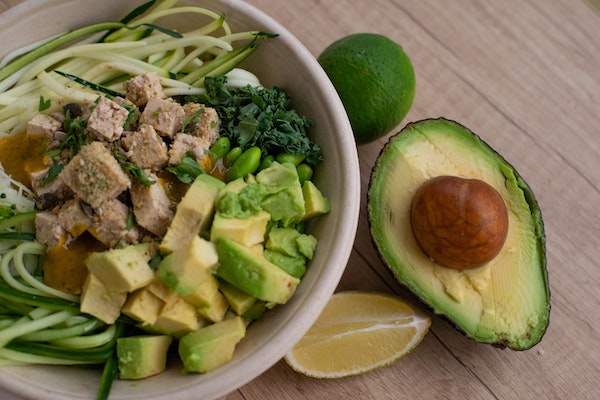 The health benefits of acovados are well-documented.
They're not the lowest calorie options on the planet, but they're packed with healthy fats, fiber, and potassium.
One whole avocado has about 250-300 calories, depending on its size, but the flavor and texture it adds to your salad will really make the whole experience a lot more enjoyable.
(If you salad has a few more calories, but keeps you full and satisfied for longer, then it's a worthwhile trade!)
---
7. Add a hard-boiled egg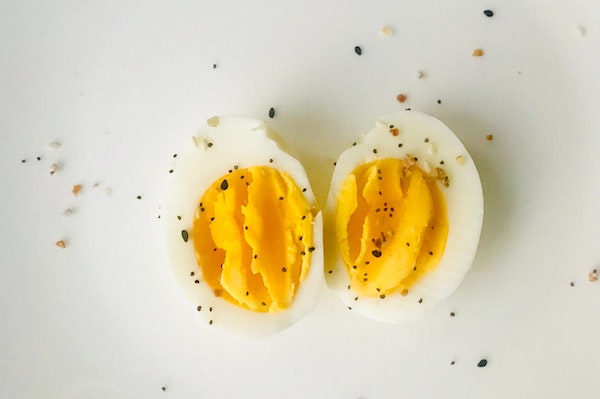 Talk about powering up the protein in your salad!
Hard-boiled egg isn't for everyone, but it's one of my all-time favorite salad ingredients.
Its soft texture pairs so well with crunchy lettuce and vinaigrette dressing.
Adding just one crumbled up hard boiled egg to your salad only tacks on about 75 calories, but gives you a nice boost of 6 grams of protein along with tons of critical vitamins.
---
8. Add seasonal fruit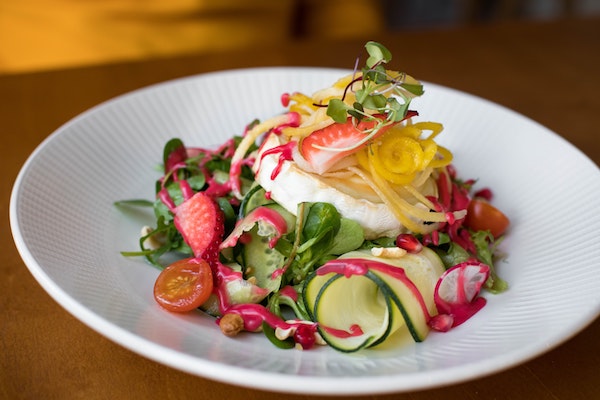 Fruit, on average, is tastier than vegetables.
Can we agree on this?
It might seem odd at first, but adding a little fruit to a veggie-heavy salad can really add an amazing pop of sweetness.
Try adding:
Strawberries
Raspberries
Apricots
Blueberries
Pears
Cranberries
And that's just the beginning.
You'll want to pick your fruit based on the season and which greens you've chosen for your salad. Here's a nifty guide to get you started.
---
9. Add some steamed veggies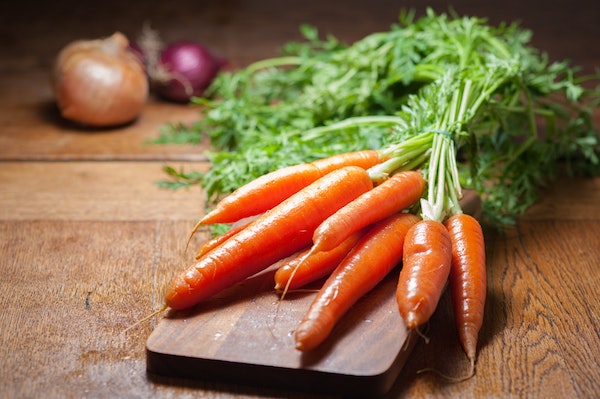 You've heard of adding vegetables to your salad (duh), but have you ever thought of steaming them first?
If the grassy crunch of a salad is getting you down, consider steaming some of your favorite ingredients before adding them for a softer texture and more condensed flavor.
The best bets:
Corn
Carrots
Broccoli
Cauliflower
The easiest way? Place the veggies in a steaming basket or strainer over a pot of boiling water.
Reduce the heat to low-medium and let the veggies steam for about 3 minutes or so, or until they're tender.
---
10. Marinate your greens in a healthy brew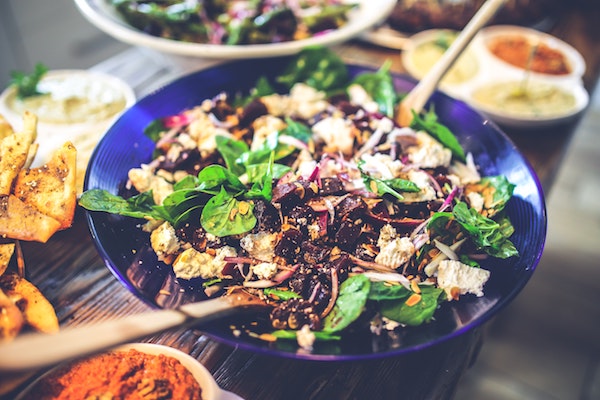 If you're using an oil and vinegar-based dressing, you can let your salad sit after tossing it in the dressing.
Leave it for 24 hours or so in the fridge, and the results will amaze you!
The greens will wilt and get a lot softer, not to mention that they'll be bursting with flavor.
Any other veggies you've added will also soak up incredible amounts of flavor and lose their aggressive crunch.
Here's a super simple marinated salad recipe that uses cauliflower, tomatoes, cherry peppers, and zucchini for a delicious summery vibe.
(You can also marinate just your greens, like lettuce or spinach, before adding in the other dry ingredients later.)
---
11. Add savory spices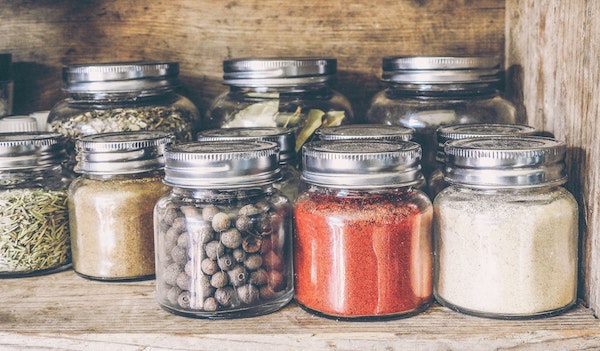 Seasonings are usually pretty low-calorie, so feel free to use them liberally!
(Read: My guide to zero calorie seasonings.)
A little cajun, garlic salt, curry powder, cumin, or red pepper will add TONS of flavor to a simple salad without ratcheting up the calorie count.
Experiment here with unique combinations to find what tastes good to you!
---
12. Blend and turn your salad into a soup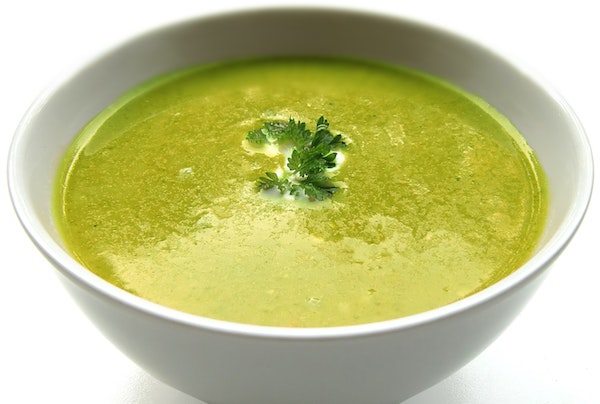 If you're just seriously struggling to eat salads on a regular basis, you might prefer them in soup form!
Cook up all the ingredients thoroghly, add some low-sodium chicken or vegetable broth, season liberally, and puree that puppy!
You'll end up with a super creamy, delicious, and healthy salad-soup.
Here are some really helpful instructions on how to do this from Epicurious.
---
13. Add a pinch of salt and pepper to the greens before dressing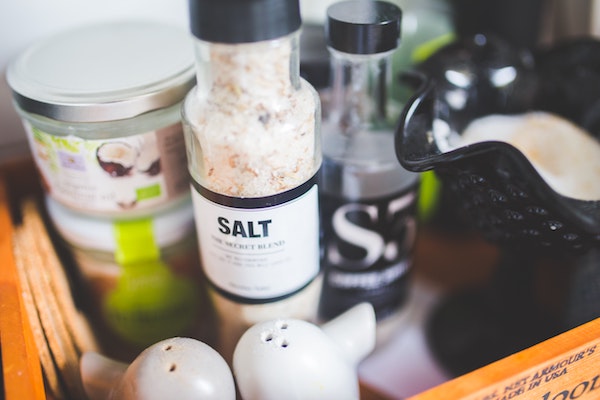 To really get the most out of your salad, it's sometimes best to combine many of the techniques on this list.
Try seasoning your greens, even with just salt and pepper, before you add the dressing.
It'll help ensure that every single bite comes alive with flavor, and you won't have to rely as heavily on oily or creamy dressings and those extra calories.
---
14. Mix greens together for more texture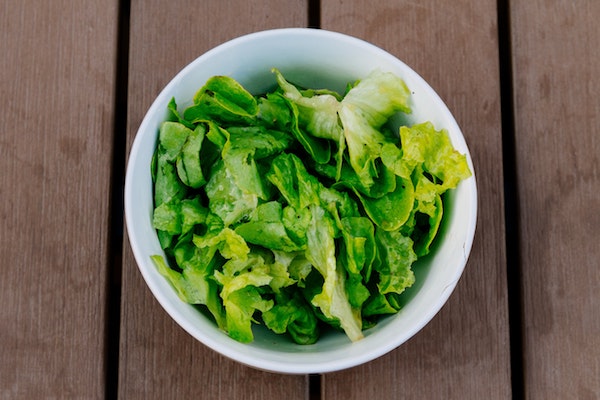 Romaine lettuce is an excellent green base for a salad, but for more variety and texture, you can include multiple greens.
Try a mix of:
Lettuce
Kale
Spinach
Arugula
Watercress
Mix and match to your heart's content.
Each, while similar, has a slightly different flavor and amount of crunch!
---
15. Toss and mix the salad for proper coverage!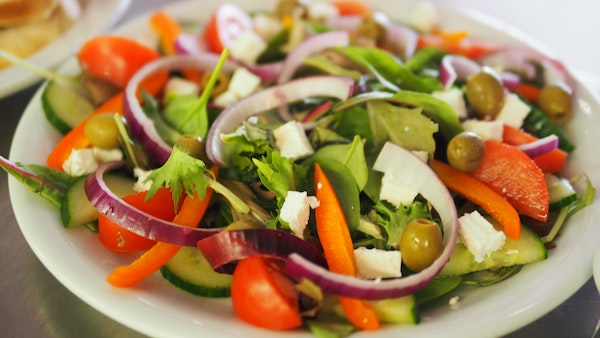 There's nothing worse than whipping up a delicious salad, drizzling over the dressing delicately, and then biting into a mouthful that's completely dry.
Drizzling your dressing or keeping it on the side is great for presentation and portion control, but you'll get the deepest, richest flavor results from tossing your salad thoroughly before serving.
You can still be measured and intentional about how muhc dressing you use, just be sure to get full coverage on all the ingredients!
---
Wrapping Up
There you have it, all of my best ideas for flavoring your salad and adding additional textures.
(Without adding too many calories.)
Yes, in some cases, you might need to add a few cals to really enjoy your salad, but if you choose ingredients that bring extra protein, fiber, or healthy carbs to the table, you can't go wrong.
Let me know in the comments if you think some of these tips might help you create healthier, yummier meals.
And if I missed any crucial tips, let me know!
Hope this helps, everyone.
(And if you need a little more help getting fit and eating right, start with my guide to workout motivation right here!)