If you're looking to join a gym, you've undoubtedly seen a few Anytime Fitness clubs around.
They're one of the largest fitness chains in the country, and the planet even, with over 4,000 locations worldwide.
People tend to be drawn toward Anytime for two reasons:
They're easy to find
They're extremely convenient with 24/7 open hours
Fitness can be a tough habit to keep, so these two factors can be the difference between going to the gym consistently for years or flaking out after a couple of months.
But is Anytime Fitness worth it? Is Anytime Fitness really a good gym? Here's a full review.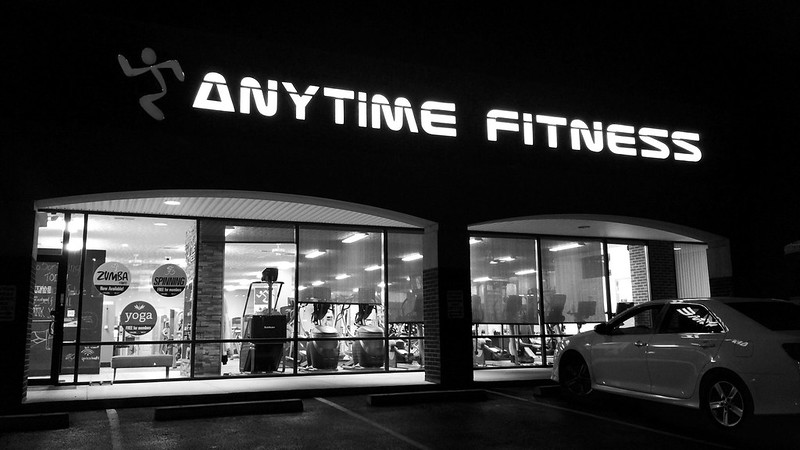 Anytime Fitness is a reasonably priced gym with exceptional convenience and a pretty good selection of equipment and group fitness classes. Each franchise is run by different management, but in general, people tend to be happy with the staff at Anytime. For 24-hour access to equipment and a great class schedule, Anytime Fitness is definitely worth it!
However, the monthly price tag could be a little bit cheaper since the equipment and class selection isn't quite as good as some similarly-priced competitors.
| Anytime Fitness Pros | Anytime Fitness Cons |
| --- | --- |
| 24/7 access | Class selection fairly basic |
| Great selection of equipment | Membership pricey for a mid-range gym |
| Extra amenities like tanning & personal training available | No pools, saunas, or hot tubs |
Here's a detailed breakdown of what you get with your Anytime Fitness membership, pros and cons from real members, and my overall Anytime Fitness review.
---
How much does Anytime Fitness cost?
Anytime Fitness fits firmly in the mid-range when it comes to gym membership cost.
It won't compete with the budget gyms like Planet Fitness and Crunch, which both start at about $10/month.
And it's not a high-end health club like Life Time or Equinox, which will both likely run over $100/month.
Expect to pay somewhere between $30-40 per month to join Anytime Fitness (or $49+ in Canada), plus annual fees, activation fees, etc. The exact price depends on location and current promotions.
You'll get the best deal, potentially under $30 in some areas, by signing up for a 24-month commitment. The standard contract is 12-months, and you may also be able to secure a no-contract or month-to-month membership at a premium.
You can often expect the sign-up fee to be around $80-100, however these vary greatly at each individual club around the country, as does the exact member rate.
(Learn how to negotiate these gym fees and membership costs here — you should also inquire about a free trial and a senior or student discount, if that applies to you!)
This price falls pretty much in line with what you'll pay at similar mid-range gyms like LA Fitness and Gold's Gym.
---
Anytime Fitness equipment, features & amenities
So we know Anytime is relatively affordable (though not bargain-bin cheap) and ultra-convenient.
What can you expect as a paying member?
Equipment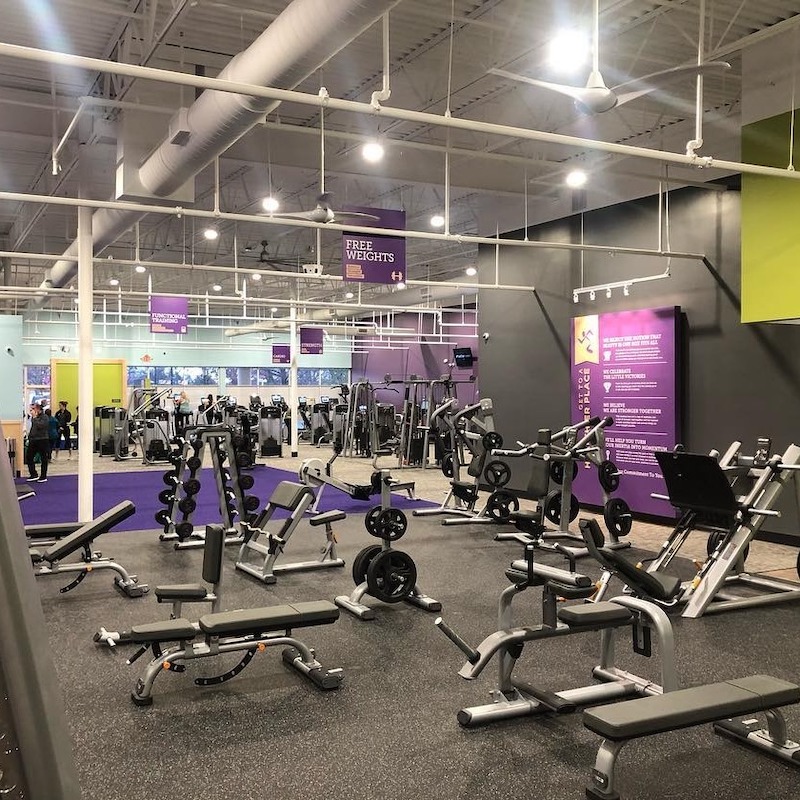 I always say this, and I'll probably remind you in every section of this article, but always check your local club before making a decision!
Not every Anytime Fitness (or any gym chain, for that matter) has exactly the same stuff. Some are bigger or smaller than others with more or less variety.
But in general, Anytime Fitness has a good reputation for their equipment.
You'll obviously find plenty of cardio machines like:
Treadmills
Stair machines
Rowers
And bikes
But you can also find a better-than-expected weightlifting area with:
Free weights
Heavy dumbbells
Racks (half and full)
And Smith machines
Many locations also include functional training equipment like battle ropes, kettlebells, plyometric boxes, and more.
My only knock on Anytime Fitness when it comes to equipment is that their facilities are usually smaller than some competitors and they won't have the pure quantity of bigger gyms.
Anytimes are usually tucked into shopping centers and strip malls and just don't have the same real estate as, say, LA Fitness.
---
Classes
This varies from location to location, but you'll often have to pay extra for group fitness classes at Anytime.
(Some locations include it with your membership, so double check this before you sign a contract.)
You won't find the greatest selection or fullest calendar of group fitness classes in the world here, but most Anytime clubs offer a handful of classes per day.
Expect to be able to participate in:
Yoga
Zumba
Pilates
Bootcamps
Silver Sneakers (senior workouts)
Check your local club's calendar to see what kinds of classes they offer, how often, and whether they're included with your membership price.
---
Pool & Spa
One major downside to joining Anytime Fitness is that none of their locations have a pool or any aquatic features (like a hot tub, sauna, steam room, etc.)
It's a shame because a lot of their competitors will offer these amenities for around the same monthly price.
However, if you don't like locker rooms full of wet people drying off from the pool or hot tub, you might like the vibe at Anytime.
---
Child Care
This is another major bummer for the parents out there.
Anytime Fitness does not offer childcare or daycare (as of this writing).
Again, check your local club, because it's certainly possible there are a few outliers out there. But in general, this is not an amenity you can expect to find at most Anytime Fitness clubs.
Most competitors in the mid-range like LA Fitness will have childcare options so this is a major knock on Anytime.
But again, if you don't have kids, you probably won't mind.
---
Other Amenities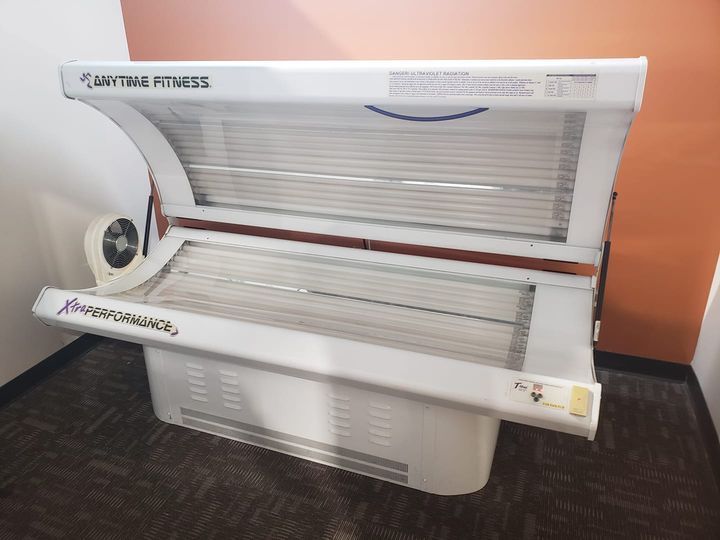 Anytime does have some other cool perks going for it, though, including:
24/7 access (even on many holidays)
Personal training & meal-planning (for an extra fee)
Clean locker rooms, showers, and private restrooms
Tanning beds at select locations
Hydromassage beds at select locations
Red light therapy booths at select locations
---
What real people are saying (Anytime Fitness reviews, pros, and cons)
Don't just take it from me.
Here's what real Anytime Fitness members have to say about what they like and don't like about their membership.
Pros
Locally owned
A lot of the reviews I've read mention how much people like the owners at their local club.
Since Anytime Fitness is a franchise, each one is operated a little bit different, but the owners almost always take great pride in their service and operation.
You can really get to know the staff, trainers, and management at your local Anytime, making it feel like more than just a gym.
Clean facilities
Some less expensive gyms get consistently hammered online for having poorly kept facilities.
Not Anytime!
People rave about how well-maintained these clubs usually are. Expect the equipment to be in working order and the locker rooms to be pleasant.
Convenient access
This is one of the main reasons people join Anytime, so it's no wonder to see it pop up as a pro so often in online reviews.
Yes, all Anytime clubs have 24/7 access — including on many major holidays.
That can be a game-changer for busy people or anyone with an unusual schedule.
---
Cons
Poor value
A lot of people join Anytime for the convenience, not realizing they're missing out on some key amenities.
No pool, no childcare, no basketball or other sports courts, and sometimes no included workout classes can be a real bummer.
Hard to cancel
I've heard a lot of people talk about having trouble canceling their Anytime Fitness membership and that the corporate office is unresponsive.
This happens at a lot of gym, unfortunately, and it will help if you take the time to get to know the owners and staff — they'll be able to help you if you're having trouble.
Hidden fees
Some members are irked at fees that aren't disclosed up front when they sign-up, like needing to put down a deposit for a key fob to enjoy the 24/7 access with late night workouts.
---
Alternatives to Anytime Fitness
The best alternative to Anytime Fitness, if you're looking at other options, is definitely LA Fitness.
LA Fitness has a few advantages that make it a better choice:
Similar membership fees
Most locations have a pool and sauna area
Group classes are always included
Many clubs have basketball courts and other amenities
Childcare available
The one downside to LA Fitness? Their locations are typically not open 24 hours.
If you need convenience about all else, you'll want to go with Anytime. But for most people, I think LA Fitness is a stronger choice.
(See: LA Fitness vs Anytime Fitness here)
---
Wrapping Up
So is Anytime Fitness worth it?
That really depends.
It's hard to beat the 24/7 access and exceptional holiday hours.
The gym also offers a great selection of equipment, workout classes, and personal training.
However, without a pool, sporting courts, or childcare, it's hard to say that Anytime Fitness is a tremendous value.
If you need more amenities in your gym, check out LA Fitness. But if the biggest thing that matters to you is hours and access, you'll probably love Anytime!
See more gym comparisons here, including a quick-look chart, gym vs gym breakdowns, and gyms ranked by amenities.