Anytime Fitness is a 24-hour health and fitness club with their headquarters located in Woodbury, Minnesota.
This international franchise has blossomed to become a fan-favorite gym with locations around the globe.
Being a member at Anytime Fitness grants access to a wide variety of equipment, classes, and amenities — for a pretty great price!
On the floor, members will find ellipticals, free weights, stationary bikes, treadmills, racks, rowing machines, and more.
For classes, members have access to cardio classes, instructional yoga, personal training, cycling classes, Zumba, and many other group activities.
Still, if you like to freshen up after your workout, for work or just to feel good, you might have another amenity on your mind:
Does Anytime Fitness have showers?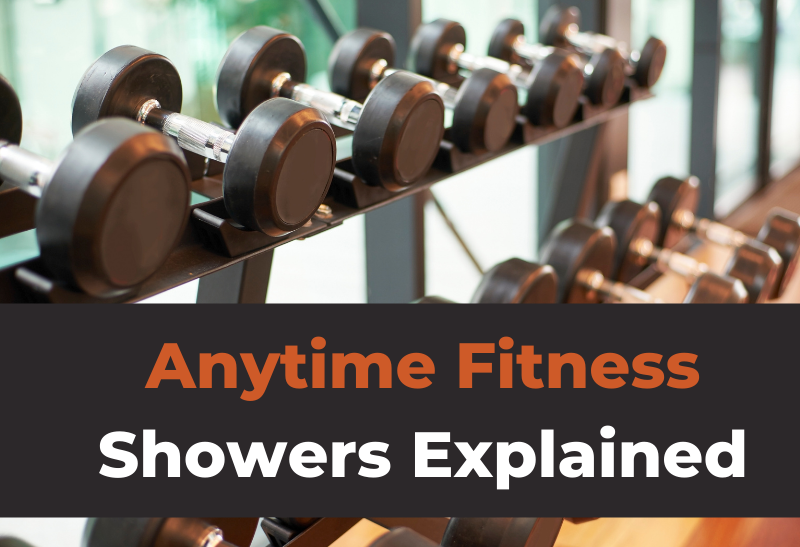 Yes, most Anytime Fitness locations offer showers for members. The shower and bathroom areas are usually private and separated from the general locker room/changing area.
The shower area and free beauty bar at Anytime Fitness is stocked with shampoo, soaps, deodorant, and other great amenities!
Read on to learn about Anytime Fitness shampoo and soaps, towels, and for photos of the shower areas.
---
Does Anytime Fitness have showers?
Each Anytime Fitness location offers private showers and restrooms.
In most cases, Anytime Fitness offers private bathrooms and showers for washing up and changing after your workout.
These rooms are spacious, clean, and kept separate from the general locker room changing area.
There are pros and cons to this layout, of course.
If you're just looking to change quickly before and after exercising, the locker room is clean and dry due to its separation from the shower area.
If you do need a shower, you'll find the facilities private and extremely nice, but you may have to wait for a room to open up!
Showering after your workout is a must for commuters, but it's also been shown to help your body recover from tough workouts!
Score this as a big plus when it comes to joining Anytime.
(Want to know more? Read my full Anytime Fitness review.)
---
Does Anytime Fitness provide soap or shampoo?
On top of the comfort of a private shower area, Anytime Fitness also provides soap, shampoo, and conditioner for free at their beauty bar.
Not only do they provide shower products, but they also offer amenities like:
deodorant
hair ties
dry shampoo
and access to hair dryers.
The beauty bar is a part of a shared space and all items are expected to be returned after a member is finished using them.
Members who may have forgotten their shower products at home can be relieved knowing that Anytime Fitness offers free-to-use products for all members.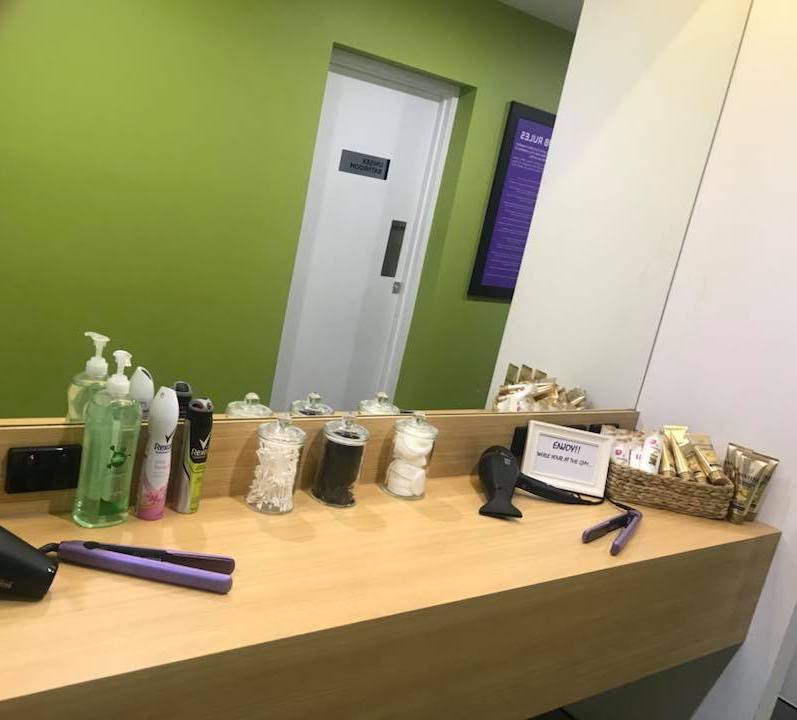 The picture above gives a look at the beauty bar located at one of the Anytime Fitness locations.
The shared space is located outside the restroom and shower areas for community use.
---
Does Anytime Fitness provide towels for the shower area?
Members are encouraged to bring their own towels for their workouts and showers.
However, if a member forgets to bring one, towels can be purchased from a staff member for $15.
Anytime Fitness also requires members to clean any equipment or space used for working out before they leave.
It is encouraged for members to have a towel to wipe up any sweat before another member uses the space.
While towels are available at a price, members may still want to plan on bringing their own for working out and/or showering to avoid spending any money they don't need to.
---
Photos & Descriptions of Anytime Fitness showers
Having private showers instead of a row of stalls means the showers at Anytime Fitness are spacious and quite nice!
These showers are often built into the walls with a glass door separating them from the rest of the private restroom area.
The shower area itself is a standard 4' x 5' with a tall shower head and fold-out metal bench.
Having a personal shower and bathroom area provides a comfortable and relaxed environment for members, allowing them to clean off after a workout with privacy.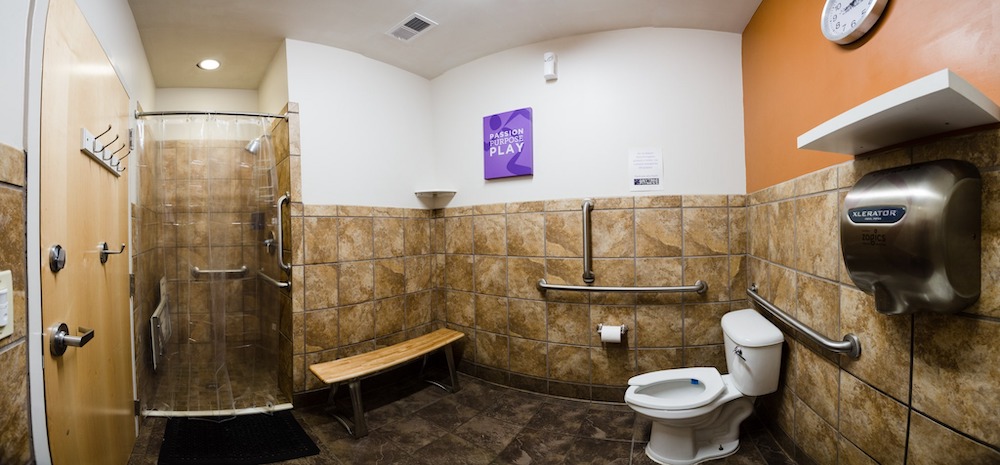 Above is a look inside a private restroom and shower area at an Anytime Fitness location.
The restroom area is spacious enough to give members the room to change clothes before and after working out.
Plenty of racks and shelves are in place to hold clothing, towels, bags, and anything else a member might bring in with them.
The shower area itself is pictured with the bench folded up against the wall, maximizing the space provided to members.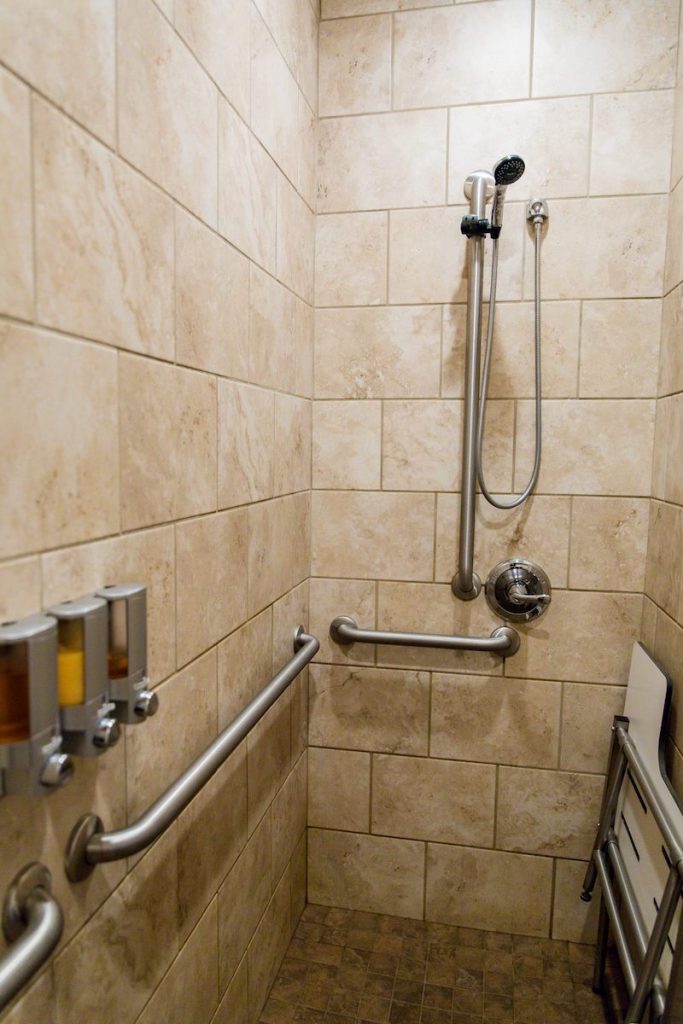 Notice this particular shower offers dispensers of shampoo, body wash, and conditioner inside the stall.
---
Wrapping Up
Anytime Fitness is an excellent mid-range gym, with a great selection of equipment, classes, and other amenities.
After the work has been done, members are able to relax in comfort as private restrooms and shower areas provide a quiet space to clean up after a workout.
In addition, the beauty bar is the perfect supplement to a post workout routine, especially if a member forgets to bring any of their personal shower products.
The showers here are great, just know that you might have to wait for one to open up since they're private and space is limited.
For more, check out:
Hope this helps!