Planet Fitness is a franchise gym with over 2,000 clubs nationwide.
It is one of the largest fitness club franchises in North America, not only by its number of locations, but also by its number of members.
It's one of the most popular budget gyms in the entire world, and it's easy to see why!
Planet Fitness practices a "judgment free zone" philosophy, so even if you are new to working out or haven't been to a gym in years, Planet Fitness is designed to be a welcoming and non-intimidating environment for gym-goers.
Membership also starts at just $10/month and most locations are open 24/7.
Planet Fitness has plenty of equipment and an appealing price tag, but commuters might have a different amenity on their minds:
Does Planet Fitness have showers?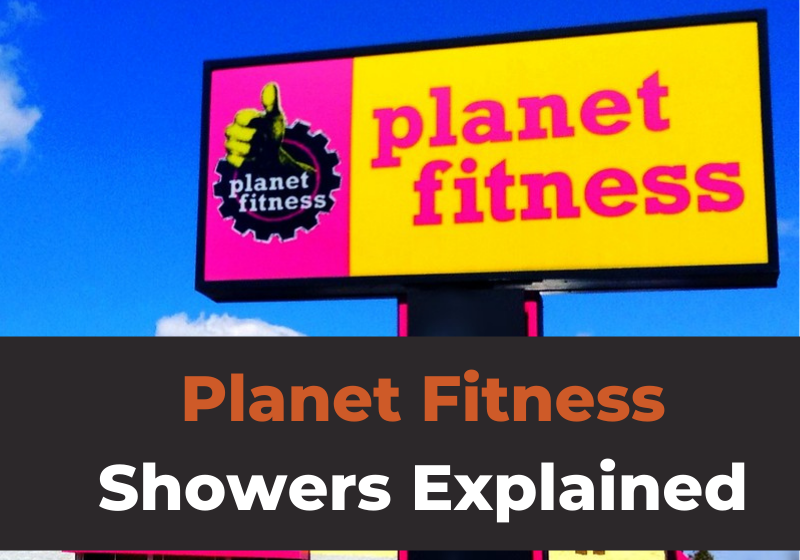 Does Planet Fitness have showers? Yes, all Planet Fitness locations have private showers with shower curtains and clean, spacious locker rooms. However, Planet Fitness does not usually provide soap or towels, so members will need to bring their own toiletries.
Let's take a closer look at Planet Fitness showers and the locker room area in general, everything you need to know about showering at Planet Fitness, and let's even check out some real photos!
---
Does Planet Fitness have showers?
Yes, Planet Fitness does have showers for its members to use in all locations.
Planet Fitness has separate locker room and shower facilities for men and women and they have private stalls with full-length shower curtains so that members have as much privacy as possible.
The showers are cleaned by the Planet Fitness staff frequently.
There are also full and half-length lockers in the locker rooms, although you must bring your own lock for the locker.
Lockers are only for use by members when you are actually at the facility.
Planet Fitness does not have lockers that you can rent long-term, so don't leave your things in the lockers there for next time you are at the gym!
Being able to shower at the gym is great for commuters on their way to work, of course, but it's also been shown to aid in muscle recovery and help you have better workouts in the future!
(Want to learn more about PF? Check out my full Planet Fitness review!)
---
Does Planet Fitness provide soap or shampoo?
Planet Fitness does NOT provide soap or shampoo in its shower areas.
Members are expected to bring their own soaps, shampoo, or body wash.
You should also remember to take your toiletries with you when you leave!
(Check out gym bags and other beginner gym essentials here.)
---
Does Planet Fitness provide towels for the shower area?
Planet Fitness does not provide towels in their shower area.
Members and guests are expected to provide their own towels.
Some Planet Fitness locations do have towels for sale in case you forget yours, but if you want to be safe, make sure to bring your own!
There is certainly no 'towel service' at Planet Fitness.
---
Photos & Descriptions of Planet Fitness showers
Planet Fitness's showers have a purple colored shower curtain with the company's logo all over it as the design.
(Some locations may have fogged glass showers, instead. There are lots of different designs that the clubs can use within the company's branding guidelines.)
There are typically between 3-5 private shower stalls in a row and they are often adjacent to the toilet stalls.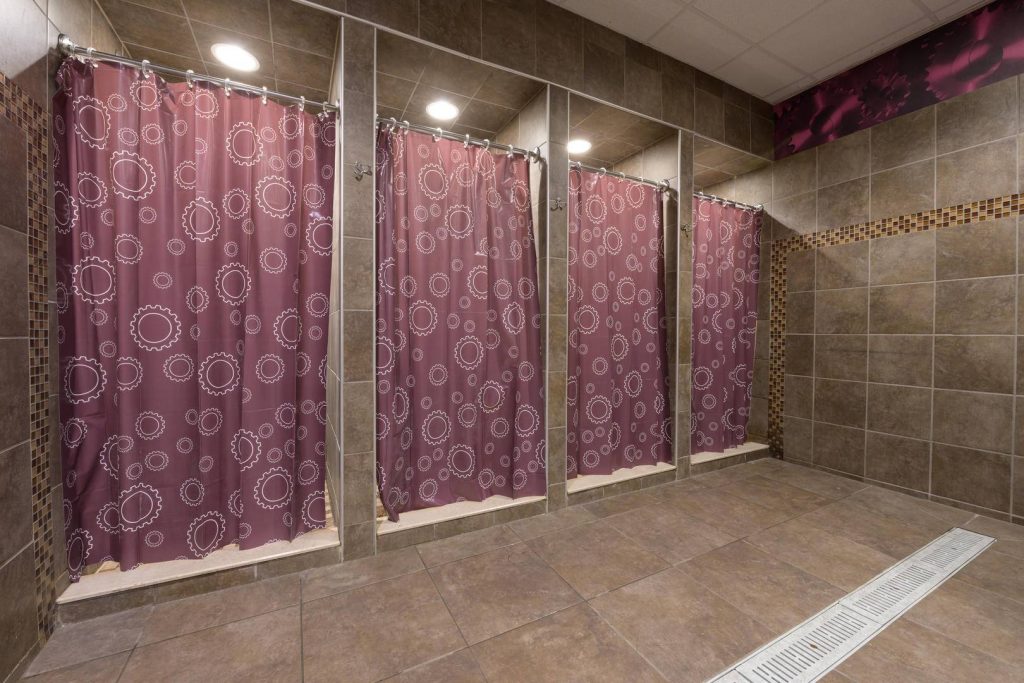 The shower/bathroom areas are completely tiled with the same types of tiles on the floor and the walls, the tiles are large in size and medium to dark toned in color.
The showers are quite spacious, many of them are even the size of some home showers and they have a cut out area in the wall for members to place shampoo or soap while they are showering.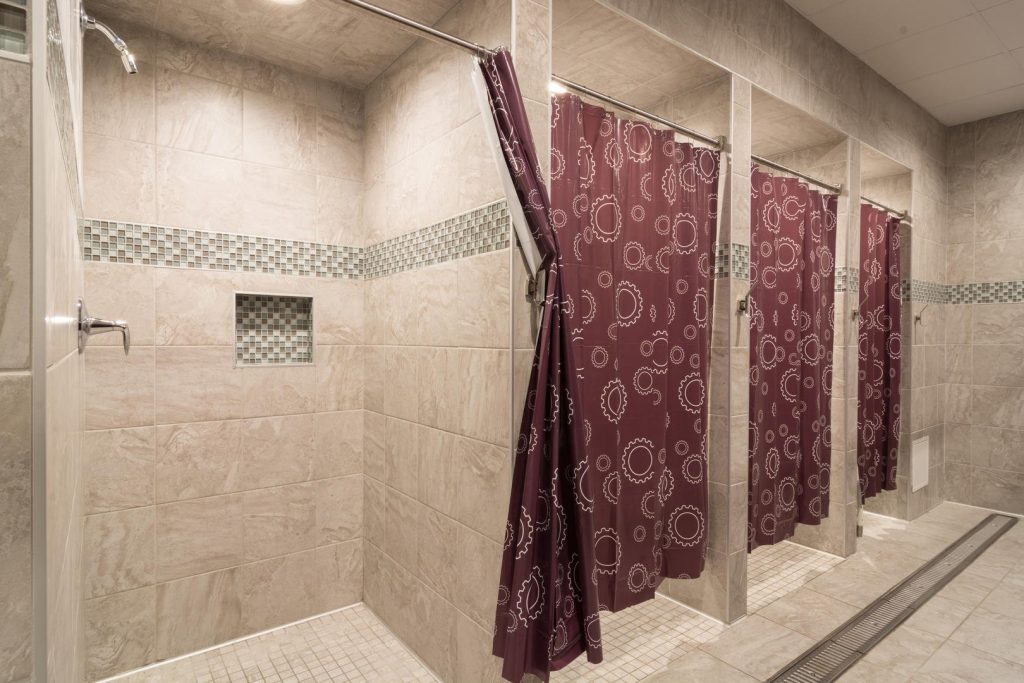 The locker area is painted purple as well and the lockers are typically around the corner from where the showers are located.
Of course, locker rooms here at Planet Fitness are gendered — typically there is a men's changing room and a women's changing room.
Some locations may offer private changing rooms if you prefer, but you'll have to check your local club.
What are the shower rules at Planet Fitness?
Really, there are two main things to remember when it comes to shower rules.
One, keep your showering time to a minimum. There is no hard and fast rule about this, but it's considered good etiquette to be mindful of your fellow gym-goers who may want to use the showers.
Two, there's no use of cell phones or other digital devices in the locker room and shower area. That's one reason why it's hard to find good photos of the Planet Fitness showers!
All gym take the privacy of their members incredibly seriously, so they won't risk someone taking potentially sensitive photos in the changing area. Lock your device up in your locker or leave it in your pocket while in the locker room and shower area.
---
Wrapping Up
Planet Fitness is a great option for people looking for a gym with a decent number of amenities at an affordable price.
While Planet Fitness isn't the most luxurious option out there, it does offer a lot of perks that other facilities don't, including tanning beds, massage chairs and even hydromassage.
It offers shower amenities for members, which is a huge plus for commuters. Just remember to bring your own soap and towels!
For more, check out:
Hope this helps!