Exercising is critical for people of all ages.
However, it becomes all the more crucial when you enter your golden years.
Numerous benefits are associated with exercising as a senior citizen. It can enhance cognitive function, boost mental health, and improve sleep.
Not to mention, it's a great way to get out in public and make some friends.!
As people age, it becomes increasingly difficult to build and retain muscle, which are critical components of maintaining balance.
Senior citizens are more prone to falling, and at that age, one fall could be devastating. Regular exercise helps a lot with keeping one's equilibrium.
So if that all sounds good, but you're not sure where to start — what are the best gyms for seniors?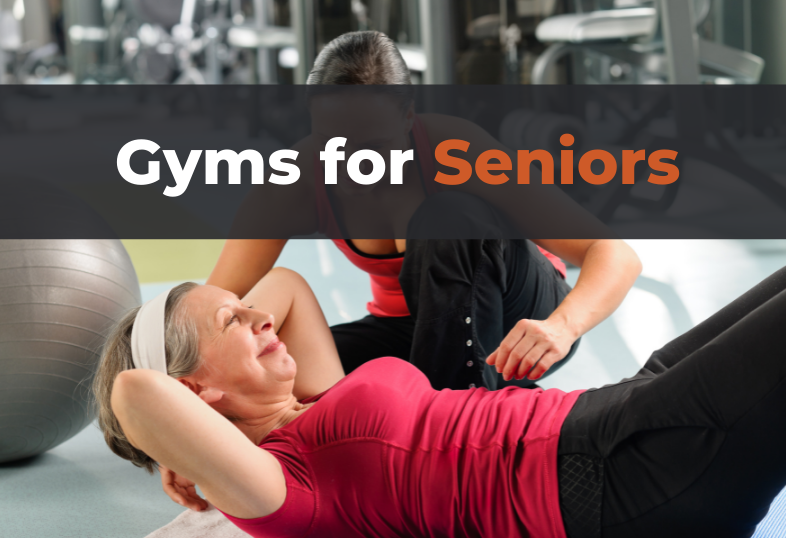 The best gym memberships for seniors (in no particular order) are:
24 Hour Fitness
YMCA
Anytime Fitness
Gold's Gym
Onelife Fitness
Who knows? You just might be able to get in the best shape of your life when you're 70!
Let's take a look at each of your options.
---
What seniors should look for in a gym
Several factors influence whether a gym is right for a senior citizen.
The elderly have different needs than everyone else, so pay special attention to these factors when you take a tour or speak with gym management:
It's also a good idea to check to see what local, mom-and-pop or boutique gyms offer in your area, especially if they offer spa treatments or cyrotherapy.
You can often get a lot more personal instruction and a warmer environment at a local gym.
As far as national big box gym chains, here are some of the best around for seniors.
---
1. 24 Hour Fitness
With over 400 24 Hour Fitness locations across the country, it's one of the most famous gym chains around.
And while there tend to be misconceptions in terms of price, it's reasonably affordable depending on the exact membership you get.
If you just want access to just one gym and don't need a bunch of amenities, then you may be able to get a membership for as low as $30/month.
That doesn't include initiation and annual fees, so make sure to ask about that as well before you sign up.
Seniors should make sure to look into classes offered by 24 Hour Fitness under the SilverSneakers program.
Many locations offer classes where you move to music, conduct a total-body circuit, perform yoga, and engage in a bunch of other fun activities.
This program is run through specific Medicare programs, so be sure to contact your provider for more information.
Many 24 Hour Fitness locations even offer a free 3-day pass, so you can try it out to ensure it's a good fit for you.
See my full 24 Hour Fitness review here.
---
2. YMCA
The YMCA is another great option — I LOVE the Y for older adults, families, and teens. It's such a friendly and welcoming place.
Prices vary by location, but you'll be happy to hear that membership costs are considerably less for senior citizens.
On top of that, the Y has programs tailored for the elderly, including EnhanceFitness.
This entails a group exercise regimen involving simple movements that help seniors, even those with arthritis.
The Y usually accepts SilverSneakers, as well, and has terrific group SilverSneakers classes.
You can also check out your local Y to see if they offer a Moving For Better Balance program.
This is a 12-week program where an instructor leads movements based on Tai Chi. It's especially beneficial for those who would like to learn ways to prevent falling.
Read my full YMCA gym review here.
---
3. Anytime Fitness
Anytime Fitness falls within the same price range as 24 Hour Fitness and the YMCA.
You should expect to spend around $30 to $40 a month plus additional fees.
Additionally, the gym's FAQ page reports that they do, in fact, offer senior discounts at select locations.
It pays to ask at the one nearest you. That's on top of what you should be doing as far as checking to see if your healthcare plan covers some or all of the cost of a gym membership.
(Plus it never hurts to negotiate!)
Anytime Fitness is another gym that utilizes the SilverSneakers program. This offers a wide range of classes to anyone currently receiving MediCare.
Anytime also accepts Prime Fitness members who got their plan through Healthways.
With over 2,000 locations across the world, there are plenty of opportunities for seniors to get in the best shape of their life.
Read my full Anytime Fitness review here.
---
4. Gold's Gym
Gold's Gym is another option that's friendly toward seniors.
In addition to participating in the SilverSneakers program, Gold's Gym memberships can be as low as $20/month if you want access to other amenities.
Some locations have pools, saunas, and smoothie bars, but this varies by location. As such, you're going to want to contact the one nearest you to see what all you get out of your membership before signing up.
Plus, in the event you feel like exercising in the comfort of your home from time to time, Gold's Gym offers various guides online to help you out.
There's a free yoga guide you can download that will teach you how to perform various stretches to help enhance your balance and flexibility.
The equipment at Gold's is top notch — you'll find plenty of low impact cardio options, and, if you want to lift heavy weights, this is the place to do it!
See my full Gold's Gym review here. 
---
5. Onelife Fitness
Onelife Fitness is a little less well-known than some of the others on this list, and it's not available in all parts of the country, but wow is it a fantastic gym!
Onelife has everything, from pools, to tons of of equipment, to personal training and more.
These are large, spacious gyms best known for extremely friendly and knowledgable staff.
Many Onelife locations participate in the SilverSneakers program and offer senior classes as a part of your membership — a big plus.
A membership here is relatively affordable, especially when compared to other high-end gyms. Usually, you'll pay around $39.99/month after an initiation fee, which varies and may be negotiated by savvy seniors!
Ask at the front desk and you may be able to receive a senior discount when you join!
As of this writing, you'll only find Onelife in a few states in the northeast, so check your local area to be sure!
(See my full Onelife Fitness review here.)
---
Wrapping Up
Seniors can gain access to the SilverSneakers program through a litany of insurances, including Aetna, Anthem, Humana, Kaiser, WellCare, and numerous others.
Make sure to check with yours to see if you can sign up.
(For more, don't miss my guide to gyms that accept SilverSneakers.)
But while you can gain access to free classes to thousands of gyms across the country through SilverSneakers, it doesn't always allow you to utilize the rest of the gym's amenities.
Fortunately, plenty of gyms offer senior discounts, and even if they don't, many memberships are affordable if you choose to sign up on your own.
The 4 clubs above are a great starting point, but feel free to try a free pass at any and every gym in your area!
Some other gym guides worth perusing include:
Hope this helps!