If you live in Georgia, Maryland, Missouri, Virginia, or West Virginia, then you may have stumbled upon a OneLife gym in the past.
This small fitness franchise offers state-of-the-art facilities combined and some terrific amenities.
It isn't the cheapest gym membership out there, but it's by no means the most expensive. OneLife is right in line with mid-range gyms like LA Fitness, Gold's, or Anytime Fitness.
But is OneLife worth it? Is OneLife a good gym?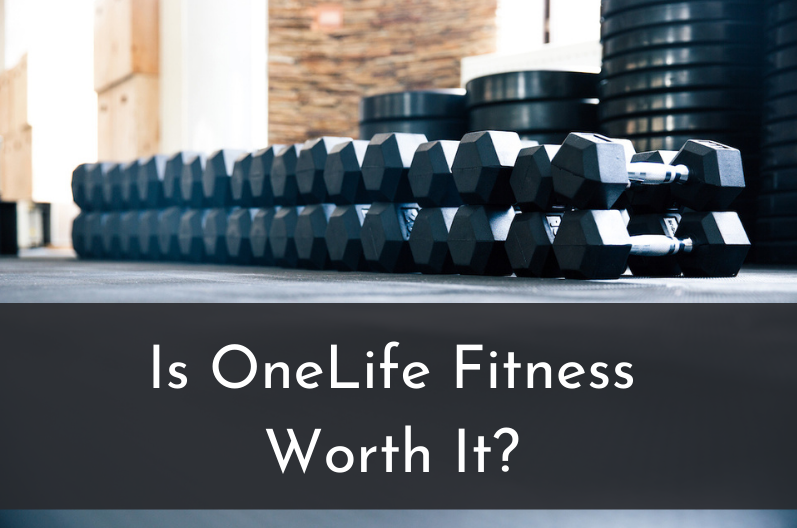 As far as mid-range gyms go, OneLife can be one of the more expensive options depending on your location and membership package. It's also hard to find with only a handful of locations scattered throughout a few states.
However, when it comes to equipment and amenities, OneLife stacks up against the best of the best. You'll get a huge selection of equipment, pools, childcare, and fantastic group classes here — making it worth every penny of admission.
So yes — OneLife is definitely worth it if the gym fits your budget and commute!
Let's take a closer look at my OneLife gym review.
---
How much does OneLife cost?
With only a couple dozen locations spread out across a few states, OneLife gyms are definitely for a limited demographic.
However, if you happen to live near one, then you're about to realize what all you've been missing out on by not signing up.
For roughly $40-45 per month, you get nearly everything, including unlimited group classes and access to the full suite of gym equipment.
Membership also comes with a one-time initiation fee of around $249.
If you think you're going to need access to some specializes amenities and perks, you might want to check out the Premier membership.
It costs closer to $55 a month but has a one-time fee of $149, and it includes hydromassage, tanning, towel service, digital On Demand workouts, and a monthly check-in on your body composition.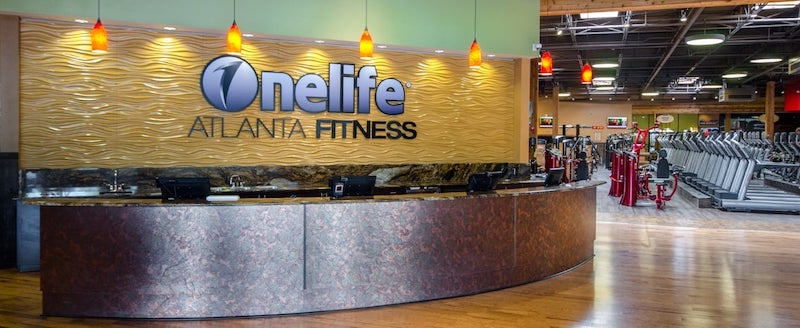 In 2023, you may find even more variation in pricing at different OneLife locations. For example, the club closest to me offers a Basic plan at $29.99 per month and a Premier plan at $39.99 per month, both with a joining fee of just $28.
The gyms have also been known to lower those extra fees on occasion, so it's definitely worth trying to negotiate.
To make sure OneLife is right for you, you can sign up for a free trial pass and test drive the gym to make sure it has everything you need.
(See more gyms with free passes here.)
---
OneLife equipment, features & amenities
A $40/month membership isn't exactly cheap. Similar mid-range gyms will usually run anywhere from $30-50 per month, which puts OneLife at the higher end.
You need to make sure you're getting your money's worth.
Let's take a look at everything OneLife has to offer:
Equipment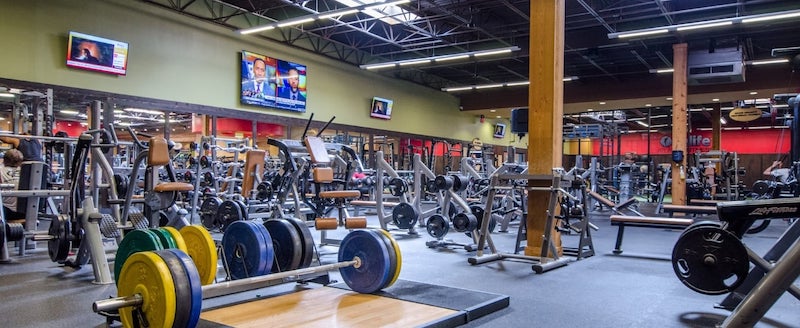 You can expect all the basic accoutrements at OneLife gyms.
In the cardio area, you'll find treadmills, ellipticals, and exercise bikes — par for the course.
You'll also find an array of weightlifting equipment, including free weights, heavy dumbbells, and full power racks.
OneLife Fitness has a huge campus, so you probably won't ever need to wait for a machine — especially if you avoid the busiest times.
---
Group fitness classes
All OneLife locations come with a fantastic array of classes. Some of the sessions you can expect to find include:
Kickboxing conditioning
Muay thai
Yoga
Zumba
Cycling
Pilates
You can sign up for as many classes as you want regardless of what tier you're in. These classes are included with everyone's membership — a huge plus!
---
Pool/sauna
While the exact amenities can vary from one location to the next, you can generally find a full-size pool at OneLife gyms.
Classes are offered in the pools for everyone from kids to adults.
Outside of that, you can enjoy a leisurely swim or hit the lap lanes.
OneLife often has a full sauna, hot tub, and whirlpool area as well for decompressing after your workouts.
---
Child Care
Many OneLife locations even come with Kids Clubs — their childcare or daycare service.
Hours and exact services vary depending on where you are, but you can expect to be able to add Child Care to your membership for somewhere around $15-20/month — a bargain for busy parents!
Typically, you'll want to add your children to your OneLife membership so you can bring them whenever you need to.
---
Other amenities
There are plenty of other features you may be able to find at your local OneLife, such as:
Tanning beds
HydroMassage beds
Towel service
Basketball courts
NormaTec Compression equipment
Online nutrition and meal planning
There's a lot to explore here!
---
What real people are saying (reviews, pros & cons)
OneLife is really impressive on paper.
But to really get a feel for the place, you have to hear from real members.
After reading dozens of reviews on Google and Yelp, here are the common themes that stuck out.
Pros
Good selection of equipment
A ton of classes
Sports facilities
OneLife gyms are pretty much all-in-one solutions for your fitness needs.
No matter what you're into, whether you just want to run or want to play pick-up sports with your friends, you can do it all here.
On top of that, these clubs really went the extra mile during the COVID-19 pandemic. They installed AirPHX into all of the locations, which does wonders for disinfecting surfaces and the surrounding air.
Members love the class selection and rave about all the available equipment at OneLife.
---
Cons
High upfront fees
Crowded
A lot of people write about how crowded this gym can get.
Locations aren't open 24 hours a day, so it's definitely susceptible to getting packed during peak hours.
It's possible you'll have to wait for a machine here and there, but fortunately these gyms are really large so, most of the time, that won't be an issue.
Still, it's no fun working out in a packed gym.
Another drawback mentioned by members is the large upfront initiation fee.
---
Alternatives to OneLife
OneLife is rarely the only game in town.
Here are some other options you should consider if you're in the market for a gym.
Gold's Gym
For people looking for similar amenities, Gold's Gym is a great alternative.
The exact perks can vary by location, but depending on what's nearest you, you should be able to get racquetball courts, pools, and more.
Memberships at Gold's Gym start at $10 a month, but if you want access to everything, then you're probably going to spend in the range of $30 to $45.
That's about on par with what you'll spend at OneLife.
Plus, there are more Gold's locations to choose from in most parts of the country.
Anytime Fitness
Anytime Fitness tends to cost between $40 and $60 a month.
While it's in the same price range as OneLife, it does have some drawbacks.
You'll be hard-pressed to find pools at Anytime locations. The same goes for racquetball, basketball courts, and childcare.
However, Anytime is always open 24/7 — a huge perk for anyone with an unusual schedule.
---
Wrapping Up
Among the big box gyms, OneLife is a great choice if one's near you.
It's a bit on the pricier side, but if you can afford it — it's worth the price of admission.
You get a ton of equipment, and most locations have pools and sporting courts for you to really switch things up. The built-in childcare makes OneLife a great choice for parents, too.
However, if you don't like those upfront fees or the limited hours, check out other mid-range gyms like Gold's, Anytime, or LA Fitness. If you're willing to spend a little more, you'll love Equinox or Life Time.
Before you go, don't miss these guides:
Hope this helps!