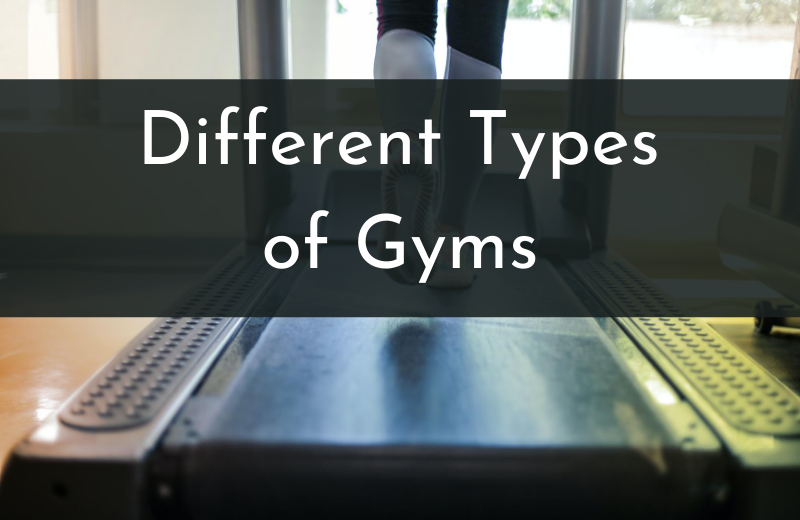 When you plan on signing up for a gym membership, what qualities are most important to you?
You want to make sure it has the equipment you need and a price that works for your budget.
But while most people look at big box gyms, like 24 Hour Fitness or Planet Fitness, there are other options out there. Some specialize in a specific workout while others make a certain demographic feel welcome.
From women's gyms that only allow those who identify as female to sign up, to rock climbing gyms where you can learn to scale boulders and develop insane grip-strength, there's something for everyone out there. It all comes down to what you can find in your city.
The main types of gyms you can choose from are:
Big box gyms
Boutique gyms
Personal training gyms
Women's gyms
CrossFit gyms
Group fitness gyms or studios
Powerlifting gyms
Rock climbing gyms
I'll go over the various types of gyms available as well as what each one has to offer.
You may just learn about something you would not have considered otherwise!
---
Big box gyms
Big box gyms — corporate gym chains you can find in almost every city — offer a little bit of everything.
They tend to have a massive area devoted to cardio equipment with another section consisting of weights, plus (sometimes) other equipment and amenities.
Most of the big names you've heard of fall into this category.
Generally speaking, big box gyms are great for people who want a little bit of everything. You may want to run on a treadmill one day and hit up the resistance machines the next.
Big box gyms are also great because they typically offer group classes.
But even big box gyms can be broken down into further categories:
Budget big box gyms
Planet Fitness is the best example of a budget gym.
You can sign up for just $10 a month.
Budget gyms tend to have low monthly costs and a pretty stripped down experience.
They don't generally have the same amenities, such as pools or as many classes, as some other big box gyms.
Mid-range big box gyms
Mid-range gyms tend to have a nice balance between the expense of budget and luxury gyms.
You pay a little more, but you reap the advantages. Some examples of this category include:
Gold's Gym
24 Hour Fitness
LA Fitness
Crunch
The equipment and amenities here are usually better and more expansive than budget gyms.
Your membership often includes access to group classes and extras like a basketball court.
Luxury big box gyms
When money isn't an issue, some people go all out and sign up for a membership at a luxury gym.
Don't be surprised if you end up spending $100 or more a month to be able to work out at the following gyms:
Equinox
Life Time Fitness
These places are luxurious for a reason. They come with top-of-the-line equipment as well as pools, classes, and often even juice bars.
(For more, read my Life Time review and Equinox review.)
The right big box gym for you ultimately comes down to how much you want to spend.
If all you care about is getting in a quick workout and leaving, then you may not need to spend a ton of money. However, if going to the gym is a lifestyle for you, then splurging has its benefits.
All in all, big box gyms are recommended for anyone who wants a myriad of choices and convenience at an affordable price.
Big box gyms are often cheaper than specialized studios, easy to find, and have plenty of parking and amenities. They're a good fit for anyone who isn't exactly sure what they want yet, or who just wants to keep things simple.
You can go back and forth between classes and lifting free weights on your own. They're great for people who don't need to specialize in one given regimen.
However, if you want your fitness experience to have a personal touch or if community is an important motivator for you, the big box clubs may not be right for you.
---
Boutique gyms
When most people think of gyms, they think of a place they go to, work out, and leave.
That's changing with the growing popularity of boutique gyms.
At boutique locations, you're not just an individual. You sign up and (often) work out as part of a group, or at least form an individual relationship with a trainer or instructor.
Boutique gyms vary by location and often aren't big chains.
They offer a lot of the same equipment as big box gyms, but are generally smaller and have a stronger community vibe.
Your membership sometimes, but not always, includes personal training or consultations with an on-location trainer. There may also be group workouts or events that you might not find at big box gyms.
(When people talk about boutiques, they sometimes mean group fitness studios that specialize in one type of workout like spin or yoga. But for our purposes a boutique will just mean a small, local gym with a tight community.)
These gyms are often more expensive than their big box rivals, but they're a good fit for someone who's just not comfortable (or doesn't feel motivated by) being a small fish in a big sea at a corporate gym chain.
You'll get more individual attention and make more friends at a small boutique gym.
---
Personal training gyms
While you can find personal trainers at many different kinds of gyms, this variety specializes in them.
You won't find big brand names in this section. Personal training gyms tend to be smaller studios in your area where you specifically sign up to work out with someone else.
There are numerous benefits to working out with a personal trainer. For starters, you have someone holding you accountable, which makes it easier to develop healthier habits.
These gyms may not have as much equipment as big box gyms, but they still have pretty much everything you need.
You'll usually find weight machines, cardio equipment, free weights, and specialty training gear like plyometric equipment and more — and best of all, your membership will include a trainer walking you through how and when to use it all.
Personal training gyms are great for anyone who needs some help in their fitness journeys. A lot of people simply have a hard time getting to the gym to exercise in the first place.
With a personal trainer, you set times and have someone by your side cheering you on. They also guide you through workouts to ensure you're getting the best results possible.
Granted, personal trainers tend to cost a little extra. A couple sessions a week could cost you several hundred dollars every month.
But for some people, it's more than worth it.
---
Women's gyms
Some women may not feel comfortable going to a regular gym.
An article in Glamour detailed how some women feel harassment when they work out, which contributes to some women not getting as much aerobic activity as they should.
That's why gyms like Curves are fantastic. They offer women-only spaces where ladies can work up a sweat without judgment.
Women's gyms offer the same equipment you find at big box locations, including cardio gear and weights. However, the building itself tends to be a bit smaller because there are fewer sign-ups.
For women who've had issues with unwanted attention at regular gyms in the past, this can be a great option. You don't have to worry about leering eyes or the guys hogging all of the weight machines.
You get in the workout you want in a supportive environment.
Naturally, these gyms also tend to offer classes that are also women-only.
From boxing to developing your core, you can explore whatever workout interests you — just like at a big box gym.
---
CrossFit gyms (or boxes)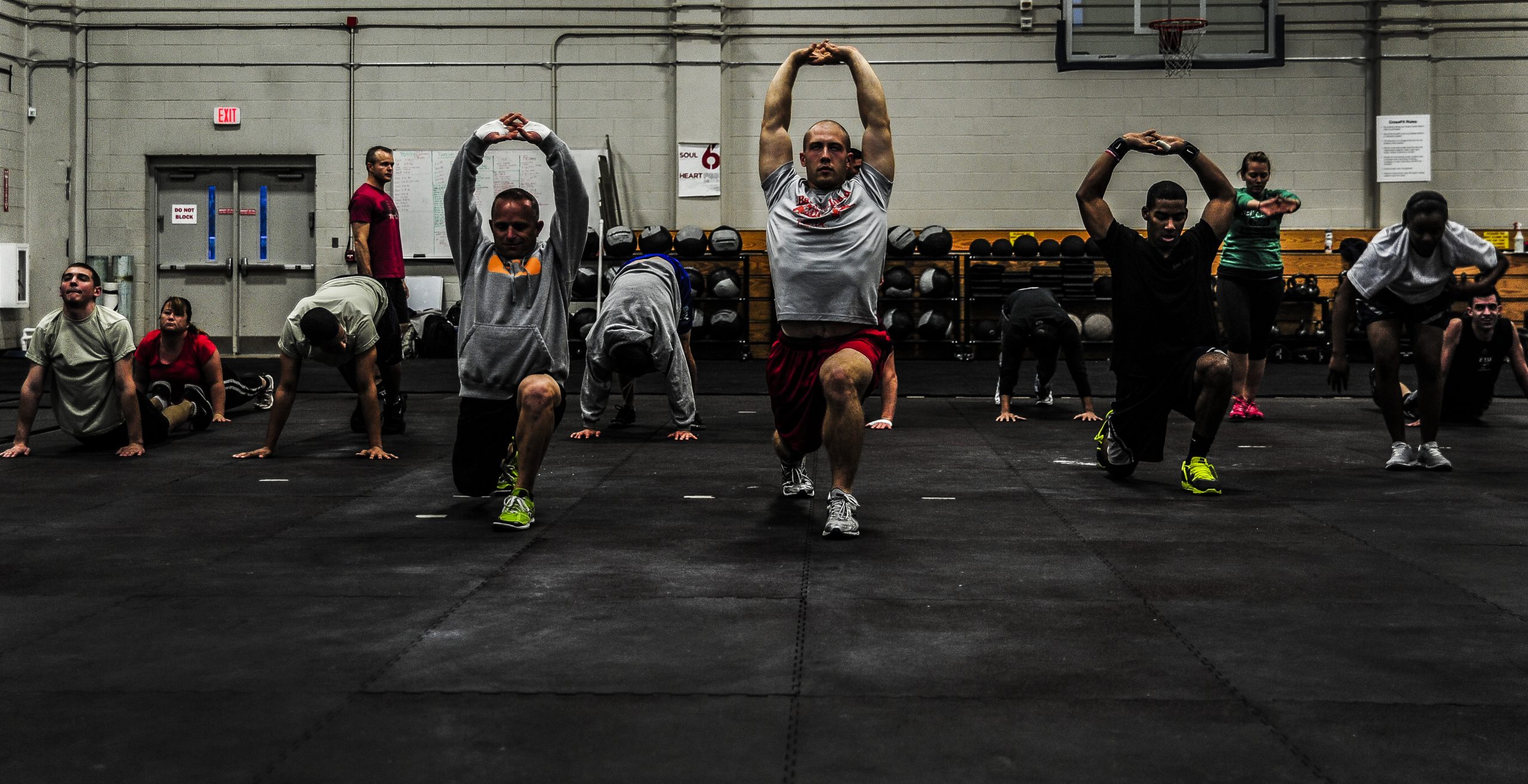 After just 1 month of CrossFit, you can start noticing serious improvement in your figure.
This method of high-intensity interval training has risen in popularity in recent years, and now, there are tons of gyms in every city that specialize in the format.
CrossFit gyms incorporate equipment and movements from various disciplines into the regimen, including:
Dumbbells and barbells
Medicine balls
Jump ropes
Pull-up bars
Rowing machines
In order for a location to be considered a "CrossFit gym," it needs to have at least one trainer who's certified to be level one (CF-L1).
If you're ready for some intense workouts, then consider signing up. Crossfit isn't for the faint of heart. You'll hit the ground running, but that's why so many people love it.
It's also a good fit for someone who wants the structure and support of working out in a group environment with a coach — and, let's face it, who doesn't love a little competition?
CrossFit is also a great hybrid option for anyone who wants to build strength, stamina, and athleticism all at once.
The downside? Like most specialized fitness facilities, CrossFit can be quite expensive.
---
Group fitness studios
Group fitness studios are similar to boutiques, and in fact some people use the terms interchangeably.
These studios consist of large classes (often specializing in one or two types of exercise) led by an instructor. They can include:
Yoga
Spin
Barre
Pilates
Bootcamp
And more
You work out with a group of people instead of by yourself.
One of the most popular studios to arise in recent years is SoulCycle. This gym combines cycling with fun, nightclub music to really get your heart racing.
Some other studios making waves include:
Barry's Bootcamp
OrangeTheory
F45 Training
Flywheel
If you're not comfortable in the corporate environment, you don't have to go with a chain.
Your nearby local-owned yoga studio or regional spin studio might be a better fit for you.
Group fitness classes have tons of benefits. They're extremely motivating, competitive, and often have a great sense of community. But you don't have to go "all-in" to enjoy these gyms — you can simply pop in for a workout whenever you want.
The downside? Memberships at group studios can get expensive, especially for unlimited packages for people who want to take classes more than a few times per week.
---
Powerlifting or weight lifting gyms
When your goal is to bulk up or get crazy strong, you may want to sign up for a powerlifting gym.
These locations are laser-focused on offering the most heavy-duty weight lifting equipment imaginable.
These gyms are primarily focused around three different kinds of lifts.
Deadlift
Bench press
Squat
But they may also have great equipment for bodybuilding, strongman, and more.
These gyms are typically recommended for people specifically training for something, not just averages Joe's who want to get in shape for the first time.
Whether you're peaking for a bodybuilding competition or a powerlifting meet, these gyms give you access to all the equipment you need along with world-class strength coaches.
But if you're just looking to lose a little weight or build up your stamina, you might want to join a more well-rounded facility.
---
Rock climbing gyms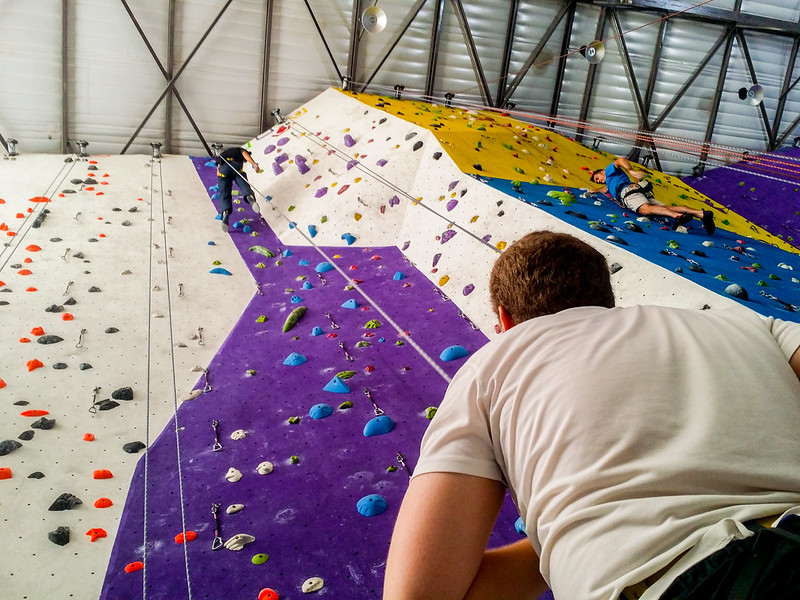 Most gyms have treadmills and free weights for you to use.
But if you want a different way of staying in shape, consider rock climbing gyms!
As the name suggests, these gyms have massive rock climbing structures. You can find roped and rope-less courses as you scale massive indoor mountains to your heart's content.
But these gyms are more than just walls. You can find some locations that offer fitness classes, such as MMA cardio and acro-yoga.
These gyms are a bit more specialized, so you may not find them everywhere. Los Angeles, for example, has several different rock climbing gyms, including Cliffs of Id and Boulderdash.
But if you happen to live near one, they can be a ton of fun.
It may not be the only way you want to work out, but if you want to work up a sweat on something other than a treadmill, then it can be great to break up your routine at one of these gyms.
(As a bonus, rock climbers are known for insane grip and arm strength as well as great all-around athleticism.)
The downside here is the cost, as a membership at a rock climbing gym can be pricey. You'll also need to pass a basic course or certification at most locations in order to work out there by yourself without help from an instructor.
---
Wrapping up
There are two primary questions you need to ask yourself before signing up for any gym.
How much can I spend on a gym membership?
What kind of exercise do I like best?
If you're new to working out, then it may take you some time to figure out where your strengths lay. And that's okay!
Most gyms offer free trials, so you can get a lay of the land before signing up for real.
And if you're interested in any of the big box gyms, make sure to check out our breakdown of the most popular gym chains. I look at price, amenities, and everything in between to give you the best information about where you should sign up.
What did I miss? What's your favorite type of gym to work out at?
Hope this helps!