Joining a gym can be an awesome investment in your health and fitness.
Or it can be a gigantic waste of money.
If you're on a tight budget, you really have to think carefully about whether or not you should put the money down to join a gym — especially a high-end club like Life Time Fitness.
Is Life Time Fitness worth it? Here's my review: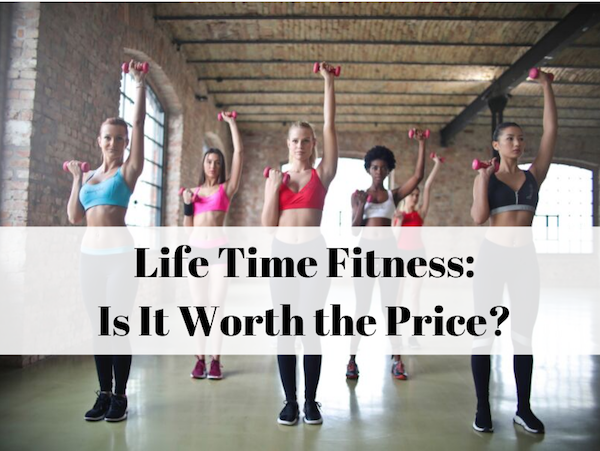 Overall, Life Time Fitness is one of the premier gyms and health clubs in the country. The features, equipment, amenities, and fitness classes are nearly unrivaled.
However, the price can be quite steep — starting at around $129 per month, at least. The value for your money is fantastic, but Life Time might simply be out of the question for many people.
Now let's take a little bit of a closer look at the costs and amenities, plus the pros and cons, of joining Life Time Fitness.
---
How much does Life Time Fitness cost?
For a lot of us, the cost of a gym membership can be a major deciding factor.
When deciding where to commit, you basically have three choices:
Budget clubs like Planet Fitness and Crunch
Mid-range gyms like LA Fitness and many others
High-end gyms and health clubs
Life Time Fitness definitely falls under the high-end bucket.
Life Time Fitness membership starts at about $129 per month for club access — that's called the Standard membership. They also offer a digital-only membership with on-demand classes and virtual training for about $15 per month.
You can also spring for the Signature membership (starting at around $169 per month) to get extra perks like early class and Kids Club reservations, indoor tennis court usage, and more.
You can learn more and compare options here, and remember that prices will vary wildly based on where you live! These are standard rates, but they can be much higher in certain parts of the country.
(But you should always, always negotiate your gym membership to get the best deal — click for my guide.)
If that all sounds a little steep, it is!
But read on to see why it costs so much…
---
Life Time Fitness Equipment, features & amenities
OK, so we know it's a little pricey.
But the question isn't "How much does Life Time Fitness cost?"
It's, "Is Life Time Fitness worth it?"
To answer that, let's take a look at everything LTF has to offer.
Equipment
The equipment at most locations will be:
Numerous!
Well-maintained
And often state of the art
The selection of cardio machines will blow your mind, and you'll find fully-stocked weight lifting areas, as well.
Not to mention resistance machines, medicine balls, resistance bands, and anything else you could think of.
That may not seem exciting, at first, but you'd be surprised how often your local gym doesn't have what you need.
(For example, a lot of gyms really skimp on weight lifting equipment like heavy dumbbells and power racks.)
You also shouldn't have to worry about being crowded out of your favorite machine.
---
Classes
This is probably where Life Time shines the most.
You won't find a better selection anywhere.
Your local schedule will vary, but typically you'll see an awesome and full-calendar of:
Bootcamps
Yoga
Cycling
Barbell strength
Yoga/strength hybrids
Barre
And so, so much more
These are included in your membership, so when we're talking about value, you have to factor in what you might spend taking all of these classes at outside studios.
---
Pool & Spa
Life Time has the BEST pools.
Yes, you'll find a spot to swim laps and burn some calories.
But you'll also usually get access to a huge outdoor family pool, often complete with a water slide and splash pads.
That's amazing! No other gym has that!
This is the kind of place where you'll want to sign up the whole family and spend an entire Saturday.
(Learn even more about the pools at Life Time.)
---
Child Care
Life Time has exceptional childcare (called the Kids Academy) featuring:
Classes & curriculum
Spanish immersion
Structured play
Swim time
Kid's fitness
Tutoring
Tummy time for babies
Etc
Your little ones will be in awesome hands while you work out.
---
Other Amenities
Life Time has plenty more, too.
There's:
Personal training (check what your membership includes)
Special events
Basketball courts
Salons & full-service spas
And plenty more
If it sounds like I'm gushing, it's because this place is truly awesome.
Which is exactly why it costs a minimum of $60+ per month!
---
What real people are saying (Life Time Fitness reviews, pros & cons)
I've worked out at Life Time Fitness a handful of times and really loved it.
But don't just take it from me.
After reading through hundreds of Life Time Fitness reviews from real people all over the country, here are the main takeaways:
Pros
Equipment selection
This place has everything!
It can be extremely aggravating at other gyms when the ONE power rack is taken, or the ONE set of 50-pound dumbbells is in use.
Typically, you won't have that problem at Life Time.
There's more than enough of everything to go around, though it can get crowded during peak hours.
Childcare
Childcare at gyms can be a nightmare.
I've heard so many horror stories about absent-minded staff or filthy conditions.
Not so with Life Time. I consistently read and hear positive things from parents who use the Kids Academy.
Class Schedule
If you're into group fitness classes, you should seriously consider joining Life Time.
Their schedule, variety, and instructors are the best around.
The membership fee is steep, but if you're taking outside yoga, spin, or pilates classes, you might actually save money by joining here.
---
Cons
Expensive
Yep, no getting around it.
For the bare minimum membership, expect to pay over $129 per month.
(That's about three times what some competitors cost.)
The value is awesome, but if you're trying to keep a tight budget, this might not be the right place for you.
There are FAR more cost-effective places to get a good workout.
Sales staff can be pushy
With prices like these, customers are extremely valuable to Life Time.
So I've heard more than a few people say that the front desk and sales staff can sometimes be a little pushy; either using aggressive sales tactics or making it hard to cancel.
Family atmosphere
If you hate being around kids (which, as a parent, I don't blame you), you might want to steer clear.
The childcare center here is frequently in use, and the outdoor pool is full of families in most locations.
If you want a quieter, adults-only atmosphere, look elsewhere.
---
Alternatives to Life Time Fitness
I love what Life Time Fitness has to offer, but it's not the only player in town.
You can get almost everything LTF has for about half the price if you shop around.
Personally, I'm a fan of LA Fitness.
I pay about $35-40 per month and my location has almost everything I described above except the outdoor pool and water slide.
(OK, and no salon!)
LA Fitness locations can be a little hit or miss. Some of them are old-fashioned dumps, others are incredibly well-maintained.
But if you're looking for a cheaper option with good equipment and amenities, check them out.
And here's my full breakdown of LA Fitness vs Life Time Fitness.
---
Wrapping Up
So is Life Time Fitness worth it?
It's hard to say.
I love the amenities and value, but man, the price is steep.
I'd say if you're going to get a lot of use out of the group fitness classes and/or outdoor pool, you'll get a lot of bang for your buck at Life Time.
If you're just looking for an affordable place to work out and don't need all the frills, look elsewhere.
But what do you think? Have you worked out at Life Time Fitness? Did you think it was a good value?
For more gym reviews, see:
Hope this helps!