Life Time isn't just a gym—it's practically a resort.
Life Time, Inc. has a whole chain of health clubs across the US and Canada, and there's really something for everyone at their athletic resorts.
You can find some of the best gyms on the planet, cafes, personal training, group fitness classes, sporting courts, and more.
But before you plunk down for that expensive membership, you might be wondering:
Does Life Time have a pool, hot tub, sauna, and/or steam room?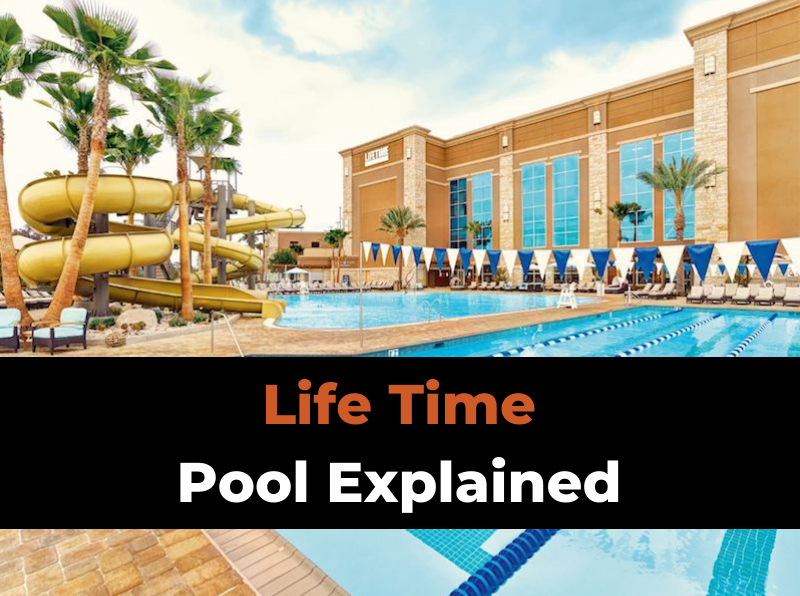 Life Time gyms have the best pools of almost any health club in the entire U.S. Every location has lap pools for swimming or aquatic fitness classes, and either an indoor or outdoor leisure pool — and sometimes both! If you join up as a family, you'll love taking advantage of water slides, splash pads, hot tubs, steam rooms, and more.
The only downside to the Life Time pool? This gym is also one of the most expensive in the country.
Let's dive in with photos, descriptions, and more details about the pool and aquatic amenities at Life Time fitness gyms.
---
Does Life Time Have a Pool?
Life Time offers swimming as one of the perks you'll find at its athletic resorts.
There are over 150 Life Time locations, and miraculously, every last one of them seems to have a pool!
This sets Life Time apart from other popular fitness chains. Many don't have pools at all, or only have aquatics at certianl ocations.
Life Time is set further apart by how many pools there are at various Life Time locations.
You'll often have access to the following:
Indoor lap pool
Indoor leisure pool
Outdoor lap pool
Outdoor leisure pool
Zero-Depth entry pool for kids
Therapy pool (at some locations)
When Life Time said there's something for everyone, it was obviously true.
However, there's no guarantee that every Life Time location has all six of these pools.
That said, you can assume that most if not all have several, if not all of these pools. After all, the term "luxury" in Life Time's "luxury athletic resorts" isn't thrown around loosely.
You should note that some locations require you to purchase a separate Pool Pass to access the outdoor pools.
You'll see a little asterisk (*) on Life Time locations' websites next to the pool amenities that require this pass.
---
Does Life Time Have A Hot Tub?
All Life Time athletic resorts have indoor and outdoor hot tubs, which Life Time refers to as whirlpools.
The indoor whirlpool is heated and full of massaging jets, so you can get nice and warm and relax after a hard workout at the resort's gym.
In many locations, the indoor hot tubs are located in a nice little corner that feels more private than the rest of the pools at the resort.
There's also a nice, wide set of steps you can sit on to relax in the tub.
The outdoor hot tubs also have lots of massaging jets, they're larger than the indoor ones, and they're not quite as private.
They're great if you like relaxing communally.
---
Does Life Time Have a Sauna, Steam Room, or Other Aquatic Amenities?
Life Time has plenty of aquatic amenities for you to enjoy. Let's take a look at them one by one.
Saunas
Most, if not all, Life Time locations have great saunas. They're nice, normal saunas for taking care of sore muscles. If you've ever been to a sauna before, then that's what you can expect at Life Time.
All members can access them, too, so you won't need a special pass to get in and relax.
Steam Rooms
The steam rooms at Life Time go the extra mile. The steam has hints of eucalyptus in it to help you relax and breathe in a wonderful scent while you do.
These rooms are designed to have a particularly calming quality. You can run to them and escape the stresses of the day, basking in the deep aromas while you bathe yourself in steam.
Leisure Pools
The leisure pools at Life Time aren't just copies of the lap pools, but without the lanes.
They're truly leaisureful and are more like something you'd find at an aquatic theme park.
Life Time has an array of indoor and outdoor waterslides and fountain-like water features for kids and adults alike to enjoy.
The whole family can enjoy a day by these pools, and hitting those water slides is a great way to wind down after a stressful day working out.
Lessons
One of the wonderful perks you'll find at Life Time locations is the abundance of lessons available for kids and adults.
There are group, private and semi-private lessons available for adults to swim, and there are kids swimming lessons to enjoy, too.
Water aerobic and adult masters tri-swimming are also available, with everything led by highly trained coaches.
---
Photos & Descriptions of Life Time Pools
Life Time Pools look different depending on which location you go to.
Employees at Life Time resorts generally say the lap pools are 25 meters long, and Life Time members who've gotten curious and measured the pools have found this number accurate.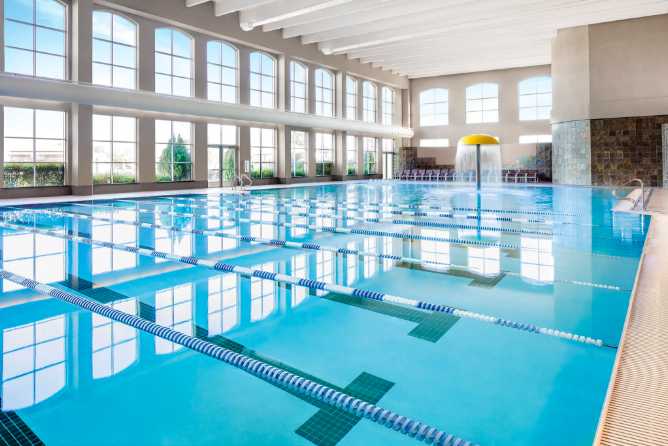 The indoor and outdoor pools are the same sizes at most locations.
Some members report a select few pools only being 22.86 meters long, or 25 yards.
Life Time's lap pools are 3.5–6 feet deep, and they're up to six lanes wide.
This width is particularly impressive, as many big chain gyms only have three lanes in their pools.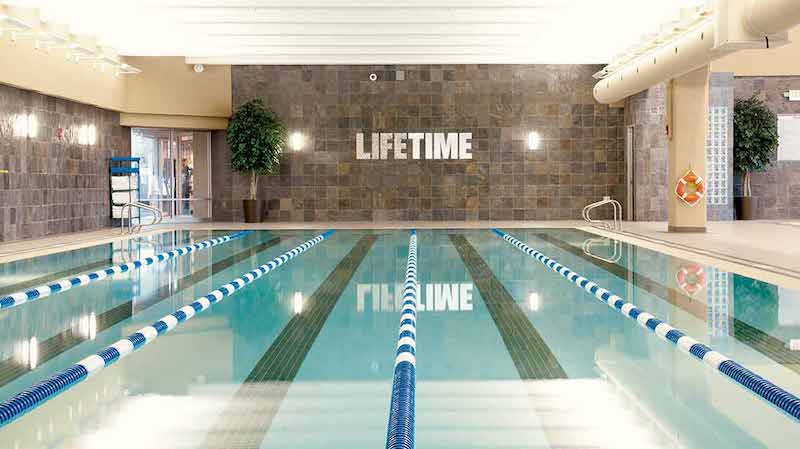 With lap pools like this, you can be sure you're getting exactly what you need to work out efficiently.
It's the leisure pools that are likely to have the most variance from location to location. These are also the most impressive!
Depending on your location, your Life Time gym might have indoor leisure pools, outdoor, or both.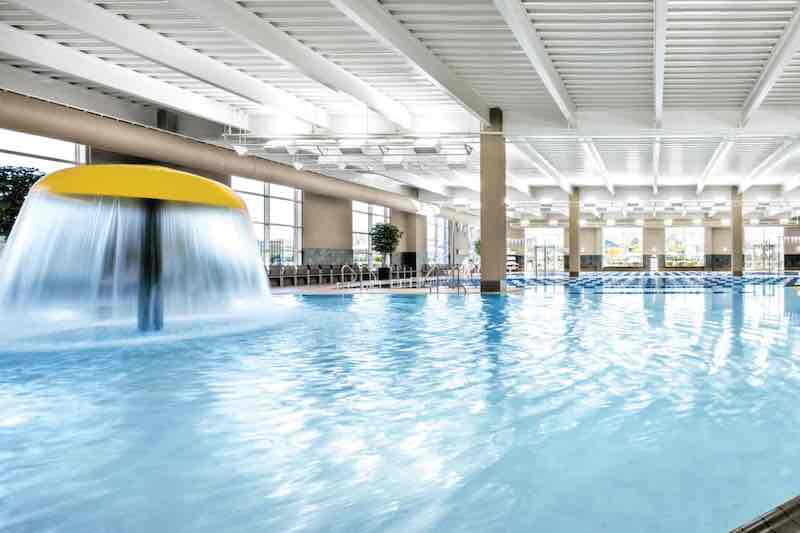 It might even have extra fun features for the kids like splash pads and water slides.
Leisure pools also have more variance in shape, as some have curved edges or are curved overall. They're quite often larger than the lap pool, too, so there's more room for people to have lots of fun.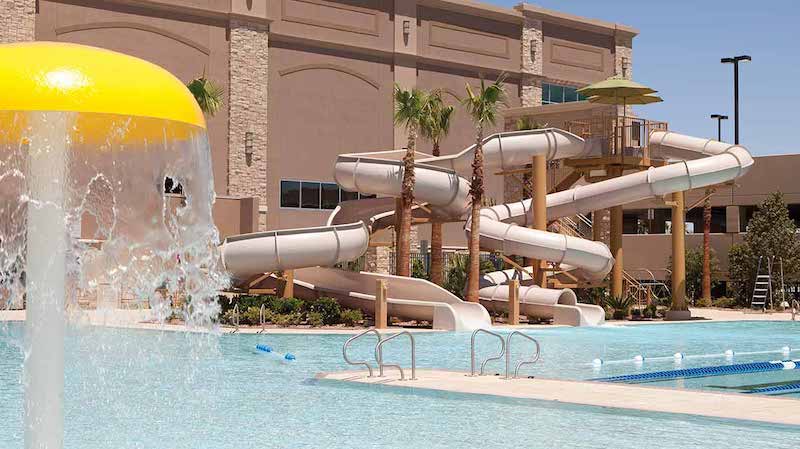 I mean, just look at that pool!
If you weren't already considering a fully family membership at Life Time, I'd bet you are now.
---
Wrapping Up
Not only does Life Time have fantastic pools for swimming and aqua fitness, you'll often find incredible leisure pools that make joining Life Time a great value for the family.
Beyond that, Life Time has tons of great amenities for you to enjoy: from saunas, hot tubs, and steam rooms, to relaxing cafes and smoothie bars.
You'll pay a pretty penny to join here, but Life Time is absolutely worth it.
Before you go, try these pool guides:
Hope this helps!