If you're a fan of luxury fitness, you may have looked into joining Equinox.
It's a luxury fitness club with 106 locations across the country, and there are a vast array of amenities for you to enjoy at all of these clubs.
From personal training, to a huge state-of-the-art workout area, to a spa, you'll find plenty of variety to engage you.
However, if your favorite way to work out is swimming laps or lanes in a pool, then any gym you join won't fit the bill unless it's got a pool.
Does Equinox have a pool, hot tub, or sauna?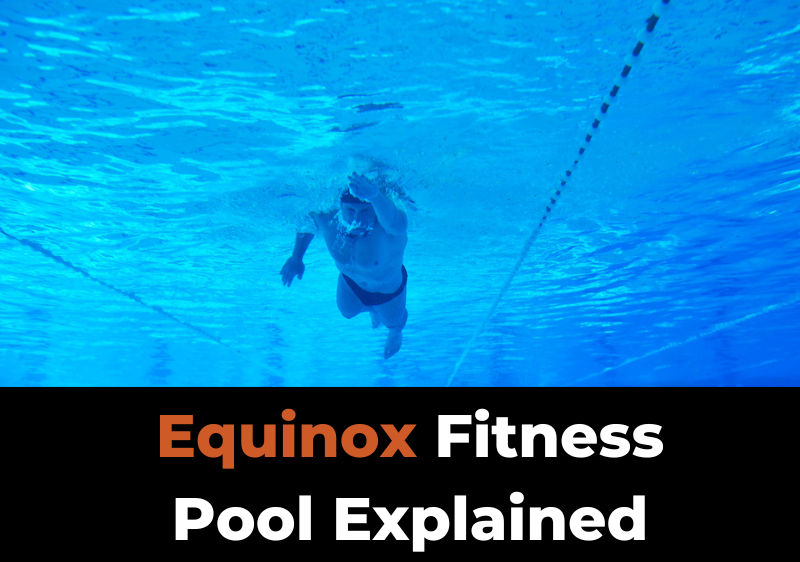 Equinox has some of the most beautiful and luxurious pools of any gym chain in the world. Most locations offer aquatics, but be sure to call or visit your local Equinox to be sure — a few smaller locales don't have pools. Pools at Equinox vary in size, some indoor and some outdoor, but are all among the most stunning you'll see anywhere! Most locations with pools also have hot tubs, saunas, cold tubs, and more.
Let's dive in and learn more about Equinox pools, hot tubs, saunas, and other aquatic amenities.
---
Does Equinox Have A Pool?
Pools are one of the many amenities that are available at Equinox, however, not every location has one.
Smaller Equinox locations are less likely to come equipped with a pool for your workouts.
Thankfully, it's not too hard to find out which Equinox locations have pools.
Simply Googling your location alongside "Equinox" and "pool" should more or less give you an idea of whether or not there's a pool near you.
There's also a page on Equinox's website talking about group fitness classes in the pool. This will, of course, show only locations with pools.
That makes the page a great way to gauge whether or not there's a pool near you, even if you're not interested in the group classes.
Unfortunately, though, this method doesn't show every location with a pool. Your best bet will be to call or visit your local Equinox locations to find out for sure.
There's also a variety of pool types across locations. Some have rooftop pools, some have heated pools, some have cool pools, and some have saltwater pools.
Checking out the Equinox clubs in your location will give you specifics on what's available to you.
---
Does Equinox Have A Hot Tub?
Equinox locations with pools generally have hot tubs, too.
However, this doesn't apply to all of them. Once again, you'll have to look into your specific location to find out what's available to you.
But if there's an Equinox hot tub near you, you'll likely find it a highly enjoyable experience to take a dip after your workout — these hot tubs have twin jets and are highly luxurious.
Be careful when looking into your local Equinox in relation to hot tubs, though. There are also purchasable hot tubs for your home with the brand name Equinox, so don't get the two confused.
---
Does Equinox Have a Sauna, Steam Room, or Other Aquatic Amenities?
Saunas are one of Equinox's core amenities. Therefore, you'll find saunas and steam rooms at all but the smallest locations.
It's always a good idea to double-check whether or not your local Equinox has these amenities, though.
This will stop you from going in with your hopes up and being disappointed when you get there.
There are also hydro massages available at some Equinox locations. Cold dipping pools can also be found at some of them.
---
Photos & Descriptions of Equinox Pools
Equinox pools have been described as the most luxurious pools at any gym.
That's not uncommon for amenities at this chain!
There's a great variance in how they look, though. Some are indoor, some outdoor, some have lap lanes, and some don't.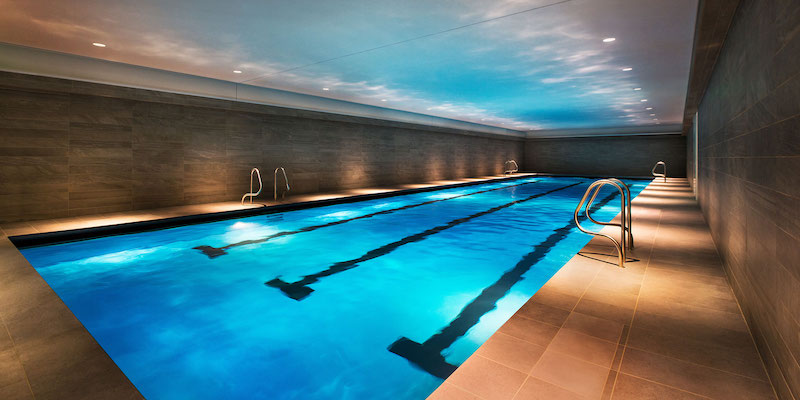 The pools with lap lanes generally have three or four, and these are in among the largest pools at Equinox locations.
The pools are all at least 7 feet deep, as this is the standard required depth for a gym.
Width-wise, they're generally wide enough to accommodate a minimum of three lanes, although the width isn't specified for any of the pools.
Length is also something of great variance. Unlike many gyms which have Olympic or near Olympic-sized pools, Equinox doesn't.
Some lengths I've seen in my research are 69 feet, 75 feet, 85 feet, and even some as small as 32 feet long.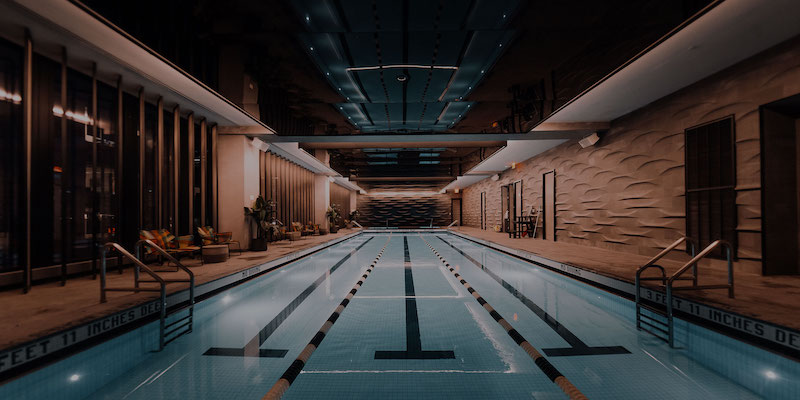 There are all good sizes for recreational swimming, though if you'd like to get a little competitive, then you should probably look elsewhere.
Overall, the pool areas have a relaxing atmosphere — with moody, luxurious lighting — despite being mostly used for workouts.
The outdoor pools frequently have lounge chairs nearby. The indoor pools are a little quieter with calming colors and a nice atmosphere that will make you feel serene when you're working out.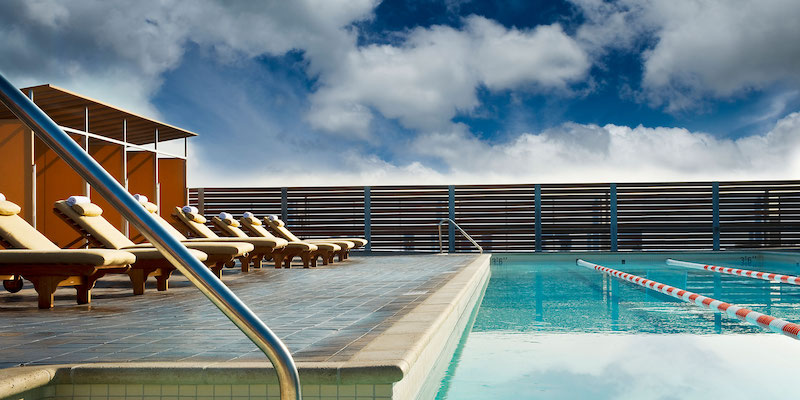 They may vary considerably in size, but it's safe to say all of these pools are wonderfully clean, big enough for multiple people to use at once, and pleasant enough to have a good time in while working out.
---
Wrapping Up
Equinox may be known as one of the top luxury gyms in the world, but not every location has the same amenities.
Saunas and steam rooms are present at many locations, and there are many locations with pools, too. Locations with pools frequently have hot tubs and cold dipping pools too.
All the pools are gorgeous and luxurious, although they're not all full-sized pools like you might find at some other gyms.
Despite that, you can still have a good workout in an Equinox pool, especially if you take one of the many fitness classes available at some locations.
For more, check out the:
Hope this helps!