When it comes to budget-priced gyms in the UK, it doesn't get any bigger than Pure Gym.
With more than 300 gyms spread across the UK, Pure Gym is the largest gym network in the United Kingdom. It also claims to be the best. 
But is it really?
Pure Gym is definitely affordable, but whether it has all the equipment and amenities you're looking for might be another matter.
Is Pure Gym worth it? Here's a full review.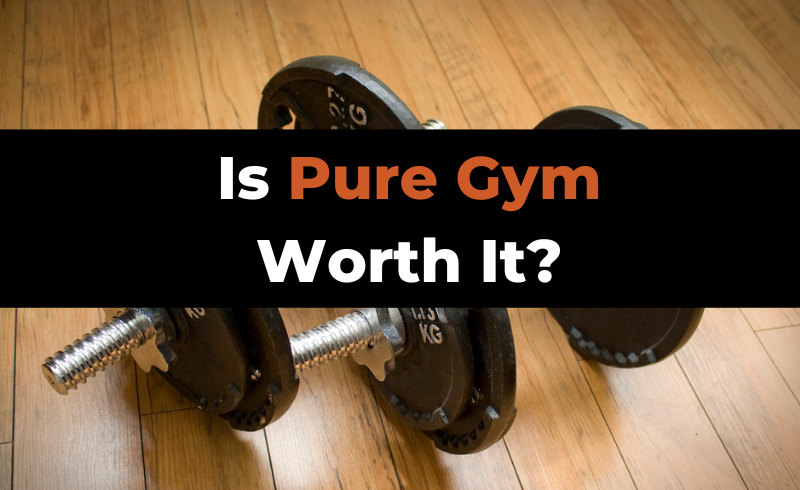 Pure Gym is affordable and easy to find almost no matter where you live in the UK. For the price, the equipment and amenities are quite good — including tons of fitness classes and a great gym app. The only downsides at Pure Gym are the lack of a pool or child care, which is to be expected at this price point.
Let's take a closer look at Pure Gym including its price, equipment, amenities, and what real members are saying.
---
What Is Pure Gym?
Pure Gym is a budget gym chain with more than 300 gyms spread across the United Kingdom.
This is a no-frills gym, so don't expect to fund spas or saunas; it's all about the workout. 
Pure Gym's headquarters are in Leeds, West Yorkshire. There are also offices in London and Southamptom.
This is the largest gym chain in Britain, with more than a million members spread across their locations. 
In May 2015, Pure Gym bought out its biggest rival in the area, LA Fitness. At that time they had 141 gyms. Since they have more than doubled in size to a current total of 307 gyms.
However, new gyms are constantly being added. 
---
How much does Pure Gym cost?
There are no contracts at Pure Gym. That means that you are never committed to the gym.
You can freeze your membership (only with Premium membership) or cancel it at any time. 
Membership costs may vary from location to location. However, the prices quoted in this section represent the average of most facilities. 
There are three options for monthly membership as follows, broken up by when and what you're allowed to access at the gym:
Off-Peak – £15.99 + £10 joining fee
Core – £20.99 + £10 joining fee
Premium – £27.99 + £10 joining fee
Let's take a look at what each option gives you:
Off-Peak
Gym access from 12:00 am until 3:30 pm and 8:30 pm to 12:00 am on weekdays and all day on Saturday and Sunday.
Access to all fitness classes – can book classes 8 days in advance
Core
Use the gym anytime
Access to all fitness classes – can book classes 8 days in advance
Premium
Use the gym anytime
Access to all fitness classes – can book classes 14 days in advance
Bring a guest 4 times per month
Freeze your membership anytime
Unlimited sports water
Pure Gym regularly features special rates.
For example, at the time of this writing (June, 2022), you can waive the  £10 joining by joining online with a code.
They often also have specials where you can get Pure membership for the Core membership price. 
Students are eligible to have the joining fee waived regardless of any specials or promotions. There are additional student specials from time to time. 
A Day Pass to a Pure Gym cost £6.99 if you're looking to try it out before making any commitment.
---
Pure Gym, Features & Amenities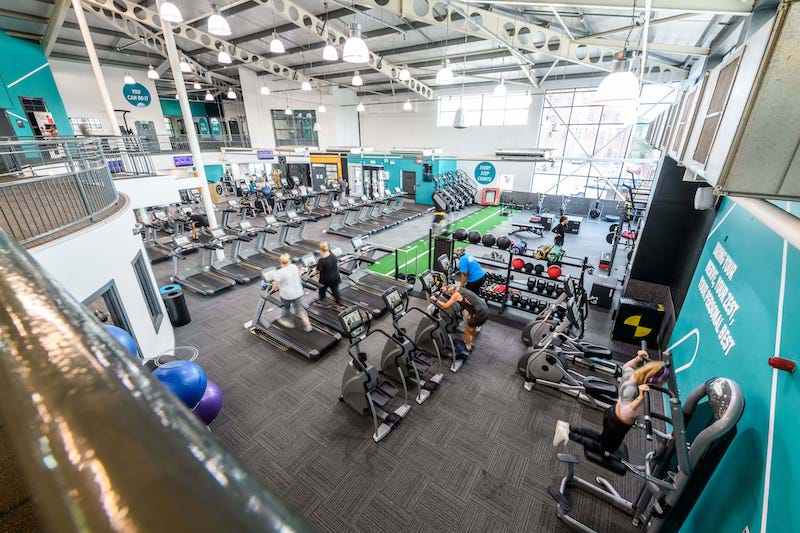 So once you pay your entry fee and get in the door, what does Pure Gym have to offer?
Let's take a look.
Equipment
Most Pure Gyms include more than 200 pieces of exercise equipment. That includes a full range of strength training equipment, from barbells and dumbbells to cable machines and single exercise workout stations.
There's also a full complement of cardio training equipment, including treadmills, ellipticals, rowing machines, stair climbers, steppers and spin cycles.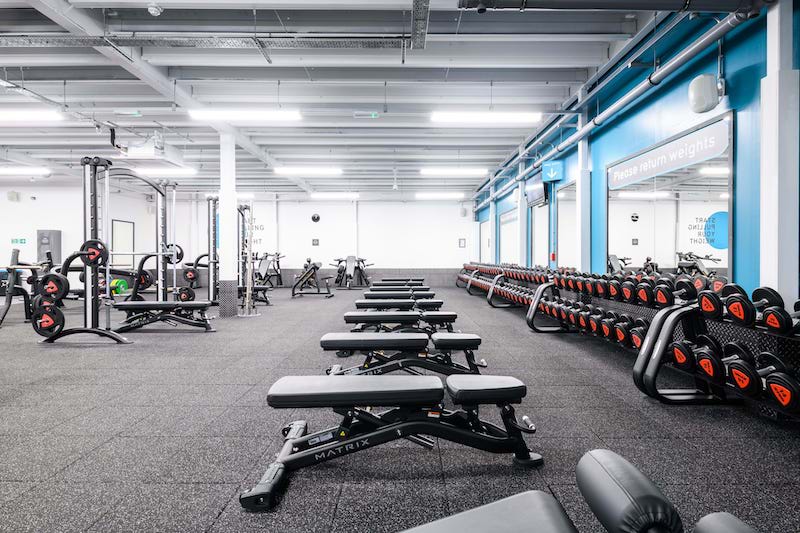 Each gym has a large free weights area. Most of them have dumbbells up to 50 kg, along with a full complement of flat and incline benches, power and squat racks, Smith machines, and plate-loaded equipment.
50 kg dumbbells equate to 110 pounds. That will meet the needs of the vast majority of trainers but heavyweight bodybuilders and powerlifters will soon max out.
As a result, this gym will not meet the demands of super-strong athletes who include exercises like dumbbell bench pressing in their routine.
Every Pure Gym also includes a range of fixed resistance weight machines.
These machines are the ideal starting point for beginners. The selection includes machines for the chest press, shoulder press, bicep curls, Lat Pulldowns, leg presses, and leg extensions. There are also multi-station machines.
Gym App
Pure Gym provides its own fitness app for members, streamlining certain parts of the gym-going experience.
On the app, you can:
Enter the gym with no-contact
Book group fitness classes
Access on-demand workouts
See how crowded the gym is in real-time
Pay and manage your membership
Track training goals
Classes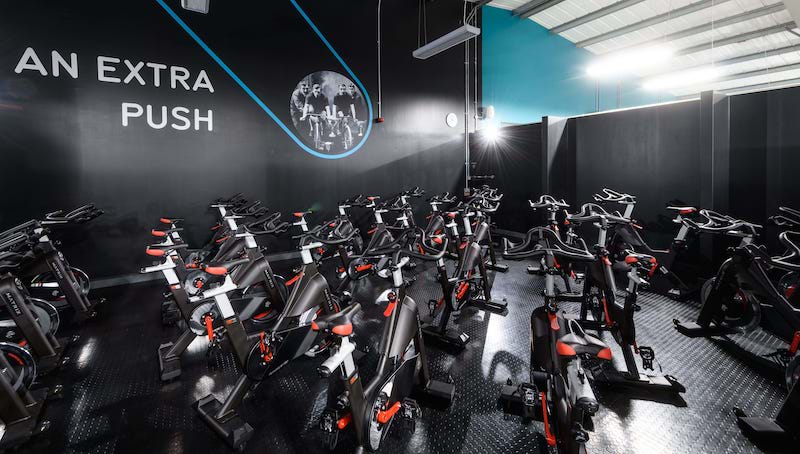 Pure Gyms offer a wide range of fitness classes to suit all levels of fitness ability.
Classes are grouped into the following categories:
Cardio
Sculpt & Tone
Mind & Body
Functional
Within these classifications, members have plenty of options including yoga, functional strength, aerobics, Zumba, cycling, and more!
What's great is that even members on the Off-Peak plan can attend classes at Pure Gym
Child Care
Pure Gym does not provide child minding facilities.
Spas, Saunas & Pools
Being a budget gym chain, there are no spas, saunas, or swimming pools at Pure Gym locations.
There are full-service changing rooms that provide lockers, showers, hair dryers, and clean, comfortable changing areas. 
Opening Hours
Most Pure Gyms are open 24 hours per day, seven days per week. However, a few of them may close for several hours during the night.
The hours that the gym is staffed may also vary, but will usually be from 6 am to 9 pm on weekdays and 6 am to 4 pm on weekends.
Personal Training
Every Pure Gym offers personal training. All personal trainers are fully qualified and experienced to provide premium fitness guidance and training.
Personal training rates vary as personal trainers are free to set their own rates. Outside of London, a 45-60 minute session will cost between £30-60. It is more expensive in London, with the rate averaging between £45-65 for a 45-60 minute session.
Most personal trainers will offer discounts when two or more people train together.
Personal trainers may give general nutritional advice. However, they are not qualified to write meal plans for clients.
---
What real people are saying (Pure Gym reviews, pros & cons)
Being the UK's largest gym chain, there is quite a lot of opinion online about Pure Gym. As you'd expect, there is a mixed bag of views about how good this gym chain is.
Most positive reviews mention the equipment range, the cost, and the friendly staff. Ironically, quite a few negative reviews also mention cost and service.
Here's the general consensus from real members in the UK.
Pros:
Low cost
Lots of great equipment
24/7 access
Gym cleanliness
Cons:
Multi gym access is only available with premium membership
Overcrowding during peak times
Dumbbells max out at 50 kg
---
Alternatives to Pure Gym
With Pure Gym being London based, you'll have no shortage of great options when you're shopping for a new gym.
If you're not quite sure if Pure Gym is for you, here are some of the best alternatives worth a visit.
Fitness4Less
Fitness4Less is a smaller franchise than Pure Gym that also operates a budget model. They have locations in Southwark, Canning Town, and Cambridge Heath.
These gyms provide a full complement of training equipment. However, most locations are not as big as a Pure Gym and have less gear on the weight room floor. 
Fitness4Less provides members with a lot of fitness classes (the Southwark gym has 60 classes per week). Most of them also have a separate spin bike studio. Prices vary from gym to gym, but they all have a £25 or less option.
The Gym
The Gym (what a name!) has dozens of locations across London.
They've got 180 locations across the UK and are one of the cheapest priced gyms, with memberships from £12.99 per month. That includes full access to classes. The joining fee is just £5 and there are no contracts.
Prior to the Covid pandemic, all gyms were open 24/7. Most of them are now operating from 6 am to 10 pm.
EasyGym
EasyGym has just three London locations, with more on the way.
This is another budget gym that provides a full range of cardio, strength, and functional training equipment.
As you'd expect in a low cost facility, there are no spas, saunas, pools, or child minding facilities offered. There are also fitness classes, including their own Pack45 — a team workout experience combining cardio, strength, and functional exercises with a flexible intensity interval training system.
Membership starts from £12.99 per month.
---
Wrapping Up
Pure Gym offers a quality, no-frills gym experience at a decent price. However, you have to buy the premium membership to gain access to all locations and be able to freeze your membership when you'd like.
All three of the alternative gyms mentioned in the previous section include multi- locations access for considerably cheaper.
Still, Pure Gym offers a really great assortment of amenities and a good experience for the price, making it well worth the investment, overall.
Check out your nearest Pure Gym here and visit to see for yourself.
For more reviews, check out:
Hope this helps!