What do you get when you combine a gym with a nightclub? 
I'm not sure, but it's probably going to be pretty close to the experience you discover when you enter a Speakeasy Fitness center.
The electric light and fast-paced vibe of the place are pretty unique, making for a great place to work out for the young and energetic crowd.
Still, even though the atmosphere is cool, the big question remains:
Is Speakeasy Fitness worth it? Here's a full review.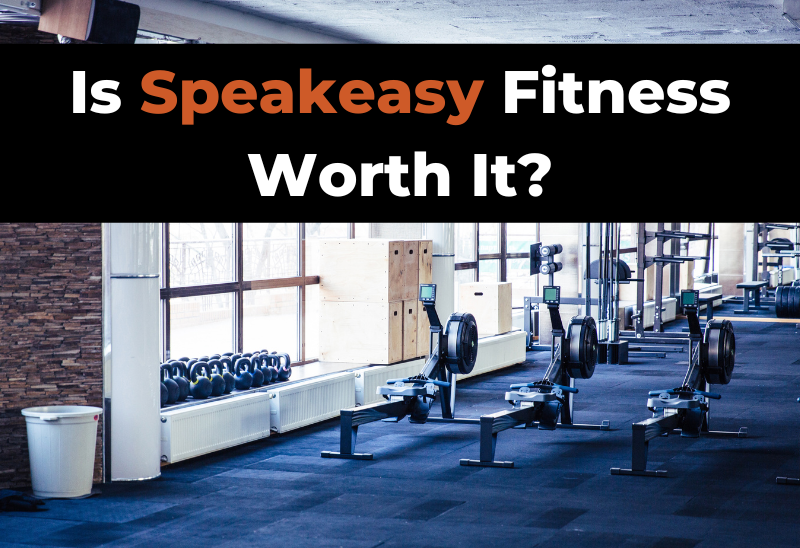 Speakeasy Fitness is an affordable gym with great equipment, a fun atmosphere, and plenty of positive member reviews. It's a great choice if you live in the Southern California area — but if you're looking for child care at your gym or like to take lots of different group classes, you may be better off elsewhere.
Let's take a closer look at Speakeasy Fitness prices, equipment, amenities, reviews, and more.
---
How much does Speakeasy Fitness cost?
Speakeasy Fitness offers several membership options based on:
Which locations you want to access
The length and terms of your contract
Any special promotions available
As of this writing, you can join 3 locations (Sylmar, North Hills, Van Nuys, and and Reseda) for $10 per month on a 12 month contract, plus a $49 "facility enhancement fee."
You can also save a few dollars by paying for the whole year in full for $165.
This special deal offers you "limited" access — meaning you can only visit the gym during certain times.
Outside of this promotion, you should expect to pay closer to $20-30 per month to join most Speakeasy Fitness locations for full access and amenities.
You'll get the better deal with a 12-month contract — but most locations offer month to month memberships for closer to $30 per month.
You can also buy a $20 Day Pass to try out a membership.
This can then be traded in to be used as part of your membership payment when you sign up.
Make sure you check with your local Speakeasy or browse the website for accurate and up-to-date prices.
---
Speakeasy Fitness Equipment, Features & Amenities
So we know that Speakeasy is a pretty decent deal compared to your average big box gym membership.
What does your hard-earned money actually get you?
In addition to incredible mood lighting and bumping music, akin to what you'd find in a spin class, you'll see: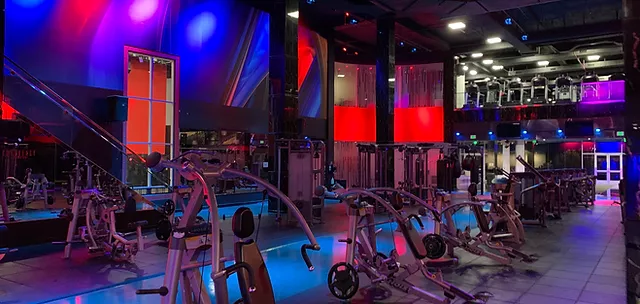 Equipment
Speakeasy Fitness has a great selection of exercise equipment, including:
Cardio Machines (treadmills, Stairmasters, rowers, etc.)
Dumbbells from 5 to 100 lbs
Strength Machines
Flat & Incline Benches
Squat Racks & Bars
Speakeasy is filled with some awesome plate-loaded and pin stack machines.
They have a cool range of Hammer Strength plate loaded machines for those that prefer resistance machines workouts.
There's also a full range of dumbbells up to a maximum of 100 lbs. That will meet the training needs of most people but may be a bit limiting for advanced bodybuilders and strength athletes.
The gyms also have a good range of Smith and cable machines. They have been sure to provide multiple versions of the machines that are the most popular so that you don't have to wait around to use them.
Each gym also has a turf functional training area equipped with weight sleds, kettlebells, plyometric and agility training equipment.
A unique feature that I haven't seen in any other gyms is a dedicated Butt Zone that is packed with equipment to work your glutes.
There is a pretty cool cardio cinema room at every Speakeasy Fitness Center that features a huge screen, surround sound, and very cool mood lighting.
The cinema is filled with cardio gear so you can sweat it out as you watch the latest Hollywood blockbuster.
Classes
Fitness class attendance is included with membership at Speakeasy Fitness.
(If you join on a special promotion, however, you may have limited access. Check before you join.)
There are a limited number of classes held each day, with the times and class types varying between the venues.
Typically, you'll find Speakeasy group fitness classes like:
Zumba
Bootcamp
Cycling
Boxing
And more
Compared to some other mid-range gyms, however, the range of classes offered here is somewhat limited in both variety and quantity.
Personal Training
Personal Training services are available at all SpeakEasy Fitness centers, though you'll pay an extra fee on top of your membership.
Child Care
Speakeasy Fitness does not offer child care or child minding as of this writing, though some locations may be opening centers in the near future according to social media posts.
Extra Amenities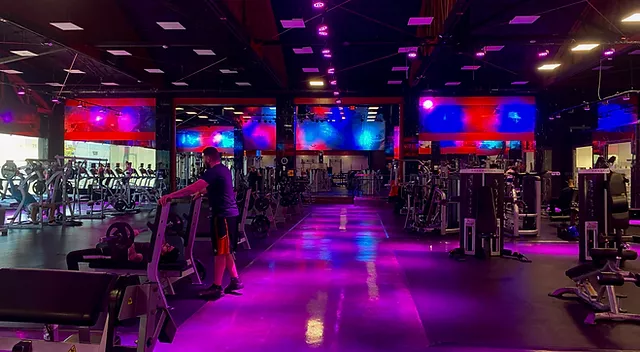 The extra amenities on offer at each gym may differ slightly. Most of them will provide:
A full-sized basketball court
A heated cycling room for spin classes
A cardio cinema room
A sauna and steam room
A pool and jacuzzi
A butt zone to work the glutes
Spas, Saunas & Pools
The following Speakeasy Gyms provide sauna, spa, and pool facilities:
Sylmar (Sauna, Spa Pool, Pool, Jacuzzi)
Van Nuys (Sauna, Spa Pool, Pool, Jacuzzi)
Noho (Sauna and Steam Room)
Reseda (Sauna, Spa Pool, Pool, Jacuzzi)
---
What real people are saying (Pros, Cons & Speakeasy Fitness Reviews)
A number of reviewers mentioned that Speakeasy has gone above and beyond expectation when it comes to hygiene and procedures related to the Covid pandemic.
Each gym features EPA-approved disinfectant facilities, with social distancing and controlled capacity being strictly observed.
This has given many people confidence in attending Speakeasy Fitness centers as the post-pandemic gym return takes place. 
Most negative reviews have to do with trouble cancelling memberships — this is an extremely common complaint about most gyms, unfortunately.
In light of this, I recommend getting the cancellation procedure clearly spelled out to you before you commit yourself. 
Speakeasy Fitness pros:
Very clean
Hammer Strength training equipment
Excellent COVID procedures
Friendly staff
Energetic atmosphere
Great lighting
Multiple versions of high use machines
Speakeasy Fitness cons:
Limited weekend hours (many locations only open until 6pm)
Trouble cancelling
---
Alternatives to Speakeasy Fitness
There are probably more gyms in Southern California than in any other part of the world. That means that there are plenty of alternatives to Speakeasy Fitness.
With their biggest and brightest new gym opening soon in downtown LA, I've decided to zoom in on L.A. gyms that are comparable alternatives.
Here are three of the best:
The Gym L.A
The Gym L.A. is a 9.500 square foot state-of-the-art gym located in West Los Angeles. It was voted the 3d best gym in L.A. This gym has an impressive range of strength training machines, along with all the cardio gear you'd expect. The place is always spotless and the trainers get top marks in the vast majority of online reviews.
The Gym L.A. provides a wider range of group fitness classes than Speakeasy fitness. They also offer personal training services. Cardio stations have individual TVs but there is no Cardio Cinema.
Memberships are available on contract or month-by-month.
Gold's Gym, L.A.
Gold's Gym in downtown Los Angeles provides a full fitness experience for all family members at the world's most iconic gymnasium. As a member, you will have access to top of the line exercise equipment, along with a vast array of group fitness classes and designated functional training areas.
An awesome aspect of the Gold's experience is their 12-week body transformation challenge. As well as fast-tracking you to your health and fitness goals, this challenge also offers the opportunity to win some serious cash!
(Read a full Gold's Gym review here.)
24-Hour Fitness – Mid Wilshire
The downtown Los Angeles 24 Hour Fitness at Mid Wilshire excels when it comes to studio classes, as well as incorporating innovative training programs and spacious workout areas.
There's also a full complement of cardio gear as well as free weights and strength training machines — plus, an Olympic training rig, functional training zone, and TRX suspension training area.
24-Hour Fitness has a $0 initiation fee and you get the first month free!
(Read a full 24 Hour Fitness review.)
---
Wrapping Up
SpeakEasy Fitness presents a cool, flashy, electric light setting to energize your workouts. While the vibe is decidedly directed to the younger crowd, it also caters to older gym-goers.
This gym gets great reviews for service, cleanliness, and range of equipment. 
However, it's a little light in terms of fitness classes and doesn't have child minding facilities.
If you're visiting California or are a resident, it well worth checking out — at least on a day pass.
For more, check out:
Hope this helps!