Is Esporta the same as LA Fitness? No — the two are separate but quite similar in their facilities and amenities.
Launched in 2020 under the LA Fitness umbrella in an attempt to compete with other high-volume, low-cost membership gyms, Esporta gives clients a fresh new look (color, graphics, club setup) to the LA Fitness brand.
As one of the fastest-growing health and fitness clubs in the United States, LA Fitness / Esporta offers its clients plenty of amenities, programs, and membership packages that cater to their personal needs.
For those who are already members of LA Fitness, Esporta will welcome your membership at all of their 700 locations, which is convenient for those who travel and want to be consistent with their workout routine.
However, if you are an Esporta member, this policy does not work in reverse. 
While all of the bells and whistles can be attractive to some and, obviously, every gym has its pros and cons (we can't please everyone), the big question is:
Is Esporta Fitness worth it? Here's a full review.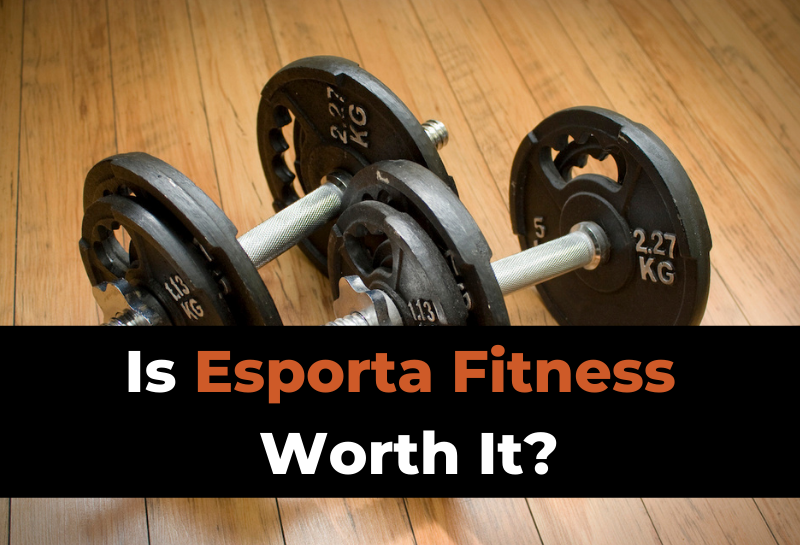 Esporta Fitness is a solid entry into the budget-friendly gym world, with memberships starting as affordable as $9.99 per month. What's nice, though, is that you can access many of the same amenities you'd find at a mid-range gym if you do decide you're willing to upgrade your membership. Just watch out for any hidden fees and make sure to visit your local gym to ensure you like the staff.
Let's take a closer look at Esporta Fitness, prices, equipment, amenities, pros, cons, reviews, and more!
---
How much does Esporta Fitness cost?
Esporta Fitness offers their clients three different membership packages ranging from a $0-$99 initiation fee with monthly dues of $9.99 to $29.99 depending on the package you select.
Considering that you are paying far less than a cup of coffee a day for even the most expensive package, the monthly fee for what you get is well worth it.
When it comes to selecting a membership package, there are a number of options to consider.
While the Basic Single Club membership is cheaper overall at $9.99 a month ($119.88 for the year), it does require a $99 initiation fee and only allows access to the strength and cardio equipment areas.
For clients looking to have full access to all of the amenities that Esporta offers, this package is not for you.
Esporta does offer two different Premier Memberships, one being a "Single State" ($25.99 per month / $311.88 for the year).
The other a "Multi State" ($29.99 per month  / $359.88 for the year) option for those who like to work out while they travel.
Both memberships offer full access to all amenities (Single State does not offer Unlimited studio cycling).
For those who are looking to use the aid of a personal trainer, Esporta will charge an additional fee and your contract will be subject to an additional agreement.
When you read the fine print on the Esporta website regarding membership fees, it states that there are different prices for those in Arkansas, Arizona, Delaware and Louisiana.
Currently Esporta Fitness is offering a special for their Single State / Multi-Club membership in which they will waive your first month's dues for a $1 initiation fee.
Esporta Fitness offers a three-day trial pass for anyone who wants to test-drive the facilities before opening up their wallet.
---
Esporta Fitness Equipment, Features & Amenities
Now that we have covered what it costs to get in the doors, let's take a look at what your hard-earned dollar gets you at Esporta Fitness.
Equipment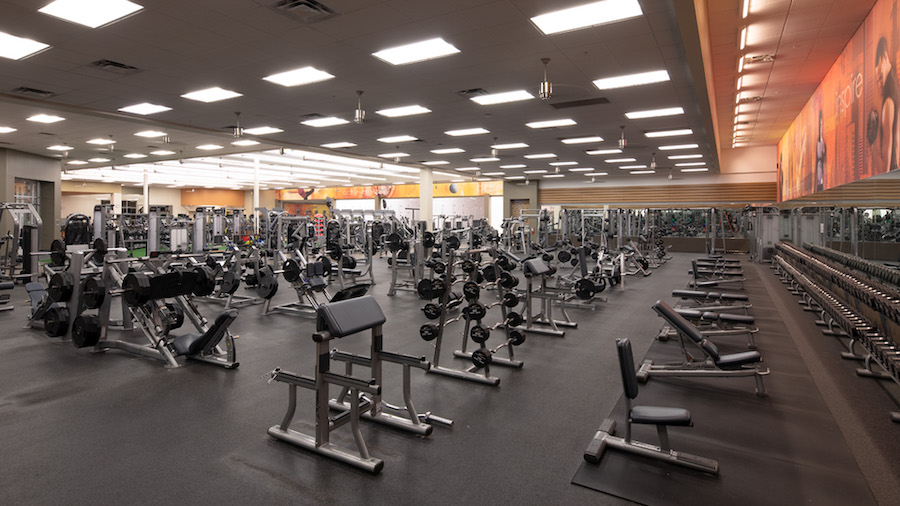 While most locations have the same equipment, as with any big box gym, there may be a bigger or smaller selection in number and variety.
Depending on the time of day that you hit the gym, like anywhere else, there is a peak period and quieter times, so don't be too surprised if you show up at lunch or right after work and your location is packed with like-minded people wanting to get their sweat on.
Typically, Esporta locations look exactly like a typical LA Fitness!
Cardio Equipment
Exercise bikes (various styles)
Stair climbers
Treadmills
Rowers
Plyometric boxes
Strength Equipment
Free weights (dumbbells, kettlebells, barbells/plates)
Machines
Medicine Balls
Battle Ropes
Olympic Lift Section
While some may argue that the amount or quality of the equipment or space is not the same as LA Fitness (depending on the location), it is to be expected considering that Esporta is set to be a more budget-friendly gym.
Group Classes
As part of the two Premier Membership packages, clients are offered the following classes at Esporta Fitness that will challenge your cardio, balance, strength, and even your rhythm.
Please note that classes and times will vary from location to location.
Aqua Fit
Boot Camp Conditioning
Cycle
Kickboxing
Pilates
Yoga
Zumba
Pool, Spa & Other Amenities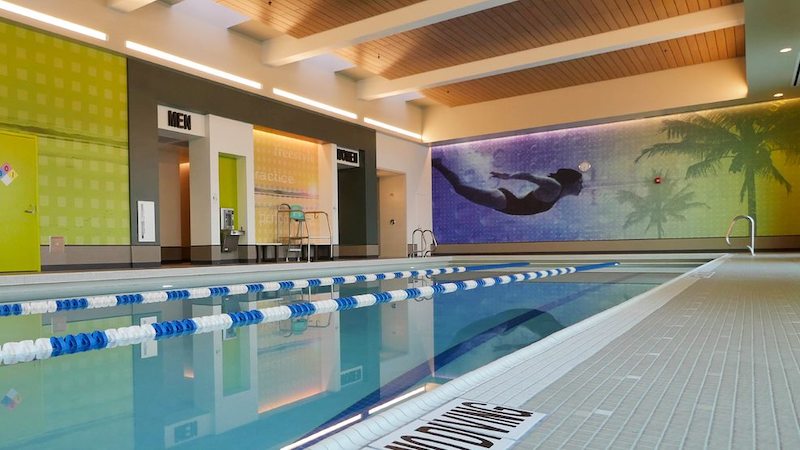 As with LA Fitness locations, Esporta offers Premier Members access to a heated Junior Olympic-sized swimming pool for group classes or free lap swimming as well as a hot tub.
Esporta also offers a full-size basketball court that can also be used for volleyball.
Gym activities can be used on a pick-up basis or for league play. Racquetball courts are also available as well for personal or league play. If you happen to forget your equipment, most locations provide balls and racquets for their members to use.
Esporta also offers personal training sessions with certified trainers who will design a customized workout plan to help you establish and achieve your individual fitness goals, help you learn new exercises, and monitor you for proper form.
For those who need to change before going to or coming from work or play and are also seeking a shower, Esporta offers members full locker room facilities and showers.
Clients just need to bring their own towel (not only for your shower but also for your workout session) and lock. 
Child Care
For those who have kids and are unable to find a babysitter at home and need to get away for a quick workout, like their parent company, LA Fitness, and many other gyms, Esporta does provide childcare options for their clients, for a fee (of course!).
Depending on the level of membership and the location, the rates for "Kids Klub" start at approximately $10 per month.
It is best to check in with your local facility for this service availability and details.
---
What Real Members Are Saying (Esporta Fitness Reviews, Pros & Cons)
Like any big chain fitness business, there are pros and cons for each location. Some Esporta venues have different pieces of equipment or number of staff and trainers or amenities.
Various online review sites have provided the following comments to help potential new clients get a feel for what they may be in for.
Pros:
Less expensive than most gyms
Equipment / client ratio
Extras such as pool, hot tub, basketball/volleyball court, racquetball
Child care
Group classes
Personal training
Some locations provide sports leagues.
Ability to access different locations with Premier membership
Cons:
Some members have mentioned hidden fees, (especially for canceling) in their reviews. As with any contract, make sure you read the fine print!
Staff turnover, which makes for a not-so friendly and inviting environment, especially with concerns regarding child care and cleaning maintenance
Depending on the location, the volume of equipment may not be plentiful.
The Esporta app is often unusable
With lower membership fees, the clients that use the gym may not have the best gym etiquette.
---
Alternatives to Esporta
You can't judge a book by its cover, which is why it is heavily suggested that no matter which gym you are looking to become a member of, you take advantage of their trial pass (usually between 3-7 days).
If Esporta doesn't cut it for you, there are plenty of other options available.
Other budget-friendly gyms that start in the $10-20/month range would be Planet Fitness and Crunch. Both are great options for beginners, but Crunch usually has the better selection of equipment for a similar price.
If you're willing to spend a few extra dollars per month for better facilities, try 24 Hour Fitness or even Anytime Fitness. There's also, of course, LA Fitness itself!
---
Wrapping Up
Starting at $9.99 per month, you'd be hard-pressed to find a better budget-friendly gym with as good of a selection of equipment as Esporta Fitness.
However, remember that the basic membership does not get you access to many of the nicer amenities you'll see at most facilities like the pool, sporting courts, group classes, and more.
If you decide to upgrade to a higher-end membership, the prices are still fair, but more inline with a typical mid-range gym.
Overall, Esporta Fitness is well worth considering and definitely worth a trial run while you're gym shopping!
For more reviews, check out:
Hope this helps!