Looking to get in shape in Georgia? While you'll find plenty of gyms to meet your needs, one of the most exciting, innovative new chains is BodyPlex.
With a wide range of classes, great equipment and competitive prices, BodyPlex have established themselves as a serious contender in the fitness space down south.
But…
Is BodyPlex Fitness worth it? Here's a full review: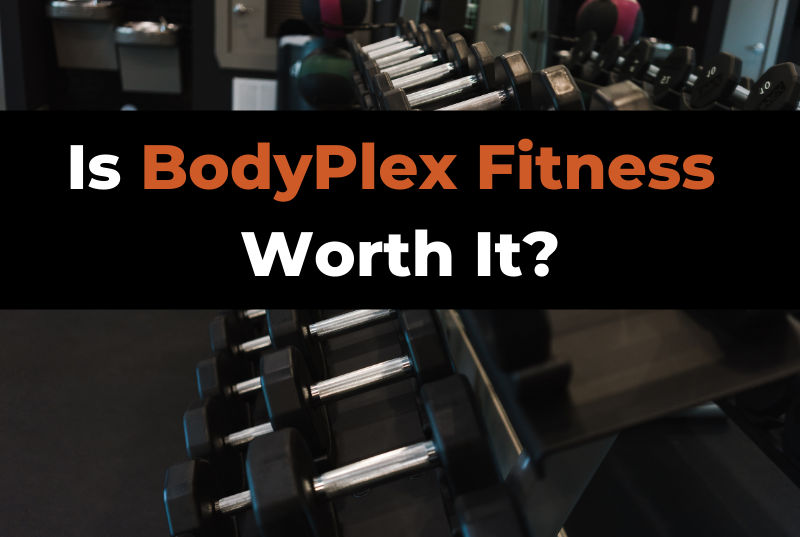 BodyPlex Fitness is affordable and offers a great selection of equipment, group classes, and a good childcare service — not to mention 24/7 access. If you're looking for aquatic amenities, however, you'll need to keep looking.
Let's take a closer look at the costs, equipment, amenities, pros, cons, and more!
---
What is BodyPlex?
BodyPlex is a fitness chain that has its headquarters in Atlanta, Georgia.
The first gym was opened in 2000 and there are currently BodyPlex gyms in the following Atlanta locations:
Blue Ridge
Cartersville
Elberton
Grayson
Hamilton Mill
Hiram
Jasper
Lake Oconee
Milledgevill
Newnan / Sharpsburg
Oakwood
and Woodstock.
BodyPlex is also in Caparra, Canovanas & Guaynabo, Puerto Rico!
BodyPlex gyms are open 24 hours per day, 7 days a week.
---
How much does BodyPlex cost?
BodyPlex prices may differ slightl;y between locations.
Here is a breakdown on the rough pricing you might expect, but always check with your local club for the best deal — and don't forget to negotiate!
The base membership at BodyPlex usually starts at around $15 per month plus a $25 enrollment fee.
However, the basic membership doesn't allow you to access group classes or childcare (Kidsplex).
Higher membership tiers are available that include one or both of these services.
Basic + Kidsplex = $25/month
Basic + Classes = $25/month
Premium (all amenities) = $35/month
Some locations charge an annual fee of around $39-45.
Some locations offer additional perks you can tack on to your membership, like Tanning, or even an option for Couples to join together for a lower rate.
You can also choose to pay your whole membership upfront on an annual basis, which waives the initiation and annual or enhancement fees.
The annual option usually saves you a couple of bucks in the long run.
---
BodyPlex Equipment, Features & Amenities
Alright, so we know how much it costs to join BodyPlex.
Now what do you get with your membership? Is it worth the price?
Equipment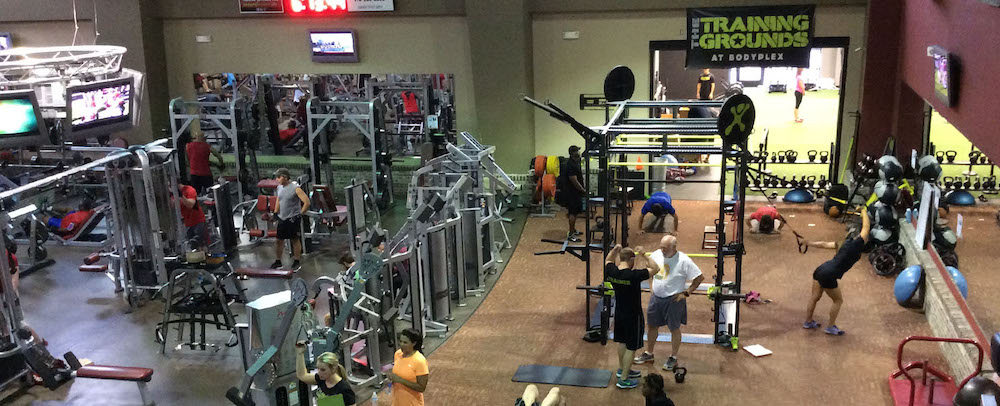 While many gyms struggle to achieve the ideal balance of strength training equipment to meet the needs of both the general fitness trainer and the bodybuilding / powerlifting crowd, BodyPlex has got that balance about right.
You'll find a wide range of strength training machines, with some of the most popular brands being represented.
In addition, every BodyPlex has a solid free weights area, where you'll find plenty of:
barbells
dumbbells
kettlebells
power and squat racks
as well as cable machines.
The cardio areas of the gym, which are usually upstairs overlooking the gym floor, are also well catered for in terms of equipment.
You'll find a full complement of treadmills, ellipticals and bikes to provide you with plenty of heart pumping workout variety.
Group Fitness Classes
BodyPlex are known for their wide range of group fitness classes.
All centers offer classes throughout the day and evening, with the most popular being …
Zumba
ZumbaGold
Body Combat
Bodypump
BodyAttack
CXWorkx.
BodyPlex is also one of the few gyms I have come across to offer fitness classes specifically for children!
There are also fitness studio and spin studio classes on offer.
Remember, these classes generally aren't included in the Basic (~$15/month) membership. If you want access to classes, memberships typically start around $25/month.
(Learn more about the best gyms with group classes.)
Pool/Sauna
BodyPlex gyms do not have pool or sauna/ steam room facilities.
Childcare
BodyPlex gyms have a childcare service that is called KidsPlex.
This service will cost around $10-15 per month on top of your regular Basic membership fee, which is a great value!
Kidsplex operates at specific hours and isn't open 24/7, so check your local club for availability.
Children need to be between the ages of 6 weeks and 12 years of age and there is a two hour daily limit on use.
KidsPlex is staffed by trained professionals and offers a wide range of television, entertainment and activity options to keep the kids engaged
Other Amenities
BodyPlex gyms provide spacious and well maintained locker rooms with showers for member use.
Some locations offer tanning beds that are included at higher membership tiers, as well.
---
What real people are saying (reviews, pros & cons)
There are a lot of reviews online for each of the BodyPlex gyms. These range from glowing testimonials to utter disparagement.
However, the majority of negative comments revolve around bad customer service.
Your mileage may vary depending on the manager and staff at your local BodyPlex club, so it's always a good idea to take a tour, meet the staff, and try a Free Trial before you sign any contracts.
A theme that emerges among the online reviews is that people are generally satisfied with the equipment provided, considering the facilities and service to represent very good value for money.
A lot of people speak very positively about the kids club and the overall value for money.
Pros
Large range of strength training machines and free weights
Very good experience with Kidsplex childcare
Solid value for the money
Cons
No pools, saunas and steam rooms
Some customer service issues
---
Alternatives to BodyPlex
There are a lot of gyms in Georgia in general, and in Atlanta specifically.
If you're looking for something affordable but with a few more amenities, check out LA Fitness or Workout Anytime.
Both of these clubs offer a fantastic value for the money and offer pools/saunas at most locations, which BodyPlex doesn't.
(However, many locations of these clubs are not open 24 hours, which BodyPlex is.)
For a cheap budget gym, Planet Fitness is the big name, but Crunch is the superior value.
---
Wrapping Up
BodyPlex is a mid-priced gym that meets the needs of both general fitness seekers and hardcore gym goers thanks to a wide range of strength and cardio training gear.
Its large range of fitness classes, including kid's group fitness sessions, are a highlight, as is the well-reported on kids club.
Facilities are new and well maintained, making BodyPlex a pretty desirable place to work out.
All that for a pretty affordable price!
The only real downside to BodyPlex is that its low on other amenities like aquatics and sporting courts.
For more gym reviews, check out:
Hope this helps!