If you're looking for an all inclusive fitness club and you live in Southern California, Nevada, Utah, or Florida then you need to check out EOS Fitness.
This is no Planet Fitness. Each EOS club has tons of great amenities like pools, childcare, group classes, and more.
With over a hundred locations, EOS has developed a reputation for family friendliness and great service.
But is EOS Fitness worth it? Here's a full review.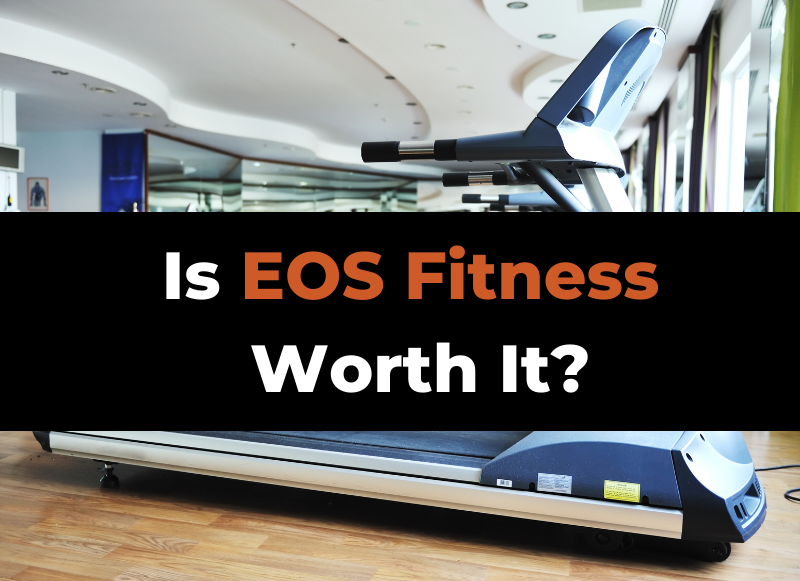 EOS Fitness is easily worth the $10-25/month membership fees with a great selection of equipment, group classes, childcare, and fantastic extras like VR Training and Cardio Theaters. The only real downside to this gym is that it's not available everywhere.
Let's take a closer look at what it costs to join EOS Fitness and whether it's worth the money.
---
What is EOS Fitness?
EOS Fitness is a fitness center chain with more than a hundred locations on the West Coast and Florida.
You can currently find EOS Fitness centers in:
Southern California
Utah
Nevada
Florida
EOS classify their gyms as High Value Low Price (HVLP).
They offer state of the art machinery, their MoveOS cinema cardio training experience, around 60 fitness classes per week, along with saunas, steam rooms and spacious locker rooms.
Each center works to achieve a tribal club environment that is all inclusive and welcoming to everybody.
Of course, the service level changes according to what the staff are like at each individual location, but the amenities are almost always superb.
---
How much does EOS Fitness cost?
EOS Fitness offers 3 membership options depending on what level of access you need.
The prices listed below are a ballpark estimate or an average cost at each club. Exact costs can vary by location so always confirm with your local EOS.
The cost to join EOS Fitness will be between $9.99 and $24.99 per month at most locations, plus annual and start up fees.
Don't forget to negotiate those extra charges!
Basic / Gray
The Basic membership provides you with access to all weight training and cardio areas of the gym. You also get full use of lockers and showers.
Basic Membership Startup Fee = $149
Monthly Fee = $9.99
Annual Membership Fee = $49.99
Platinum / Blue
A Platinum membership includes access to multiple EOS locations, unlimited group and water fitness classes and a whole host of other perks.
Platinum Startup Fee = $20
Monthly Fee = $19.99
Annual Membership Fee = $49.99
Platinum Plus / Black
The EOS Fitness premium level membership includes everything you get with a Platinum membership plus you can bring a buddy to the gym every time you work out – it can be the same person every time or someone different!
You also have access to premium facilities at select gyms.
Platinum Plus Startup Fee = $20
Monthly Fee = $24.99
Annual Membership Fee = $49.99
Most EOS Fitness locations offer a free 7-day trial so you can get a taste of the gym amenities before signing up.
---
EOS Fitness Equipment, Features & Amenities
Let's look at what your monthly membership dues actually get you.
Equipment
Each EOS Fitness center provides a full range of cutting edge strength training equipment.
There is a full range of free weights, with dumbbells going up to 150 pounds.
There are also dedicated powerlifting stations and plenty of benches and racks so that you're not waiting around for your turn – even during peak hours.
EOS also offers a full complement of strength training machines, both cable plate loaded and hydraulic resistance activated.
The cardio rooms are literally packed with aerobic fitness choices with everything from treadmills with individual TVs, to ellipticals, stair climbers, rowers, cross trainers and bikes.
Every EOS center also provides a functional training area that's covered in turf and features such hardcore training options as sled pushing, battle ropes and all manner of plyometric training options.
Group Fitness Classes
EOS excels when it comes to group fitness classes.
They offer more than 60 classes per week, spaced out to accommodate every schedule.
Here's a sampling of some of the most popular classes on offer:
Strength & Core – these energetic classes combine weights, barbells, bodyweight movements and functional core exercises to deliver a full force functional and core workout to develop a fit and strong body.
Just Cardio – these classes focus on boosting aerobic fitness and maxing out calorie burn through high intensity workouts.
Mind, Body & Stretch – these classes allow you to slow down and focus with a range of mind and body disciplines and restorative stretching moves to help you find inner calmness, strength and peace.
Pool/Sauna
Each EOS center features indoor lap pools.
Water fitness classes are held at most facilities.
There are also sauna and steam room facilities at all clubs. You can even relax in a hot tub after your workout to speed up your post workout recovery and then enjoy a hydromassage on a water based massage bed.
(Learn more about the best gyms with pools here.)
Childcare
EOS operates a Kid's Club which is open to children from 6 months to 12 years.
Kids Club Fun Houses are full of stuff your kids will love, including games, activities, jungle gyms, mini basketball courts and even mini movie theaters.
The only problem is that your kids won't want to go home when your workout is over.
You'll be charged $15 per month (varies by location) for each child you enroll in the Kid's Club.
(Learn more about gyms with childcare here.)
Other Amenities
EOS provides some pretty unique – and extremely cool – amenities that you won't find in your run if the mill gym franchise.
These include Flite Zone, a 20 minute full body circuit designed to target all major muscle groups, and BlackBox VR, which integrates fitness with immersive technology.
Using streaming VR technology, you are able to make use of the world's first virtual reality controllers. This is like nothing you've experienced in a gym before.
EOS also offers small group training led by elite certified personal training coaches.
EOS certified personal trainers also provide one on one training services.
---
What real people are saying (reviews, pros & cons)
So, what do real users of EOS think of the place?
I've searched through a number of review sites to get the answer.
As with all gyms, there are a number of people who claim that this is the best gym to ever exist and those who think just the opposite.
Here's a breakdown of the key points that I got from the reviews.
Pros
Great range of gear, updated regularly
Clean, hygienic facilities
Friendly environment and great atmosphere
Fun classes with heaps of choice
Cons
Difficult to cancel membership
Hidden fees (ie. towels)
Poor service (depends on location)
At most gyms, negative reviews tend to concern management, staff, and cleanliness.
These factors depend heavily on the location. So your best bet is to visit your local EOS in person before you join. See how it looks for yourself and assess the staff before signing any contracts.
---
Alternatives to EOS Fitness
EOS Fitness really offers a lot of value for your money.
The list of amenities is top notch and hard to beat for just $10-25 per month.
However, some other fantastic mid-range gyms worth checking out before you sign a long-term contract are:
Each of the gyms above has strengths and weakness (click for full reviews).
For example, if you need 24 hour access, you won't get that at most EOS Fitness locations and should consider 24 Hour Fitness instead.
If the class schedule at EOS isn't cutting it for you, you may find a better selection at LA Fitness.
---
Wrapping Up
EOS Fitness is a center that impresses with its range of facilities and training options.
These guys are genuine fitness innovators with some really neat training modalities that will keep you interested and invigorated.
They've got a great Kid's Club and a massive range of fitness classes.
Just watch the hidden fees and cancellation policy, and always, always tour the facility and try a 7 day trial before you join!
For more gym choices, check out:
Hope this helps!