Do you have difficulty telling the difference between a dumbbell and a barbell?
Do you think yoga is a bear living in the woods waiting to steal your pic-a-nic basket?
Look, everyone is a beginner at some point but you shouldn't let your trepidation about going to a gym prevent you from going.
What you should do is tour and explore the best gyms for beginners before signing any contracts.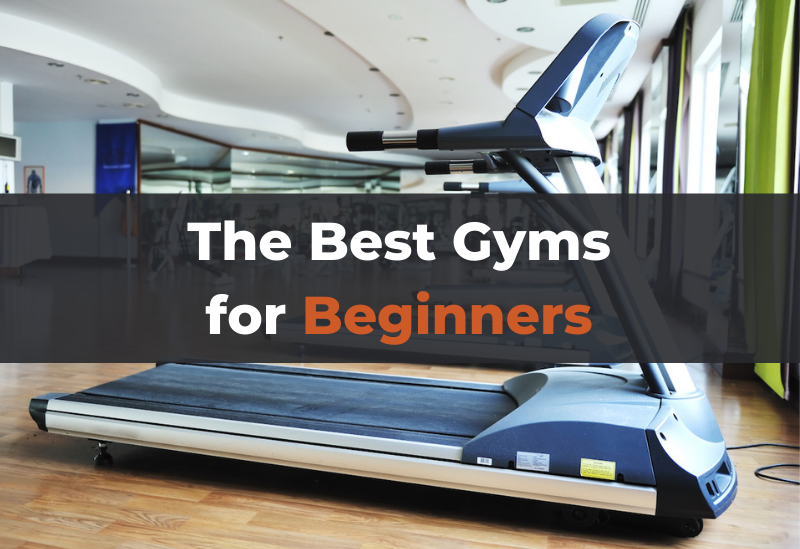 There are plenty of options out there that will make you feel right at home. They don't cost a lot, and they'll provide you with a good assortment of equipment so that you can figure out where your strengths are.
For my money, these are the 5 best gym memberships for beginners (in no particular order):
Planet Fitness
Crunch Fitness
LA Fitness
Anytime Fitness
YMCA
| | |
| --- | --- |
| | Best For |
| Planet Fitness | Budget & cardio |
| Crunch Fitness | Budget & basic strength |
| LA Fitness | Equipment and amenities |
| Anytime Fitness | 24-hour access |
| YMCA | Pick-up sports & families |
When you visit these gyms, you're bound to see a lot of people who are in the same boat as you.
Even when you start getting the hang of it, you may decide to stay at these chains for a while. After all, there's plenty at all these gyms for advanced trainees, too.
Let's take a look at the benefits of each one and what you need to know before you join.
---
What beginners should look for in a gym
It's easy to feel out of your depth when you're just starting out.
A lot of gyms may not make much of an effort to help newcomers feel at home, so here are some factors to look out for as you tour places:
Price: It doesn't make sense to make a big investment when you're not sure if you're going to stick with a regimen. You want affordability so that you don't lose much in case you realize the gym isn't right for you.
Convenience: It's easier to get a new routine when you don't have to go out of your way. As you search, see which options are closest to your home and/or work. If you need late night access, look for 24 hour gyms.
Group Classes: If you don't like working out on your own, you might get a lot of value out of yoga, spin, or other classes that come with your gym membership. Ideally, the gym you join will have a plethora of options, so you can try a little of everything.
Personal Training: If you're brand new to fitness, sometimes you need a little help, especially if you're unfamiliar with the equipment. Different gyms will offer trainers, sometimes for free, sometimes for a slight price increase. This person will be available to answer all your questions about which stretches you should be doing, how long, and how many reps you should start with.
Now let's look at some of the best national gym chains that check all or most of these boxes.
---
Planet Fitness
The main selling point of Planet Fitness is the low price point.
There are plans starting at just $10 a month. You really won't be able to find gym memberships much less than that. 
Aside from the price, Planet Fitness goes out of its way to make it clear it's a place for beginners.
Just take into consideration their ad slogan:
The World Judges, We Don't. At Planet Fitness, Be Free.
Locations are even outfitted with a "Lunk" alarm. If any weightlifters get a little too noisy, an alarm goes off to set them straight.
Planet Fitness offers trainers at no cost, as part of their PE@PF program.
Not only that, but the chain hosts fun events to make people feel welcome.
On certain days of the month, gyms hand out free pizza and bagels. It's a great way to carboload before getting on the elliptical. 
(Though some might argue it can work against your fitness goals if you're not careful!)
PF is a great choice if you're joining a gym for the first time. But once you become intermediate or advanced, you may want to graduate to a gym with better amenities and equipment.
Planet Fitness is notoriously a terrible place for strength training, with only some light dumbbells and basic resistance machines available. You won't generally find racks or platforms for squats, deadlifts, etc.
Planet Fitness pros:
Budget friendly
Extremely beginner friendly
No bodybuilders
Free pizza!
24 hours
Planet Fitness cons:
Terrible for weight lifting
No pools or childcare
(Read more in my Planet Fitness review.)
---
Crunch Fitness
When it comes to Crunch Fitness vs. Planet Fitness, the latter is definitely at a more attractive price point.
A basic Crunch membership costs between $10 – $22 a month.
If you really want higher amenities like tanning and hydromassage, then you may need to upgrade to one of the plans that cost $30 a month.
Prices vary by location, as they do at all big box gyms.
However, Crunch is a good option for beginners if you want to join a class to stay motivated.
Crunch has a plethora of options from dance to muscle sculpting.
Though they don't list the cost, Crunch has personal trainers for a cost, which means price probably varies by location.
Crunch is a lot like Planet Fitness — beginner friendly and fairly easy on the wallet. You'll get a better selection of weight lifting equipment here, though, along with group classes at some locations.
Crunch often (but not always!) has at least one power rack for legitimate weight training.
Crunch Fitness pros:
Affordable & budget-friendly
Solid equipment selection
Group classes available
Crunch Fitness cons:
No pools or childcare at most locations
(Read my full Crunch Fitness review.)
---
LA Fitness
LA Fitness is what I call a mid-range gym, and it's one step up from Crunch.
Monthly fees vary by location, but you should expect to pay in the range of $25 to $35 a month. 
In terms of mid-range gyms, LA Fitness has a great assortment of gear with pretty much every weight, cardio machine, and class you can think of. 
This is where I personally go and I couldn't be happier there!
To make sure it's a good fit for you, you can always request a one-day guest pass.
Take it for a spin and see what you think.
Also, a lot of LA Fitness locations come with special amenities you won't find at gyms within the same price range.
From pools to basketball courts, you can get a lot of the same features that you tend to only get at some of the more elite gyms at a fraction of the price.
LA Fitness pros:
Excellent equipment selection
Tons of group classes
Most locations have pools, childcare & sporting courts
LA Fitness cons:
Most LA Fitness locations aren't 24 hours
(Read my full LA Fitness review here.)
---
Anytime Fitness
At Anytime, you start getting into higher-end prices.
On top of membership plans that cost $30 to $40 a month, you also have one-time initiation fees that go between $80 and $100 depending on location.
But you get what you pay for: a great selection of cardio equipment and free weights.
Depending on where you sign up, you may even get unlimited classes included with the cost of your membership.
(Some locations will charge extra, however, so be warned and read the fine print.)
Anytime has also developed Remote coaching, so that you can get a personal trainer, via text!
Ultimately though, I'd recommend Anytime Fitness for beginners who are a little on the older side.
With Silver Sneakers programs specifically designed for senior citizens, the older crowd can find other people in their age range to work out with to feel more comfortable if they need it.
Like the name suggests, Anytime Fitness is open 24/7 at almost all locations — so you won't have many excuses for missing your workouts!
Anytime Fitness pros:
24 hour access
Great equipment selection
Group classes available
Anytime Fitness cons:
More expensive than similar mid-range gyms
Classes not always included in membership
(Read more here: Is Anytime Fitness worth it?)
---
YMCA
You might be surprised to see the YMCA on this list, but it isn't just for summer camp for kids anymore.
For around $40 to $50 a month for adults (less for teens and seniors), you gain access to much of the same equipment and amenities, including pools, you get at the more elite gyms.
YMCA is worthwhile due to the sheer volume of them around.
With over 2,700 locations, there's bound to be one either near your house or your place of work.
Personal trainers seem to be dependent on location.
And while there's a good amount of equipment, YMCAs aren't exactly on most people's radars.
You'll find all kinds of people working out here, so there's a good likelihood you're going to find people who are on the same level as you (beginners, seniors, people with injuries, etc.).
It's an extremely friendly and approachable club.
YMCAs usually don't get as crowded as bigger chains, so if you suffer from gym anxiety, this might be the place for you.
It's also a terrific and enjoyable place to join with the whole family and enjoy childcare while you work out.
YMCA pros:
Surprisingly good equipment selection
Less crowded than other gyms
Pools, excellent childcare, and sporting courts
YMCA cons:
Expensive choice for single adults
(Check out my full YMCA gym review here.)
---
Wrapping Up
When it comes to picking the right gym for you, you may not know where to start.
What exercises do you enjoy? How often can you commit to going?
Start by answering these questions and touring as many of the gyms above that you can find near you.
Don't sign any contracts until you've enjoyed a free workout or two at the gym and scoped out all the equipment and amenities for yourself
Here are some other guides to help you make an informed decision.
Hope this helps!