Everyone has different reasons for going to the gym.
Some people want to build massive muscles while others want to recover from a prior injury. 
However, if your ultimate goal is to lose some weight, then you need to look at specific characteristics of each gym on your list to determine which one is the best fit for you.
You can burn calories with any kind of exercise from cardio to HIIT (high intensity interval training), which you can find at almost every gym.
Remember, losing weight is a long game that is helped by establishing a community and attainable goals.
The key here is to find a gym that keeps you motivated enough to show up consistently so that you build enough healthy habits to lose weight the right way over time.
But which gyms fit the bill best?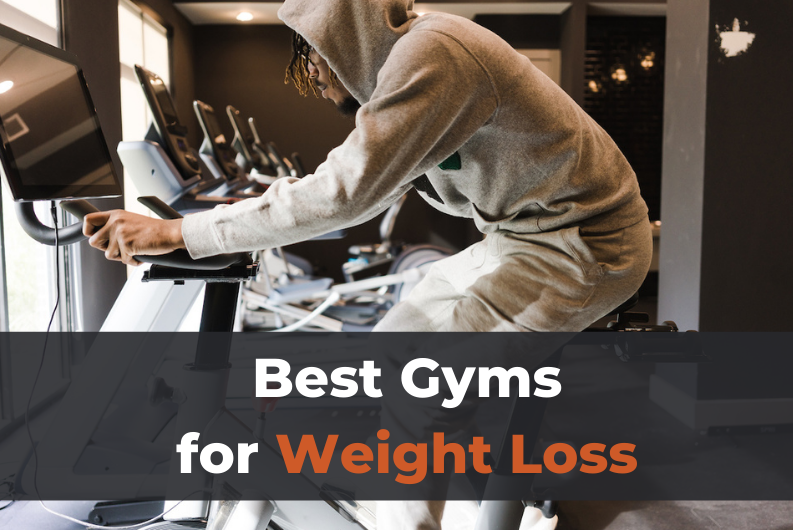 Here are 5 of the best gyms for weight loss based on cost, amenities, equipment, and more:
LA Fitness
YMCA
Anytime Fitness
Equinox
Life Time
The path to better health is out there, so here's what you need to know about each of these big box gyms.
---
What to look for in a gym if weight loss is your goal
If you're new to working out, then the best quality to look at in a gym for weight loss is variety.
Many people end up quitting their regimen sooner than expected because they get bored easily.
But everyone's different. Some people love lifting weights while others would rather get a root canal.
That's why it's a good idea to sign up for a gym that has a little bit of everything.
Some gyms even have pools available where you can swim on your own time or take a swim class.
Not only is it a great way to cool off, but you work out in a fun, relaxing manner. 
Ideally, you can find a gym near you that has a range of amenities, including:
sporting courts
group classes
pools
spas
and saunas.
If you actually look forward to going to the gym, then it'll be a lot easier to stick with your routine.
Aside from that, you need to account for your budget and the and times you're available to go.
I would avoid "cardio farms" like Planet Fitness unless you're working on a really tight budget — there's just not enough variety and amenities there to make going genuinely enjoyable.
So let's take a look at some big national gym chains that check these boxes without breaking the bank.
---
LA Fitness
LA Fitness is one of the best budget-friendly gyms around.
On top of the relatively low monthly fees (ranging from $25 to $35), LA Fitness gyms are generally huge.
Instead of going to a strip mall, this chain tends to have its own buildings, and that allows for an excellent assortment of:
cardio equipment
resistance machines
free weights
and so much more.
If you don't want to work out on your own, then you're in luck. LA Fitness has numerous group fitness classes available that are all part of your membership.
That means you don't have to pay extra to take advantage of the following.
Pilates
Power circuit
Bootcamp
Yoga
Zumba
Aqua fit
You can try out as many classes as you want.
It's easy to keep track of what all's available near you with the LA Fitness app. Sign up for classes on the go so that you never miss a session.
Most LA Fitness locations also have a pool, childcare, sporting courts, and other amenities that will keep you coming back again and again — without getting bored.
(Check out my full LA Fitness review and walkthrough here.)
---
YMCA
Depending on your particular location, the Y can be your one-stop shop for everything you need to shed some pounds.
These gyms have all the basic equipment you would expect anywhere else, plus a great selection of free weights and strength training equipment.
You'll be surprised how well stocked the Y is!
The YMCA also has a great selection of group classes for people of all fitness levels.
Some classes even take place outside if you want a little sunshine with your regimen.
You'll need to check the one nearest you, but YMCA locations also tend to have amazing pools and saunas, along with racquetball, basketball, and more.
Many locations have memberships starting as low as $30/month, but I've seen some go as high as $80.
Keep in mind, lower rates are available for teens, seniors, and military personnel, so you may be able to save a little dough as you get in shape. 
The YMCA is an excellent gym for weight loss because it's stocked with amenities, classes, and equipment — plus the environment is extremely beginner-friendly.
Working out at the Y is a genuine pleasure.
(Learn more about the YMCA gym here.)
---
Anytime Fitness
Anytime is another mid-range gym with memberships in the range of $30 to $50/month.
From cardio machines to free weights, you have abundant choices in how you want to get in shape.
Classes are also offered, but you want to do some research before signing up. Some Anytime gyms include classes with your membership while others force you to pay an extra fee.
Call ahead of time and read the fine print so that you don't end up spending more money than you have to. 
A great aspect of Anytime for people interested in losing weight is that there are also professionals standing by to help you in other areas of your health.
Meal planning services from nutritionists are available, for example — though you'll likely have to pay extra.
Which means even when you're away from the gym, you still have the knowledge to make healthy choices so that you get in the best shape of your life. 
When you meet with a consultant, you just have to mention how you're specifically in weight loss so that you get the correct recommendations.
Anytime gyms are also open, well, any time! So if you struggle to fit in workouts around your schedule, joining up here is a good way to eliminate that excuse.
(See my full Anytime Fitness review here.)
---
Equinox
Equinox is definitely one of the most elite gym chains around with memberships usually starting at around $180/month. 
Luxury is the name of the game here, with the newest and best-maintained exercise equipment available.
Most locations even offer pools and massage facilities.
The showers alone are probably nicer than what you have at your home, stocked with designed soap and lotions.
A great aspect of Equinox is that you definitely want to go as often as possible.
After a workout, you can unwind with a dip in the hot tub or with a soothing facial.
Plus, since you're spending more for a gym membership here than you probably spend on your home's internet, you want to get your money's worth no matter what. 
Say what you will about the hefty fees, sometimes you have to take accountability however you can get it!
Equinox also has the finest trainers and group classes around, so if you're stuck in your fitness journey, you can get unstuck in a hurry.
(Learn more about whether Equinox is worth it here.)
---
Life Time
Life Time is another elite gym that's going to hurt your wallet quite a bit.
The basic memberships will set you back about $60 to $70 a month, but if you want access to more than one location, then you may end up paying as much as $140/month.
Just like Equinox, Life Time only has the best.
Cardio equipment, numerous group classes, and pools are to be expected, and based on reviews, it really seems like the staff goes the extra mile to ensure its members are happy. 
Life Time really makes it so that you don't have any excuse not to work out.
There are even top-notch childcare services so that you can drop the kids off while you work up a sweat.
Your best bet is to join with the whole family and take advantage of the childcare and the incredible outdoor pools (at certain locations).
Life Time has cafes, juice bars, spas, and more — you'll want to come here just to hang out!
Your weight loss journey will go a lot smoother when you look forward to visiting your gym, and that's what makes Life Time worth it.
---
Wrapping Up
Weight loss really requires commitment.
Depending on how much you want to lose, it may be in your best interest to exercise four or five times a week. 
But that's only part of the equation. You need to ensure you eat healthy at home so that you wind up in a calorie deficit — the key driver of fat loss.
Consistency over time is the key. Short cuts don't work, so if you want results, you need to get ready to make exercise a regular part of your life.
Do yourself a favor — skip the $10 per month bargain gyms and join up at a club you'll actually enjoy visiting.
Here are some other gym guides for you to check out.
Hope this helps!