Whether you hop around a lot for business or pleasure — or even live on the road, a la van life! — travel has its fair share of challenges.
It's a lot of time away from your loved ones. You have to deal with airline food on a regular basis.
And on top of all that, it can be hard to take care of your health when you're on the road often.
Sure, most hotels have a basic gym or fitness center, but if you're serious about your fitness you'll want to join a good gym.
But what are the best gyms for travelers? Are there high-quality gyms where you can go to any location?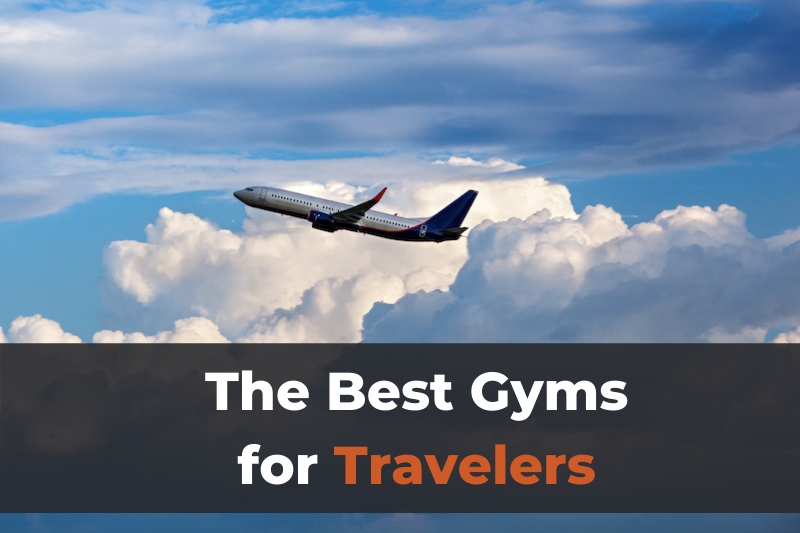 Frequent travelers will do well at popular, big box gym chains that allow you nationwide access to any club with a single membership.
You may need to upgrade your membership from the basic tier, FYI. Some of the best gyms for travelers with nationwide access and convenience are:
Planet Fitness
24 Hour Fitness
Orangetheory Fitness
Equinox
Anytime Fitness
Let's take a look at each option and the pros and cons of these gym memberships for business travelers or anyone who spends a lot of time on the road.
---
What travelers should look for in a gym
Travelers, van lifers, and other adventurers have drastically different needs than gym-goers who work out at the same club every week.
For example, a membership to your local mom-and-pop gym may not do you a ton of good.
For most people, I wholeheartedly recommend checking out smaller, local clubs because of the tight-knit vibe and personal attention.
But if you like to travel or live on the road, then you need one of the larger chains with hundreds or thousands of locations nationwide.
Keep in mind you'll need to make sure your membership includes access to all locations nationwide, and not just your home club.
On top of that, it'd probably be a good idea to get a gym membership with a wide range of hours, too. 24/7 access is ideal.
After a red eye flight, you may feel like burning the midnight oil at the nearby gym.
Or you may need to squeeze in a workout super early or late to accommodate flights or meetings.
Adjusting to time zones can be tricky for the best of us, but frequent fliers may need to stay on their own time by exercising through it.
Fortunately, gyms aren't as crowded late at night or early in the morning, so you can get in a solid workout without having to wait for the equipment to become available.
Let's take a look at a handful of awesome gyms for travelers that fit the bill.
---
1. Planet Fitness
Planet Fitness is the among the cheapest gyms around.
Basic memberships start at $10/month, but if you're a traveler, then you need to opt for the Planet Fitness Black Card membership.
The Black Card costs $22/month, and it gives you access to all 2,000+ Planet Fitness locations in the United States.
Additionally, you can utilize tanning beds and massage chairs where available to unwind after exploring a new city.
Adventurers will also enjoy the fact this chain is open 24/7.
Even if you're busy all day, you can still stop by when everyone else has gone to sleep to work up a sweat.
Aside from that, you'll find all of the basic amenities from cardio to weight machines.
The chain doesn't offer much in the way of classes, and is a poor choice for strength training, but for cheap cardio access almost anywhere in the country, you can't beat Planet Fitness.
(Read more here: Is Planet Fitness worth it?)
Pssst… are you looking for the best international gym membership? Planet Fitness might be it. If you frequently travel abroad, staying fit can be really tough, but you will be able to find a few Planet Fitness locations in counties like Canada, Dominican Republic, Mexico, Australia, Panama, and more.
---
2. 24 Hour Fitness
24 Hour Fitness doesn't have as many locations as Planet Fitness, clocking in at around 280.
Still, you can find this brand at all of the most popular travel destinations, including Hawaii, Texas, and California, so you should be able to find one close by.
The best part is that regardless of your membership level, you can access any gym in the country. Plus, it's open 24 hours a day like the name suggests.
While you have to spend between $30 and $50 a month to use the facilities, you end up with more amenities.
Exact features vary by location, but you may be able to find ones with pools, basketball courts, and a lot more.
(Is 24 Hour Fitness Worth It?)
---
3. Orangetheory Fitness
Orangetheory might seem like a strange choice, since it's not actually a gym at all!
But for amazing workouts almost anywhere in the county, you should really look into OTF.
Orangetheory classes are group classes that occur at specific times — you can't just walk in and use the equipment.
Classes are intense and HIIT based, walking you through treadmill, rowing, and dumbbell sessions with a trainer.
A Basic membership costs $59/month, but you can only attend four classes per month.
You could upgrade to Premium, which provides unlimited classes, but that's going to cost $100 extra per month.
Generally, you can use your Orangetheory membership at any of the over 1,200 locations.
You may have to pay an extra fee to attend a different club than the one you joined, however, so you should inquire about this when you sign up and potentially negotiate this point.
If you can afford it and you like the structure of instructor-led group classes while you're traveling, Orangetheory is definitely one of your best options.
However, if you like more freedom to do your own workouts, you'll find an OTF membership too pricey and restrictive.
---
4. Equinox
This is one of the most elite gym chains in the world, but you do end up with some pretty nice perks.
Prices can vary, but in general, you should expect to pay around $180/month for a basic membership.
Travelers may want to look into an All Access pass, but that comes at an even steeper price.
The All Access membership will probably run you over $3,000 a year, but that's the only way to gain access to all 300 nationwide locations.
But for high-end business travelers who can swing the monthly fees, and who want quite possibly the best gym experience in the entire world, Equinox is worth it.
You'll get access to tons of immaculate equipment, spas and saunas, pools, group classes, personal trainers, and more.
It's like being able to pop in to a world-class hotel wherever you go. Even if you don't exercise, it's a great place to relax and luxuriate a bit!
(Equinox might be the best gym membership for van life. It's pricey, yes, but you'll want access to super high-end locker rooms and showers when you're living on the road. You'll get that here!)
If you want to give Equinox a try but you're cringing at the price tag, look into a guest pass.
Most locations offer a 7-day guest pass that costs $50, but it allows you to live the high life for at least a little while during your trip.
---
5. Anytime Fitness
Anytime lives up to its name by being available anytime, anywhere.
Gyms are open 24/7, and with just a basic membership, you can use any location around the globe. Not just the United States — but the world.
(That makes it one of the best gym memberships for international travel.)
That's certainly a lot with over 4,500 locations worldwide.
Being a mid-range gym, you can expect to spend $30 to $50 a month to pump some iron, work on your cardio, or take group classes.
Aside from that, it has everything you would expect from a gym in its range.
There's a good selection of equipment and classes to always give you something new to try out.
For more, check out my full Anytime Fitness review.
---
Wrapping Up
Traveling can be a lot of fun, but it involves a lot of sitting around and, often, eating unhealthy carry out, airport, or restaurant food.
It's vital to care for your health even as you go about your life, whether you're on the road for business or pleasure.
You can always stick with hotel gyms — they're included with your stay and are often completely empty.
But they're small and limited in equipment and amenities. You'll be hard pressed to do anything more at a hotel gym than burn a few calories on the treadmill.
To keep your regular workout regimen going while you're traveling, join a gym that gives you access to all locations nationwide or worldwide.
Here are some other gym guides you can follow.
Hope this helps!