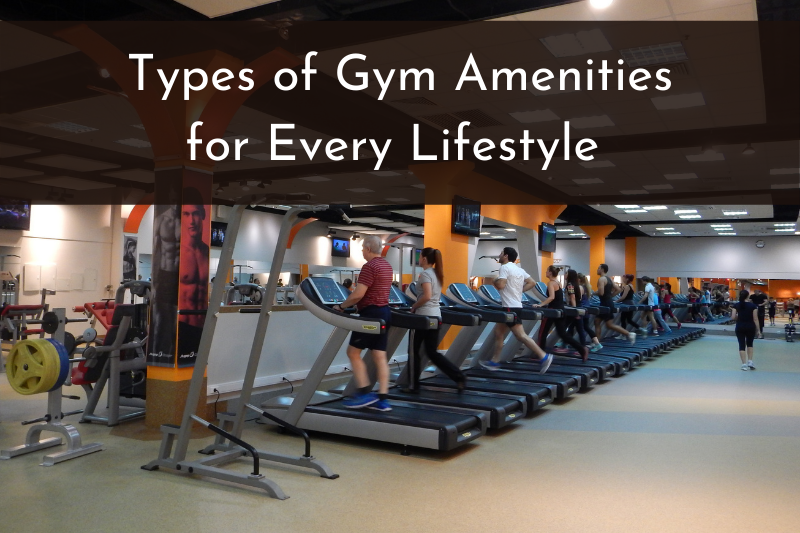 If you're looking to join a gym and get in shape, it might seem like a simple decision.
Until you actually start comparing gyms…
Do you need a pool? A hot tub? Group classes? Or just a treadmill and a place to change?
It's critical to look at what amenities a specific gym offers before signing up, so you know exactly what you can get into with a gym membership. You may prefer playing racquetball over lifting weights, and you should ensure your local gym can accommodate you.
Some amenities may come with a higher price tag, but it's worth it if you plan to make use of these extras — and if they keep you coming back regularly. After all, it can be expensive to have your own pool at home, but using one at the gym allows you to swim laps at a fraction of the cost.
Here are some of the standard amenities you can expect at both basic and luxury gyms. After reading through this list, you can have a better idea of what you're searching for so that you can have a more fruitful gym search.
Types of gym amenities to look for:
Cardio machines
Weights
Group classes
Showers
Pools
Basketball courts
Tennis courts
Racquetball courts
Tracks
Massages
Tanning beds
Saunas
Your gym membership can cost anywhere from $10-$200 per month — the more of these amenities your gym has, the higher your can expect your bill to be!
Let's take a closer look at what amenities to look for when choosing a gym.
---
Basic gym amenities
You can find basic amenities at pretty much any gym out there.
While they're common, that doesn't mean you should discount them.
Treadmills are great for spinal health while weights allow you to build muscle.
Pro tip: Pick a machine you're interested in using and count how many the gym has (during a tour or a free pass day) so that you have a good idea of how easy it will be to access them if you sign up for a membership.
Remember — gyms can get pretty crowded!
Cardio equipment
The most common types of cardio gear you can expect at any gym include:
Treadmills
Ellipticals
Stationary bikes
StairMasters
You'll find all of these in the same general part or area of the gym.
While they're all designed to help you burn calories and increase your heart rate, you still need to think carefully about which one you engage with.
For example, treadmills are great if you're training for endurance, but if you need a lower-impact exercise, then you should stick with a bike or rower.
Weights & Resistance Training Equipment
Weight training boosts metabolism, promotes better bone health, and reduces your risk of inflammation.
At any gym, you tend to come across two types of weight gear: machines and free weights.
Weight machines typically allow you to perform one single motion. As such, they focus on a single muscle group and are great when you want to target that specific area.
For example, you might find an entire machine dedicated to just the bicep curl or chest press.
Free weights are far more versatile and effective for strength training, so if building muscle is a priority for you, make sure your gym has plenty of:
You may also want to make sure the gym you join has a nice array of cable machines, which are another great option for isolating muscle groups and performing unique, athletic strength movements.
Group Fitness Classes
Classes are common at most gyms.
While cardio equipment and weights are found on the main floor, accessible to anyone at any time, you have to sign up for a class ahead of time in many cases.
At some gyms, you need to pay extra to take classes (or just for certain ones), but at most big box gyms, they come standard with your membership.
Classes can vary wildly from one gym to the next. Some of the most common you can come across include:
Yoga
Cycling
HIIT
Zumba
Water aerobics
Circuit training
Higher-end gyms often have apps that allow you to access the class schedule and sign up directly from your phone.
Since classes vary so much, it helps to check out a gym's website or schedule a tour so that you can learn more about the specific ones offered.
Showers
You go to the gym to work up a sweat, which is why pretty much all gyms have showers!
These typically accompany lockers, so you have a secure place to put your gym bag as you clean up.
But not all locker rooms and shower areas are created equal.
Some budget gyms just offer the bare minimum facilities, which luxury gyms like Equinox feel more like walking into a spa!
(Equinox is famous for handing out eucalyptus towels in the locker room, along with offering high-end complimentary soaps.)
The main thing you need to worry about is whether the gym provides soap or if you need to bring your own. This can be cleared up with a simple phone call.
In the event a gym does offer soap, then you can expect it to be complimentary.
---
Specialized gym amenities
While every gym has basic weights and treadmills, other amenities are a bit harder to come by.
You can expect the sporty amenities on this list to add to the cost of your monthly membership significantly.
However, they can make your exercise regimen a lot more fun, and if they make you want to keep coming back to the gym again and again, they're worth the cost.
Pools
Gyms with pools are some of the most sought-after locations around.
You can get in some low-impact swimming workouts while cooling yourself down. There's nothing like a quick splash on a hot summer day, and with a gym pool, you know where to go if you don't have your own.
It's important to see when a specific gym's pool is open for free swimming. Classes, such as water aerobics, are often taught in pools, so you may not be able to use the pool all the time.
The most common gyms with pools include:
Life Time Fitness
Equinox
LA Fitness
24 Hour Fitness
YMCA
Gold's Gym
Crunch Fitness
Smaller gyms might have a basic pool for lap swimming, whereas a club like Life Time will usually have a huge, family-friendly pool with kid areas and water slides.
However, the presence of pools can vary depending on location even with large national chains.
Make sure to call ahead to ensure the gym nearest you offers a pool.
Basketball courts
Playing basketball is a great way to get in some cardiovascular exercise. Plus, you can invite your friends to the gym for a quick pick-up game to work out with your buddies.
Most gyms with basketball courts require you to sign up at specific times, so you need to make sure you look ahead to see when you can get some time on the court. The most common gyms with this amenity include:
Life Time Fitness
Equinox
24 Hour Fitness
LA Fitness
YMCA
Gold's Gym
Again, it's vital to call ahead to ensure the location nearest you has a basketball court before signing up.
You may also want to call ahead to see if the gym closest to you offers league play. This allows you to compete with other teams to see who comes out on top. There may even be a cash prize for the winner.
Tennis courts
Tennis courts are a hot commodity in the gym world.
That's why it can be hard to find one outside of the following few gyms. But even with these chains, they can be pretty rare.
In-Shape
LA Fitness
Life Time Fitness
It's common to find these courts filled up with classes or league tournaments.
If you have a doubles partner, then you can sign up and try your hand to see how well you end up doing. Even if you don't win, it's just good to get in some exercise while having fun.
Tracks
Running on a treadmill is nice, but some people want to feel like they're actually going somewhere.
That's why you need to check out gyms with running tracks like the following.
24 Hour Fitness
Crunch Fitness
LA Fitness
Indoor tracks are great for people who enjoy jogging and want to be able to do so regardless of what the weather's like.
You can hit up your local gym to run around during select hours. It's also worth noting that some indoor tracks are 200 meters around – half the size of your typical football stadium track.
Make sure to call ahead to see when free running is allowed.
Racquetball courts
Racquetball is one of the best ways to burn calories while unleashing your competitive side. It also promotes better flexibility and mobility.
Some of the most popular gyms with racquetball courts include:
Life Time Fitness
LA Fitness
YMCA
Crunch Fitness
24 Hour Fitness
Gold's Gym
You usually need to reserve a time to use the court, so make sure you research ahead of time to see how often you can get some training in before signing up for a membership.
---
Luxury gym amenities
The gym can be more than a place you go to exercise. It can also be where you go to unwind after a long week.
That's why many first-class gyms offer luxury amenities.
You typically only find the following at the most expensive gyms around. However, the high price tag pays for so much more than just a treadmill and some weights.
Massages
You may find professional masseuses at high-end gyms, such as Equinox, but most that offer this service provide members with massage chairs.
That's the case at Planet Fitness where Black Card members have access to massage services.
Black Card service costs $20 a month as opposed to $10 a month that's available for a standard membership, but it does give you a lot more. You can exercise to your heart's content and then unwind in a massage chair to relax your muscles.
In contrast, an Equinox membership could cost you anywhere between $160 and $250 a month.
While that's significantly more, you do have the advantage of working with an actual massage therapist. It ultimately comes down to how often you think you'll want massages and whether the higher price tag is worth it.
Tanning beds
In the event you want a luminous glow after a workout, then you can see whether a gym with a tanning bed is the right place for you.
Some of the bigger chains with this service include:
Planet Fitness
Anytime Fitness
Gold's Gym
Snap Fitness
YMCA
It's vital that if you plan on using this service, you're observant of all safety precautions of tanning.
For instance, you should only use a tanning bed once weekly and only for short durations of time.
Saunas
Similarly to massage chairs, kicking back in a sauna or hot tub is a great way to unwind after pushing your body to the limit.
If you have some extra time after your workout, the physical and mental benefits of a hot soak are truly amazing.
By and large, you're going to find this amenity at high-end gyms like Life Time and Equinox.
However, many LA Fitness and YMCA locations have them as well. You'll have to check with your local location to see if those more affordable gyms have the kind of sauna you want.
If it does, then it should be accessible with a standard membership.
---
Wrapping up
It's so important to feel at home at the gym, and to look forward to your visits.
Sure, you can join a budget gym for $10 per month and run on a treadmill a few times per week — for some people, that's all they need.
But do consider if you'd get more out of a gym with sporting courts, aquatic facilities, and group classes. You don't always have to spend an arm and a leg!
While high-end gyms like Equinox tend to have all the amenities mentioned here, you'd be surprised what you can find at affordable locations like 24 Hour Fitness and LA Fitness.
Above all else, it's vital to know which amenities you'll actually use. Most of the time, you're paying for them whether you use them or not, so you want to consider whether you'll get your money's worth.
Make sure to check out our comprehensive gym guide.
While a lot of places say they're the best, the best gym for you depends on what you hope to achieve. Once you have a good idea of what you want, you know what to look for in a gym near you.
Still confused? Listen to personal trainers explain how they tell clients to pick the right gym.
Hope this helps!