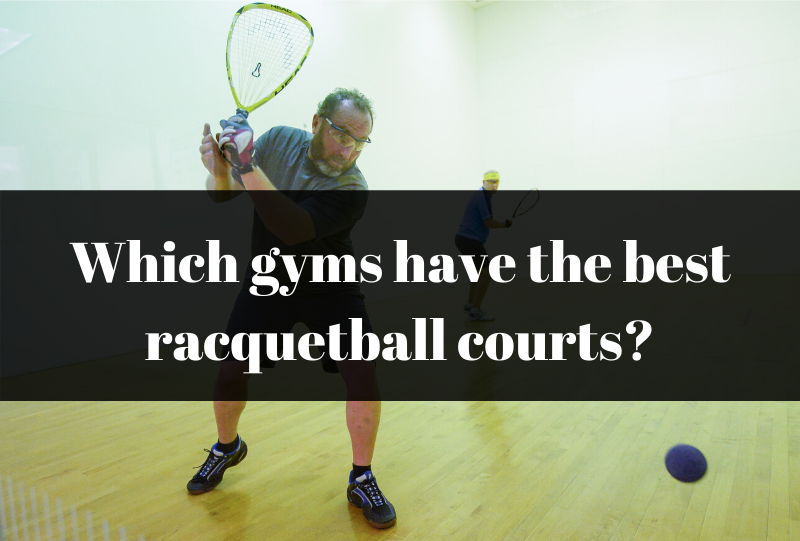 Choosing a gym can be REALLY overwhelming.
There are so many things to consider:
Price
Equipment
Contract
Location
Hours
Amenities
And more
It really helps to nail down the handful of things you care about the most and eliminate any options that don't meet those requirements.
If you're into sports as a way to stay fit, for example, you might want to ask: What are the best gyms with racquetball courts near me?
Based on my experience and research, you'll find the best racquetball courts at Life Time. Several mid-range gyms like LA Fitness, the YMCA, Gold's, Crunch, and 24 Hour Fitness may have courts or leagues depending on the location, but you'll have to check your local club to be sure.
Let's take a closer look at why racquetball is a great way to work out and the racquetball setups at each individual major gym chain.
(And don't miss my giant guide to comparing the best gyms.)
---
Benefits of a racquetball workout
If you're a racquetball master, I won't need to convince you.
But if you're just curious and poking around, here are a couple of reasons it might be worth seeking out (and maybe paying extra for) a gym with respectable racquetball courts.
Burns tons of calories
If you've ever played racquetball before, you know one thing:
It makes you sweat!
RB is an absurdly fast-paced game that has you running the entire time.
It's a fantastic calorie-scorching workout (whether your goal is weight loss or endurance training), and you can expect to burn between 600-800 calories per hourlong session.
Works all the muscles in your body
You'll run a lot and burn a ton of calories playing racquetball, but it's not just your legs that get a killer workout.
You'll cut, twist, swing, and stretch — working pretty much every conceivable muscle in your body from your arms to your core.
It's likely you'll be pretty sore after your first few games if you've never played before.
Promotes better mobility & flexibility
Unlike simpler cardio workouts (like running or using the elliptical), you'll work your body through a wider range-of-motion during a racquetball game — contorting your frame and stretching your muscles in new ways.
With regular practice, it's likely you'll develop much improved mobility, coordination, flexibility, and more.
It's a fun way to exercise
The best thing about playing racquetball? It's fun.
An intense game can pass in the blink of an eye without you even realizing you're working out!
For those of you who dread traditional exercise, racquetball might be the best way to get in shape.
Be careful though, it can be really easy to injure your ankle or foot while playing racquetball (or at least develop a nasty bruise after getting walloped with a stray ball.
---
Which big box gyms usually have racquetball courts?
Alright, so you're convinced.
Now, where can you play racquetball?
Unfortunately, you'll need a specialized court and equipment to play — meaning you probably won't find pickup games in the park to join!
A lot of gym memberships will include access to racquetball courts, but only if you know where to look.
Here's a list of gyms that often have racquetball courts — although amenities vary at every location so ALWAYS visit your local club to see what they have in-person before you sign a contract.
1. Life Time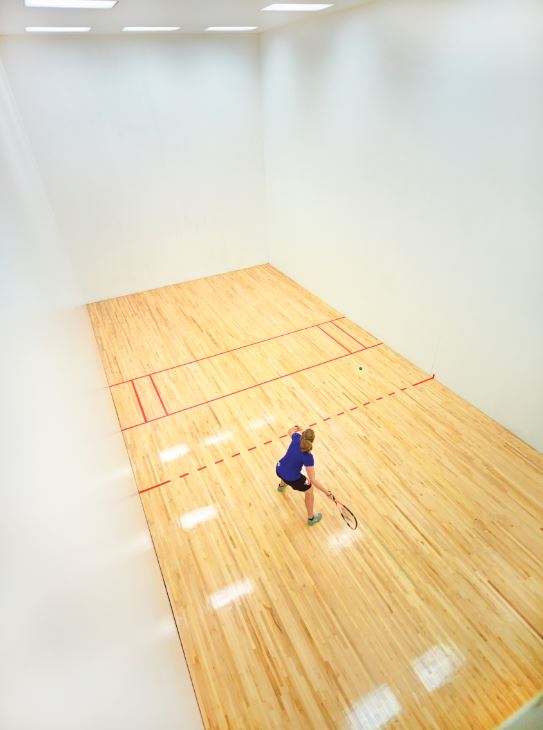 Life Time is the king of racquetball.
With huge facilities, Life Time is one of the few gyms that consistently has room for multiple racquetball courts along with the resources to maintain them.
Not only can you drop in and play a few rounds — LT offers league play, group classes, private lessons, and social play nights.
They also have some of the nicest and best-kept courts around.
A Life Time membership is pretty pricey, but considering everything that comes along with it, it's a great value if it fits your budget.
(It's also the best of the gyms with pools.)
---
2. YMCA
The YMCA isn't usually considered a high-end gym, but when it comes to sporting courts, it's one of the best choices around.
Most YMCAs have a great selection of athletic amenities like basketball courts and racquetball courts.
The YMCA near me, while not a huge facility, has three beautiful courts you can play on. Not a bad deal!
The YMCA also offers racquetball league play and the ability to reserve a court online (at some locations).
Drop by your local club and see what they have to offer.
---
3. LA Fitness
LA Fitness is probably my favorite overall gym for anyone with a mid-range budget.
(Obviously, elite health clubs like Life Time or Equinox have more to offer, but they also cost several times as much per month.)
While racquetball isn't an amenity you'll find at every single LA Fitness location, plenty of clubs around the country do offer courts and even leagues.
(See a list of LA Fitness racquetball leagues here.)
Check your local club to be sure of what they offer before you join.
But if they do happen to have a handful of racquetball courts, you'll likely be pretty pleased with their membership price, equipment, and other amenities.
---
4. Gold's Gym
Gold's is a great choice if you're serious about getting fit.
It's known as a bodybuilder's gym, and of course you'll find an excellent selection of weightlifting equipment there, but Gold's actually has a lot more to offer.
Including (drumroll, please…) racquetball courts!
The amenities at Gold's vary by location more than most gym chains that I've seen, so you'll want to do some research in your area to see who's offering the features you need.
But there are definitely more than a handful of Gold's around the country that offer racquetball courts for casual play.
---
5. 24 Hour Fitness
24 Hour Fitness is a great gym choice for anyone who needs around-the-clock convenience.
(If you work the night shift or have an odd schedule, this might be the place for you).
But unlike some similar options like Planet Fitness, 24 Hour Fitness does offer some extra amenities at certain locations including racquetball.
The 24 Hour Fitness website even offers a list of clubs with racquetball, and it looks like at the time of this writing that's about 30 clubs nationwide.
Check your local 24HF to see if they have courts near you.
---
6. Crunch
There are only about 120 Crunch Fitness locations in the U.S., and of those only a handful have extra features like pools and sporting courts.
However, there a few Crunches with racquetball courts.
Crunch is an excellent alternative to Planet Fitness, since both start at around $10 per month but Crunch has better equipment and amenities.
So if you're considering PF but really want racquetball access, check your local Crunch and see what they have to offer.
---
Gyms that don't have racquetball
Most of the convenience and/or budget gym options near you won't have racquetball courts, lessons, or leagues.
That's bad news for enthusiasts, but good news for anyone looking to keep their membership price down.
Either way, the following gym chains most likely won't have any racquetball locations anywhere near you:
Anytime Fitness
Planet Fitness
YouFit
Snap
Blink
It's always possible there are some outliers, so if you know of a location for one of these gyms that does offer racquetball, let me know and I'll update my list!
---
Wrapping Up
Racquetball isn't the kind of sport you can just pick up and play anywhere.
You'll need access to the right equipment and specialized courts. The best way to get it is by joining a gym with a great racquetball setup in place.
Your best bet is Life Time (as it is for most amenities), but if that's out of your budget you might try your luck at the YMCA and LA Fitness next — odds are pretty good that one of those near you will have what you need.
Finally, check your local 24 Hour Fitness, Gold's Gym, and Crunch as more of a last resort.
Racquetball is a fantastic and fun workout, so your search will be worth the effort!
(Now read: Gym employees share how to negotiate your membership fees)