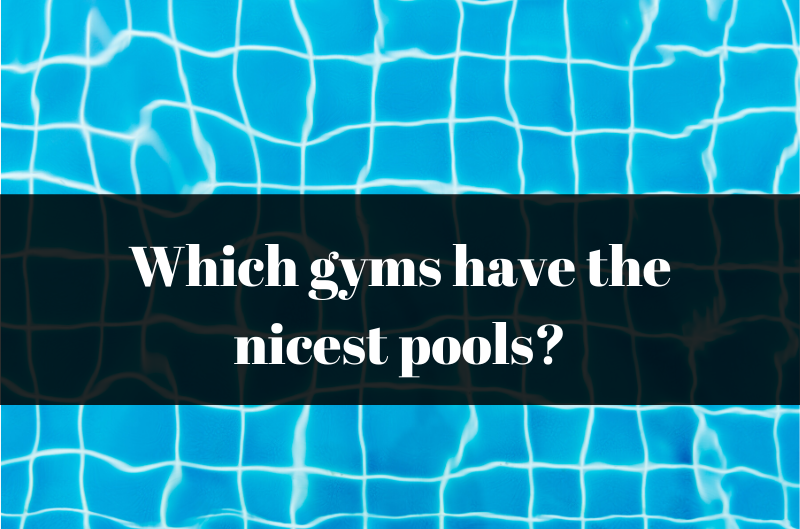 Ahh…
There's nothing quite like finishing up a brutal workout and then going for a soak in the hot tub, or a dip in the pool to cool off.
For a lot of people, a gym not having a pool is an absolute dealbreaker — whether they plan to use it for exercise or leisure.
Sadly, not all big box gyms and fitness clubs have this amenity (and those that do usually charge handsomely for it).
So what are the best gyms with a pool, sauna, or hot tub near me?
You'll find the best, most high-end pools at Life Time and Equinox — though those are also some of the most expensive fitness clubs around. For a more affordable aquatic option, try LA Fitness, 24 Hour Fitness, or the YMCA.
Below I'll break down all of the major gym chains that offer pools at some or all of their locations, and what you can expect as a member.
(And don't miss my giant gym comparison guide if you need more information!)
---
Benefits of working out at a gym with a pool or sauna
An aquatics area is pretty likely to drive the price of your gym membership up substantially.
(You can join a bare-bones Planet Fitness, for example, for a measly $10/month to start… but is Planet Fitness actually a good deal?)
Are pools really worth it?
Not for everyone, but there are definitely some huge benefits to working out at a gym that includes pool access.
Swimming workouts
The most common setup to see at the gym is a relatively simple pool roped off into individual lap lanes.
That makes it a perfect place to get a swimming workout.
When it comes to cardio, it's hard to beat swimming. It's about the lowest impact exercise you can do, works your entire body, and most people find it a lot less mundane than walking or running.
A lot of gyms will even offer aquatic fitness classes.
Bring the family
The best of the best gyms will have pools that offer a lot more than just simple lap lanes.
Some even have outdoor pools with lounge chairs, water slides, and other fun extras!
That makes it well worth-it to spring for a family membership, or at least pay to bring the kids every now and again.
Often, when a gym has a pool, it's a good bet they'll offer swim lessons for young kids and other family-friendly activities you can sign up for.
Relax after exercising
This is my personal favorite perk.
I love sitting in the hot tub after a workout or having a quick sauna session.
Both can improve your cardiovascular health and circulation when done regularly and in moderate doses, and the dry heat from the sauna has sometimes been shown to temporarily relieve skin conditions and asthma.
Time spent in the steam room, on the other hand, can reduce stress, clear congestion, and even boost your immune system.
---
Which big box gyms usually have pools and saunas?
Let's take a look at the best gyms to join if you want to use the pool, hot tub, spa, etc.
A word of caution: Not all locations of all gyms have the same stuff! It may be common for a certain brand to feature pools, but always check your individual location to see specifically what they have to offer.
In general, here's what you can expect from the major gym names:
1. Life Time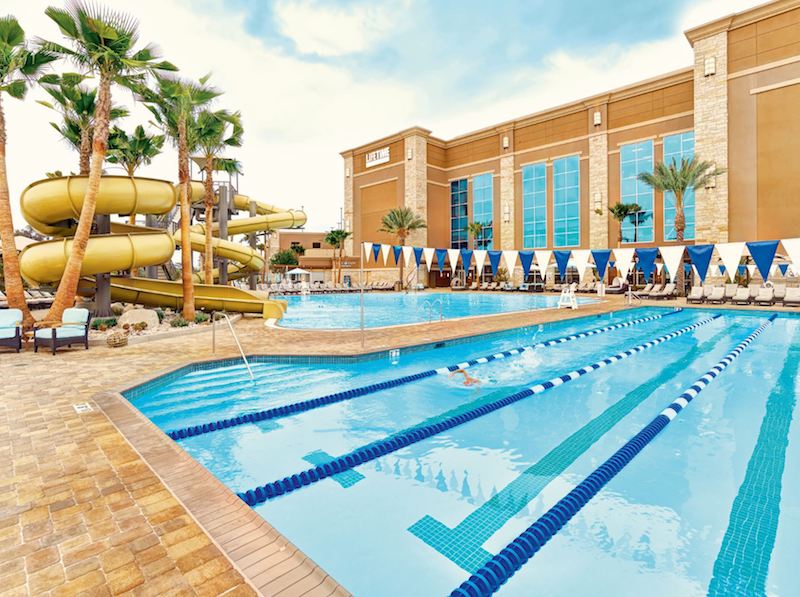 Simply put, Life Time has UNREAL pools.
While you'll usually find a section of the pool roped off for lap swimming and exercise, most Life Time locations have huge, gorgeous outdoor pools geared toward family fun.
Expect to find features like:
Water slides
Umbrella tables
Waterfalls
A kiddie pool
And more
Life Time locations will usually have a hot tub, steam room, and sauna, as well.
If you're just looking for a brisk swim, or a place to soak after your workout, Life Time might be a little too chaotic with all of the kids and families running around.
But if that's your vibe, you won't find a better gym pool than Life Time.
(Fair warning: It's quite expensive. But is Life Time fitness worth it?)
---
2. Equinox
Equally high-end, but with a much more adult vibe, you'll find some of the classiest pools around at Equinox Fitness.
(They can be hard to find though, with just over 100 clubs nationwide.)
Expect Equinox to have pristine pools for swimming laps (and sometimes excellent outdoor lounging pools), not to mention outrageously luxurious spas.
And yes, you'll find hot tubs, steam rooms, and saunas galore here.
It all comes at a price, with Equinox being one of the priciest gym options around.
---
3. LA Fitness
For those of us with more reasonable monthly gym budgets, LA Fitness is a great all around choice.
They won't have outdoor pools with water slides, but most locations will have a pool for laps and aquatic classes, a hot tub, and a sauna.
The amenities can be hit or miss (one of the LA Fitness locations near me has a pool but no hot tub or sauna), so check with your local gym.
Still, for a membership that should cost about $30-50 per month, you could do a heck of a lot worse.
---
4. YMCA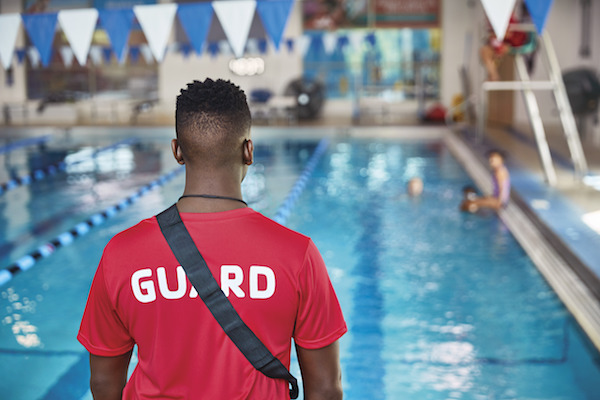 The Y is probably the gym on this list with the most deviation from branch to branch.
Some YMCA locations are little more than basic equipment rooms with just enough space to workout.
Others have batting cages, basketball courts, racquetball courts, and of course, extremely nice pools.
Again, it depends drastically on the location, but most YMCAs have pretty large pools ideal for lap swimming, aquatic classes, and kids swim lessons.
They'll often usually have a steam room, hot tub, and sauna to go along with it.
I've even seen a few YMCA locations with incredible indoor water slides.
Check your local Y and see what they have to offer! The family vibe is great here, and the family membership is the best deal you can get.
(Learn more about the YMCA pool here, and read my full YMCA review.)
---
5. 24 Hour Fitness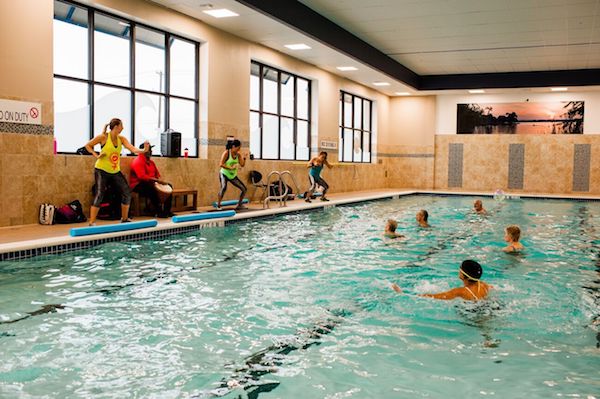 If you're looking for affordable pool access with the cost of your gym membership, 24 Hour should fit the bill.
Most (but not necessarily all) 24 Hour Fitness locations have a few lap lanes, a hot tub, and some basic amenities like a sauna or steam room.
Check with your local gym to find out what their aquatic center looks like and if they have one.
The facilities are generally clean and functional — real members often have positive reports about the pool amenities here.
For a solid mid-range gym option with lots of great equipment, classes, and a pool, you can't go wrong at 24 Hour Fitness.
---
6. Crunch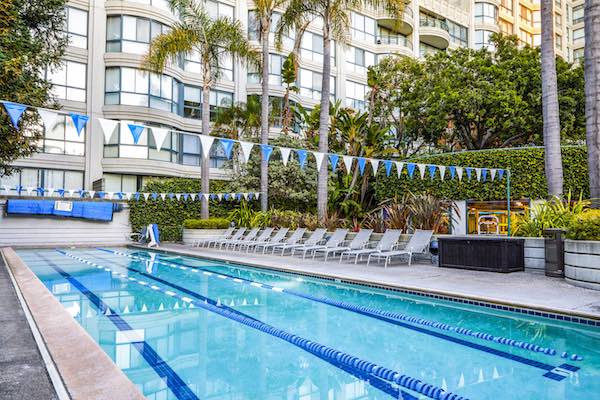 It's not always easy to find a Crunch Fitness with a pool, but there are a handful of them out there.
Most Crunches won't have an aquatics features, but the few that do are called Signature Clubs.
You may need to pay extra for access to these higher-end facilities.
If you have one nearby, check to see exactly what they offer as amenities can vary greatly by location.
---
7. Gold's Gym
More of the same here.
Gold's Gym has pools in some but not all of its locations, and they're likely to be pretty minimalist.
Expect some lap lanes, a decent hot tub, aquatic fitness classes, and maybe some spa features.
A few select Gold's Gyms around the country have outdoor pools, but nothing on par with what Life Time offers (aka no water slides!)
This place is fitness first.
---
Gyms that DON'T have pools
Budget or convenience gyms usually cut the pool and aquatic amenities to keep the membership prices down.
If you're looking to join one of the following, you probably won't get any pool access.
Planet Fitness
Anytime Fitness
Blink
YouFit
Snap
---
Wrapping Up
Having a pool at your gym is a REALLY nice touch.
But it's not for everyone, and for some it won't be worth the more expensive membership.
However, if you're a big swimmer, or better yet, if you have kids and want to bundle your pool membership and gym into one, you'd do well to look at a place like Life Time.
If you're into more of a high-end, adult vibe (and you can afford it) check out Equinox.
For a great mid-range gym with a pool, I can't say enough good things about LA Fitness. It's affordable and always well-maintained.
Hope this helps!
(Now read: How to get the best deal on your gym membership)