When looking for a great local gym that won't break the bank, a lot of people turn to the YMCA.
Convenience and affordability are just a few of the perks found at the "Y" whose mission includes "improving the health and well-being of people of all ages."
It's a great mid-range gym, and particularly one of the best bets for families.
But does the YMCA have a pool?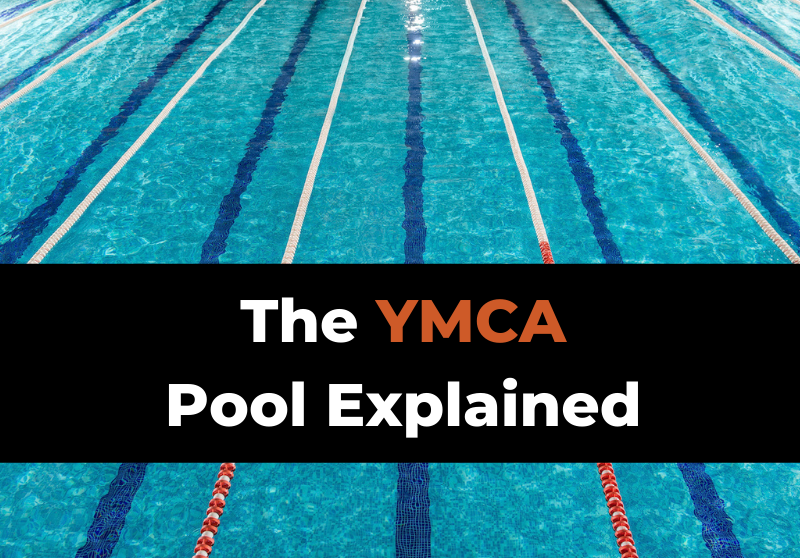 Let's take a look!
---
Does YMCA Have a Pool? (Photos, Description & More)
Because the Y considers themselves "America's swim instructor," most YMCA gym facilities have a pool.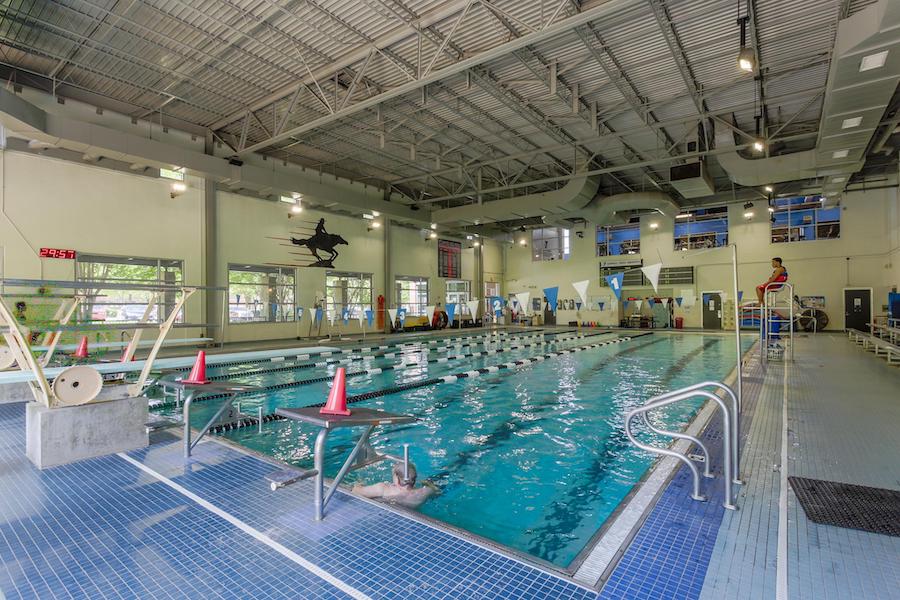 Through water safety and swimming lessons, the Y teaches swimmers of all ages that "water should be fun, not feared."
They have three categories of swimming lessons which include swim starters, swim basics, and swim strokes.
While options may vary with location, if your local Y has a pool, they may have any or all the following options to meet your aquatic needs.
Indoor or outdoor swimming pools with lap and recreational swimming
Most locations have lap pools
Some offer Olympic sized pools up to 12' deep
Swim lessons for all levels
Water exercise classes
Kiddie play area, splash pad, or designated children's time
Water slide(s)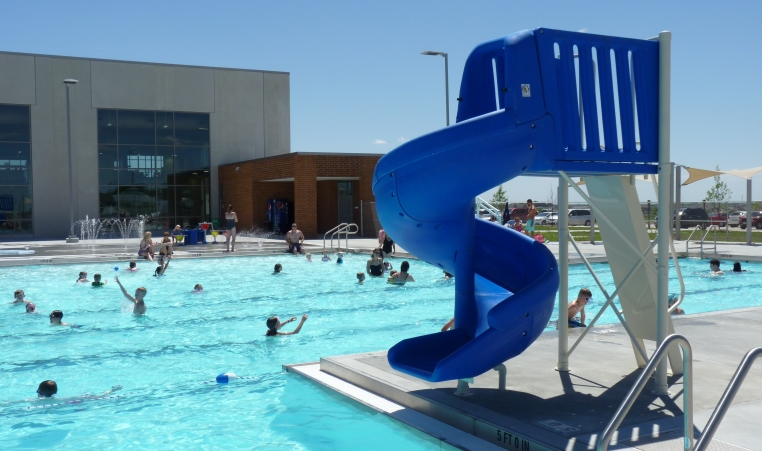 Here are just a few ways you can get the most out of the Y's pool amenities, and your membership in general.
Check your local YMCA's group class schedule for some of the below activities, or find some time to enjoy the pool on your own:
Water Exercises
Water workouts are low impact and can help you heal from injuries that may be aggravated by more strenuous workouts.
Swimming
Many locations have designated times for lap swimming, so you can exercise at least a few times per week.
Water Aerobics and Calisthenics
Your body weight is the only resistance you need to get in shape.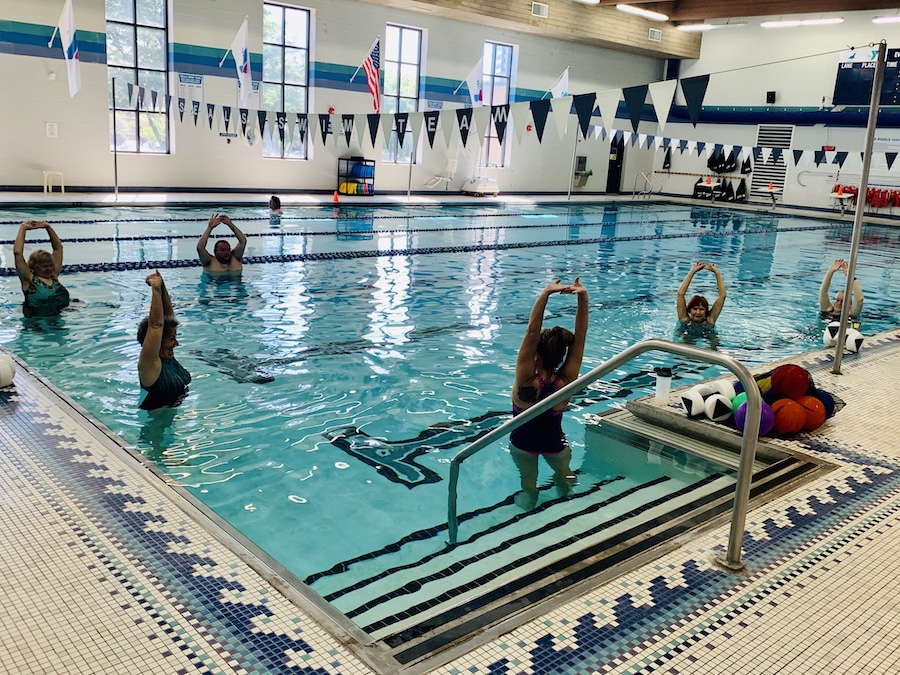 Aquatic Jogging and Sprinting
Even if suffering from back pain or other injuries, you can enjoy resistance exercise through aquatic jogging and sprinting.
Water Yoga
The mindfulness benefits of yoga can also be enjoyed in the comfort of your local Y's pool.
---
Does the YMCA Have a Hot Tub?
Most YMCAs that have pools will also offer hot tubs.
Again, check your local YMCA club to find out for sure.
Having a hot tub at the gym has a ton of benefits, giving a Y membership a lot of extra value.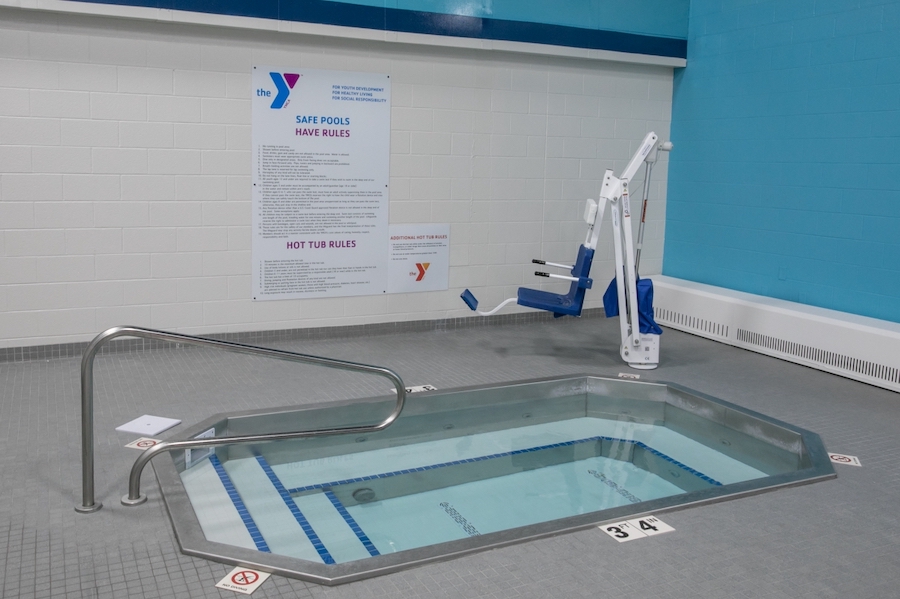 For starters, the hot tub is great for post-workout relaxation.
The hot tub is soothing, in general, after exercise. But it can also help soothe or prevent cramps.
Muscle cramps can occur when workouts cause muscle fibers to contract involuntarily. Thankfully, most muscle cramps can be prevented or minimized by staying hydrated and exercising post workout care.
Heat can relax muscles and reduce muscle spasms, so enjoy the post-workout relaxation of a soothing soak in the hot tub at the Y.
The hot tub at the Y can also be great for your recovery and strength gains!
Microscopic tears in muscle tissue can lead to inflammation and discomfort. If you're strength training, this is a good thing — but it still hurts.
Try a soak in the hot tub for relief of pain and soreness.
The heat will also promote better circulation and muscle recovery to help you get ready for your next gym workout.
---
Does YMCA have a Sauna, Steam Room, or Other Aquatic Amenities?
YMCA clubs that offer aquatic facilities (not all do) will usually also include a sauna, steam room, and other amenities as well.
YMCA sauna
The dry heat of a sauna is a great way to recover from a grueling workout.
Some describe it as putting a heating pad over your entire body to ease muscle tension, improve recovery after a water workout, and invite relaxation.
YMCA steam room
Others enjoy the steamy, wet heat that offers health benefits like improved circulation, reduced stress, cleared congestion, and healthier skin.
Other amenities at the Y
Not every YMCA will have an outdoor pool, but if yours does, boy are you in luck!
You'll often find water slides and splash pads here, so you'll definitely want to consider springing for a family membership.
---
Wrapping Up
The YMCA is a highly underrated gym, and most clubs around the country have great pools and aquatic amenities.
Whether you start the day with a morning swim, do a few laps at the Y over lunch, or take swim classes with an instructor after a long day at the office, there are plenty of aquatic options at your local YMCA.
But the Y also has plenty more to offer, including non-aquatic group classes, fantastic exercise equipment, childcare, and more.
Learn more about whether the YMCA is worth it here.
And to find out more, check out:
Hope this helps!