EOS Fitness is an all-inclusive fitness club present in four areas: Southern California, Nevada, Utah, and Florida.
There are over 100 locations that are packed full of amenities such as childcare, group classes, towels on demand, and much, much more.
EOS fitness locations even have a functional training area for those of you who enjoy using battle ropes, doing sled pushes, and engaging in similar workouts.
But, for all you swimmers out there, one question remains:
Does EOS Fitness have a pool?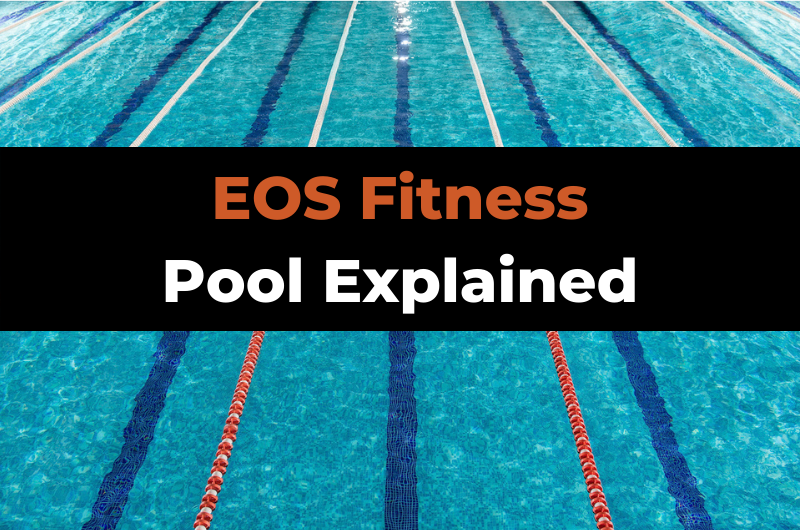 Yes, EOS Fitness has an indoor lap swimming pool at all of its locations. Other aquatic amenities like classes, hot tubs, and more may vary depending on where you go, but you'll usually find a great selection at most clubs!
Let's take a closer look at the pool at EOS Fitness.
---
Does EOS Fitness Have a Pool?
EOS Fitness provides indoor lap pools for all members to utilize.
The franchise states every location has these indoor lap pools, so if there's an EOS Fitness in your area, then you can be almost certain they have a pool.
Not all of their facilities, however, have water fitness classes or certain other aquatic amenities.
If you're alright with working out on your own in a pool, then you should be fine wherever you go.
If you'd prefer a class environment in the pool, then check with your local EOS Fitness center to see if they offer classes.
There's a high likelihood they offer classes, but it's better to be sure than to assume.
---
Does EOS Fitness Have A Hot Tub?
Most, if not all, EOS Fitness facilities have a hot tub you can relax in after your workout.
Like with pool fitness classes, you should check with your local facility to ensure there's a hot tub. Amenities vary depending on the location, as they do with any gym.
However, EOS Fitness's website lists a hot tub as one of the amenities available at all locations.
---
Does EOS Fitness Have a Sauna, Steam Room, or Other Aquatic Amenities?
Each EOS Fitness location also has steam rooms and saunas for you to enjoy.
This, along with a dip in the hot tub, is sure to speed up your post-workout recovery and leave your well-trained muscles feeling relaxed and well cared for.
Another aquatic amenity at EOS Fitness doesn't exactly involve getting wet, but it does involve water.
You can enjoy n a water-based massage bed to help your muscles recover after a workout before or after you spend time in the pool, hot tub, sauna, or steam room.
And don't worry if you forget your towel but want to indulge in the pool, hot tub, sauna, or steam room.
There's an on-demand towel service at every EOS Fitness location, and you can use these after aquatic activities or to wick workout sweat.
---
Photos & Descriptions of EOS Fitness Pools
The size of EOS Fitness pools varies depending on the facility, but you can expect them to be around 22 yards long.
This is slightly shorter than a typical Short Course Yards pool, which comes in at 25 yards.
Some EOS Fitness workers state their pools are "half the length of an Olympic size pool," meaning 25 meters/27 yards, and some locations may have a pool this size.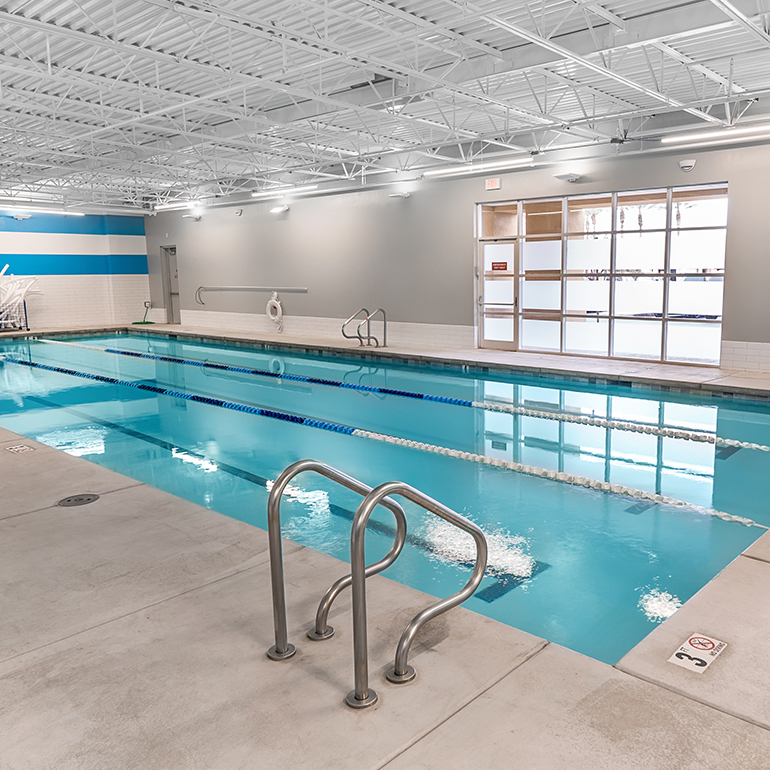 However, based on statements from EOS Fitness lovers online, it seems most locations have a slightly shorter pool.
You can be pretty sure about the pool's depth, too; most locations have a pool that's 7 feet deep.
The pools appear to have a great consistency with length, depth, and lanes across all EOS Fitness locations.
The pools all have three lanes that are plenty wide to accommodate swimmers of all sizes.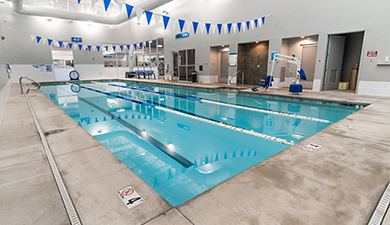 As there are fewer lanes than you might find at some larger gyms, you can expect a quieter and more relaxing experience at the gym.
But if you want a busy class environment, then you're also in luck. The pools are plenty large enough to fit lots of people at once.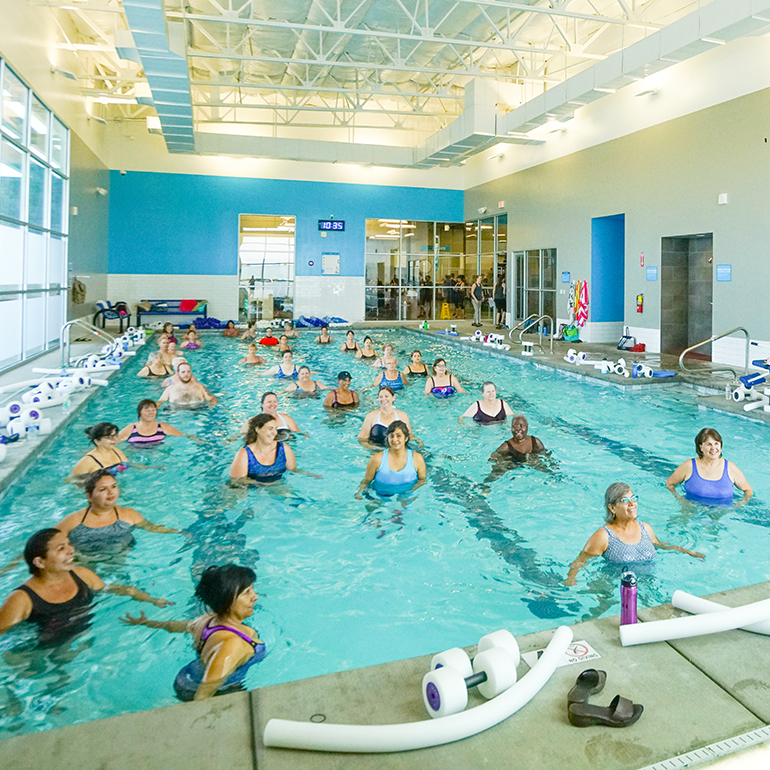 All in all, EOS Fitness pools are pretty solid pools for doing laps in as part of your regular workout. They're perfectly typical pools that share characteristics with pools you'll find in most gyms.
As the pool is shorter than some you'll find in other gyms, you may want to do an extra few laps if you want a workout similar to what a longer, 25-yard pool would provide.
They're definitely pools that serious swimmers could use, and they're beginner-friendly at the same time. Their size isn't overly intimidating, but it won't make more serious and experienced athletes feel underwhelmed, either.
---
Wrapping Up
EOS Fitness has pools, hot tubs, saunas, steam rooms, and even more fun water-based activities like the water massage — depending on the location.
There are plenty of aquatic amenities to enjoy during and after your workout.
If you're looking for somewhere with a pleasant, approachable pool as a beginner swimmer, then you've found it.
However, if you're a more serious athlete looking for somewhere to practice, then EOS Fitness will be useful, too. Just remember that the pool might be shorter than what you're used to.
EOS Fitness does a great job at keeping the size and depth of their pools similar across all their locations, and that's something you might find comforting. You can be relatively certain that your nearest branch has the pool you're expecting when you visit.
For more guides, check out:
Hope this helps!