There are a lot of hidden perks on most college campuses.
If you play your cards right, you can find places to print papers for free or even get free tutoring.
But so many students, faculty, staff, and even alumni miss one of the biggest and most obvious amenities on campus:
The gym!
Big schools often have incredible gyms that rival high-end luxury commercial clubs, completely free for students.
If you're a student, staff member, alumni, or you're thinking about attending the University of Florida, here's everything you need to know about the UF gym.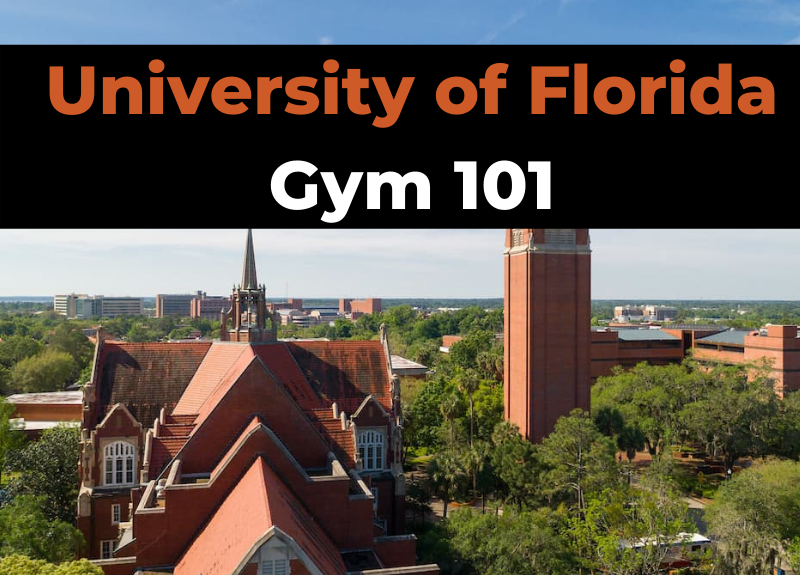 The UF gym, called the Student Recreation & Fitness Center, has thousands of square feet devoted to top-notch equipment and amenities. From weightlifting to sports, to group classes and a climbing wall, there's something here for everyone. 
Some of the buildings and equipment are a little out of date, but there's a lot here to enjoy for free for students — or at a reasonable price for staff, alumni, and more.
Let's take a look at all the equipment, amenities, perks, and what real students are saying about the University of Florida gym.
---
University of Florida Campus & Gym Explained
The University of Florida (UF or UFL) was established in Gainesville in 1905.
Since then, the school has grown substantially to accommodate over 52,000 students as of 2022, making it one of the biggest colleges in the US.
However, the campus did not get the Student Recreation & Fitness Center (SRFC) until 1991.
The 37,000 square foot facility was designed to give students a way to focus on their health in between classes, and it's become a go-to destination for thousands of students and staff.
It's not the only gym on campus, either.
If the SRFC is too crowded for your liking, you can head over to the Southwest Rec Center. It boasts 140,000 square feet of exercise equipment.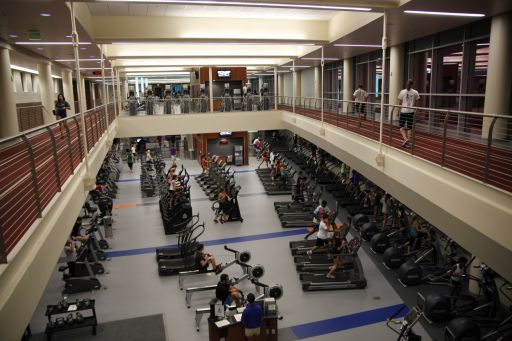 The SRFC is centrally located on campus at 244 Fletcher Drive. It's building number 265 right next to the Student Health Care Center.
---
University of Florida Gym Amenities Explained
UFL has some humongous gyms on campus compared to the average size of a gym.
Whether you're a student accessing them for free, or a faculty member paying a small fee, these gyms absolutely dwarf what you'll find at clubs like Planet Fitness and are well worth a visit.
Here's what you'll find at the Student Recreation & Fitness Center.
Cardio Machines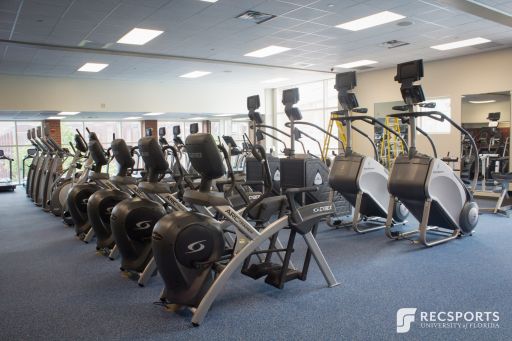 The University of Florida gym has a massive area dedicated to state-of-the-art cardio gear.
Some of it is on the older side, but it all works great!
Plus, they come with personal viewing screens, so you can watch your shows (or your professors' lectures) as you run.
You'll find treadmills, ellipticals, stair machines, and all the other usual suspects here.
Weights & Strength Equipment
The SRFC facility also houses 6,300 square feet for the strength and conditioning room.
You'll find a massive array of free weights and weight machines to help you better define your muscles.
There are also full power racks and barbells for powerlifting and bodybuilding workouts.
Pools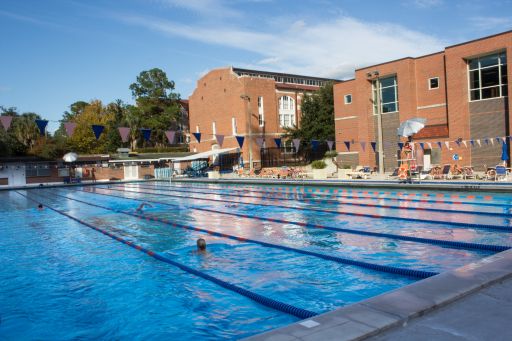 Gators thrive in the water, so it should come as no surprise to learn that the University of Florida houses three pools.
Florida Pool
Graham Pool
O'Connell Center Pool
Granted, these pools are located on other areas of campus and not at the gym, per se, so you'll have to search them out to decide which one you like best.
Additionally, you'll have to check what availability is like online. There should be time set aside for lap swimming, but you don't want to get there when an intramural team has practice.
Sporting Courts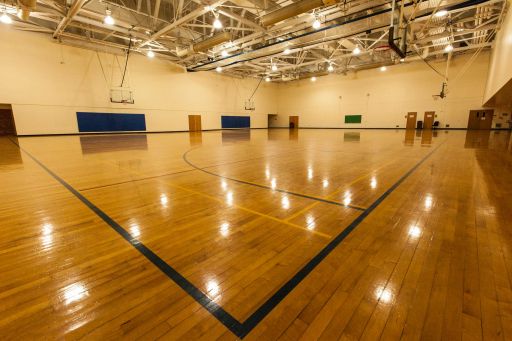 The Student Recreation & Fitness Center houses two squash courts and five racquetball courts.
Meanwhile, the Southwest Rec Center has five racquetball courts, six indoor basketball courts, and a multipurpose gymnasium that's perfect for handball or indoor soccer.
Climbing Wall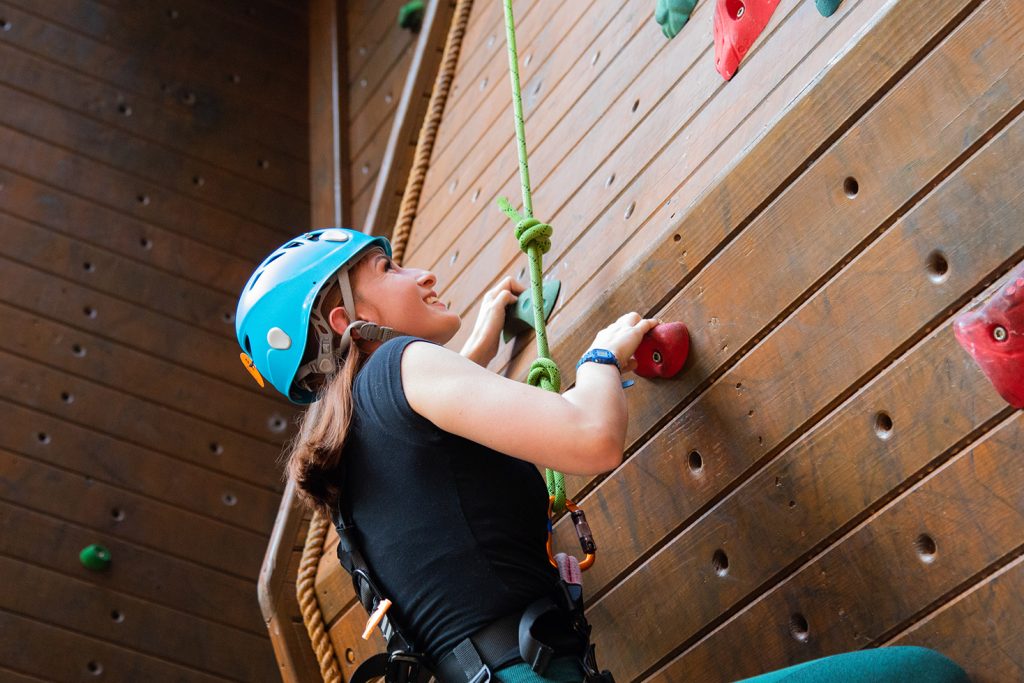 Outside of the rec center at the Lake Wauburg South Shore, you'll find a 55-foot climbing wall and bouldering grotto.
You can engage in free climbing or take a class to really hone your skills. Just like the rec center, it's completely free to students.
Indoor Track
In both fitness centers, you'll find indoor tracks.
You can walk or jog at a leisurely pace, which is particularly beneficial when the treadmills are full. 
This'll come in handy during muggy or rainy Florida days.
Showers
Naturally, there are bountiful showers to be found at the University of Florida gym, along with a clean and spacious locker room for changing.
After an intense workout, you can rinse off and get to class fresh and clean.
Group Classes
Students at UF get free access to a ton of different group fitness classes. This is the perfect way to dip your toe into the water if you're a total beginner.
You can find all of the UF gym classes online.
From cycling to yoga, you can find numerous classes any time of day morning, noon, or night.
It's great no matter what your class schedule looks like.
Personal Training
Personal training courses are offered to provide you with one-on-one instruction.
Plus, your session isn't limited to the fitness center. Your trainer may take you all over campus to get a full-body workout.
To see if it's right for you, you can sign up for a free consultation. After that, expect to pay extra for one-on-one sessions.
---
Who Can Use the UF Gym?
The University of Florida gyms are entirely free for students to use.
However, if you're not a student but connected to one in some way, there are membership tiers to utilize to get your sweat on.
For example, spouses of current students can sign up for a Gator 1 card by paying all necessary fees. A Gator 1 card is the official identification for UF students, so when you get one when not enrolled, you gain access to a slew of services.
Similar structures are in place for faculty members, alumni, and newly admitted applicants.
Depending on your affiliation with the university, expect to pay around $60-160 per semester to access the UF gym and other rec services.
Guest passes for non-affiliated people are available for $10 per day with a student sponsor.
---
What Are Real Students Saying? (UF Gym Reviews)
Besides the fact that it's free for students (and quite affordable for staff, spouses, etc.), is the University of Florida gym worth going to? 
It helps to read real reviews from people who've visited the facility, and fortunately, I've already read through a bunch of them to give you the highlights.
Pros
Centrally located on campus
Good crowd rationing

High-end (if older) equipment
You may wonder whether you should go to the Student Recreation & Fitness Center or Southwest Rec Center.
They're both solid choices, but one reason why you may want to opt for the former is due to the fact it apparently doesn't get as busy.
It's surprising, since UF has so many students, but if you can get to the gym during the day, you shouldn't have an issue with crowds.
Southwest may have more room, but SRFC is a bit more of a hidden gem. Plus, it's easier to get to from classes and the dorm rooms.
(You can also check out live feed cameras to see how busy the gym is.)
Cons
No sauna or steam room
Reservations for sporting courts go quickly
Staff could be nicer
The SRFC has a ton of amenities, but apparently, not enough for some people.
A lot of individuals seem to think the facility could be improved with a sauna.
Maybe for the next big renovation …
---
Wrapping Up
The University of Florida has numerous places where you can exercise and work on your health.
From the SRFC to the Southwest Rec Center and the myriad of pools, no matter how you like to exercise, there's something for you.
The best way to figure out which option is best for you is to try them all out. Go to both gyms and the various pools to see which ones are more your speed.
You may even have a preference depending on which amenity is closest to your classes, what your schedule looks like, and more.
Whether you're a student, faculty, a fitness vet, or a total beginner, don't miss out on these amazing facilities!
For more college gym reviews, check out:
Hope this helps!