If you're looking to join a gym, you might find yourself salivating over gigantic health clubs with smoothie bars, hot tubs, and tennis courts.
And why not?
A huge gym with tons of amenities can keep you coming back again and again.
But is bigger always better? And how big is the average gym?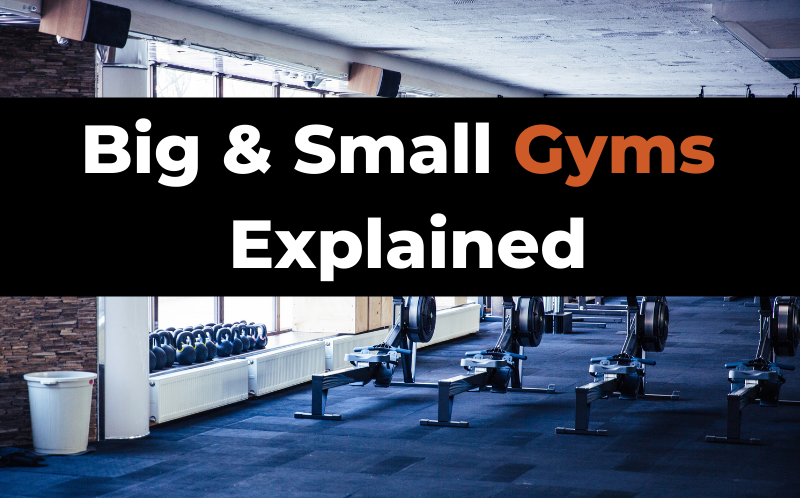 The average size of a gym varies, but most big chains start around 40,000 square feet and can go up to 70,000 sq. ft. or more. Bigger gyms have more equipment, more amenities, and more space — but smaller gyms, even tiny local clubs, have their advantages, too!
Let's take a look at some average size gyms, how that affects amenities, and the pros and cons of big and small gyms.
---
How big are most gyms? (Average size of a gym)
Officially, there is no set rule for how big a commercial gym facility has to be.
However, there are some guidelines that owners tend to follow, usually based on:
The number of members
The amount of equipment
And fire safety regulations
According to The American College of Sports Medicine (ACSM), the average size of a fitness-only gym facility is 42,400 square feet, while a multipurpose facility is just short of double that size at 70,300 square feet.
Often, in places of this size, such as Planet Fitness, 24 Hour Fitness, Gold's Gym, or the YMCA (to name but a few of the many), you will find separate floors or spaces identified for specific workouts.
While the larger-sized gym in theory means more members, owners will also have to take into account higher rent and property taxes as well as increased costs in maintenance for both the facility and equipment.
Speaking of equipment, the first thing that comes to most people's minds when they think of a gym is the number of free weights and cardio machines available.
If customers find that they are not able to access equipment for their workout, especially at peak times of the day, owners will most likely lose them to the gym down the street.
For larger gyms, you will most likely find anywhere between twelve to fifteen pieces of cardio equipment per twenty to twenty-five users, assuming the gym is at full capacity.
At a multi-purpose facility, providing an indoor track as an alternative to treadmills is a suitable option.
As for free weights such as dumbbells, kettlebells, and bars, there are multiple sets of each, though the exact numbers vary greatly depending on the gym.
The same can be said for the number of exercise balls and mats, which should allow you to flow freely through most of your workout without much interruption, depending on the time of day.
As the size of the gym increases, so too does the amount of customers, amenities, and equipment.
Depending on the size and purpose of the facility, boutique gyms may average between 100-500 members, whereas larger big box gyms can have anywhere between 1,000 to 10,000 on their database.
At any given time in gyms such as 24 Hour Fitness or Gold's Gym, you may see up to 250-300 people working out during prime hours.
So how else do gyms use all this space?
Mid-range big box gyms will likely provide access to childcare, a steam room, and possibly a small basketball court, whereas luxury gyms tend to go all out for their clients.
From squash courts to saunas to a swimming pool to massage therapy, members of these facilities not only purchase memberships to exercise but also for social and pampering purposes as well.
However, as with everything in life, the more bells and whistles you add, the higher the cost for everyone involved.
Budget gyms like Planet Fitness and Crunch start at around $10/month and often have smaller footprints than bigger clubs with more amenities, like LA Fitness — which starts around $30/month
Luxury gyms like Life Time or Equinox have huge footprints and will cost you over $100/month in most cases.
While some may assume that the amount that you pay for your membership and the status of the gym relates to the level of cleanliness and attention to detail, there are many small gyms that maintain the same level of standards if not higher than the big money gyms.
So in the end, bigger gyms usually have more amenities to offer — but that doesn't always mean they're a better value.
---
Small vs large gyms explained (Differences, pros & cons)
Snap, Crunch, and Planet Fitness are all relatively small gyms compared to behemoth luxury clubs.
But you can go even smaller if you go local.
While they may not have as much equipment or the social status level of the big-name gyms, locally-owned facilities are effective in their own right.
Think of it this way, purchasing fresh produce from a local market or buying from a big chain grocery store or buying an item from a local mom-and-pop shop, or paying Amazon to deliver it to you.
Both work, but differently for different people.
When it comes to smaller, privately owned fitness studios, a lot of it depends on the type of facility and the number of members.
The American College of Sports Medicine (ACSM) recommends between 40-60 square feet for each piece of fitness equipment and 10-14 square feet for each client.
In a 4,000 square foot gym, you will most likely find a main equipment/workout room, a lobby, locker rooms, and a storage area.
So yes, large gyms have more space, equipment, and amenities — but smaller gyms have a few interesting perks:
Smaller gyms offer more individual attention
Whereas larger gyms tend to have a one-size-fits-all mentality when it comes to workout plans, smaller gyms will often be able to tailor-make a program fit specifically for you.
Large gyms can be crowded or intimidating
Larger gyms mean a larger number of users, which could be intimidating for some people who may not have the same knowledge, experience, or physique.
It also means that there could be longer wait times for your favorite piece of workout equipment.
Smaller gyms promote creative workouts
Sometimes, with less workout equipment or machines, small gym users have to be more creative with their workouts, challenging not only the body but the mind.
This helps to keep exercising fresh and exciting, rather than the same monotonous program.
Local, independent gyms utilize smarter designs and layouts
Spatial creativity is important for small gyms, which rely on color choices, lighting, and the arrangement of equipment to give a bigger feel. By keeping everything simple and clean, smaller gyms can "create size."
Large gyms can make frustrating corporate changes
Big box gyms tend to have a corporate office that makes unilateral decisions as to what programs are being offered, sometimes switching classes or programs on short notice, whereas smaller gyms have owners that are more in tune with their clients.
Smaller gyms help you get to know people
Some people enjoy sharing a gym with a large number of other clients and find inspiration and motivation from seeing a variety of people training, while some clients may prefer the camaraderie of a close-knit community of like-minded people to share an exercise class with.
With a small gym, members find conversation, socialization, motivation, and fun within a group of like-minded individuals.
Independent gyms offer members more financial flexibility
Smaller local gyms will often price their memberships on a package, month to month or short-term basis, whereas big box gyms usually require that you purchase a long-term membership that may not be used as frequently as originally planned.
While the monthly costs may be less at a big box gym, the long-term amount that you pay due to being locked in can amount to more, especially if you have to pay different amounts for each "level of membership."
More virtual workout options at small, local gyms
With the current state of health and wellness due to the pandemic, it is easier for smaller gym owners and clients to engage in virtual workouts with their personal trainers, as opposed to the challenges that big box gyms may face.
---
Wrapping Up
At the end of the day, nobody can answer which gym is better for you as a gym-goer, as both big box gyms and small boutique gyms offer something that the other cannot.
Determining your needs and goals, your budget, the type of person you are, location, these factors, and more all play into helping to make your decision easier.
However, the best way to figure out what really works for you is to go give each gym a test run (most gyms, regardless of size, will give you between 1-7 complimentary sessions) and see in person which one really suits you best.
For more on gyms, check out:
Hope this helps!