For anyone that is looking to improve their lives and overall physical can mental health and wellbeing, joining a gym can be a great first step.
But it can be hard to choose the right gym.
One of the most important things to look at is convenience — the easier it is for you to get to the gym, the more likely you'll keep going!
So it's super important take your gym's hours into consideration before joining.
When do most gyms open and close?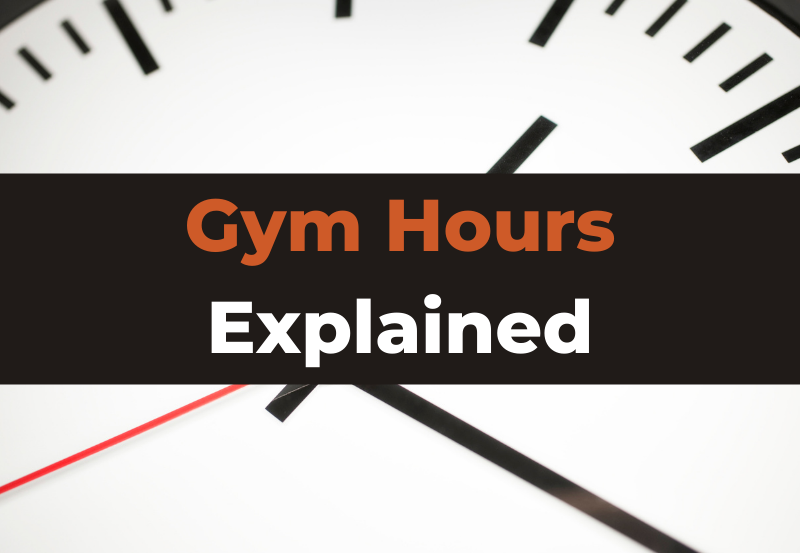 Most big chain gyms open around 7 or 8am during the week and close late, around 10pm or so. Weekend hours are usually shorter and the gym may be closed or have limited hours on most holidays. If you struggle with gym hours fitting your schedule, you can always join a 24 hour gym!
Let's take a closer look.
---
What Time Do Gyms Usually Open?
When you are looking for a new gym to join, it's important that you understand when it will open in the morning.
Many people enjoy getting up early and going to the gym to get in a workout to start off their day.
(Making the mornings one of the busiest times at most gyms.)
To accommodate this, most gyms open pretty early in the day, though typical opening hours can vary from one gym to the next.
In general, you can expect gyms to open up around 5 or 6am during the week, and a little later (7-8am) on weekends — unless they're open 24 hours.
For example, Planet Fitness (one of the largest big box gyms in the world) varies from location to location, but they are frequently open for 24 hours per day which means they will never close.
Life Time, a popular high-end gym, might open as early as 4am in some locations.
LA Fitness typically opens their doors starting at 5 in the morning.
On the weekends, hours can be cut back a bit as many gyms will not open until 8 am.
Specific opening times vary greatly depending on the location, so you'll have to check your local club.
But it's common that you should be able to start working out around 5am or 6am at the latest during the week at most gyms.
Weekend opening hours are usually later at most clubs, around 7am or so.
---
What Time Do Gyms Usually Close?
While a lot of people will enjoy getting up and working out early in the morning (or have to, based on their work schedule), others will want to exercise towards the end of the day.
Those that like to work out in the evening may want to find a gym that offers later hours to accommodate this schedule.
Just be aware that the after work rush is another peak time at the gym.
Those that attend a 24 hour gym, such as Planet Fitness, won't have any problem, and can workout as late as they want!
Otherwise, most gyms are open pretty late — typically clubs close between 10pm and midnight during the week, and around 7 or 8pm on the weekends.
LA Fitness, for example, usually stays open until about 10pm during the week and closes at 7pm on Saturday and Sunday.
One thing to keep in mind is that not all amenities will stay open late, as the staff may shut down the pool area earlier and you may have difficult finding group classes past 8pm on the weekends.
---
How Do 24-Hour Gyms Work?
If you're worried about what time the gym opens or closes, base don your schedule, you may want to check out a 24 hour gym.
They have a ton of perks for night owls or anyone with an odd work schedule!
When you attend a 24 hour gym, you can get into the fitness facility at any time during the day or night and workout whenever it's convenient for you.
The gym may be staffed 24 hours, or you may be given a key card to enter during non-staffed hours, depending on the chain.
However, while the gym may be open very late at night, you may find that some services and amenities are not available during this time.
Typically, personal training sessions, fitness classes, spa services, and nutritionist meetings will take place during more normal business hours.
However, you can still access all of the equipment, the locker room, and other amenities to get in a great workout even very late at night.
---
Gym Holiday Hours Explained
Another important factor to consider is how gyms operate during major holidays like:
Christmas
Thanksgiving
4th of July
New Years Day
Etc.
While some people do not like to exercise these days, others may enjoy getting in a good workout before relaxing and celebrating.
Most of the major big box gyms across the country will be open with limited hours during the holidays.
Even those that are otherwise open 24 hours per day could open late or close early during the major holidays.
It is also common for classes, personal training sessions, and other amenities to be canceled or limited during these holidays.
Your gym may be closed entirely on certain major holidays, like Christmas Day, so check accordingly!
---
Wrapping Up
There are a lot of keys in staying motivated to workout, and convenience is a big factor.
If you join a gym that has limited hours and amenities during your free time, you may struggle to keep going and see the gym results you want.
However, if you work a regular "9 to 5" job, you'll find most gyms can accommodate you — opening around 5-6am and closing late in the evening during the week.
For more, check out:
Hope this helps!