There are a lot of different kinds of gyms and fitness studios out there for you to choose from.
One term you might have heard thrown around: Big box gyms.
But what exactly are big box gyms?
Big box gyms are large, corporate gym chains that you can usually find in most states across the United States — like Planet Fitness, LA Fitness, or Gold's Gym.
They're usually, but not always, large facilities that take up a lot of square footage and house a ton of different workout equipment.
They offer a wide variety of equipment and amenities and usually cater to beginners and casual gym-goers moreso than people training for fitness competitions like bodybuilding or powerlifting.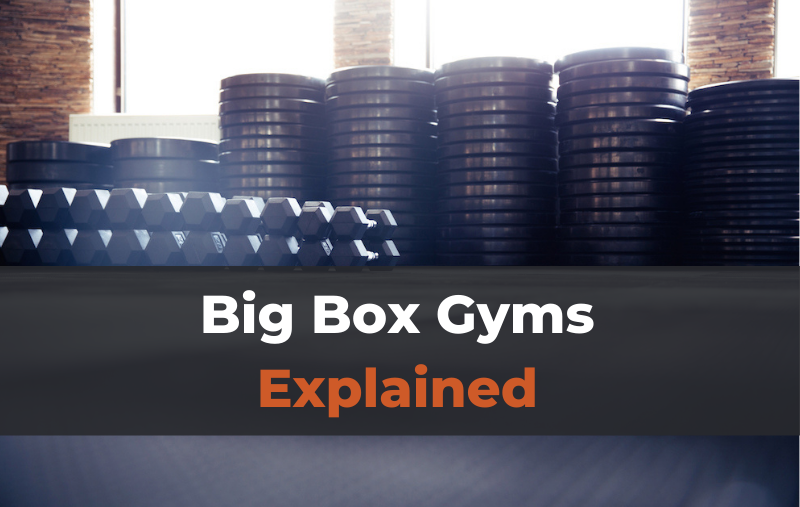 At a big box gym, you can get affordable access to equipment and try a little bit of everything during self-directed workouts.
Some box gyms offer group classes and personal training if you need a little more guidance.
Let's learn a little bit more about common big box gyms and whether you should go with a chain gym or join a smaller, local option instead.
---
The different types of gyms explained
If you're ready to finally take the plunge and get in shape, joining a gym is a great first step.
But what type of gym should you join? There are a lot of choices!
Big box gyms
Powerlifting gyms
Personal training gyms
Boutique gyms
Group fitness studios
Rock climbing gyms
And more
If you live in a big city, you probably have access to all of these.
Many of the gyms you'll find in your area will offer specialized training and equipment.
For example, rock climbing gyms will have rock climbing walls, not treadmills. Some people go here for fun, but serious rock climbers also train here.
Meanwhile, powerlifting gyms probably won't be packed with ellipticals and rowing machines — instead, they'll have tons and tons of power racks and heavy weights for serious strength training.
Big box gyms offer a little bit of everything and are a great fit for anyone who's just looking to get in shape — but who's not training for anything specific like a powerlifting competition.
The best box gyms will have plenty of weight lifting equipment, cardio equipment, functional training props, and extras like pools and group classes.
You have lots of different options at a big chain gym on any given day, which is great for people who like to mix up their workouts frequently or do cross-training.
---
Common features & amenities at big box gyms
There are a ton of amenities you can expect to find at some of the larger chains out there.
First up is the equipment. Most big box gyms have a ton of it, so you'll have a lot of variety to choose from.
For the most part, here's what equipment you can expect at chain gyms.
Treadmills
Ellipticals
Stationary bikes
Free weights
Resistance machines
Where big box gyms stand out is that they usually have the space to offer some pretty nice extra amenities.
As you're shopping around for the best gym membership for you, you should make sure to look for:
Pools
Saunas
Massage chairs
Running tracks
Tennis courts
Tanning
And more
These amenities are the biggest difference between box gyms and local clubs or specialty gyms.
It can be a huge motivator when you look forward to using your gym's pool or jumping into a pick up game of basketball — or even soaking in the hot tub after a tough workout.
Learn more about the different types of gym amenities and where to find them here.
---
Examples of big box gyms
If you're still confused about what exactly a big box gym is, let's look at some examples you've probably heard of before.
In fact, you may drive past one or several all the time on your way to work. 
If you're looking for a gym that has a little bit of everything, then these are some of the most common and popular big box gyms around:
Planet Fitness
Crunch
LA Fitness
24 Hour Fitness
Gold's Gym
Life Time
Equinox
YMCA
Anytime Fitness
And more
While you'll find cardio and basic resistance machines at all these places, there are plenty of differences among them.
For starters, the prices range significantly from $10/month to well over $100. 
They also vary wildly in what amenities they offer.
For example, Planet Fitness doesn't have a pool at all, while Life Time gyms often have massive outdoor recreational pools that are perfect for a family membership.
---
Big box vs boutique gyms and fitness studios
It's hard to go wrong at a quality big box gym like LA Fitness or (if you can afford it) Life Time.
But you might also want to consider joining a local boutique gym or even a fitness studio near you.
It all depends on your budget and fitness goals
Let's see how your different options compare.
Big box vs boutique gyms
The primary difference between these two types comes down to size.
As the name suggests, big box gyms are huge with a wide array of exercise options. Meanwhile, local boutique gyms are smaller and can't accommodate as many people. 
Other factors to consider include:
Price: Since big box gyms can have more people inside at the same time, they can usually offer lower membership prices.
Hours: It's not unusual to see big box gyms like Planet Fitness open 24/7. Boutique options have limited hours because they're generally staffed by highly qualified trainers who are primed to give individual attention.
Community: Big box gyms can be a little bit anonymous. You might recognize a few faces here and there, but people tend to get in, workout, and leave. Local gyms with a smaller membership base tend to have a better sense of community, which is a huge motivating factor for some people.
If you really thrive on getting to know your gym staff and peers, you should look into smaller local gyms in your area.
You'll probably pay more, but the experience will be a lot more personalized and welcoming.
Big box vs. fitness studios
Your other option instead of joining a big name gym is to join up at a specific fitness studio in your area to do group workouts like:
Yoga
Pilates
Orangetheory
Bootcamps
Spin or cycling
And more
Fitness studios tend to be a lot more expensive than gym memberships, and you'll also be boxed in to doing only one type of workout there.
However, when you sign up for classes at a studio, you become accountable to make your appointment and not miss the workout.
You'll also get incredible instruction from highly qualified trainers — for some people, that's way more appealing than floundering on their own at the gym.
(You can often take a lot of these group fitness classes at big box gyms, too, though there are big differences.
Learn about the gym vs yoga studio and gym vs spin studio here.)
---
Wrapping Up
Ultimately, a big box gym is what most people think of when they think about gyms.
It's Planet Fitness. It's LA Fitness. It's even high-end clubs like Life Time or Equinox.
It's a large facility where you have your pick of the litter in terms of workout equipment and other amenities
For anyone who values variety, or just wants to get in shape but isn't training for something specific, a box gym will likely be the best choice.
Big box gyms are also usually the best fit for your budget. Even top tier chain gyms will usually be cheaper than working with a personal trainer or taking regular yoga classes.
Before you go, check out some more must-read gym guides like:
Hope this helps!