Going to the gym is important for your physical health.
It also gives you a chance to put in headphones, listen to music, and relax. And as any parent will tell you (myself included!), sometimes you just need time for yourself.
But getting to the gym when you have kids at home can be a logistical challenge. Gyms with childcare give you a chance to unwind and worry about just yourself for once.
You can walk on a treadmill and watch TV or really push yourself with a challenging workout.
Either way, it's probably a welcome change when you're not having to clean up after your kid for an hour. Plus, if the childcare staff need you to change a diaper or comfort your child, you're right there.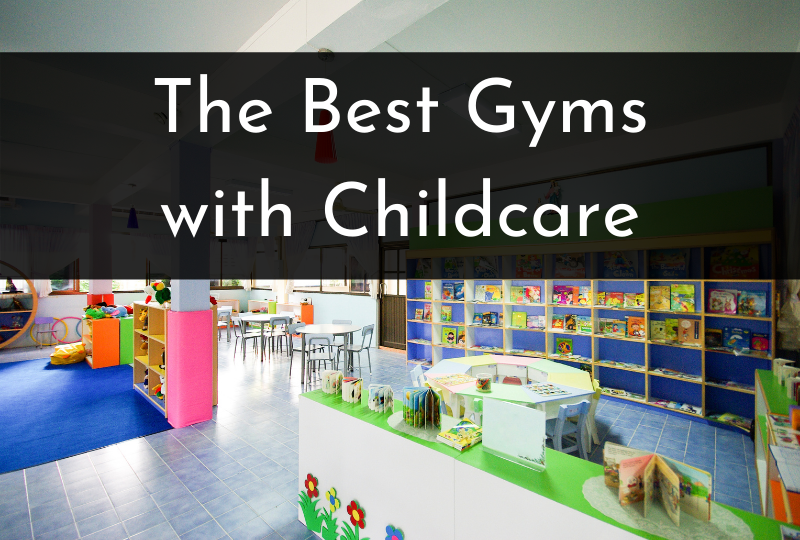 But not all gyms have childcare, or quality childcare — so what are the best gyms with childcare near me?
These are the seven best nation-wide gyms with childcare:
24 Hour Fitness: Best gym for flexible childcare
Equinox: Best luxury gym for childcare
Life Time Fitness: Best gym for school breaks
YMCA: Best gym for infant care
Gold's Gym: Best gym for homework help
Crunch: Best gym for older kids
LA Fitness: Best gym for affordable childcare
Each of these gym chains require child care attendants to have safety certifications, and offer activities and close supervision in designated play areas. Some will even let you try it out with a free trial so you can see if that kids club is the right fit for you.
Kids clubs tend to be fairly affordable, too. You should expect a minor fee (in addition to your membership) when signing up for any childcare service at a gym, but the end result is still less than the cost of hiring a babysitter in many cases.
Expect to pay somewhere between $5-15 per individual gym childcare session if you go a la carte. You'll pay less for pre-paid session packages or tacking childcare onto your monthly membership at gyms that allow it. However, cost varies drastically by brand and specific location — you'll have to call a specific gym to get accurate pricing.
You're ready to get to the gym and have the kids taken care of while you do it, so let's dive into the seven best gyms for childcare.
---
1. 24 Hour Fitness: Best gym for flexible childcare payment
Payment options: Pay per visit, or add on a monthly childcare agreement
Ages: 6 months to 11 years old
Highlight feature: With most of its locations offering childcare services, there's a good chance the 24 Hour Fitness near you can watch your kids while you workout.
This gym makes things a little easier by giving you the choice to pay per visit or add on a monthly agreement for childcare, so you can choose the option that works best for you at any given time.
The skinny:
24 Hour Fitness offers childcare at the Kids' Club at a majority of its locations where parents can drop off kids while they work out. This service accommodates children between six months and 11 years of age.
Your kids won't just sit around waiting for you to finish exercises. 24 Hour Fitness offers a number of games and activities to get your children moving around so that your kids can look forward to going to the gym as much as you do.
You can trust that your child is in good hands while you get your sweat on. All childcare attendants for 24 Hour Fitness are required to have CPR/AED certification and pass a background check.
To make sure the Kids Club is right for you and your child, you can sign up for a free, three-day trial period to make sure both you and your child have a great time.
After that, you can purchase kids club visits individually, or add childcare as a package to your membership for ultimate convenience.
---
2. Equinox: Best luxury gym with childcare
Payment options: Additional fee per visit, or pre-purchase a multi-visit pass.
Ages: Varies by location
Highlight feature: While parents deserve the chance to live in luxury, not all gyms accommodate parents with childcare — especially high-end clubs like this. We're thrilled to see this exclusive brand embrace families with kids clubs at select locations.
The skinny:
Equinox is one of the pricier options out there when it comes to gym memberships.
It definitely has a more exclusive vibe, but some locations do offer childcare.
A single childcare session can cost between $7 and $14 on top of what you already pay to exercise there.
But if you consider that babysitters cost up to $20 per hour, the added cost still ends up being a great deal if you're working out at Equinox anyways.
You can save on the cost of childcare by buying blocks of sessions ahead of time. If you know you'll be bringing your kids a lot, then you can utilize that to pay as little as $5 an hour for childcare at the gym. This option may not be available at every location, but it's worth taking advantage of if you can.
Staffers are certified in first aid and CPR. With playhouses, parachute games, and painting, there are plenty of activities to keep your kids stimulated as you work out.
---
3. Life Time: Best gym for school breaks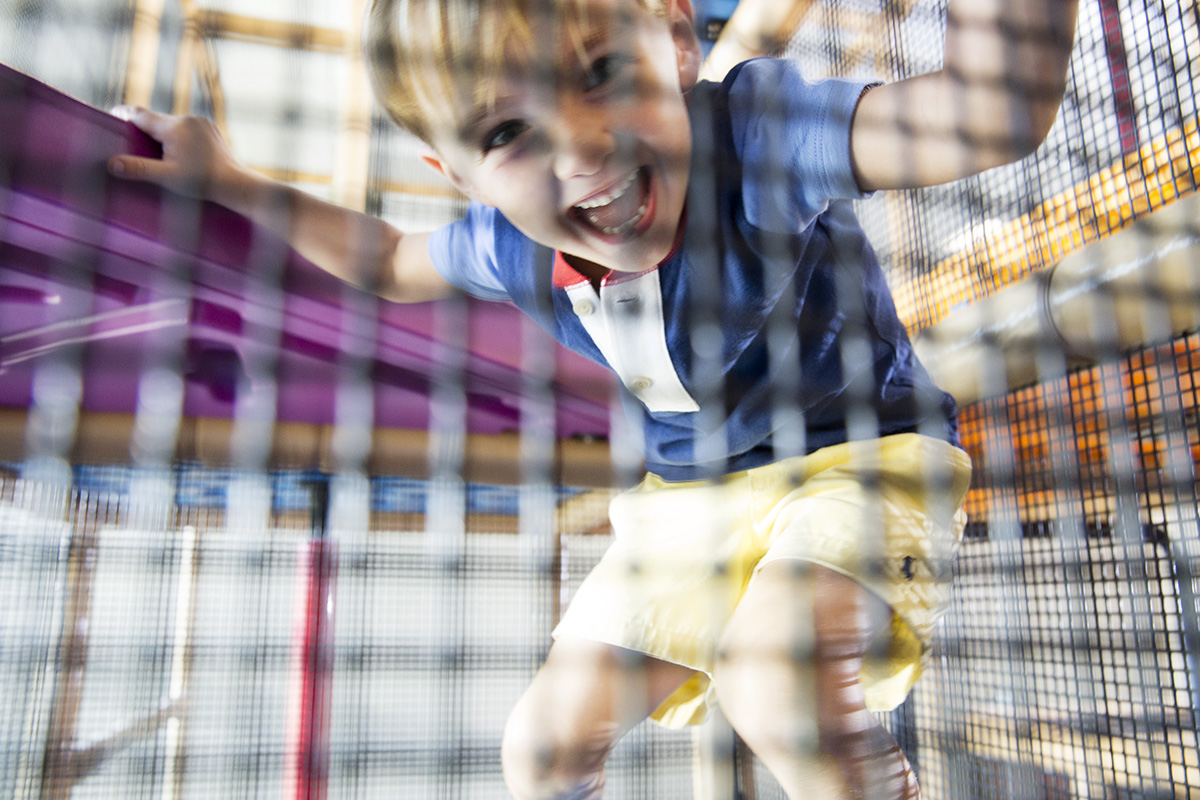 Payment options: Additional fees vary by location
Ages: 3 months to 11 years old
Highlight feature: Life Time offers up to two hours of free childcare per day at the Kids Academy for registered children of members, but this family-friendly gym can keep your kids stimulated all day long when school is out. Life Time offers day camps for summer and school breaks, so you can save yourself the job of finding other childcare on those free days.
The skinny:
Life Time is another premier option. These gyms are known for their state-of-the-art equipment, and your child can enjoy similar amenities in the kids area.
Activities are provided to kids from 3 months to 11 years of age.
3-month olds get a chance to engage in sensory play while older kids can increase coordination and motor skills with fitness exercises and obstacle courses. Life Time uses time with your child wisely so that you both end up leaving the gym feeling better than when you got there.
And if your kid really loves going to Life Time, then you can sign them up for Life Time Camp when school is out.
Whether you need someone to watch your child when they have a week off from school or for an entire summer break, Life Time provides fun activities for extended periods of time with an emphasis on S.T.E.A.M. (Science, Technology, Engineering, Arts, and Math).
They've also recently launched Distance Learning Support camps — where instructors will help kids with their distance learning and schoolwork while parents exercise.
---
4. YMCA: Best gym for infant care
Payment options: Free for gym members
Ages: 6 weeks to 10 years old
Highlight feature: While most gyms start accepting children to the kids club at six months old, you can bring your infant to the YMCA when they're as young as six weeks old.
The skinny:
The YMCA is more than a gym — it's a community organization.
With a long history of servicing families and looking out for children, the YMCA really is a step above when it comes to childcare. It's famous for its childcare services, and you can bring children as young as six weeks old.
Childcare isn't limited to a drop off session while you work out at the Y.
Most locations offer preschool, after school, and school break care. Older kids also have access to trained teachers who can help with homework or just play games with them.
---
5. Gold's Gym: Best gym for homework help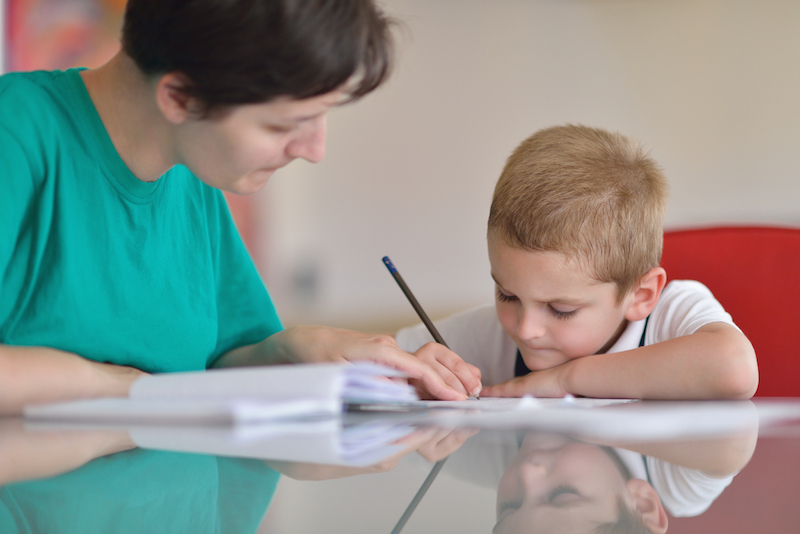 Payment options: Additional fees vary by location
Ages: Varies by location
Highlight feature: Some Gold's Gym locations employ teachers to work with kids who need homework help. This way, your kid can get the hard work done first then kick back and relax when you both head home for the night.
The skinny:
Many Gold's Gym locations have now begun to offer childcare.
It comes at an extra cost, but Gold's Gym really goes the extra mile to ensure your child's safety.
Gold's Gym Kids' Clubs come with a secured door. Everyone must be buzzed in to get inside.
The staff has been trained to deal with emergency situations, and all teachers are certified in CPR/First Aid/AED. Additionally, teachers are required to pass background checks.
Your kid will enjoy the variety of activities to do here from arts and crafts to sports. Teachers can even offer homework help, so if your child is struggling at school, then they can receive extra assistance as you work out.
But when their homework is finished, kids can enjoy the climbing gym and play area to their heart's content.
---
6. Crunch Fitness: Best gym for older children
Payment options: Additional fees vary by location
Ages: Varies by location — can go as up to 13 years in some locations
Highlight feature: Many gyms stop accepting kids by 10 or 11 years old, but you and I both know middle schoolers need attention and support. Crunch's childcare can accommodate children up to 13 years old, so you don't have to debate between going to the gym or leaving your pre-teen home alone.
The skinny:
You can find childcare services at Crunch Signature locations.
These are premier Crunch Fitness gyms that offer much greater amenities than at your standard gym. Of course, it comes with greater fees.
Kids up to the age of 13 can be dropped off while you work up a sweat.
The main problem is that not many locations have this service. But if you're fortunate enough to have one near you, then it's definitely a good idea to utilize it.
---
7. LA Fitness: Best gym for childcare on a budget
Payment options: Monthly membership add-on
Ages: Kids up to 11 years old
Highlight feature: An affordable monthly membership option for childcare means you don't have to think about the cost of each visit with your little ones in tow.
The skinny:
LA Fitness certainly keeps its childcare services affordable.
You can add access to the kids club for between $10 and $15 a month on top of your normal monthly dues.
That's an exception deal, on top of an already quite affordable and good value membership.
The Kids club consists of childcare experts who watch kids up to 11 years of age.
---
Benefits of working out at a gym with childcare
Opting for a gym with childcare might feel like a splurge, but there are benefits other than convenience that can really tip the scales in this option's favor.
Save money
Many gyms offer childcare services. However, the service typically comes with additional fees.
Still, you're likely to find these pale in comparison to hiring a babysitter multiple times a week.
Instead of coordinating with a babysitter or finding childcare at the last minute when one bails, you can simply tote the kids along to the gym with you just for the (usually low) added cost.
Plus, you can rest easy knowing your child is right there in the same facility as you. This way if anything happens, you can be there in a jiffy to attend to your child.
Break up your kid's routine
Children can get bored and restless when the only place they have to go after school is back home.
When they can join you at the gym, they get a whole new experience.
Bringing your child along to the gym is good for them, regardless of their age.
Younger toddlers get a chance to experience a new environment while older kids get a relaxing place to do homework or play games.
Plus, it's great for breaking up your routine as well. It's important to take time for yourself, even if you have a newborn.
Gyms with childcare facilities allow you to focus on your personal health for a while, and when you're done, your child is right there waiting for you.
Give your kids a chance to socialize
Plenty of people utilize childcare services at the gym.
Your kid will more than likely meet other children his or her own age, providing a great opportunity to make friends.
And if your child makes friends, then you may just make friends with the parents, too. Your potential new friends have children as well, so you already have something in common.
---
Gyms that DON'T have childcare
Childcare facilities are a big deal.
They take up a lot of space and require additional staff members, and there are certain safety requirements facilities and personnel must meet.
Because of this, budget gyms don't typically offer childcare services — it just doesn't make sense.
These national gyms don't offer childcare for their members:
Planet Fitness
Anytime Fitness
Snap Fitness
---
Wrapping up
If you have kids, then there may be no better way for you to work out than by joining a gym that offers childcare.
Finding the right gym with childcare depends on your workout and budget needs, and the type of care that's right for your child.
However, you want to make sure you do your research and contact the gyms nearest you to make sure they offer the childcare services you need. Since many gyms are franchises these days, prices, availability, and experience can vary from location to location.
Whether you're looking for an exclusive fitness club experience like Equinox, or want low key fun for the whole family with Life Time or the YMCA, there are plenty of options out there that can take your kids off your hand while you get some quality "you" time.
Hope this helps!
Before you sign any contracts, check out more gym amenity guides like:
Hope this helps!