Busy parents know this to be true:
Once kids enter the picture, your personal health and fitness drop WAY down on the priority list.
Most days, if you're not busy at work, you're taking care of the kids — which doesn't leave a whole lot of time for workouts.
The one exception? Gyms and fitness classes that offer childcare, so you can leave your children nearby in capable hands while you exercise.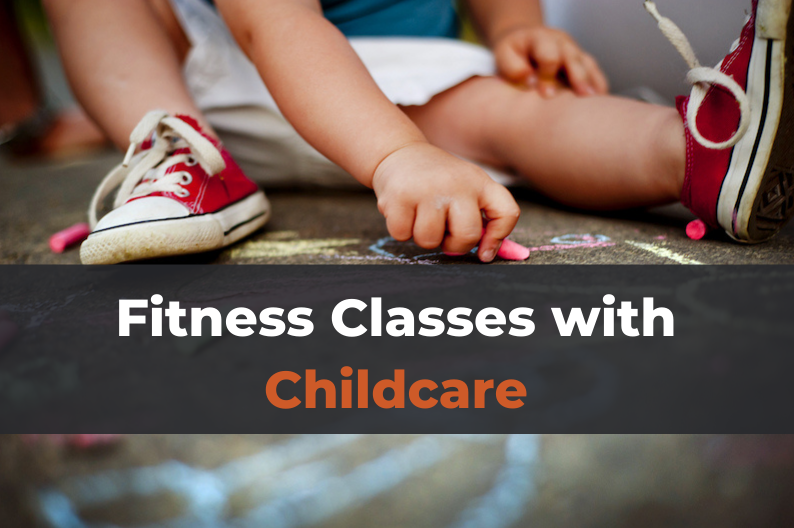 I covered the best gyms with childcare here, but when it comes to group fitness classes (yoga, pilates, spin, etc.) your choices are a lot more limited.
Some of the best fitness classes with childcare are:
Burn Boot Camp
Dailey Method
Barre3
Delta Life Fitness
F45
Classes at big box gyms
Let's take a look at each of your options.
And one quick note — not every location of the above will offer childcare services, so you'll always want to check your local club before you sign any contracts!
---
1. Burn Boot Camp
Additional cost: None
Workout type: Boot camp (cardio, strength, and more)
Truly one of the best options when it comes to fitness classes with childcare, Burn Boot Camp stands above the rest.
Anybody taking a class here — whether on trial or as a regular member — can bring their kiddo to the daycare (called childwatch) for no additional charge.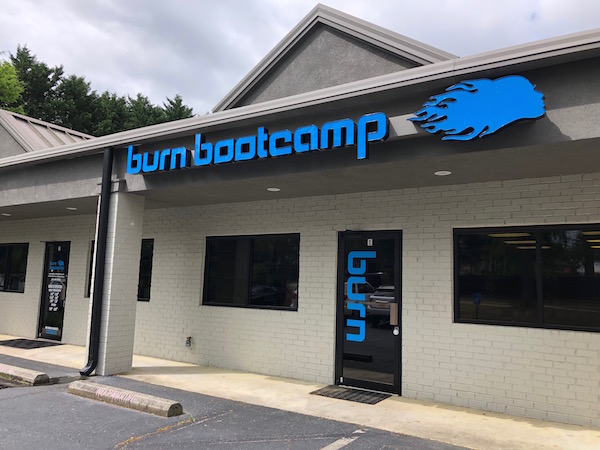 Typically, most locations will watch children from 12 weeks to 10 years old for a maximum of 2.5 hours per day — or as long as you're in class.
Like most gym or fitness class childcare, you won't be able to just leave the kids for free while you run errands!
But this is an absolutely massive, lifesaving benefit for busy parents who have no other option for exercising.
Plus, Burn Boot Camp is a great company and excellent workout in its own right — check out my full Burn Boot Camp review to learn more.
---
2. Dailey Method
Additional cost: Check local studio
Workout type: Barre, yoga, pilates, cycling & more
Dailey Method studios aren't quite as easy to find as Burn Boot Camp and some other big names on this list, but if you have one near you, you're in luck.
Daily Method is a barre hybrid workout studio, with group classes geared mostly toward women and focusing on "alignment", meaning:
Dance
Yoga
Kinesiology
Pilates
Cycling
And more
New and expecting moms are more than welcome at Dailey Method, with most studios offering a host of prenatal-friendly classes and mommy and infant classes, as well (called Dailey Baby).
Busy moms rave about Dailey Method — you'll find about 60 studios nationwide, which makes it available for most folks but still allows the brand to offer the intimate feel of a smaller boutique.
The childcare here is top notch and built in to the experience, but check with your local studio for pricing and scheduling.
---
3. Barre3
Additional cost: ~$5 per class
Workout type: Barre
Barre3 is one of the most popular barre studios in the world, second only maybe to Pure Barre.
There are about 153 Barre3 studios in the U.S. and counting, so chances are you can get to one without too much trouble.
And unlike most barre studios, Barre3 has childcare at some or most locations, affectionally called the Play Lounge.
Check your individual local studio for the most up-to-date pricing, but the word is you can expect to pay just a measly $5 per class — a SMALL price to pay for an hour of free time!
The Play Lounges are packed with toys and supervised by highly qualified staff, so you can put your mind at ease and enjoy your workout.
(For more, check out the pros and cons of barre, tips for your first barre class, and what results from barre you can expect after one month!)
---
4. Delta Life Fitness
Additional cost: Check local club
Workout type: Boot camp (cardio, strength & more)
Delta Life is a women-only boot camp experience that prides itself on being a welcoming environment for parents.
If you check out their website it literally advertises supervised childcare as a main component of the workout!
The workout itself is boot camp style, similar to what you might find at Burn Boot Camp or Barry's Boot Camp.
The workouts are 30 minutes long, and you can expect to work HARD to get in a time-efficient workout.
Depending on the day, you might focus on cardio, strength, agility, or more.
The Kid's Corner and women-only environment is a huge hit at Delta Life.
Check your local club for pricing and availability, or get a free pass and test drive the studio before you join.
---
5. F45
Additional cost: Check local studio (not always available)
Workout style: Functional HIIT
F45 is another popular boot camp-esque workout studio with nearly 2,000 studios across the globe.
It's a huge hit with parents because, you guessed it, F45 has childcare — though it is limited and not available at every location.
Many F45 gyms won't allow kids in the building at all, while others offer a basic child minding service.
From what I've seen, when this is available, it's typically at a fixed time (like weekdays during the 9am class, for example), and not available during most gym hours.
However, if you're interested in a highly effective, 45-minute workout that can burn over 700 calories (yowza!), check your local F45 to see if they offer any kind of formal or informal child care.
---
6. Big box gyms
Additional cost: Varies by gym
Workout type: Anything you want
If childcare is an absolute must for you to find time to exercise, don't rule out joining a big box gym.
Places like Life Time, YMCA, and LA Fitness have excellent supervised childcare services for members.
Typically, you can roll these costs into your membership, or pay per session.
You can use that time however you want as long as you stay on the gym's campus — take a group fitness class like yoga or Zumba, hit the free weights, or just relax in the spa.
Childcare at the gym is actually one of the most cost-effective options, and you can take any kind of class you want — you aren't limited to, say, just barre or just boot camp workouts.
For a lot more detail on this, visit my guide to gyms with childcare — it breaks down most of the big box gym options, pricing, and services offered at each.
---
Wrapping Up
Admittedly, there aren't a ton of options when it comes to fitness classes with childcare.
Most big studios like Orangetheory, CorePower Yoga, SoulCycle, etc. don't offer any kind of supervised childcare for parents who need a little exercise time.
However, keep a look out near you for some of the smaller, boutique chains. In particular, you'll absolutely love the childcare at Burn Boot Camp, Daily Method, and Delta Life Fitness.
If you can't find any of those, or just want some more variety, a big box gym can work out great!
They have every kind of group fitness class imaginable at most of the mid-range and above chains, and the childcare is really cost-effective.
For more, don't miss:
Hope this helps!