When it comes to finding a good gym, there are plenty of options available.
Planet Fitness is one of the more visible, with hundreds and hundreds of gyms dotted around the country. It's also the most affordable choice around.
However, depending on where you live, you'll have a lot of other choices to consider.
If you reside in Georgia, Maryland, Missouri, Virginia or West Virginia, then you should definitely comparison shop Planet Fitness vs OneLife Fitness.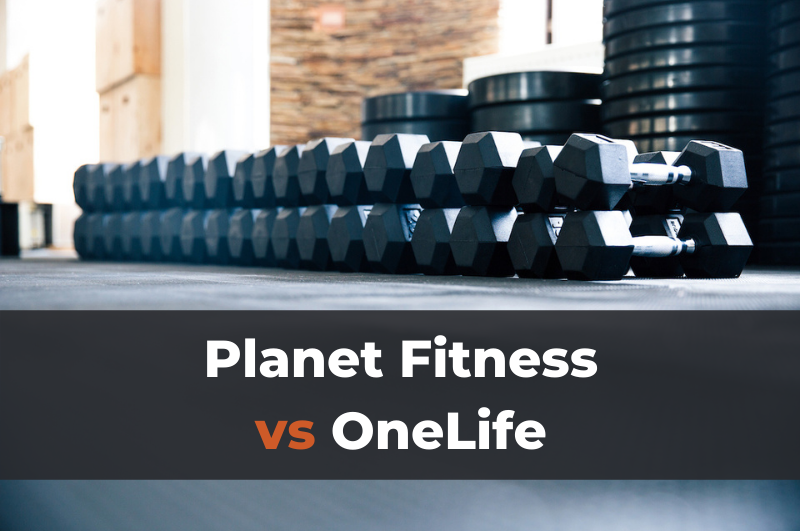 The big differences between Planet Fitness and OneLife Fitness boil down to cost and amenities. Planet Fitness is bare bones but ultra-affordable, best suited for cardio workouts.
If you like group classes, need childcare, or want access to strength training equipment, OneLife Fitness will cost more but ultimately be a better fit for you.
In this article, we'll compare these two chains in detail on price, equipment, amenities, and more.
---
Key Differences Between OneLife & Planet Fitness
Planet Fitness is cheaper at $10/month vs $45
Planet Fitness is nationwide
OneLife is only in Georgia, Maryland, Missouri, Virginia and West Virginia
OneLife has a huge range of group classes; Planet Fitness does not
OneLife has a much better selection of equipment, including racks and free weights
---
What is OneLife Fitness?
OneLife Fitness is a small franchise based on the east coast of the United States.
The gyms are well equipped, spacious, and feature excellent amenities.
Membership costs are slightly higher than average, being comparable to the likes of Gold's and World Gym. 
Due to its price and features, OneLife is what I would call an upper-tier mid-range gym.
It's not on par with elite gyms like Equinox or Life Time, but it has a great set of amenities for members who can afford the price tag.
(Read my full OneLife Fitness review.)
---
What is Planet Fitness?
Planet Fitness is one of the largest fitness franchises in the United States.
It has been around since 1992 when it began as a budget alternative to such big players as World Gym.
Planet Fitness gyms are big, clean, and well equipped. It caters to beginners and people who have anxiety about the gym, purposefully discouraging "gym bros" and bodybuilders from joining.
Though it has a full range of cardio and strength machine equipment, it is decidedly light when it comes to free weights. 
(Read my full Planet Fitness review.)
---
Cost
Let's break down the budget, which should be one of the main factors you consider when picking a gym.
OneLife
The standard monthly fee for a OneLife gym membership is $45.
That gives you access to all facilities, including their impressive range of fitness classes and sessions with a personal trainer.
This membership includes a one time initiation fee of $249. 
A second option is the Power and Light membership.
This is designed for people who are only wanting their membership for a limited time frame so that they are not tied to a contract.
This one will cost you $55 per month, with a $149 initiation fee.
Planet Fitness
Planet Fitness memberships start at an incredibly low $10 per month.
That basic membership does not require that you sign a contract. The basic fee only gives you access to your local facility. 
Upgraded membership (called the Black Card) provides the following extras:
Access to every Planet Fitness in the country
Unlimited guest passes
Access to tanning beds
Hydromassage
Massage Chairs
Half price drinks
Discounted Reebok products
Haircuts at select locations
On top of the monthly fees, you have to pay an annual fee of $39 and, at most facilities, a sign-up fee of around $29. 
Planet Fitness is the more budget conscious option vs OneLife, but which one is ultimately the better value?
---
Hours
Next to price, it's also important to consider convenience when choosing a gym.
If it's too far away or not open during the times you like to go, your chances of quitting go way up.
OneLife gyms are typically open from around 5am until 10pm Monday through Thursday.
Weekend hours, as they are at most gyms, are abbreviated.
Expect OneLife hours to be open on Friday from around 5am until 9pm. Saturday hours are from 7am until 6pm.
On Sunday, the opening hours are 8am until 6pm
Most Planet Fitness locations are open 24 hours per day, 7 days per week.
However, this is not the case universally.
If you are traveling to a new location, check with them first if you plan to use the gym after hours. 
---
Equipment
Next, decide what kinds of workouts you like to do.
Every gym has treadmills, sure, but don't assume all gyms are created equal when it comes to other types of equipment.
OneLife
OneLife gyms offer all of the cardio, strength machines, and free weights that you would expect in a modern, big box gym.
Each of their gyms are spacious so the risk of having to wait around for equipment is minimized.
You will find a good selection of free weights in OneLife gyms to meet the needs of bodybuilders and powerlifters as well as general fitness trainers.
(That means full racks, heavy dumbbells, Olympic weights, barbells, and more.)
Planet Fitness
Planet Fitness also provides an impressive array of cardio equipment, including treadmills, ellipticals, and rowing machines.
They'll also usually have a nice circuit of resistance machines to choose from.
However they are, by design, very light when it comes to free weights.
Planet Fitness have a clearly stated anti bodybuilding policy, so, if you are a serious iron pumper, you will be far happier at OneLife. 
See more gyms with power racks and gyms with rowing machines here.
---
Classes
OneLife excels at providing fitness classes for its members.
These include:
Kickboxing conditioning
Muay Thai
Yoga
Zumba
Cycling
Pilates
Access to classes is open to all members, and you'll find an abundance of choices on the schedule each and every day.
Planet Fitness does not offer group fitness classes outside of an introductory session for new members and extremely basic circuits using the gym equipment.
(See which gyms have group fitness classes here.)
---
Pool/Spa
The majority of OneLife gyms will feature a full sized swimming pool.
Aqua aerobics and other water based classes are offered in the pool. Lap lanes are heated for your convenience.
Every gym also offers a full sauna, hot tub, and whirlpool area. These provide a fantastic area to cool down and begin your post workout recovery process.
Planet Fitness does not have any pool facilities, spas, saunas, steam rooms or hot tubs.
(See more on gyms with pools in this guide.)
---
Showers
OneLife provides their members with spacious, well equipped, and open clean shower rooms and locker facilities. 
Planet Fitness provides their members with spacious yet rather simple locker rooms and showering facilities.
Both are a fine fit for commuters or anyone who needs to rinse off after a tough workout.
---
Childcare
The majority of OneLife gyms provide an excellent childcare service.
The exact hours and services available through this Kids Care service will vary from center to center so you will have to check locally.
Planet Fitness does not provide any child care services. 
(Learn more about gyms with childcare and fitness classes with childcare at the studio.)
---
The Verdict
If you are looking for the most economical gym in Georgia, Maryland, Missouri, Virginia or West Virginia, then Planet Fitness is the place for you.
You simply won't find a better deal than $10 per month for unlimited gym access
However, Planet Fitness has some major drawbacks. Amenities are sparse and PF is a notoriously terrible place to strength train.
If you're willing to pay more, you'll get a lot more for your money at OneLife Fitness including pools, saunas, heavy weights, and group classes.
You might prefer Planet Fitness if:
Price is your number one deciding factor
You want to avoid gym bros and bodybuilders
You're mostly interested in cardio
You might prefer OneLife Fitness if:
You like to strength train with heavy weights
You want access to pools, saunas, and hot tubs
You need childcare at the gym
Before you go, don't miss:
Hope this helps!