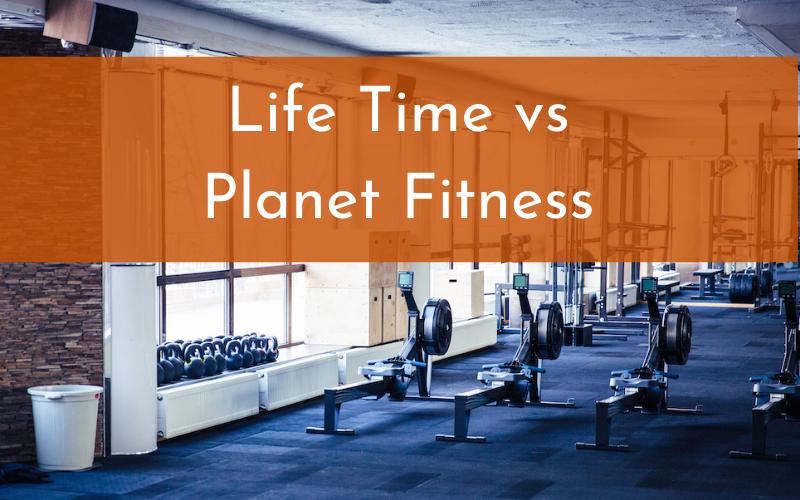 When it comes to extremes in the gym industry, it doesn't come more pronounced than Life Time and Planet Fitness.
One caters to the top end of the market while the other has a budget model. They couldn't be more different.
But if these are the two closest and most convenient gym options for you, it's worth comparing them carefully.
What's the real difference between Life Time vs Planet Fitness and how do they stack up?
Let's open up the hood on both of these popular gyms chains to find out.
---
Key Differences Between Life Time & Planet Fitness
Life Time is far more expensive: $60-70 vs $10 for a basic membership
Planet Fitness is big on cardio but does not carry many free weights
Life Time has a huge range of equipment, including free weights and power racks
Life Time membership includes class, of which they have a lot
Planet Fitness membership does not include classes
---
What is Life Time Fitness?
Life Time is a high end gym chain that has been around since 1990.
The first center was opened in Minnesota and they now have  around 121 locations all over the country.
Memberships can be as high as $149 per month but they offer top notch facilities and amenities.
Think of it more as a "health club" than just a gym, with many locations offering cafes, pools, and more.
---
What is Planet Fitness?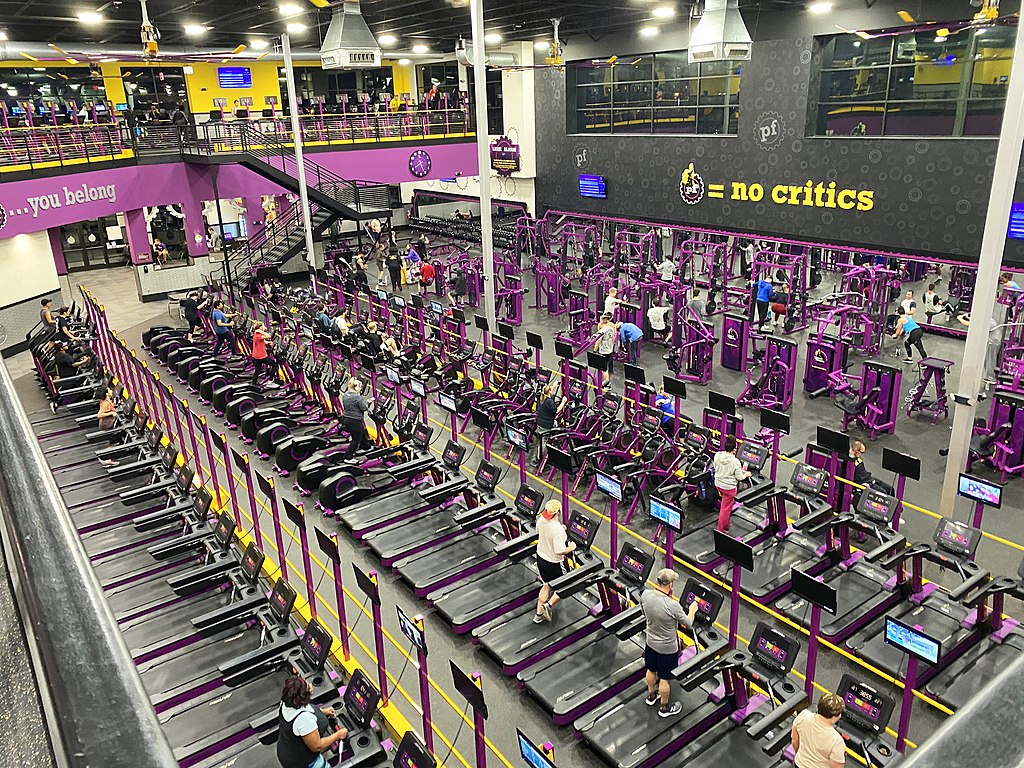 Planet Fitness has been around for about the same length of time as Life Time.
However, its model was to focus on the budget end of the fitness market.
With more than a thousand locations, it is one of the most prominent gyms in America.
Planet Fitness centers are clean, spacious, and basic. They are big on cardio equipment, with banks of treadmills and steppers all over the place — but you won't find much resistance of specialty training equipment here.
Planet Fitness is most famous for its purple and yellow colors scheme along with its "No Judgment Zone" vibe.
---
Cost
The average gym membership can cost anywhere between $30-50 per month.
The two gyms in this comparison clock in well above and below the average, so your budget will play a huge role in which one you end up choosing.
Life Time cost
Life Time offers a range of membership and pricing options.
A basic membership ranges between $60 and $70 per month.
That provides you with access to a single Life Time location. More expensive packages provide you with access to more gyms, along with personal trainer packages — high-end memberships here can be around $149 per month or more.
It should be noted that all fitness classes, of which Life Time offer a fantastic variety, are included in your membership cost.
If you are planning to make liberal use of fitness classes, that makes Life Time suddenly a whole lot more affordable.
In contrast, Planet Fitness does not include classes in the membership cost (but we'll get to that).
Planet Fitness cost
Planet Fitness is definitely one of the most affordable gym chains in the United States.
A basic membership will set you back just $10 per month (that's just pennies per day!).
In contrast to some other budget gym chains, you do not have to commit to a set length of time to benefit from that low price.
The basic membership limits you to a single location. Upgrade options (like the Black Card membership) are available which provide you with these extra services:
Access to every Planet Fitness in the country
Unlimited guest passes
Access to tanning beds
Hydromassage
Massage Chairs
Half price drinks
Discounted Reebok products
On top of the monthly fees, you have to pay an annual fee of $39 and, at most facilities, a sign-up fee of around $29.
(Remember that many of these extra fees can be negotiated — click to learn how.)
---
Hours
Some Life Time gyms are open 24 hours a day, but most will have standard gym hours.
That means your local Life Time will probably be open from about 5am to 10pm most days, with slightly shorter hours on the weekend.
The majority of Planet Fitness gyms are open 24 hours per day and 7 days per week.
Unfortunately, they do not have a universal 24 hour policy, so some clubs may not offer this feature.
Always check your local home club to find out their specific operating hours, as they can vary wildly across the country.
---
Equipment
Outside of your budget, the equipment selection and quantity at a gym should be one of the next biggest deciding factors.
Think carefully about the kinds of workouts you like to do and what equipment you'll need before you sign a contract anywhere.
Life Time equipment
Life Time gyms are very well equipped.
In addition to a sea of cardio machines, you will find a wide range of dumbbells and other free weights, along with plenty of squats racks and full power racks to go along with them.
In fact, you are unlikely to have the problem of standings around waiting for gear when you are a member of Life Time.
You'll also find a full complement of resistance machines, kettlebells, battle ropes and other specialized training equipment.
Life Time also excel at keeping their facilities clean and inviting.
Planet Fitness equipment
Planet Fitness are well known for their anti-bodybuilder stance.
This has a direct impact on their exercise equipment selection. You will not find any barbells, bench press benches, or squat racks in a Planet Fitness gym. They do have some dumbbells but these typically max out at 50 pounds.
(Depending on your stance, this might be considered a positive or a negative!)
So, what does Planet Fitness have?
You will find a whole lot of treadmills, ellipticals, and stair steppers at a Planet Fitness. There are also lots of single exercise machines that are set up in circuit training manner.
---
Classes
Life Time offers what is arguably the best range of fitness classes of any gym chain in the United States.
These are included in the cost of membership. Here are just a few of the classes that Life Time offer:
Bootcamps
Yoga
Cycling
Barbell strength
Yoga/strength hybrids
Barre
Planet Fitness does not offer group fitness classes beyond a basic intro course for new members.
(Check out which gyms have group classes here.)
---
Pool/Spa
Planet Fitness does not have any pool facilities, spas, saunas, steam rooms, or hot tubs. Did you expect one for $10 per month?!
Life Time has awesome pool and spa facilities at nearly every location.
As well as a lap pool, you will find a family pool, complete with water slide and splash pads. You will not find another gym in America that provides anything to match that!
(For more, check out the best gyms with pools.)
---
Showers
Life Time offers excellent change room and shower facilities.
They are large and spacious and exceptionally clean.
The shower facilities at Planet Fitness are rather basic by comparison. However, they are clean and consistently in good working order.
(For more on gyms with showers, click here.)
---
Childcare
Planet Fitness does not provide any childcare facilities.
Being strict on amenities like pools and childcare is part of how Planet Fitness stays so affordable.
In contrast, Life Time has excellent childcare facilities — some of the best in the entire industry.
For an extra fee of $15-20 per month, you can add a child under the age of 13. That represents amazing value for childcare!
(For more on this, check out which gyms have childcare.)
---
The Verdict
Life Time and Planet Fitness represent two different ends of the fitness market.
If you are running on a tight budget, there is no denying that Planet Fitness is the better option.
Keep in mind, though, that if you are wanting to train hard and heavy, Planet Fitness will not meet your needs. Other budget gyms such as Workout Anytime may be a better option for you.
If your finances can make room for it, Life Time represents good value for money.
Even though the monthly cost does seem quite steep, when you factor in the classes, which are very extensive and included in the cost, the value starts to shine.
Throw in the awesome facilities and the very cheap childcare facility and Life Time becomes a very attractive option.
You might prefer Planet Fitness if:
You mostly do cardio
You want to pay as little as possible for a gym membership
You don't like working out near bodybuilders and lifters
You might prefer Life Time if:
You want to take advantage of the group classes
You need childcare at your gym
You want to enjoy the pool and spa facilities
Before you go, check out these guides to your first day at the gym and what to do if you can't afford your gym membership anymore.
Hope this helps!