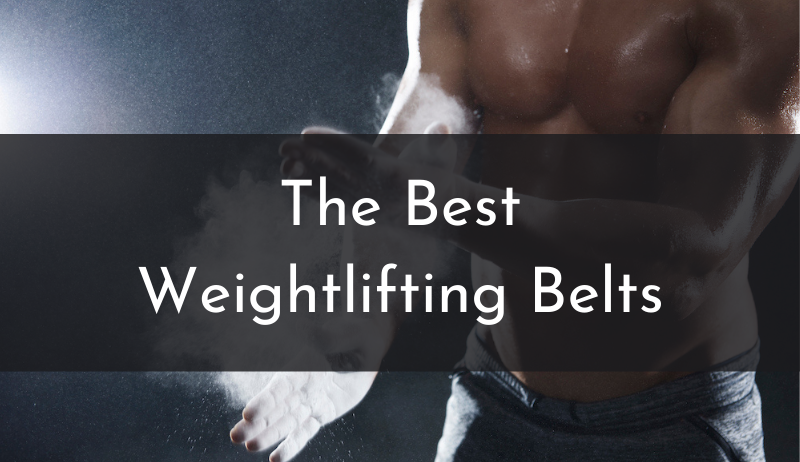 A good weightlifting belt can:
Improve your form and power by teaching you to engage your core properly during lifts
Prevents hyperextension and decrease stress on your lower back
Ultimately, when you begin to reach the intermediate or advanced stages of lifting (or if you're keen on injury prevention), then you might want to consider using a belt during heavy lifts.
You want to make sure you get one that's made from quality materials — a belt that will hold up over time.
There are plenty of options out there, and not all of them may be suitable for your needs. Thankfully, plenty of lifters have taken to Reddit to voice their opinions on what belt is best for certain people.
The best weightlifting belts according to Reddit are:
Pioneer: Best for advanced users
Harbinger: Best on a budget
Inzer: Best for powerlifting
NOTE: Most of these brands have different styles, thicknesses, and clasp-types available in their belt selection. You'll need further research and a little trial and error to find the right one for you — but pretty much any belt from these recommended brands will be of excellent quality.
Let's take a look at each one and see why Reddit users are raving about them.
---
Pioneer: Best for advanced users
Pioneer has been a trusted name in the personal fitness realm for decades.
The company makes good, old-fashioned, made-in-America belts you can rely on.
One of the biggest advantages of getting a Pioneer weightlifting belt is the high level of customization you can enjoy. The company allows you to alter everything from the leather color to embroidery… at a cost, of course.
Pioneer belts tend to be more expensive than other ones on the market, but they're usually well worth it.
Another perk I've found from reading reviews online is that Pioneer belt come with a drastically reduced break-in period.
Since these belts are made of leather, it can take a little bit of time for them to fit comfortably. However, a lot of people think Pioneer belts adjust to your body much more quickly than the competitors.
As one would expect, Pioneer belts are built to last. As I found on Reddit, many people who bought their Pioneer belts years ago are still using them to this day.
---
Pioneer Reddit Reviews
Pioneer comes up all the time when newbies ask what kind of weightlifting belt they should get.
Redditor u/apann14 was ready to make the jump from a cheap, basic belt to a more advanced one. And the first response you see on the thread goes as follows: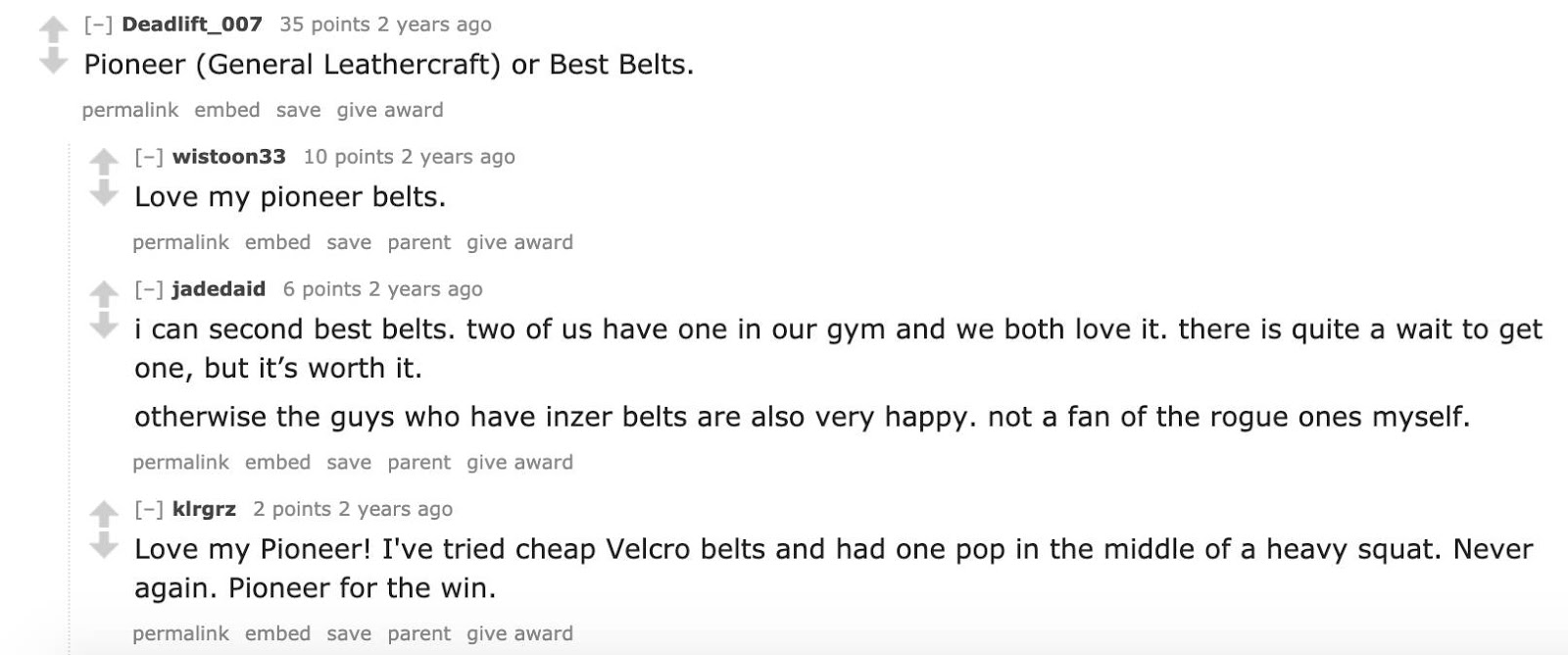 Later in the thread, people bring up the customization features, which is a major plus.
One weightlifting enthusiast, u/zoidbergular, even offers this helpful life hack.
"Pioneer will do custom hole spacings etc. if you inquire beforehand. They are very responsive by email."
There you have it. Don't be afraid to reach out if there's anything Pioneer can do for you. This sentiment is later echoed by u/benman5745.
When talk turns to getting a custom length, the weightlifter responds:
"Pioneer made me one custom length for no extra cost. Just email them."
Pioneer has been a family-owned and -operated business since the beginning. Not only do you feel good giving your money to them, but they add those personal touches that really feel like someone is out there looking out for you.
Pros
High levels of personalization
Wide range of thicknesses
First-class customer service
Perfect cut design
Made in the U.S.A.
Cons
Not approved by the International Powerlifting Federation
---
Harbinger: Best on a budget
You may not have the money to splurge on a premium custom belt.
When you just need something to help you perform at your best without breaking the bank, you can turn to Harbinger.
This is another company you can trust that has several decades' of experience under its belt (no pun intended).
One of the signature products from the brand is the 5-inch foam core belt.
It's incredibly lightweight and flexible enough to support a wide range of movements.
But that doesn't mean this belt is a pushover. It's backed up with a steel roller buckle to keep the tensioning smooth and easy.
Naturally, the company has other belts available in a variety of sizes. No matter what, you can generally make it out for under $50.
---
Harbinger Reddit Reviews
Reddit is a great place to figure out where you can get the best deals around.
When one user wanted to know where to find an awesome belt, u/FolkSong chimed in:
"Last year I wanted to start using a belt and I decided to go for the economical option, which is a nylon/velcro belt. I got a Harbinger 243 for under $20 and I've been very happy with it. My lifts are 250×5 squat and 300×5 deadlift."
One of the best things I was able to glean by perusing on Reddit is that while these belts may be cheap, that doesn't mean they're any less durable.
Just take a look at this post: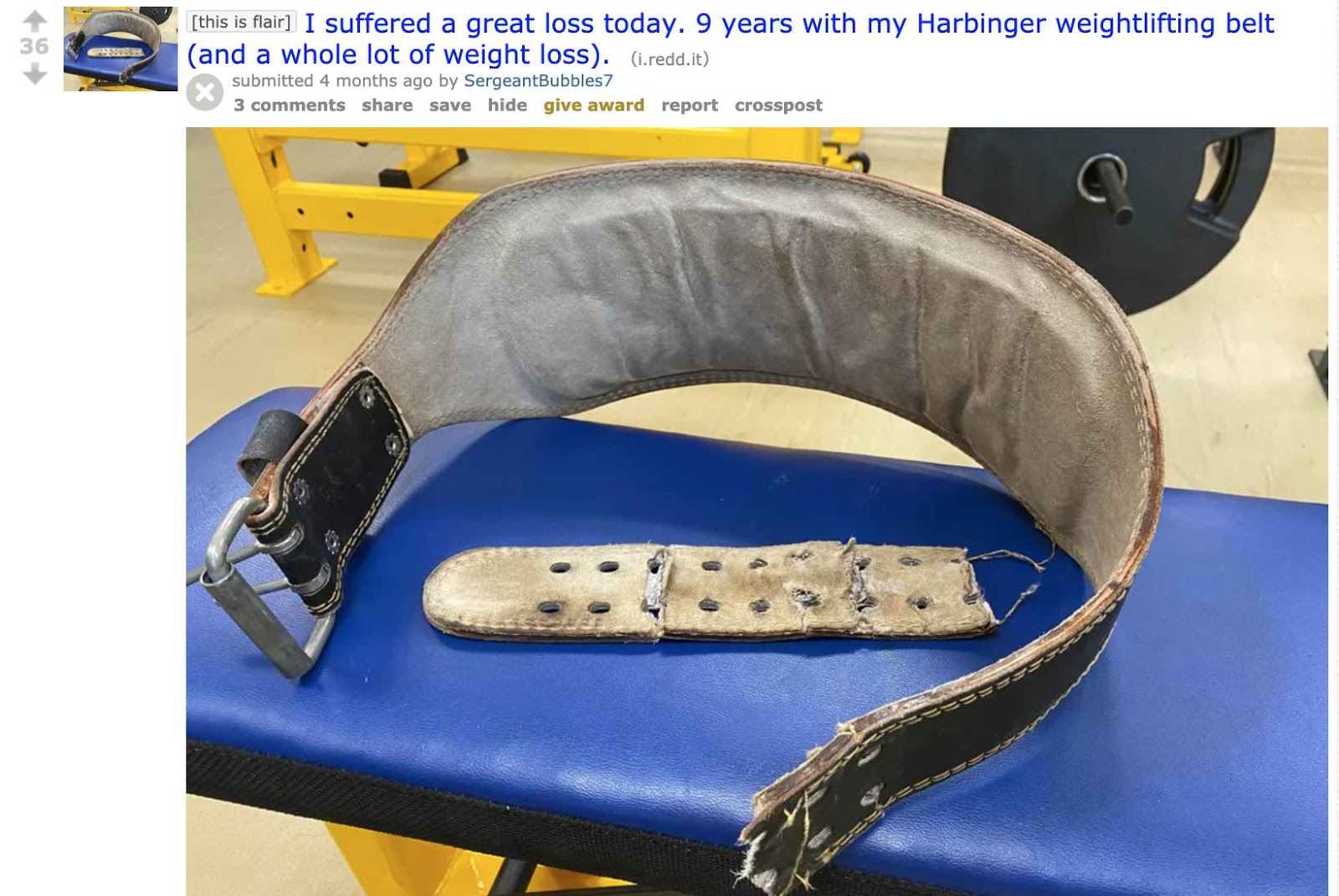 9 years of use for something that probably cost $25?
That's not a bad deal.
Pros
Sturdy steel buckles
Extra-wide velcro construction
Foam cushioning
Doesn't absorb sweat
90-day return guarantee
Cons
Not the most supportive around
Velcro could lose grip
---
Inzer: Best for powerlifting
Many belts are suitable for recreational weightlifting.
When you just want to pack on muscle and get in better shape, there are plenty of options out there for you.
However, things become more complicated when you want to compete professionally. When you start entering powerlifting territory, you need something that's capable of handling the extra demands.
Powerlifting may not be as technical as weightlifting, but you still need to complete three heavy lifts: squat, bench press, and deadlift.
You need to make sure any belt you get for powerlifting is supportive enough to handle extremely heavy loads, and that's where Inzer comes in.
Plus, Inzer belts have been certified by the International Powerlifting Federation as well as USA Powerlifitng. That means if you actually want to compete, this is the kind of belt you need.
---
Inzer Reddit Reviews
When it comes to standard weightlifting, everyone has an opinion on which belt is right.
But when the topic turns specifically to powerlifting, only one name comes up — Inzer.
A common thread among the recommendations is that Inzer builds durable belts that last a long time.



Ultimately, if you want to get involved with competitive powerlifting, you don't have a ton of approved options.
Inzer belts have a long history of excellence, so you really can't go wrong with one.
Pros
Fast release feature
Reliable lever
Covers a larger waist size range
Made of ultra-premium genuine leather
Lifetime warranty
Cons
Difficult to adjust the waist settings once you have it set
No customizations available
---
Wrapping Up
Even if you don't want to compete, weightlifting is a great way to improve your health.
Once you start lifting heavy — or if you just want to be extra cautious about injuries — a belt will improve your performance and recovery.
The good news is that even premium weightlifting belts max out at roughly $100. It's a worthwhile investment and one that will pay off handsomely in the long run.
For more Reddit recommendations, see what Redditors have to say about:
Hope this helps!