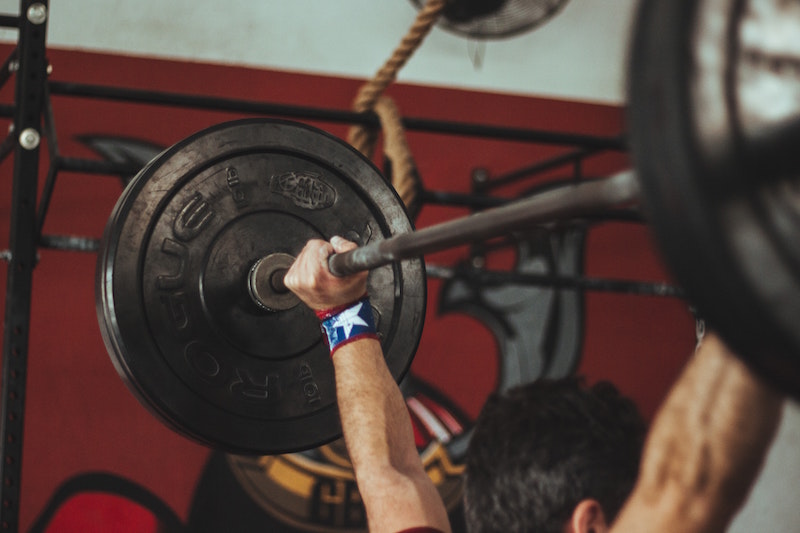 Reddit is one of my favorite places to get information and do research.
Why?
Because you get to hear straight from real people.
They may or may not be experts in their field or niche, but if they're hanging around Reddit discussing it, they're probably fanatics and pretty knowledgeable in their own right.
If you're looking for the best power rack, Reddit users can definitely help you make the right choice.
I combed through about two dozen different Reddit threads on r/homegym, r/strengthequipment, r/fitness, and other subreddits to find the most recommended racks.
Here they are:
Image
Product
Details

Fitness Reality 810XLT

Budget-friendly!
Reddit says: Easy to assemble
Reddit says: Weight bench included

Check on Amazon

Titan T-2

Great starter rack
Reddit says: Sturdy & lasts for years
Reddit says: Weight capacity low for advanced lifters

Check on Titan

My Pick

Titan T-3

Best all around home rack
Reddit says: Westside hole pattern a huge plus
Reddit says: Amazing overall value

Check on Titan

Rogue R-3

High-end, mack daddy
Reddit says: One of the best money can buy
Reddit says: Will last forever

Check on Rogue
Let's take a closer look at each of them along with some Reddit comments that should give you some insight into the pros and cons.
---
Fitness Reality 810XLT Super Max Power Cage (Budget option)
The Fitness Reality 810XLT power rack is an incredibly appealing option to people looking to build out a home gym.
Why? It's one of the least expensive full power racks around.
A lot of users seem to wonder if the low price is too good to be true and if the rack is actually safe, or if it'll hold up over time.
Most Reddit reviews of the Fitness Reality 810XLT seem to be surprisingly positive!
So if you're looking for a budget rack for your basement or garage, this might be the one.
PROS
Great, budget-friendly price

Easy assembly

Includes a weight bench (for extra cost, but still a convenient package)
CONS
Hole spacing not ideal

Overall weight limit low for advanced lifters

Lightweight 14 gauge steel
---
Fitness Reality 810XLT Reddit reviews
So what do real life Reddit users have to say about this power rack?
Mostly, really great things!
Here are a few highlights I was able to dig up:

Reddit user aperson643 writes, "I'm not expert, but it feels quite sturdy," mentioning that the package was delivered easily by UPS (though it weighed nearly 150 pounds!"
"My only complaints are that the hole spacing could be closer," they write. "Overall I'm very happy with it. Best value rack by far."

u/cheald adds, "This is a good starter rack. I'm currently squatting 325+ in it and am quite happy with it."
They do note, however, that if you're an advanced lifter approaching 500 pound lifts, you may need something sturdier in the long run.

A former Reddit user wrote, "For the price you get a great rack, stable, and well built," and mentions this budget power rack also fits attachments from most major brands like Titan.
Again, the 810XLT is touted as mostly a beginner to intermediate rack, with this user adding "I don't lift heavy so for me it's perfect."

Get the latest price & read more customer reviews of the 810XLT on Amazon right here.
---
Titan T-2 Power Rack (Intermediate pick)
If you want to move up in the world and get something just a little bit heftier, but still not break the bank, you should definitely check out the Titan T-2.
This rack comes recommended by Reddit pretty frequently as a budget choice from one of the best power rack brands in the biz.
(Technically, this rack has a lower weight capacity than the Fitness Reality 810XLT, but users write that it's pretty darn sturdy.)
PROS
Won't break the bank

Name recognition from Titan

Sturdy enough to last for years to come

Comes in a short version for low ceilings

Westside hole pattern
CONS
Weight capacity still light for advanced lifters

Few bundling options available
---
Titan T-2 Reddit reviews
Let's take a look at what Redditors have to say about the Titan T-2.

User soandanother writes that the T-2 is a perfect choice for beginner and intermediate lifters.
"If you don't currently have a rack of any kind, then yes, I would definitely buy that T-2," they write. "Unless you're massively strong it's going to function great for years."
Eventually, though, if you continue progressing toward advanced strength levels, you might want to upgrade.

Simple and to the point:
Christ-Centered writes that "I've had it for a couple years and it has served me perfectly."

Reddit user BlanketyTank adds "I love the T2," adding that they went for the short version to fit in their basement.
They add that anyone putting up over 650lbs on a lift is going to want an upgraded rack with a higher weight capacity.

Get the latest price & free shipping on the T-2 right here.
---
Titan T-3 Squat Rack (For heavy lifting)
OK. So you're an advanced lifter who can move some serious weight.
What does Reddit recommend?
From my research and reading through tons of different threads, people seem to be really high on the Titan T-3.
(This is the T-2's big brother, basically.)
It's comes in a few different forms, most common is the half rack or squat rack. And it's one of the best affordable choices for moving a lot of weight.
PROS
Still a great price and budget-friendly

1,000 pounds weight capacity

2×3" steel tubes, super sturdy construction

Westside hole pattern
CONS
Not a full cage

Squat rack doesn't include safety arms
---
Titan T-3 Reddit reviews
Let's check in with the good people of Reddit on this one.
What does Reddit think of the Titan T-3?

This one comment pretty much says it all.
Here's an advanced lifter of 20 years who can bench 385 and squat well over 500, and instead of a super high-end rack, they use a Titan T-3.
"I'm completely happy with it," they write. "To me it wasn't worth spending an extra $500 to et a Rogue rack."
That should tell you how good the Titan T-3 is!

Get the latest price & free shipping on the T-3 on Amazon right here.
---
Rogue R-3 Power Rack (Absolute best overall)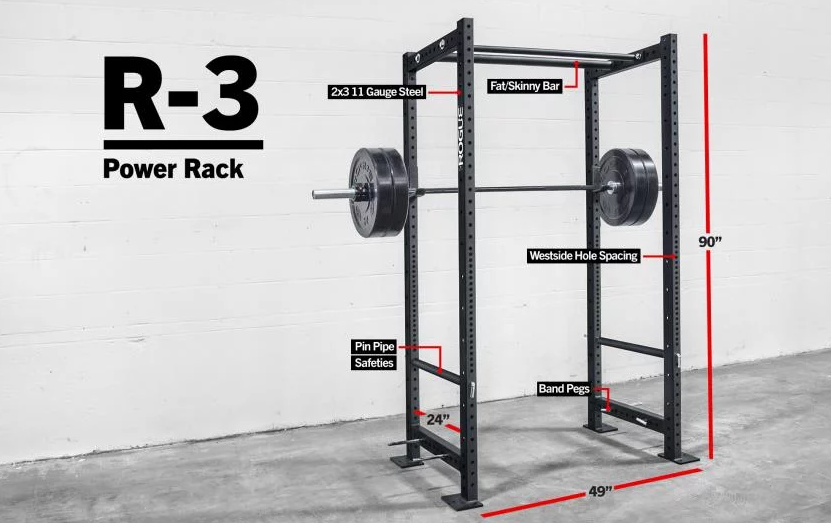 The Rogue R-3 is pretty much the mack daddy of home gym power racks.
You'd be hard pressed to do much better than this, and honestly, you won't need to unless you're a professional powerlifter or strong man.
(Even then, this should suit you pretty well!)
So it's no surprise that the R-3 comes highly recommended from real folks over at Reddit, though it's out of the budget for many.
PROS
1,000lb capacity

Comes in standard and short versions

Heavy 2×3", 11 gauge steel construction

Westside hole spacing
CONS
Most expensive option by far (with expensive shipping, too)

Assembly can be a bit involved
---
Rogue R-3 Reddit reviews
What do Redditors think of the Rogue R-3?
Let's hear it:

User dukelu writes that while the R-3 is pretty expensive, especially when you start adding in attachments and accessories and shipping, it's worth every penny.
"I love this rack so far, and am happy with the purchase," they write.

Another simple and to the point endorsement of this high-end rack:
u/HeyItsBlake writes, "Get it!! I have one and it exceeded my expectations, which were already high."

And if you're wondering if this rack will hold up over the long haul and make the price worthwhile in the end, user KickTodayInTheDick says it sure will.
"I have had it for 3 years and its held up well. … Highly recommended."
Get the Rogue R-3 straight from Rogue right here.
---
Wrapping Up
I love hearing what real people have to say on Reddit, because you know they're going to give it to you straight.
(Amazon reviews can be hard to trust sometimes, so it's nice to get the real scoop.)
Depending on your budget, you have plenty of great options for a power rack for your home gym. Redditors seem to love all of the Titan racks, the Rogue R-3 (if you can afford it), and are surprisingly high on the budget-friendly Fitness Reality rack.
Probably the best combination of value and quality is going to be the Titan T-3, according to the dozens of Reddit threads I've poured through, plus my own separate research.
You can check out the Titan T-3 squat rack right here from Titan.
Hope this helps!
(Oh, and pssst, if you're looking Redditors' opinions on adjustable dumbbells or pull up bars check out my full guides right here!)