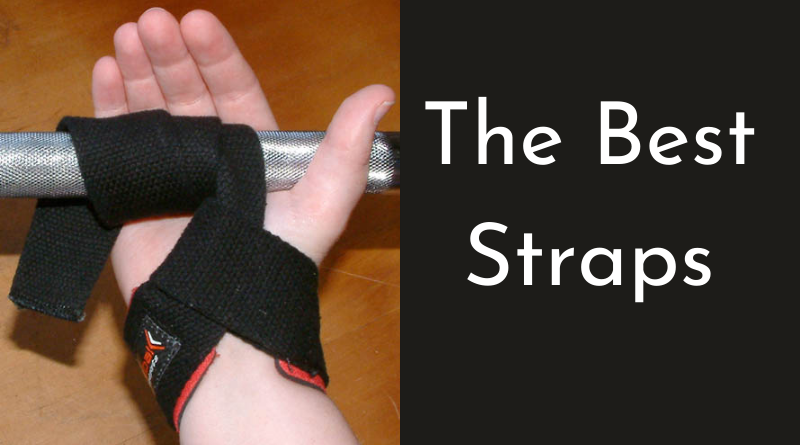 There may come a time in your weightlifting journey that your grip strength starts to hold you back.
When you get sufficiently strong on the deadlift, for example, you may have trouble going heavier because it just gets too hard to hold onto the barbell.
That's why you often see guys put chalk on their hands before doing any heavy-duty lifting.
However, if chalk isn't your speed, then you may benefit from a weightlifting strap.
A strap gives you extra grip on the barbell, making it nearly impossible for the bar to slip out of your hands. It allows you to overload certain lifts (like the deadlift) beyond what your natural grip strength might be capable of.
They're also helpful as a safety measure during heavy pulls.
Once you're ready to incorporate them into your training, you need to invest in quality straps that won't fail you in a big spot. In moments like this I like to turn to popular fitness subreddits to find out what real people are using. 
The best weightlifting straps according to Reddit are:
Rogue: Best leather straps
IronMind: Best nylon straps
DIY: Best when you're on a budget
NOTE: You may have noticed I listed brands as opposed to specific straps. Each brand offers various different types of straps, and some may be preferable for you over others based on outside factors.
However, knowing which brands you can count on is a good starting point.
Let's take a look at each one and why Reddit users think they're best.
---
Rogue: Best leather straps
Weightlifting straps can be made out of a variety of materials, but depending on your personal style and preference, leather may be the best fit for you.
Leather comes with various advantages over other materials.
It's surprisingly soft to the touch, and you aren't going to experience any chafing or irritation as may be the case with other fabrics like nylon.
Leather is a tough, durable material. It's built to last, so you can be confident the leather strap you buy will stand the test of time.
When it comes to leather straps, Rogue is the main name in the game.
The brand makes the Rogue oly leather lifting straps. Since they only come with a single loop, it's easy enough to set it up and get right into lifting.
Plus, it comes in a sleek black and red design — you'll love the way the Olys look.
With all of this, it's easy to understand why Rogue is the preferred leather brand on Reddit.
---
Rogue Reddit Reviews
The only issue with leather weightlifting straps is that they tend to be the most expensive of the bunch.
Still, they'll only set you back in the neighborhood $30.
And as u/catchingkeys points out, they last a long time… provided you don't lose them.
"My girlfriend bought me some rogue brand ones that were really good they were leather(with loop). I loved them but lost one of them. They were like 30$."
Not only are the Rogue straps durable, but according to u/CFMYDonkey, they even helped their performance.
"I have the Rogue Oly Straps (no tail) love em. Not too bulky, plus like others have said less material lets you bail quicker/easier/safer."
Rogue has other types of weightlifting straps available, like nylon. But the leather option seems to be what people are raving over.
If you think you'd prefer nylon, then there's another option available, but more on that later.
Pros
Heavy durability
Won't stretch even under intense loads
Premium aesthetic
High level of customization
Different thicknesses available
Cons
Takes a while for the material to break in
Not as resistant to sweat (and its accompanying smell)
---
IronMind: Best nylon straps
There are several reasons why you might want to consider a nylon strap.
For starters, it's incredibly comfortable. It's a bit softer than leather and is capable of conforming to the natural contours of your hands better.
As such, nylon straps tend to be better for beginners.
However, they're still able to offer you adequate support throughout your workout to help you lift more and have greater comfort during your regimen.
Lastly, you end up with more variety. You can often select from a wider variety of colors and choose between either a velcro or buckle closure system.
To take advantage of all this, you need to buy from IronMind.
This brand is used by weightlifters all over the globe.
Most people will be able to benefit from the Short & Sweet lifting straps. This is the typically style you see out of Olympic weightlifters, and they're great for your average Redditor.
---
IronMind Reddit Reviews
IronMind comes up regularly in threads when people ask what kind of straps they should invest in.
IronMind nylon straps will typically be a bit cheaper than leather options.
One such weightlifter highly recommended them with this glowing review.

On another thread, u/mpzm asks what kind of strap they should use. And one user actually convinces them to use the IronMind Sew Easy.
As you can see, they make a fairly compelling argument.

Leather may have the reputation for durability, but for the price, most lifters will be more than happy with nylon.
Pros
Excellent longevity
Good for a different variety of lifting exercises
Easy to clean
Double-stitched loops
No superfluous padding
Cons
Can't absorb sweat
Could result in some skin irritation if used improperly
---
DIY: Best when you're on a budget
When looking through various weightlifting Reddit threads, I was surprised at how many people suggested to simply make your own strap.
I was further surprised when I learned how easy it was.
You only need to spend a few bucks on supplies, and you can save even more if you already have tools in your garage.
If you want to get really innovative, then you could even recycle parts you found elsewhere. Common parts you could build a strap from include:
Straps from an old backpack
Bag handles
Seatbelt strap
The important thing is that you want to make sure you have a sturdy piece of nylon or cotton to use.
Here's a quick YouTube tutorial on how to put your own weightlifting strap together.
Once you have everything you need it should only take a few minutes to put it together, and then you have a strap that's as good as many of the ones you find in the marketplace.
---
DIY Reddit Reviews
It's unclear if there's any correlation between an interest in weightlifting and being a handyman, but there are plenty of them on the site.
Going back to u/mpzm, one person suggested building a strap. All in all, it ended up costing less than a combo meal at McDonald's.

Looking elsewhere, you could make your straps for even less. In a thread started by u/Babayaga20000, various people chimed in:

By the sound of it, DIY straps probably aren't going to last too long compared to store-bought options.
But you still should get a few years' use out of them, which isn't bad considering some of the alternatives.
And when they wear out, you can make another pair for just a couple of dollars!
Pros
Affordability
Customizable design
Could turn into a fun activity
Show off your creations to others at the gym
Cons
Probably won't last as long
Need to make sure you're using the right materials
---
Wrapping Up
Weightlifting straps can vastly improve your workouts… when you're ready for them.
Sometimes your grip starts to give out before your muscles do, and that's when you need to bring in the right gear to keep making gains and setting PRs.
Ultimately, the right strap for you is a matter of personal preference. It helps to try a few on before buying one, so you can determine which feels best around your hands.
But most people will be more than happy with leather Rogue straps — they're one of the top names in the business for a reason.
For more Reddit recommendations, check out what Redditors have to say about:
Hope this helps!