When you do most of your workouts at home, it can be tough to stay motivated and come up with new workout ideas that challenge your body.
If you're bored with your current routine or feel like you aren't making progress toward your fitness goals, you should consider downloading a workout app.
Workout apps have lots of different types of home workout video classes like HIIT, yoga, cycling, and stretching to add variety to your exercise regimen.
The classes are led by expert instructors who will teach you proper form and motivate you to push yourself harder for amazing home workout results.
Most apps also track your performance so you can see your progress over time and offer training plans and exercise programs to help you stay on track.
You'll usually have to pay a monthly fee to gain access to the workouts, so you want to make sure the app you download is worth the cost.
To help you pick a great fitness app that suits your needs, I dug through dozens of Reddit threads to find the four most highly rated workout apps — chosen and recommended by real people!
So let's see them: The best workout and fitness apps according to Reddit.

The best workout apps according to Reddit are:
Peloton: Best workout app overall
Fitbod: Best workout app for strength training
Freeletics: Best equipment-free workout app
Nike Training Club: Best free workout app
Strong: Best for tracking lifts
Let's take a look at each one and what makes it so great.
---
Peloton: Best workout app overall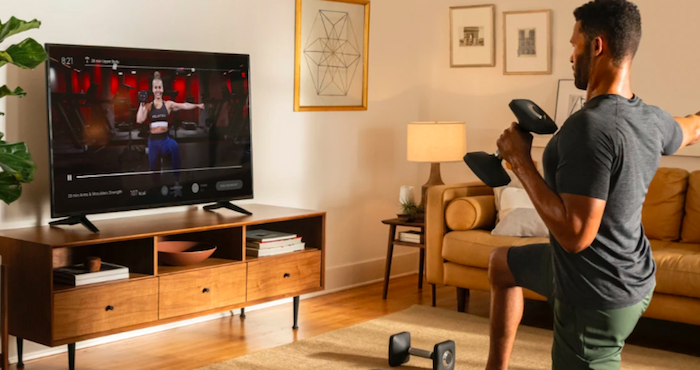 You might know Peloton as the bike that no one can keep their hands off of, but the app can be used by anyone, even without the famous spin bike.
Peloton is one of the best workout apps on the market because it offers such a wide variety of classes, including:
Indoor and outdoor running
Cycling
Walking
Meditation
Yoga
Strength
Cardio
HIIT
Stretching
You'll even be able to find more specialized classes like tabata training and boot camp workouts.
Peloton also has multi-week training programs like "Crush Your Core" and "Mastering the Basics," which helps you learn how to use your spin bike.
The app has monthly activity challenges to help keep you motivated. If you work out at least 15 times throughout the month, for example, you'll get a gold medal.
There are also a variety of social features to keep you engaged. You can see who else is working out with you during classes and compare your performance metrics to theirs.
You can also follow your friends on the app to see their activity and send each other encouraging messages. If you have a Peloton bike, you can even invite your friends to video chat during workouts so you don't have to exercise alone.
Peloton is compatible with both IOS and Android. It also integrates seamlessly with Apple watches, heart rate monitors, and cadence sensors.
You can even stream classes to your television using Apple TV, Chromecast, or AirPlay.
The Peloton app costs $12.99 per month. While this might sound expensive for a fitness app, Redditors generally agree that the price is worth it.
---
Peloton Reddit reviews
Reddit users love the Peloton app because of the wide variety of classes it offers.
Even if you don't have access to lots of exercise equipment, they say you'll still have lots of workouts to choose from.
Am_lady_can_confirm doesn't own a spin bike or treadmill, but thinks the app is well worth it for the guided runs and diverse yoga library.

P4ndybear also loves that Peloton offers a wide range of workouts.

She enjoys completing the challenges too and accumulating bades with her mom and sister.
Another long-time Peloton user chimed in to comment on the variety of classes available on the app:

Crabcakesandoldbay said that they love that the class lengths vary from 10 to 60 minutes so they can always find a workout that fits into their schedule.

They also like the positive attitude of the coaches and the integration with Roku, which allows them to stream videos on the TV screen in their home gym.
The main downside of the app is that the strength training classes aren't the best.
Several commenters mentioned that they can be hit or miss, so you may be better off going with Fitbod if gaining muscle is your main goal.
Pros
Social features like video chatting and challenges
Wide variety of workout types from HIIT to yoga
Compatible with IOS, Android, Apple watches, and more
Great instructors
Cons
A little pricey for an app
Strength classes could be better
Check out the Peloton app here.
---
Fitbod: Best workout app for strength training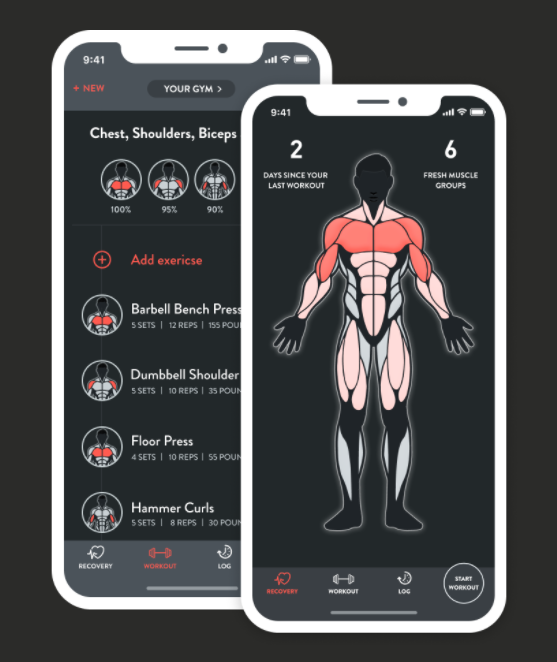 Fitbod is a strength training app that generates custom workouts based on the exercise equipment you have access to and your skill level.
The app incorporates a wide variety of strength training styles to recruit different muscle groups and keep your workouts interesting, including:
Powerlifting
Bodybuilding
Olympic weightlifting
Calisthenics
If you come across an exercise you don't know how to perform, you can consult the app's video library, which has more than 400 demonstrations.
The app will also tell you how much weight to lift, how many reps to complete, and how long to rest between each set to help you maximize your gains.
Fitbod has some fun social features including the ability to share your workouts. You can post your workout summary on social media and even send your favorite workouts to friends via text or email so they can try them out.
Fitbod is available for both iOS and Android. It also syncs with Strava, Fitbit, and Apple Health so you have easy access to your performance data.
I'm a fan of Fitbod, but what do Redditors have to say about it? Let's take a look at some of their reviews.
---
Fitbod Reddit reviews
Fitbod is great for people who are just getting into weightlifting and aren't sure where to start.
In a thread about the best workout apps, one user said that they like Fitbod because it "takes some of the thinking out of designing an optimal workout, while also encouraging you to try new exercises."

They also like that the app tracks your personal bests and integrates well with both smartphones and Apple watches.
Another commenter chimed in and said that Fitbod is "a tad pricey, but the best if you don't want to worry about designing your own workouts."

The app costs $9.99 per month or $59.99 per year, so it's definitely an investment. But I think it's worth it since it develops custom strength workouts just for you.
Ambitious_Nobody said that Fitbod has added more variety into their workout routine and kept them from getting bored.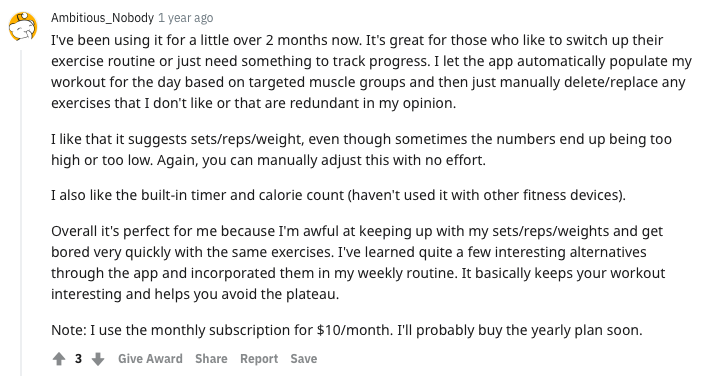 They also said that it's easy to adjust each workout to suit your preferences. For example, if there's an exercise you don't like, it's easy to delete it and replace it with something else.
Another user Corbets said that they've gotten much better results from Fitbod than the other apps they've tried.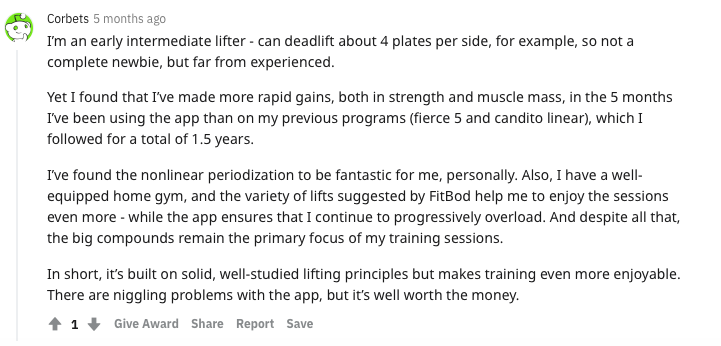 The only feature that Redditors wish Fitbod had is the ability to set exercise preferences within the app.
Redreplicant says they always start their workout with planking and wish that they could get Fitbod to include it instead of having to add it manually every time.

Pros
Generates custom strength workouts
Extensive video library of more than 400 exercises
Wide variety of strength training styles
Works with iOS, Android, and Apple watch
Cons
A bit pricey
Can't set preferences about which exercises you like and dislike
Check out the FitBod app right here.
---
Freeletics: Best equipment-free workout app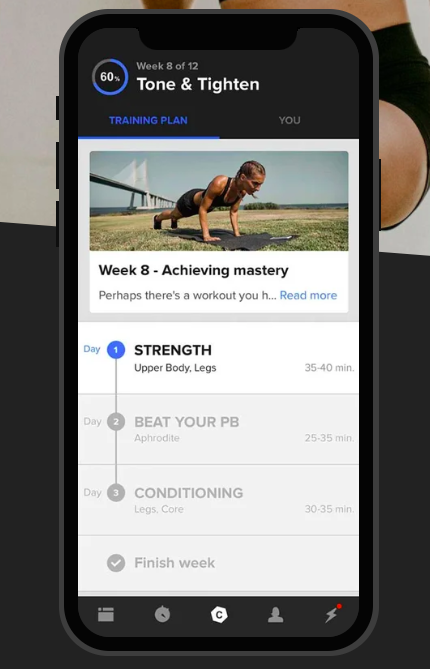 If you don't own any gym equipment but want to get in shape, check out Freeletics.
It creates custom training plans and workouts based on your fitness goals, ability, and preferred form of exercise, whether that's running or bodyweight HIIT workouts.
The app even takes into account how much time and space you have and how quiet you need to be. So if you live in a small apartment with thin walls, you'll be able to use Freeletics without annoying your neighbors.
In addition to personalized training plans, you'll get access to a library of premade bodyweight workouts and individual exercises that you can try.
The app also syncs with Spotify and Apple Health so you can play music during your workouts and easily view your performance data.
The main downside of Freeletics is that you won't get access to all of its features unless you pay a subscription fee.
The free version only has 20 bodyweight workouts and 25 individual exercises, so you'll run out of options quickly.
Unfortunately, Freeletics doesn't allow you to pay monthly. You'll have to buy three, six, or twelve months upfront.
But on the plus side, you can get a pretty sizable discount by purchasing a longer plan.
The three month plan costs $2.69 per week whereas the twelve month option only costs $1.44 per week.
For an extra fee, you can also get nutrition and wellness advice that will help you eat better, sleep better, and stress less.
Freeletics gets a high rating of 4.6 out of 5 stars in the App Store, but how do Reddit users feel about it? Let's take a closer look at some of their reviews.
---
Freeletics Reddit reviews
Redditors agree that Freeletics is one of the best apps for bodyweight workouts.
A deleted user said that it's "a really awesome app for non-weight workouts."

They like that Freeletics has a wide range of exercises like pull-ups and squats and challenging progressions to help you build muscle without equipment.
Dessar100 loves that Freeletics tailors your training plan to your goals, whether you're trying to lose weight, gain muscle, build endurance, or simply relieve stress.

Redditors also appreciate that the app has a variety of workouts to choose from.
Meeni131 said that Freeletics gives you "access to running, gym (weights), and bodyweight work so you can mix and match, which I like a lot."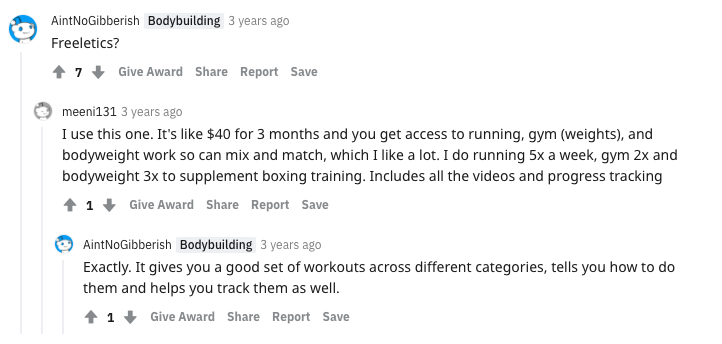 AintNoGibberish added that the app "gives you a good set of workouts across different categories, tells you how to do them and helps you track them as well."
Newbee01 thinks Freeletics is great for building endurance, but isn't the best for strength training. Their main complaint is that the progressions often involve a high number of reps.

It's important to keep in mind that Freeletics won't get you ripped, especially if you aren't using any weights.
But overall, it's a good choice if you want to get fit without needing to invest in a lot of equipment.
Pros
No equipment required
Custom workouts based on your goals and preferences
Integrates with Spotify and Apple Health
Free version available
Cons
Can't pay monthly
Progressions can involve high numbers of reps
Check out Freeletics right here.
---
Nike Training Club: Best free workout app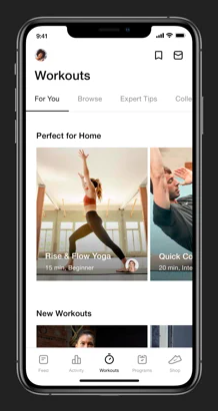 Nike Training Club is a free at-home workout app that's great for athletes of all skill levels. It has more than 185 video classes and many different types of workouts, including:
Yoga
Boxing
HIIT
Bodyweight
Strength
Mobility
Endurance
All of the classes are led by pro trainers who will guide you through each exercise and motivate you to push yourself. The length of each video ranges from 5 to 60 minutes, making it easy to find a workout that fits into your schedule.
The app has nutrition and wellness advice to help you fine-tune your diet and lifestyle. It also integrates with Facebook so you can add your friends and keep each other motivated.
Nike Training Club is compatible with iOS, Android, and Apple watch, allowing you to access workouts from any device. It also syncs with Apple Health and Apple Music so you can listen to your favorite playlists.
I think Nike Training Club is one of the best free workout apps out there, but what do Reddit users have to say?
---
Nike Training Club Reddit reviews
Nike Training Club isn't mentioned quite as often as Fitbod, but it's still a great app that's worth checking out.
"Nike Training Club is seriously underrated. Fantastic app if you want guided workouts with a lot of variety and choice. It's also the easiest workout app I've used and has audio cues and videos so you can follow along."

Truenorth195 also appreciates the voiceovers because they give helpful tips on form. They also said that Nike's classes will give you a great cardio workout and can be done without a lot of exercise equipment.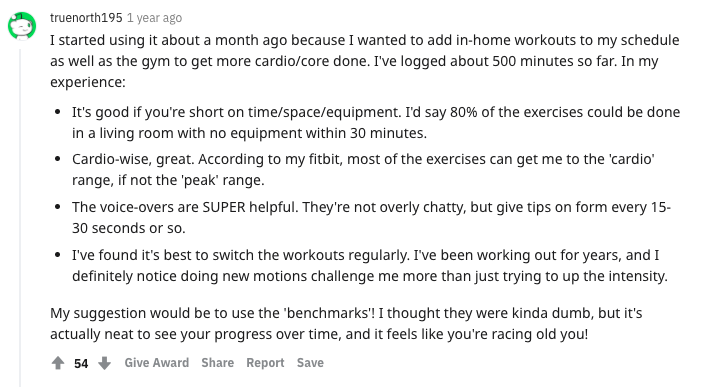 Another feature they enjoyed is the benchmark test. If you sign up for one of Nike's multi-week exercise programs, you'll get to take a fitness test at the beginning and end, which is a great way to measure your progress.
A deleted user said that they got great results from using Nike Training Club:
"Hands down the best app I've tried and I tried a good handful… I'm happy to say that I got abs cause of my consistent use."

The main drawback of Nike Training Club is that it isn't the best app for strength training.
Two Redditors said that although they love the app, it won't help you develop a ton of muscle strength or get ripped, so keep that in mind.


Pros
Free app
Wide variety of workouts and training programs
Helpful audio cues
Many exercises can be done without equipment
Nutrition and wellness tips
Cons
Not the best for strength training
Check out the Nike Training Club app here.
---
Strong: Best for tracking lifts
Strong is a relative newcomer on the scene, gaining more and more support from Redditors in lifting, bodybuilding, and fitness subreddits.
(Here's a thread where a bunch of folks rave about it on r/naturalbodybuilding.)
It's essentially a super clean workout journal, letting you track workouts, lifts, 1 rep maxes, and more.
It's the incredibly useable UI that's gaining Strong tons of fans.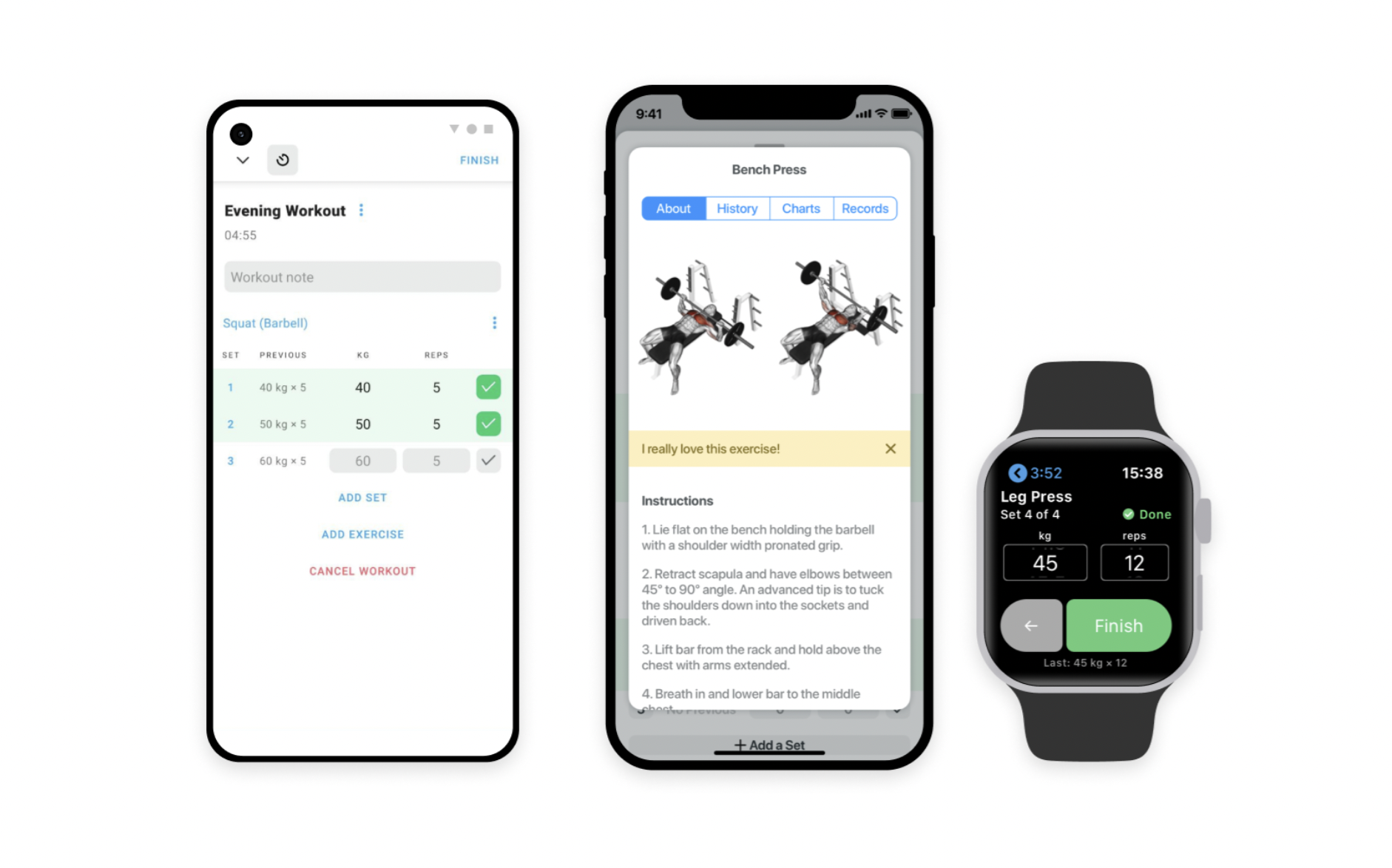 It's also got features like plate calculators, warm-ups, and instructional videos so you can boost your lifts by using perfect form.
Best of all, Strong is currently free on the app store.
---
Wrapping up
Fitness apps can add some much-needed variety to your workout routine and motivate you to keep improving.
They have training plans to help you achieve your goals even if you don't have access to much exercise equipment.
Most apps have social features to connect you with other fitness enthusiasts and wellness tips to help you become the best, healthiest version of yourself.
Some apps like Nike Training Club are even free to use, so there's no reason not to download one and give it a try!
For more deep dives and Reddit recommendations, check out:
And check out some of my personal favorite workout apps — Beachbody on Demand and Jillian Michaels.
Hope this helps!