Whether you prefer to run indoors on a treadmill or outdoors in nature, having an app to track your progress is essential if you want to improve your performance.
Running apps give you useful data about your workouts that you can use to become a better athlete such as your pace, distance, duration, elevation gain, number of calories burned, and more.
You can compare your current and past stats to identify areas where you can improve and see how far you've come since you started running.
Most apps also allow you to set goals, access training plans, and compete against other runners for the top spot on leaderboards, which will motivate you to push yourself harder.
And if you use devices like smartwatches or heart rate monitors during your jogs, you can find a running app to integrate them with so all the data syncs to the same platform.
But with dozens of running apps in the App Store, it can be hard to determine which ones are worth your time, money, and limited phone storage.
To help you choose the best one for you, I sifted through dozens of reviews on Reddit to find the top-rated running apps. Here are the results.
Strava: Best for in-app community
Nike Run Club: Best for beginners
iSmoothRun: Best for interval training
MapMyRun: Best for route planning
The people have spoken! Now let's take a look at what each app does, who it's great for, and what real Reddit users are saying.
---
Strava: Best running app for in-app community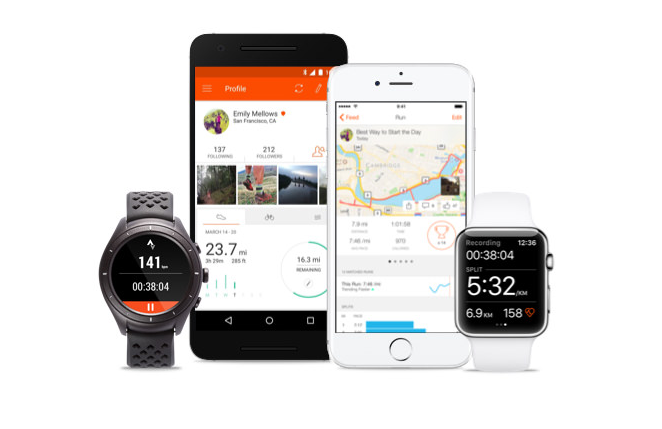 Strava is one of the most popular running apps because of its active social network, which will help motivate you during your workouts.
The app allows you to follow other runners and view their performance metrics to see how they stack up against yours. You'll be able to leave encouraging comments on each others' profiles and share pictures of your runs.
Strava also has local leaderboards that allow you to see how fast athletes who follow the same routes as you are running, which can give you the extra push you need to train harder.
In addition to leaderboards, the premium version of Strava has training plans you can follow to get ready for your upcoming 5K, 10K, or marathon. You can customize the plan to match your experience level and race date so you're as prepared as possible.
Strava clearly has tons of useful features, but what do Redditors think of the app? Here are their honest reviews.
---
Strava Reddit Reviews
Strava is the most recommended running app on Reddit.

Zack1018 said that he likes Strava more than other running apps, and it seems like most members of r/running prefer it too.
He likes that Strava is reliable and never loses his data. He also appreciates the social features of the app like leaderboards and Flyby, which allows you to see who passed you during your run and message them.

Glasfield also likes that Strava functions as both a social network and a running tracker. It has all the data you need to measure your progress against yourself and others, such as speed, distance, power output, heart rate, and a "suffer score" that tells you how hard you're working.
Another user chimed in to say that the social aspect of Strava is the best thing about the app.

If you don't have friends to run with, Strava can make you feel more connected to your local running community and even help you meet new people.
The app also has a feature called Beacon that will make you feel safer as a solo runner.
Iantrevor says that Beacon shares your location with your emergency contact so your family knows exactly where you are when you're out for a jog.

The only downsides of this app are the price for a premium subscription and privacy concerns.
Strava costs $15 per month or $60 per year if you pay annually, which is a little pricier than other apps.
There is a free version where you can track your run and get some of the basic community features, but most of the perks come with a price.
Another potential issue is that other runners can see a lot of your personal data, such as where you like to jog. If you don't want others to have access to this info, make sure you adjust your sharing settings.
Pros
Leaderboards and competitions
Customizable training plans for races
Follow, message, and share pics with other runners
Beacon lets emergency contact know where you are
Cons
Premium subscription is a little pricey
The app shares a lot of personal information
Sign up for Strava right here.
---
Nike Run Club: Best running app for beginners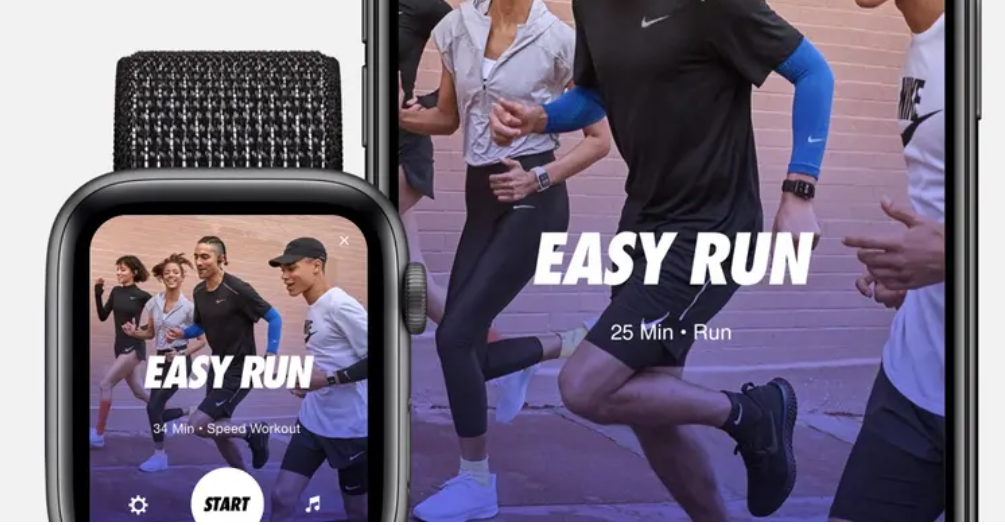 Nike Run Club is easier to use than Strava and doesn't focus on competition as much, so it may be better for beginners who are just starting out.
It has a simple user interface that gives you all the data you need to track your progress, such as pace, distance, elevation, heart rate, and mile splits.
You can also get audio feedback during your runs so you know how you're doing without having to look down at your watch or phone.
Nike also allows you to set goals and gives you trophies and badges for beating your personal records, which will motivate you to keep improving.
And although Nike doesn't have as many social features as Strava, there are a few distance leaderboards that allow you to compete with other runners when you feel ready.
You can also share photos from your runs and send audio messages to your friends to encourage them to keep going.
Sounds great! But what did Reddit users have to say about it?
Let's take a look at some of their reviews.
---
Nike Run Club Reddit Reviews
Nike Run Club isn't as popular as Strava, but does have a pretty loyal fanbase on Reddit.
Missmolly20 said she loves Nike Run Club so much that she can't imagine switching to another app.

The guided runs feature audio from Nike coaches and celebrities like Kevin Hart to motivate you to work harder. There's even a playlist for each run that you can access by turning on Apple Music or Spotify.
Another user also commented that they like the training plans that coach you to your first 5K and the seamless integration with Apple watches.

Zhenya00 said that the main downside of Run Club is that it's hard to transfer your data to other platforms, so you may lose your running history if you switch apps in the future.


Several users also mentioned that Run Club can be a little buggy at times, but that's to be expected with a free app.
Pros
Easy to use
Seamless integration with Apple watch
Free
Simple, easy to use interface
Guided runs and training plans for beginners
Cons
Difficult to transfer your data
Can be a little buggy
---
iSmoothRun: Best running app for interval training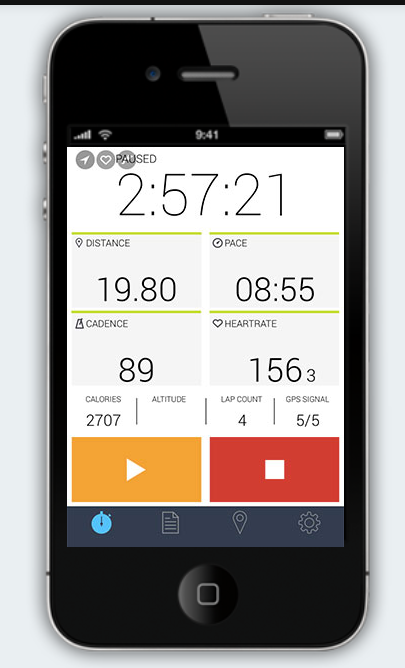 iSmoothRun is a favorite among runners because it has a workout editor that makes creating custom intervals a breeze.
You can set up your warmup, cooldown, and training intervals based on time or distance, and create heart rate and pace targets to help you stay on track.
The app also gives you audio feedback during your run so you know whether or not you're keeping up with your goals in real time.
Another cool feature is the built-in metronome, which tracks your running cadence so you can work on improving your stride rate. The app also allows you to compete against your past workouts, which will motivate you to push yourself harder.
One of the main downsides of iSmoothRun is that it's only compatible with iOS. So if you don't have an iPhone or an iOS compatible smartwatch, this app won't work for you.
But if you have the right tech, iSmoothRun is a great choice for planning out your workouts and tracking your performance.
---
iSmoothRun Reddit Reviews
iSmoothRun is a favorite among interval runners on Reddit.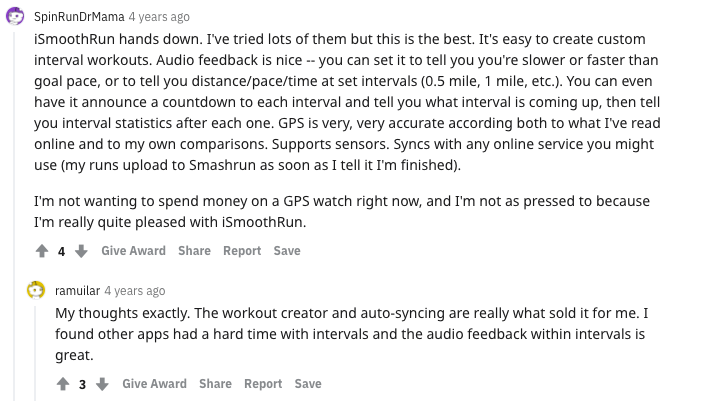 SpinRunDrMama loves that you can use the workout editor to create custom intervals and have the app give you audio feedback during your runs.
"Audio feedback is nice—you can set it to tell you you're slower or faster than goal pace, or to tell you distance/pace/time at set intervals (0.5 miles, 1 mile, etc.). You can even have it announce a countdown to each interval and tell you what interval is coming up, then tell you interval statistics after each one."
They also appreciate that the app is very accurate and will export your data to other training platforms like Smashrun and Strava.

The high level of accuracy also extends to treadmill runs.
Ultramookie says that iSmoothRun is one of the only apps that tracks arm swing motion, so it provides good estimates of your speed and distance even when you're running indoors.

Misterclone pointed out that iSmoothRun is very affordable—it only costs $4.99 as a one time purchase when you first download the app. Many popular running apps like Strava have a monthly subscription fee, so the fact that iSmoothRun doesn't is a big plus.
Misterclone also mentioned that the app keeps your data secure and has responsive developers that are quick to fix bugs and other issues. But they did say that the user interface is a little complicated, so it may take some getting used to.
But overall, iSmoothRun is an accurate app that's great for creating custom workouts and tracking your progress whether you prefer to run indoors or outdoors.
Pros 
Tracks treadmill runs accurately
Allows you to create custom workouts with intervals
Syncs data with other platforms like Smashrun and Strava
Affordable one-time fee
Built-in metronome to track running cadence
Cons
Only available for iOS devices
User interface can be hard to navigate
---
MapMyRun: Best for route planning
As the name implies, MapMyRun is one of the best platforms for finding new running routes.
Its website allows you to create custom running paths and find popular routes in your area.
If you find or create a route you like, you can save it to your favorites and open it in the app when you're ready to start running.
The app also has a tracker that records your pace, distance, calories burned, elevation, and more.
With the premium version of MapMyRun and a pair of connected Under Armour shoes, you'll be able to collect even more advanced data like cadence, ground contact time, and average foot strike angle.
If you have a pair of connected shoes, you can also track your run without having your phone or watch with you, which is a big plus.
What other cool features does MapMyRun have to offer? Let's take a look at some Reddit reviews to find out.
---
MapMyRun Reddit Reviews
MapMyRun is one of the most popular running apps for discovering new routes.
Even Redditors who have switched to other apps like Strava still use the route planner on MapMyRun's website.
One Reddit user said:

In addition to helping you plan your running route, MapMyRun will give you valuable data that will help you achieve your goals.

In a thread about the best running apps, thebookofdewey said that they appreciate that MapMyRun gives you audio feedback about your time, split pace, and more during your runs.
They also like that the app isn't too complicated and doesn't cost anything unless you want to upgrade to the premium version, which costs $5.99 per month or $29.99 per year.
Another user also likes that you can get verbal updates during your interval workouts. The app can tell you when to start an interval, what pace to aim for, let you know how long the interval is going to last, and more.

MapMyRun users also love the training plans, which will prepare you for race day whether you're running a 5K or half marathon.
The app tells you what distance and pace you should be aiming for each week and even updates your training strategy based on a 12 minute fitness test it gives you every 6 weeks.
One of the main downsides of the app are the ads in the free version. Several Redditors said that they can sometimes get in the way of using the app.
Another thing to consider is that some of the best features like training plans are only available with a subscription, so you may have to upgrade to get the most out of the app.
Pros
Free version
Customized training plans
Maps to help you create and discover new routes
In-run audio feedback
Device-free tracking with Under Armour shoes
Cons
Ads can be annoying in the free version
May not give all the features you want without subscription
---
Wrapping Up
Whether you're a seasoned runner or just starting to hit the pavement, training with a running app can help you measure your progress and achieve your goals.
Running apps like Strava and MapMyRun can help you find new running routes, create custom workouts, track your progress, and connect with other joggers in your local community.
If you want to improve your performance, the data they provide on your pace, distance, and time can be pretty invaluable.
And with so many free apps on the market, there's no reason not to try one out. If you love it, upgrade to the paid version to unlock even more features.
Before you go, check out some more of my favorite Reddit research guides like:
Hope this helps!