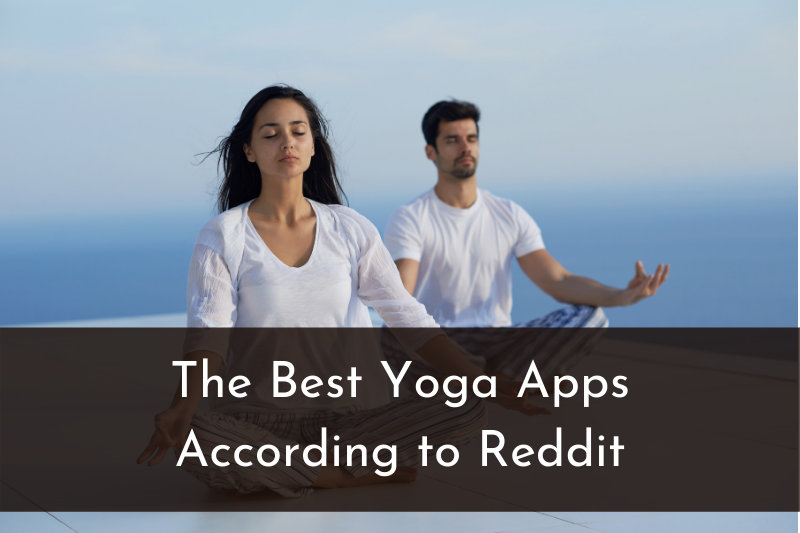 If you can't find time in your busy schedule to attend yoga classes at a studio, yoga apps are a great alternative.
They have video classes led by expert instructors that you can take at any time of day or night.
There's usually lots of different practices to choose from like vinyasa, hatha, and ashtanga, so you'll never get bored.
Most apps also have asana libraries to show you how to do poses–aka asanas–you aren't familiar with, and communities where you can connect with other members.
And best of all, yoga apps are usually cheaper than studio memberships, so you may even save some money.
With dozens of yoga apps on the market, it can be hard to tell which ones are worth your limited time. To help you choose the best one for you, I searched through dozens of Reddit reviews to find the most highly rated apps by real users.
The best yoga apps according to Reddit are:
Down Dog: Best paid yoga app
Yoga Studio: Best yoga app for beginners
Alo Moves: Best yoga app for experienced yogis
Yoga with Adrienne: Best free yoga
Let's take a look at each one and why Reddit users say they're great.
---
Down Dog: Best paid yoga app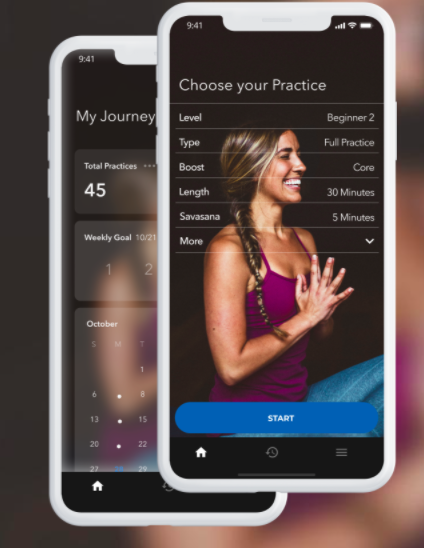 Although you'll have to pay a monthly subscription fee of $7.99 to use Down Dog, it's definitely worth the price.
The app generates a custom yoga class just for you based on nearly a dozen different criteria, including:
Your skill level
Desired class length
Preferred pace
Type of yoga, such as vinyasa or hatha
Your language
Which area of your body you want to focus on
There are over 60,000 potential class configurations, so you'll never have to take the same class twice unless you want to.
If the app generates a class you really enjoy, you can save it to your favorites so you can take it again later.
Still not sure if this app is right for you? Here are some reviews from Reddit to help you decide.
Down Dog Reddit reviews
When someone asks what the best yoga app is, Down Dog is always mentioned.
In one Reddit thread about the top yoga apps, three users chimed in to say that they love Down Dog because it has a wide variety of classes and great instructors.
The only complaint Daily_Banana had was that you couldn't download videos to view them offline later, but Down Dog has since added that feature.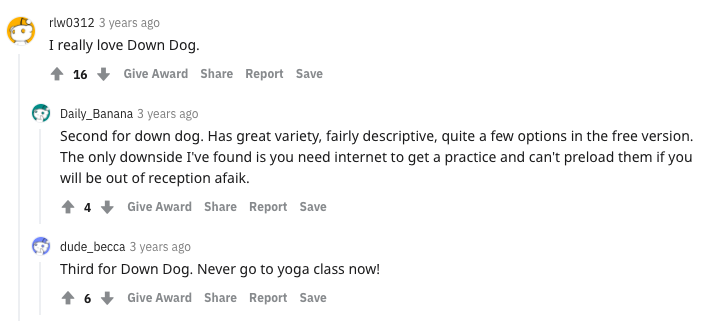 In another thread, ae_and_iou said they like that you can customize the level of instruction and play your own music without missing out on important directions.
"I also suggest Down Dog! It's my favorite… Very customizable, and I like that I can play my own music along with Down Dog's voice instruction… You can also adjust how much instruction you get (full explanation of the pose vs. minimal explanation, guided breathing or not, video/no video, etc.)"


RollingHippo also enjoys the level of customization the app allows. You can pick which style of yoga you want to practice that day, whether that's hatha, yin, ashtanga, vinyasa, or something else.
You can also choose the level of difficulty and duration. There are over a dozen different session lengths to choose from ranging from 9 to 90 minutes, so you'll be able to fit in a class no matter how much time you have.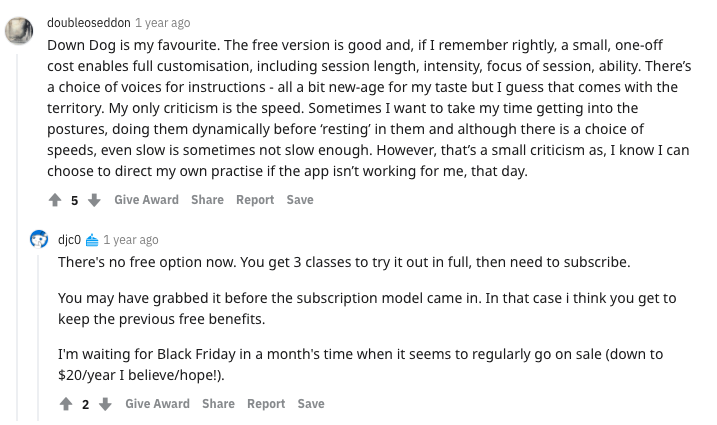 The two main downsides Redditors pointed out are the pace of the sessions and the recent price change.
In their review of the app, doubleoseddon said:
"Down Dog is my favorite… My only criticism is the speed. Sometimes I want to take my time getting into the postures… and although there is a choice of speeds, even slow is sometimes not slow enough."
So if you're a beginner or you like your classes to have a relaxed pace, Down Dog may be too fast for you.
Another negative is a recent price change.
Down Dog used to offer a free version, but decided to discontinue it. Now they only allow you to try out 3 classes for free before purchasing a subscription, which at the time of writing costs $7.99 per month or $49.99 per year if you pay upfront.
But djc0 said that the app seems to go on sale around Black Friday, so you may be able to snag it for a lower annual rate.
Pros
Wide variety of practices
Can customize the music and level of instruction
Over 60,000 class configurations prevent boredom
Ability to save classes you like
Instruction available in multiple languages
Cons
Discontinued its free version
Videos go too fast for some beginners
---
Yoga Studio: Best yoga app for beginners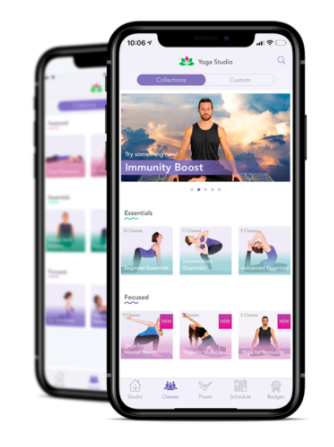 Some people say that Down Dog's instructors go a little too fast for complete beginners.
So if you're new to fitness and have never done a yoga pose before, Yoga Studio may be a better fit for you.
The app allows you to take a ready-made class or stitch together clips of yoga poses to create your own beginner-friendly sequences.
The app also has a feature that shows you how to transition from one pose to another, which is really helpful if you're just starting out with vinyasa yoga.
There's even a library with more than 280 yoga poses and detailed instructions on how to perform each one.
The only real drawback of Yoga Studio is that there's only 190 ready-made videos. So if you're mainly interested in taking pre-made classes, other apps may give you more variety.
Yoga Studio Reddit Reviews
Besides Down Dog, Yoga Studio is the most popular yoga app among Reddit users.

In a thread about the best yoga apps, one user said that Yoga Studio is fantastic. A second commenter weighed in and said they even prefer the app to in-person classes.

Another user named coffee_for_dinner said that they've tried Down Dog but prefer Yoga Studio because it has a slower pace that's easier to keep up with as a beginner.
In another thread about the best beginner-friendly yoga apps, one user said that they couldn't recommend Yoga Studio enough: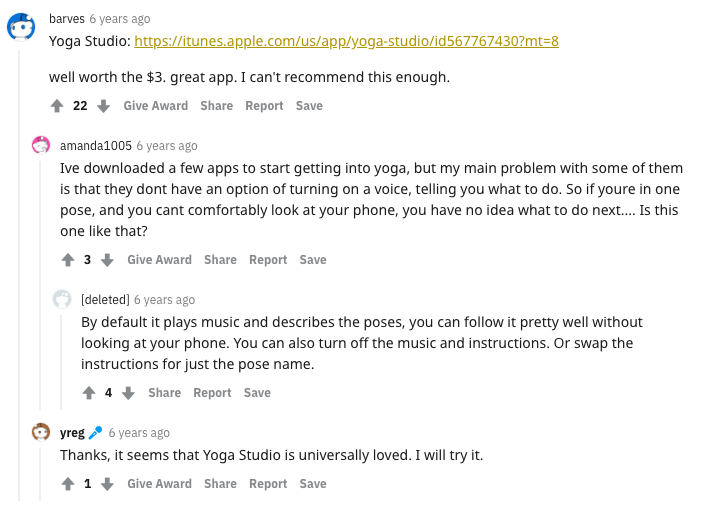 Further down in the comments, yreg said "it seems that Yoga Studio is universally loved," which is definitely the vibe I got after reading dozens of Reddit posts.
The only downside of the app that Redditors mentioned is the price.
Yoga Studio recently switched from a one-time fee of $3.99 to a subscription-based model that costs $20 per year.
But the price is still lower than many yoga apps and is definitely worth it for the amount of features and customization options you get.
Pros
Pose library with instructions and modifications
Build your own sequence or take a ready-made class
Choose your level of verbal instruction
Good for beginners
Free 7-day trial
Cons
Only has 190 ready-made yoga and meditation videos
Subscription model instead of one-time fee can end up costly
---
Alo Moves: Best yoga app for experienced yogis

Alo Moves is a great option if you're looking for high-quality, instructor-led video classes. The app has over 100 different yoga series, including:
Classical Vinyasa
Ashtanga Primary Series
Kundalini Rising
Prenatal Yoga
Over half of the series are intermediate and advanced, so Alo Moves is a great choice if you're looking for a challenge.
The app also has other fitness classes including mindfulness, strength, barre, HIIT, and stretching. New classes are added every week, so you'll never run out of options.
To keep you motivated, Alo Moves has a community where you can share pictures of your workouts and get support from other members. Your workout data also syncs with Apple Health so you can easily track your progress over time.
Alo Moves is compatible with iOS and Android and can be viewed on your phone, TV, tablet, or computer. You can even download classes in advance so you can view them offline–great for anyone on the go concerned about spotty wifi access.
I think Alo Moves is a great app, but what did Redditors have to say?
Alo Moves Reddit reviews
Alo Moves is best for people who have moved past the beginner stage and are trying to progress in their yoga practice.

Reddit user mombee5 said that they tried Yoga Glo, another popular yoga app, but the classes were too easy for their taste. Alo Moves is challenging enough to keep them engaged and give them a great workout.

Geddit2020 has been using the app for several years and likes that the classes allow you to push yourself.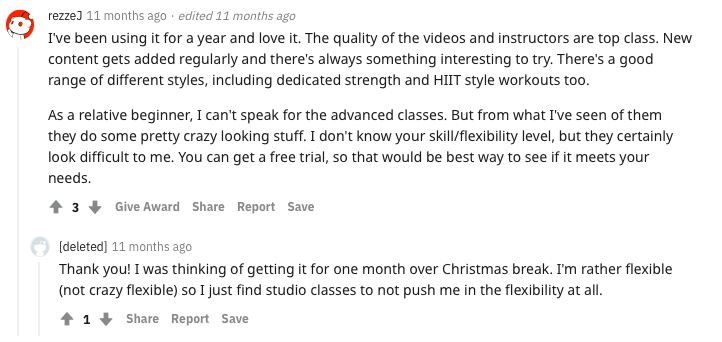 Another happy Alo Moves customer said that they appreciate the quality of the classes:
"I've been using it for a year and love it. The quality of the videos and instructors are top class. New content gets added regularly and there's always something interesting to try. There's a good range of different styles, including dedicated strength and HIIT style workouts too."
Alo Moves is so good that yoga teacher overthesunny recommended it.

Because Alo Moves is so challenging, though, it may not work for people who are new to fitness.
AvocadoChiweenie pointed out that Alo Moves is "not exactly suited to total fitness newbies, so you should have a basic background in yoga and bodyweight moves to really get your money's worth."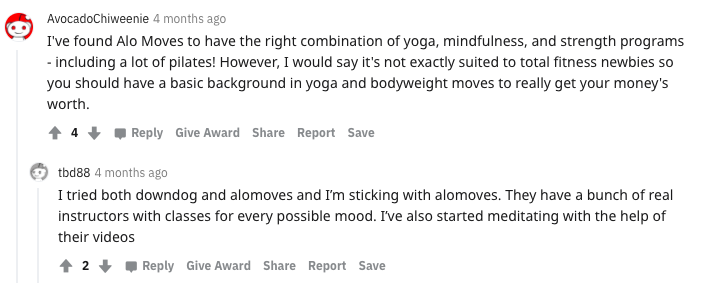 Getting the most out of your subscription is important considering the price of the app. At $20 per month, Alo Moves costs more than some gym memberships.
But the app does offer a free 14-day trial so you can make sure it's right for you before you sign up. And given the quality of the instruction, the price is worth it—especially if you've tried other yoga apps and haven't found them challenging enough.
Pros
Offers multiple types of fitness classes
Active online community
Hundreds of challenging classes
Free 14-day trial
Syncs with Apple Health
Cons
One of the more expensive options
Classes may be difficult for beginners to follow
---
Yoga With Adriene (and Find What Feels Good): Best free yoga option

Adriene Mishler offers yoga instruction in two different formats—YouTube videos and an app called Find What Feels Good.
Her YouTube channel Yoga with Adriene has over 500 free yoga tutorials, including classes to strengthen your core, lower back, hands, pelvic floor, and more.
Adriene even has a free online community called Kula where you can get support and advice from other yogis.
If you'd rather view her videos offline, you can download the app Find What Feels Good. It gives you access to all her YouTube videos without ads plus dozens more exclusive videos, courses, and workshops.
The app also allows you to set workout reminders and add videos to your favorites and watch list so you can come back to them later.
But it doesn't have a pose library or give you the ability to create your own yoga sequences, which is a bit of a drawback.
There's also a $9.99 monthly subscription fee. So if you want free yoga tutorials, you'll have to stick with Adriene's YouTube channel.
Yoga With Adriene Reddit Reviews
Most Redditors agree that Adriene's YouTube videos are better than all of the free yoga apps they've tried. That's why I decided to include it in this post even though it's technically not an app.

In a thread about the best yoga apps, one Reddit user recommended Adriene's videos because of her relaxed teaching style and the wide variety of practices she covers, such as vinyasa and power yoga.

Another commenter also praised her laid-back approach to yoga:
"I really like her attitude that it's ok to adapt things to suit rather than always having to push yourself. It means when I want to push myself it's of my own accord, and on days when I want to take it easy I can. Makes it a lot easier to stick with it," said disaidra.
JDValentine weighed in and shared the results they've gotten from following Adriene's tutorials.
"I've lost 8lbs, gained muscle, am really flexible now, and have healed a knee injury. Cannot recommend enough."

Some Redditors think that Adriene's videos have too much verbal instruction. The app also has a few drawbacks as well, like the slightly high price and lack of a pose library.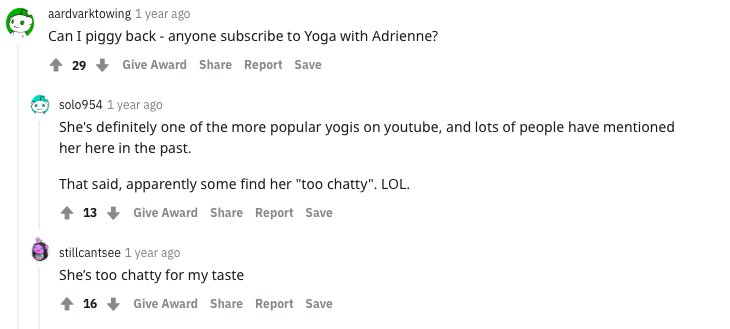 But overall, Adriene's YouTube videos and app are a great resource for people who are looking to get into yoga.
Pros
Wide variety of yoga practices
YouTube videos and online community are free
App allows you to watch videos offline and set reminders
Adriene teaches you how to modify poses to suit your skill level
Cons
Adriene gives too much verbal instruction for some people
App costs $9.99 per month
App doesn't have pose library or ability to customize sequences
---
Wrapping Up
If you don't have time to attend classes at a studio or just prefer to work out at home, yoga apps are a great option.
They have video classes for all skill levels and lots of different styles of yoga to help you develop your practice — and they're a lot more organized than just browsing YouTube.
Some apps like Alo Moves even have online communities to help you meet other members and develop the same sense of camaraderie you'd get from an in-person class.
And although most yoga apps have subscription fees, they're usually well worth the cost for the number of workouts and features that you get!
For more Reddit recommendations, check out what Redditors say about:
Hope this helps!