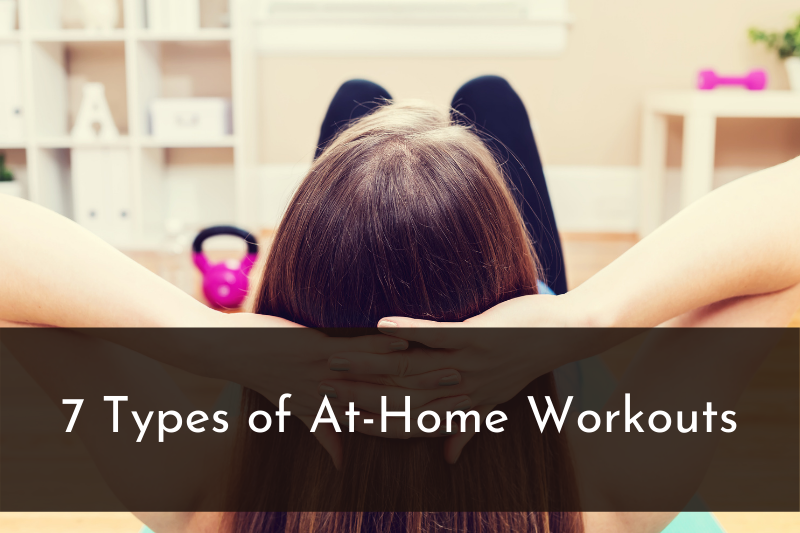 These days, more and more people are turning to working out at home to stay in shape.
It could be convenience. It could be recent, er, "events."
Or it could be cost.
Not only do you save time, but you also save a significant amount of money working out at home. Even if you have to purchase home gym equipment, most people find they end up saving money in the long run compared to having to spend money on gym fees every month.
You can get awesome results working out at home, but there are so many choices available it can be overwhelming to get started.
The main types of at-home workouts you can do (without a ton of equipment) are:
Yoga
Calisthenics
HIIT
Pilates
Barre
Dance cardio
Running
Let's take a look at each one, if it's a good fit for you, and the best way to get started… today!
---
How to start working out at home
First and foremost, you need to figure out what workouts you want to do from home.
My best tip: Figure out your goals and work backwards to discover the best workout for you.
Want to get muscular and toned? Calisthenics (bodyweight workouts) might be the way to go.
For better flexibility, mobility, and core strength, you could try yoga.
Or you can dip your toe in and experiment with lots of different workouts!
Once you know what precisely you want to do, you need to figure out when you can do it. This means figuring out how to build workouts into your routine.
This may require you to wake up early so that you can work up a sweat before you leave for work, or hitting your exercises after you've digested dinner.
Next is figuring out where you'll work out.
If you're doing yoga at home, you just need a comfy place to roll out your mat. For lifting weights, you might need a little more room and a dedicated space.
You can put up a poster with a motivational quote and keep your gear in one place to help signal to yourself that that's your workout space.
From there, it's really a matter of sticking with a routine.
Even if you only work out a few days a week, it's better than nothing.
If you live with someone, then use that to your advantage! Your roommate or partner can exercise with you to keep you accountable to your workout regimen.
You'll have an easier time sticking with your routine if you actually enjoy it. And working out at home provides several options you can choose from.
Now here are the main types of workouts you can do at home without spending a fortune on equipment.
---
1. Yoga
There are numerous benefits to practicing yoga. It's a low-impact exercise, and it allows you to clear your mind for a little bit and focus on your body and breathing.
Many gyms offer yoga classes, and you'll find plenty of studios in your area. But if you don't feel like spending the money, then you can do it on your own.
You just won't receive that same social experience and sense of community — but you can still get killer results.
You don't need much to get started — just a small open area and a yoga mat.
How to learn: 
Yoga is a great exercise for beginners, young or old, as evidenced by this article from The New York Times.
You can start with simple poses, such as the child's pose and downward facing dog, and work your way up from there.
It's not even necessary to complete a full practice at first. Just start by learning some of the main poses.
Where to find ideas: 
Look up videos on YouTube to start. It's free and there are thousands of them out there.
You can find plenty of options of trainers guiding you through various poses and full sequences.
If you want to invest more later, then you can subscribe to a yoga app (click for a list of my favorites).
Special considerations:
It's a good idea to purchase a yoga mat and flexible clothing. A yoga block or two can also help with more advanced poses if you're a beginner.
Since yoga can be done in a small space, it should be easy to carve out a corner to do your workout.
---
2. Calisthenics
Calisthenics consist of various bodyweight workouts you don't need equipment for.
Push-ups and squats both fall into this category, and naturally, you don't need a gym membership to do either.
It's a good idea to build a calisthenics routine, repeating the same exercises frequently and trying to add more sets and reps over time or graduate to more difficult movements.
Some calisthenics, such as pull-ups, require additional equipment.
With a minimal investment, or a trip to the local park, you can have more exercise options opened up to you.
How to learn:
Chances are good you already know how to do push-ups and crunches.
You can watch YouTube videos if you need pointers on better form. Otherwise, it's easy enough to get started.
I always recommend beginners check out this simple, free bodyweight routine and build from there.
Where to find ideas:
It's easy enough to do calisthenics in your living room or garage, but for a chance of scenery, consider going to your local park or jogging trail.
You can often find workout stations that allow you to try out different exercises with the equipment the trail provides, things like Power Towers or bodyweight resistance machines.
Special considerations:
You can buy a pull-up bar (click for my favorites) to put in your home's doorway if you want to try your hand at pull-ups. A dip stand, parallel bars, or gymnastic rings can be helpful for some more advanced maneuvers.
However, many calisthenics can be done with nothing at all.
It's entirely free, so you stand to save a lot of money if you're no longer going to the gym.
---
3. HIIT
High-intensity interval training, or HIIT, refers to practicing exercises that are done quickly with short breaks in between each set.
There are different variations of HIIT, but for most of them, you can perform the workouts in the comfort of your house.
For example, you can do 60 seconds of alternating lateral lunges, 30 seconds of skater hops, and 15 seconds of sumo squat holds with 30 seconds of rest between each exercise.
You can also utilize HIIT on a treadmill by sprinting for a minute or so and then giving yourself a minute to walk.
Similar to calisthenics, HIIT doesn't require equipment if you don't want to invest in any.
That makes it an excellent workout option during quarantine when you're staying at home but want to stay in shape.
How to learn:
With HIIT, it's good to start slow and work your way up.
You don't want to push yourself by running 12 miles per hour if you haven't sprinted in a while.
However, you can still incorporate the ideas of HIIT into your beginner workouts.
For example, a running HIIT workout could alternate a longer sprint with shorter walking intervals.
Where to find ideas:
I've provided several HIIT workout plans right here so you can get started right away.
A good, mostly free place to start is — again — YouTube.
I also love the 7 Minute Workout app if you're pressed for time.
Special considerations:
You don't need anything for most HIIT workouts except an open space to exercise and maybe a mat.
Some circuits can be done with just your body weight, or you can turn to the outdoors for running, biking, and jump rope circuits.
Incorporate dumbbells, a treadmill, or other equipment when you're ready to invest more in your home gym. The possibilities are endless.
---
4. Mat Pilates
Pilates is another great workout to try at home.
Similarly to yoga, it's a low-impact exercise that you can do without much equipment. It's also great for strengthening core muscles.
While pilates classes are fun, you're more than capable of doing them at home. This exercise is highly recommended for people who want to ease their way into a more rigorous regimen.
It's also great for senior citizens and individuals recovering from injuries.
How to learn:
Considering pilates consists of various stretches, you can learn via YouTube videos when you're first getting started.
There are also plenty of books available to show you the ropes.
Where to find ideas:
While gyms are closed during quarantine, many still offer virtual classes when it comes to things like pilates and yoga.
Search to find any in your area so that you can have an instructor guide you through the basic motions. You can also find pilates classes on apps like Beachbody on Demand, Alo Moves, and more.
Special considerations:
All you need to get started is a mat and comfortable clothing!
While Pilates isn't likely to be a rigorous cardio workout, it's great for building core stability.
---
5. Barre
Barre classes have become all the rage lately.
It incorporates elements of pilates, yoga, and ballet for low-impact workouts that can be a ton of fun — and quite challenging.
You don't have to be a dancer or yogi to make the most of Barre, though.
There's no choreography involved in the workout. Instead, you'll engage in small, repetitive movements to tire and strengthen your muscles.
Most of us don't have a ballet bar in our homes, but don't let that stop you from trying out this workout–you can find affordable, portable bars on Amazon if you're ready to commit, but a countertop or sturdy chair will do the trick for most at-home Barre workouts.
How to learn:
The best way to learn Barre is to do it!
There are instructional YouTube videos as well as online subscriptions and live classes you can opt in to.
Where to find ideas:
Look to see if any local gyms are still offering online classes.
A lot of studios offer community class or let you try your first session free, even if it's virtual.
Special considerations:
Since you need some support from a bar, counter, or chair, you'll need a bit more space and possibly some basic equipment to complete your barre workout.
---
6. Dance cardio
Dance cardio classes, like Zumba, are another popular option at numerous gyms.
These workouts allow you to just have fun while doing wonders for your heart and muscles.
While at home dance cardio loses the fun of being one of the crowd, it's still a fun and easy way to get your cardio in.
Some apps and subscriptions let you build your own workout playlist like BollyX, which draws its choreography from Bollywood hits, giving you control you don't have in a gym.
If you're self-conscious dancing in front of others, dancing from the privacy of your home is probably your best bet anyways.
How to learn:
There are plenty of dance cardio classes with choreography like Zumba, BollyX, and Les Mills class, but the main goal is always to keep moving to the music.
You can find basic routines on Youtube to get started, or just bop around to your favorite playlist.
Where to find ideas:
Some gyms are offering virtual dance-cardio classes, but you can find plenty of classes to follow on YouTube or by purchasing a subscription to a program.
Try Les Mills or Beachbody on Demand to find plenty of popular dance-cardio classes.
Special considerations:
Unlike mat-based workouts, you'll need a bit more space for dance workouts.
Watch out for any furniture that can cause injury — you don't want to smack your foot against the coffee table.
It's recommended to do dance cardio outside if you're able to. Outside of that, you just need loose-fitting clothing and music.
---
7. Running
You don't need a treadmill to get involved with running!
You can jog around the neighborhood or venture onto nature trails to become more one with the planet.
Running is very much an exercise you can do without a gym membership. Running outside in the elements can actually give you a better workout as you'll have more elevation variety.
How to learn:
Even if you're a total novice, you can learn the basics of running online or with a beginner's guide.
Couch to 5K is a popular app and program used to get even the most sedentary people running comfortable (and safely).
Where to find ideas:
Joining an online community of runners can be a good way to find inspiration for running workouts.
If you have your eye on a local race or fun run, you can usually find a training plan through the race host or by searching for your event distance.
Special considerations:
You mostly just need a good pair of running shoes and comfortable clothes.
Treadmills can cost hundreds (or thousands) of dollars, so you can save yourself a major expense by just jogging around town.
---
Best low-cost home workout equipment
There are plenty of workouts you can do with stuff you already own.
However, there may be some workouts that require equipment.
While you'll have to spend some money, it could prove beneficial. It opens up an entirely new world of exercises for you to utilize. It can get boring doing the same thing over and over again. You give yourself more variety by bringing other materials into the mix.
The best part? You don't have to spend a fortune.
Yoga mat
Yoga mats are naturally great for practicing yoga, but are standard for Pilates and Barre practice too.
You can also use yours to make certain calisthenics more comfortable. Push-ups are easier to do on a yoga mat compared to a hardwood floor.
Yoga mats can also help with these exercises:
Planks
Bodyweight squats
Single-leg glute bridges
Roll ups
Etc
Almost any workout you do at home will benefit from you having a solid workout mat or yoga mat.
Resistance bands
Resistance bands work well for a variety of exercises from squats to curls.
Different kinds of resistance bands are available, so you want to make sure you get the right one for the type of exercise you hope to implement.
A good set of resistance bands are far cheaper and can nearly replace an entire dumbbell stack, if you get creative with how you use them.
Pull-up bar
If you're incorporating any strength work in your home workout routine, a pull up bar is one of the best investments you can make.
Working your back and biceps can be tricky without incorporating pulling movements like pull ups and rows.
A good pull up bar should only cost $20-40 and you'll get a ton of use out of it.
Adjustable jump rope
Jump ropes are for more than just the schoolyard.
Take the rope into the backyard, and you're able to do an array of workouts aside from merely jumping.
You can engage in burpee lateral jumps, squat step-ups, and so much more.
You can also do high knees where you try to get your knees as close as you can to your chest as you jump. It's a great tool if you're interested in HIIT regimens.
---
Wrapping up
More and more beginners (and advanced folks) are choosing to work out at home.
It's cheaper, safer, and more convenient than the gym. And there's plenty of variety to go around if you keep an open mind.
Everyone thinks of yoga and HIIT as good home workouts, but don't forget you can build strength with calisthenics, or master specialty workouts like barre and pilates.
Now, there's no excuse now to get started.
Before you go, check out my guide to staying motivated to workout so you never skip a day.
Hope this helps!