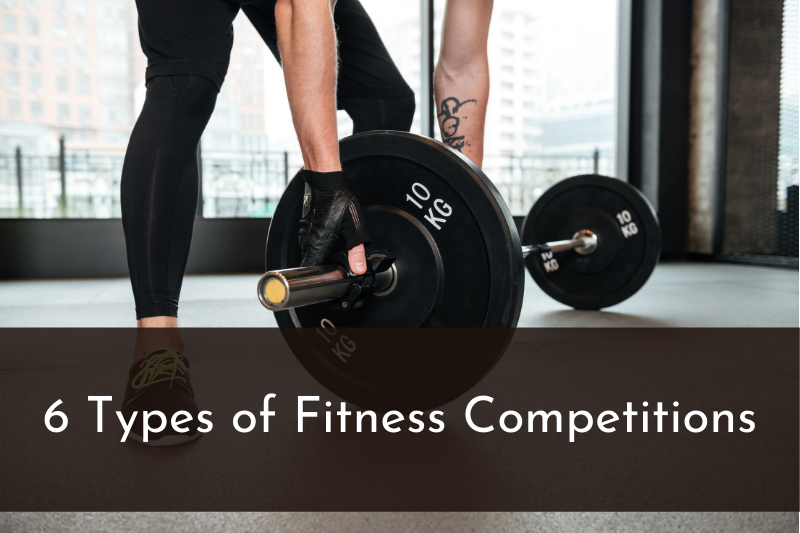 You've been hitting the gym for years now. You've pushed your body to the limit and reached your fitness goals.
Where do you go from here?
Maybe it's time to compete!
A lot of people worry about plateauing when it comes to physical fitness, and one way you can continue pushing yourself is by getting involved in fitness competitions. From powerlifting to CrossFit, you can likely find events near you where you can show off how much you've improved.
It's also a great way to push yourself to keep hitting the gym and working out, striving to reach new goals and push your limits even further.
You can see where you stand amongst your neighbors and try your best to outperform them. No matter how you like to exercise, there are numerous competitions available, and you can start researching to see which ones are closest to you.
Some of the most popular types of fitness competitions out there include:
Powerlifting competitions
Bodybuilding competitions
Bikini or physique competitions
Long distance running events
Fun runs
CrossFit competitions
Let's take a look at each one, who it's a good fit for, and how you can get started.
---
Powerlifting
If you love pumping iron, then you may want to look into whether powerlifting competitions are right for you.
Generally, these meets involve three different lifts:
You start with a squat, go into a bench press, and then end with a deadlift.
(Though you can also enter bench-only or deadlift-only meets.)
You have three attempts with each lift, so you have nine total lifts to do in a single day.
You're then judged on form and total weight lifted by a panel of judges.
Who it's best for:
You should be able to lift fairly heavy weights.
For beginners, a good rule of thumb is that you should be able to lift 2 times your bodyweight for the squat, 1.5 times your bodyweight for the bench press, and 2.5 times your bodyweight for the deadlift.
Time commitment:
Powerlifting competitions only last a single day.
However, you need to train for several months ahead of time.
You should be prepared to lift weights several times a week, making sure you're able to hit (at least) the targets mentioned above.
Investment: $$
Powerlifting is cheap. You just need a gym membership to practice weightlifting or invest in your own equipment to do it at home.
As far as competitions, entry fees tend to cost between $70 and $100.
You also need to factor in whether you want to join a federation, as well as any associated travel costs.
Equipment:
Most gyms have ample weightlifting equipment including power racks, so you should be able to train from anywhere.
If you have the space at home, then you could certainly invest in your own weights, but it's not required.
---
Bodybuilding
If you've got a good base of muscle, and some solid genetics, you might want to try your hand at stage bodybuilding.
Basically — get as proportionately big, and then as lean as possible!
Bodybuilding contests are divided into two portions: prejudging and the evening show.
For prejudging, you show off in front of anywhere from five to nine judges to show off what you have. This is so that the judges can get a look at you without the audience's distractions.
For the evening show, you're divided into categories based on weight.
You go through the same poses as before, but this time, you have an opportunity for "free pose." This is where you can really show off and make an impression on the audiences and judges alike.
Who it's best for:
Bodybuilding contests are great for people who want to push themselves to get crazy shredded.
You also need to be ready to train hard in an array of exercises from weight lifting to cardio.
Bodybuilding is all about how you look, so you should be prepared to sculpt your body through nutrition and training, which could take upwards of a year.
Time commitment:
Bodybuilding competitions are all-day affairs. You show up in the morning and stay into the evening for both types of contests.
Investment: $$
Entry fees for these contests tend to be around $40 to $50.
You also need to be a member of the National Physique Committee, which costs $60 for an annual membership. Additionally, you'll have to factor in the cost of suits, shoes, and supplements in addition to your regular gym membership cost.
Equipment:
Everything you need can be found in your gym.
Bodybuilders pretty much need to focus on every muscle group, so it can be tough to buy everything you need without spending a fortune.
Plus, there's the matter of space in your home. You're better off going to the gym so that you can take advantage of all the gear they have there.
---
Bikini and physique competitions
To show off their physical form, women are usually more drawn to bikini or physique competitions.
Bikini competitions are similar to bodybuilding events where women spend an entire day showing off their muscles.
They strike various poses to come out on top where the objective is to earn the best score from a panel of judges.
Who it's best for:
Anyone who's already in great shape who doesn't mind working out every muscle group imaginable. Plus, you need to be comfortable showing off a lot of skin.
Time commitment:
Getting in shape for this kind of competition often takes between six months to a year. The actual competition itself is only one day.
Investment: $$$
Get ready to spend a lot.
You'll have to spend hundreds of dollars on swimsuits, spray tans, heels, and makeup. Many competitors end up hiring posing and competition coaches to help them excel.
Equipment:
You can train at home or at the gym as long as you have access to plenty of strength and cardio equipment. You'll also need to dial in a rigorous diet before the show date.
Similarly, for men, if insane bulging muscles and tiny bikini bottoms aren't your style, consider a Men's Physique competition.
It's for guys who have more a natural muscular look, with athletic, trim waistlines and attainable muscle size. Plus, you'll wear swimwear and not underwear when you compete!
---
Distance running events
Marathons are the ultimate test of endurance.
However, if 26.2 miles seems daunting, then you can start with 5K or 10K runs and work your way up gradually.
Training is all about practicing your endurance.
You'll need so spend a lot of time on the treadmill or find a path in your area you can run through. On the day of, you'll likely be put into a category based on gender and/or age.
Once the starting pistol goes off, you start running until you hit the finish line.
Who it's best for:
Running is great for anyone who wants to get into amazing cardiovascular shape. Longer runs are best for people with a solid fitness base already, but "Couch to 5K" training is popular for people who have never exercised before.
Time commitment:
You should train for a full marathon for at least 12 to 20 weeks.
5K runs can be done by almost anyone. Depending on the length of the race, you can expect to dedicate anywhere from a couple of hours to a full day to an event.
Investment: $
You don't even need a gym membership for this event.
You can run through your neighborhood if you want. Aside from that, you just need to invest in some good running shoes and comfortable clothing. Many races tend to have a small entrance fee.
Equipment:
You should make sure the shoes you run in are capable of withstanding long runs. If bad weather is keeping you indoors, you can either invest in a treadmill or head to the gym to use theirs.
---
Fun runs
Fun runs, like Tough Mudder, allow you to work up a sweat in a more fun environment.
Tough Mudder focuses on obstacle courses spanning 10 to 12 miles. However, you can likely find other fun runs near you that have slightly different rules.
Who it's best for:
Anyone who wants to push themselves in a fun and unique way.
Time commitment:
It depends on the nature of the fun run. Some you can jump in right away while others require a bit of training. You should speak with people who have done a specific fun run in the past, so you know what to expect.
Investment: $$
Again, it depends on the exact event. Tough Mudder fees start at $125, but you can participate in more events by paying more.
Equipment:
You shouldn't need a ton of gear for fun runs. You just want to make sure you have comfortable shoes and clothing. You can often train at the gym or with some basic equipment at home.
---
CrossFit Games
CrossFit is a great way to get in shape quickly — featuring a blend of Olympic weight lifting, plyometrics, and more.
If you really want to see all that CrossFit has done for you, then sign up for the CrossFit Games.
This is an annual competition operated by CrossFit Inc. that's sponsored by Reebok. The competition consists of an array of exercises, including gymnastics and weightlifting.
To get involved in the Games, you have to sign up for a slot in January. There's a two-stage qualification process, so check to see where you'd be able to show off your stuff next time an opening becomes available.
Who it's best for:
Anyone who's serious about CrossFit. If you've never worked out before, this won't be a great fit for you.
Time commitment:
After all of that training, you should prepare to dedicate a lot of time to this competition. While the qualifiers are in January, the actual Games start in the summer, so you should be ready to devote months if you're selected to advance.
Investment: $$
You'll have to sign up for a CrossFit class to prepare for the event. Registering for the open qualifiers only costs $20.
Equipment:
While you can do CrossFit at home, it's recommended to find a class if you want to one day compete. Your instructor will be able to customize your workout to get you ready for the competition.
---
Wrapping Up
One of the best ways to stay motivated to workout is to always be working toward a goal.
Some people who have spent years pushing and sculpting their body find that they eventually plateau and lose the will to keep pushing.
For these people, entering a fitness competition can ignite new life and a new passion for exercise.
Bodybuilding and weightlifting competitions are great for people who want to get ripped. You lift heavy weights to build up your strength and muscle — and then, in the case of bodybuilding, you dial in the diet to get as lean as possible.
However, if you want something that's a little more low-key but still competitive, then look into fun runs. Even 5K races are great ways to meet new people and stay in shape in unique settings.
Every city is different, so make sure to check in yours to see what kind of competitions you can get involved with next. And if you're really serious, then you can check neighboring areas to compete more often.
For more, check out my guide to the different types of fitness instructors who might be able to help you reach your goal.
Hope this helps!