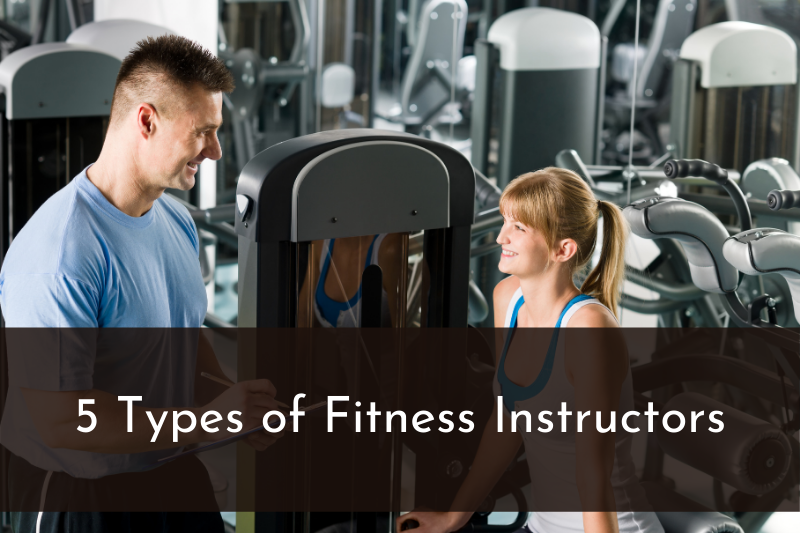 A lot of people find it difficult to motivate themselves when they're at the gym alone.
You can get a major boost by getting a fitness instructor to push you through workouts.
Having an instructor there gives you a reason to go to the gym. Instructors also provide guidance and some can even help your health in other areas of life.
While many individuals tend to use terms like "personal trainer" and "wellness coach" interchangeably, there are key differences between the different kinds of instructors out there.
It's worth it to learn these differences because a certain type of coach may be preferable for you depending on what your ultimate goals are.
The most common types of fitness instructors out there include:
Best fitness instructor for accountability: Personal trainer
Best fitness instructor on a budget: Group fitness instructor
Best fitness instructor for weight loss: Specialty instructor
Best fitness professional for lifestyle changes: Health and wellness coach
Best fitness professional for diet advice: Nutritionist
Each type of trainer specializes in a specific field of health. After asking yourself a few questions about what you want to attain, you should have an easier time deciding what fitness professional to hire.
---
Best fitness instructor for accountability: Personal trainer
Personal trainers guide you through workout routines.
They may start by asking you what you want to attain (lose weight, build muscle, etc).
From there, they'll develop fitness regimens so that the exercises you're doing actively help you reach your goals.
Studies have even found that working out with a personal trainer produces greater results than exercising on your own.
Not just anyone can be a personal trainer. Preferably, you want someone with a degree in physiology, but they should also have accreditation from ACE, NPTI, ISSA, NASM, or another accredited institution.
It's also good to find someone certified in first aid, CPR, and AED.
A personal trainer is by your side through every workout. You're working out one-on-one with this person, so you want to make sure your personalities mesh well.
While it can cost you several hundred dollars a month to have a trainer, a lot of people think it's worth it.
After all, you're not just going to the gym by yourself any longer. You're meeting up with someone. You can't just call out sick because you feel like it or cut your workout short when you actually arrive at the gym.
Your personal trainer pushes you and makes sure you're working out safely so that you don't injure yourself and set back all the progress you've made.
There are a few red flags to watch out for during your first appointment with the trainer. Some of the most common include:
They don't create a long-term plan for your fitness goals.
They only talk about themselves during your sessions.
They tell you what to eat.
That last one may seem odd, but personal trainers generally don't have the education necessary to tell you what you should be eating.
After all, everyone's different, and a diet for your fitness goals will be different from someone else's. It's a nutritionist's job to look at diet (but we'll get into that in a little bit).
(Beware these signs of a bad personal trainer!)
---
Best fitness instructor on a budget: Group fitness instructor
Personal trainers only work with one person at a time while group fitness instructors lead classes with a bunch of people simultaneously.
It's a lot more affordable to take a class than to have a personal trainer, so a lot of people sign up for sessions that appeal to them whether that's Zumba, cycling, dancing, or something else entirely.
Similar to personal trainers, group instructors need accreditation from ACE, NPTI, ISSA, or NASM.
It's important to go into a class session with an open mind. You aren't going to get the same kind of specialized attention like with a personal trainer. Instead, you have someone providing general advice to the entire class.
Ideally, you want a group instructor who makes the classes fun. They should be energetic and offer motivation to everyone.
While you shouldn't expect a full 60 minutes of one-on-one time, the instructor should at least make the effort to learn people's names. The instructor should walk around the room once in a while and offer individualized pointers when possible.
Ultimately, you just need to trust your gut when it comes to picking the right class instructor. Many gyms allow you to try out classes for free for a week, so you can try a few to see if there are any instructors you really enjoy spending time with.
---
Best fitness instructor for skill training: Specialty instructor
Personal trainers should help you with an array of exercises from cardio to weight lifting.
On the other hand, specialty instructors focus on a single discipline. If you want to master one type of workout, you'll do best with an instructor that specializes with spin sessions, barre, yoga, or pilates.
You'll probably want to avoid general interest gym classes and instead opt for a studio that specializes in that discipline. That will be the best place for you to grow.
In terms of certification, you want to see something relevant to what they're going to teach you. For example, pilates instructors should receive certification from one of the following programs.
Fletcher Pilates Comprehensive Program
Peak Pilates Comprehensive Certification
Core Pilates Comprehensive Immersion Course
Power Pilates Comprehensive Program
Basi Pilates Teacher Training Program
Balanced Body Pilates Instructor Training
Yoga teachers need to have completed an accredited yoga teacher certification program, and so on.
Most of the time, disciplines like pilates and barre take place in classes.
One red flag to watch out for is a class filled with upwards of 20 people.
A lot of gyms try to maximize membership by putting as many people as possible in a single class. However, with that many people, you're unlikely to get the instructor to notice you and provide you with personalized feedback.
---
Best fitness instructor for weight loss: Health and wellness coach
A wellness coach differs slightly from a personal trainer.
The latter only focuses on your fitness at the gym.
A wellness coach takes a comprehensive approach to your health, looking at every facet of your daily routine from what you eat to how you work to provide you with pointers to make long-term lifestyle changes.
(Personal trainers can get you in great shape, but unless they're also qualified to give you diet advice, you'll have trouble losing weight and keeping it off.)
A four year degree in nutrition, psychology, fitness, nursing, or healthcare is a good sign for a health and wellness coach. However, any certification from ACE or a similar organization also works well.
You just want to make sure the certification is specifically in health and wellness. A personal training certification is great for some, but it doesn't necessarily make someone qualified to speak about what you should do in terms of diet.
You should expect a wellness coach to give you "homework." A personal trainer tells you what to do at a gym. A wellness coach informs you of what you can do at home to reach your fitness goals.
Your first meeting with this coach will likely entail you talking about what you want to achieve.
For example, if you want to lose weight, then a wellness coach will tell you what exercises would be best, but they'll go beyond that.
The coach will tell you what you should eat for every meal. You should be imparted with the tools necessary to be healthy in all facets of your life.
---
Best fitness instructor for diet & general health advice: Nutritionist
Maybe you're not really looking for an exercise program. You just want to eat healthier but you're not sure where to start.
A nutritionist can help you create a healthier diet and food lifestyle.
They help you plan menus and can inform you of the hazards of eating too much of a certain food.
A good nutritionist should be certified through the Clinical Nutrition Certification Board. To achieve that, you need a bachelor's degree from a 4-year university with coursework that includes nutrition and science requirements.
A nutritionist solely focuses on your diet. Therefore, when hiring one, you want to make sure you're willing to make big changes to your lifestyle. It can be a major change, especially if your diet isn't that great to start with, but it's highly advantageous in the long run.
A lot of great nutritionists are out there, but you should watch out for any that try to sell you on fad diets.
The right diet should be more personalized because not everyone benefits from any one trend.
Nutritionists aren't just for weight loss, either! Cleaning up your diet, your food quality, and your relationship with food can help plenty of other positive health impacts.
---
Different Types of Fitness Instructor Certifications
Anyone can say they're a personal trainer. But you want proof that someone actually knows what they're talking about.
Certification proves a person has studied a given field and can recommend actually good advice. You wouldn't take nutrition advice from just any old stranger on the street, so make sure to always look for certifications and education before hiring anyone.
American Council on Exercise (ACE) & others
ACE offers personal training certifications. To get certified, you need to have the following qualifications.
Be at least 18 years of age
Have at least a high school diploma
Have a current CPR/AED certification (complete with live skills check)
Have a government-issued ID
From there, you just need to pass the ACE test.
The exam goes through the latest fitness knowledge, so when someone has this certification, you know they're working with studies and information that's recent. They're not going off old wives' tales on staying in shape.
Other personal trainer certifications are available, such as one from the:
National Academy of Sports Medicine (NASM)
National Personal Training Institute (NPTI)
International Sports Sciences Association (ISSA)
They're all great.
The important thing is to always ask where a trainer or instructor received their certification from. If it's from somewhere you've never heard of before, then you need to look elsewhere.
You'll likely want to avoid a trainer who got their certification in just a single weekend!
Cardiopulmonary resuscitation (CPR)
When hiring a personal trainer or group instructor, you want to make sure the person is CPR-certified.
This indicates an individual has received training to perform CPR in the event of an emergency.
You can pass the test at your local Red Cross, and other organizations sometimes hold classes. After passing the class, you're given certification.
This is vital for anyone interested in their health. If you have difficulty breathing while working out, then you want to make sure the person by your side can perform CPR to help you.
This is especially important if you and your personal trainer work out somewhere other than a gym where other people may not be around.
Automated external defibrillator (AED)
Similarly to CPR, you want your trainer to be experienced with an AED.
This is a device to help your heart in the event of cardiac arrest, which can happen to some people during rigorous activity. The Red Cross also offers AED classes.
It's all about staying safe. You may think you're pretty healthy, but if you push yourself too hard, then you want your trainer to know how to use an AED quickly and efficiently.
---
Wrapping up
Fitness instructors can be a major boon to your health.
However, the same way you wouldn't hire an electrician without experience and certification, you want to ensure your instructor knows what they're doing.
Not only that, but you'll need to hire the right expert depending on your goals:
Use a personal trainer to get in better shape
Go to a general group fitness class for the most affordable results
Work with a specialized instructor at a studio to master a single discipline
Hire a health & wellness coach for better weight loss results
And hire a nutritionists for more specific diet and healthy eating needs
When in doubt, ask the instructor what certifications they have. The right certification will vary depending on the nature of the instructor, but something should be there. Plus, it's always nice to get someone who's certified in CPR and AED, just to be safe.
If you're looking for a personal trainer, then you can save yourself a lot of hassle by simply going to a gym that offers trainers. Most gyms only hire people who are properly certified, so you save yourself a bunch of research.
Hope this helps!