If you're too busy to get a healthy meal on the table, you may want to look into meal delivery services like Hello Fresh and Blue Apron.
They deliver meal kits with fresh ingredients and step-by-step recipes directly to your door so you don't have to go grocery shopping or wonder what's for dinner.
In addition to saving you time, meal kits can help you cut down on food waste, try out new recipes, and control your portion sizes if you're trying to lose weight.
But no matter why you're interested in ordering a meal kit, you probably want to know which ones are the best so you don't waste your money.
Reddit is one of the best places to get honest reviews from real people, so I scoured multiple subreddits looking for the most highly recommended meal delivery services. Here's what I found.
The 4 best meal delivery services according to Reddit are:
Let's take a look at each, the pros and cons, and what real Reddit users and customers have to say.
Click the links to get a special discount on your first order!
---
Hello Fresh: Best overall
On threads about the best meal delivery services, Hello Fresh is mentioned most often.
Redditors say the quality of the ingredients and variety of recipes is better than the majority of meal kits on the market. There are over 20 new meals every week, so you'll never get bored.
Hello Fresh is also known as one of the best meal kits for vegetarians because it has tons of meatless recipes. But it doesn't offer as many choices for vegans, which is something to keep in mind.
There are four different meal plans you can choose from:
veggie
family-friendly
meat and veggie
and calorie smart (which has dishes that are all about 650 calories).
You can order anywhere from two to five recipes every week with options for 2 or 4 servings per meal depending on how many people you need to feed, all for a pretty affordable price.
Dinners start at just $7.49 per serving plus a $7.99 fee for shipping. Hello Fresh also offers generous discounts to help bring down the cost.
Students can get 15% off every order and new members can save a total of $80 spread out over their first five boxes.
---
Hello Fresh Reddit reviews
Redditors had some helpful tips that could save you even more cash on your first Hello Fresh box.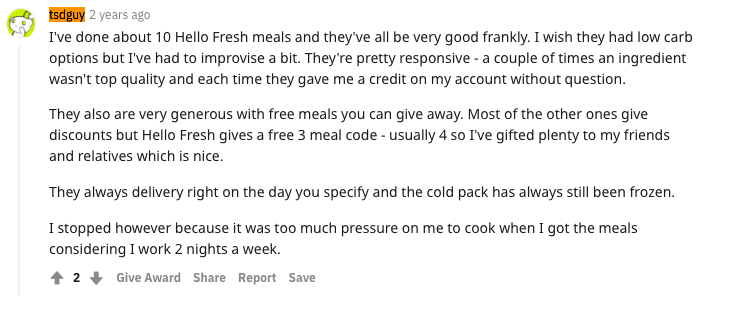 Reddit user tsdguy said that Hello Fresh gives current members a code to send to family and friends that's good for three free meals. So see if you can snag one from a friend before you order.
Tsdguy also mentioned that the meals are delicious and customer service is helpful. The only downside they pointed out was the lack of low-carb options.

Athenalv had another great money-saving tip:
"Here's an insider tip: if you cancel after you order a delivery and wait a few weeks, they will send you a coupon. Usually it is for 50% off.
"We've been doing this for almost two years and haven't paid full price since our first box."
Athenalv also mentioned that the meals are interesting and come in big enough portion sizes to have leftovers, which is a plus.
Overall, Hello Fresh offers high-quality ingredients and a wide variety of recipes with ample vegetarian options, which is why it's one of the top meal kits according to Reddit users.
Pros
High-quality recipes and ingredients
Over 20 meals to choose from every week
Offers discounts plus free meal codes for friends
Good options for vegetarians
Cons
Recipes can be carb-heavy
Not as many options for vegans
---
EveryPlate: Best budget-friendly option
Most meal kits cost about $10 per serving, which is almost as expensive as eating out.
If you're looking for a cheaper option, check out EveryPlate.
Its recipes only cost $4.99 per serving, or $3.99 if you qualify for a student discount.
You can order between three and five meals every week and get either 2 or 4 servings of each meal.
Reddit users say the portion sizes are pretty large, so you'll probably have leftovers, which helps bring down the cost of the kit even more.
What else did Redditors have to say about this wallet-friendly meal service? Let's take a closer look at some of their reviews.
---
EveryPlate Reddit reviews
Dinnerly and EveryPlate are the two main budget meal kits that Redditors recommend.
But many users say that they prefer EveryPlate because the recipes have more flavor.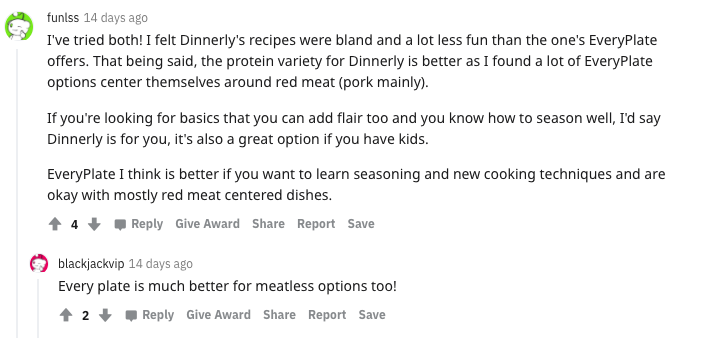 In a thread on EveryPlate versus Dinnerly, funlss said:
"I've tried both! I felt Dinnerly's recipes were bland and a lot less fun than the one's EveryPlate offers. That being said, the protein variety for Dinnerly is better as I found a lot of EveryPlate options center themselves around red meat (pork mainly)."
Four of the thirteen meals that EveryPlate was offering this week were pork-based, so we can see what this commenter is saying.
But on the plus side, blackjackvip mentioned that EveryPlate has better meatless options than Dinnerly, so vegetarians will have plenty of choices.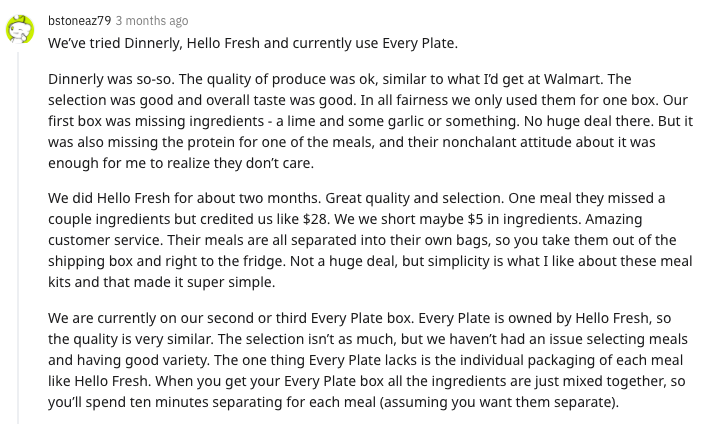 On another thread about the best meal kits, user bstoneaz79 pointed out that EveryPlate is owned by Hello Fresh and offers similar quality at a lower price.
The only downside they mentioned was that EveryPlate has less variety than Hello Fresh, but that's to be expected with a budget meal kit.
Another drawback of EveryPlate that a few Redditors pointed out is poor customer service.
Sometimes meal delivery services drop the ball and forget several ingredients or give you produce that's spoiled.
That's why it's important to choose a company with helpful customer service representatives that will refund you when there's an issue with your box.

BookBelle77 had their box delivered to the wrong address and was unable to get the issue resolved with customer service or get a supervisor on the phone.
Another Redditor in the same thread said that they had to get on a waiting list to speak to a supervisor, which is something to consider before you sign up.
Pros
Flavorful, fun recipes
Good quality ingredients
Affordable
Meatless options
Printed recipe cards
Cons
Less variety than other meal kits
Recipes can be pork-heavy
Customer service could be better
---
Purple Carrot: Best for plant-based eaters
Purple Carrot is one of the only 100% vegan meal kits on the market.
It offers delicious plant-based dishes like orange sesame seitan and mediterranean fried rice. There are also options for people with special dietary needs like gluten-free and high-protein.
You can sign up for the two-serving plan and get three or four dinners delivered per week, or get the four serving plan and order two or three dinners.
You can also add a limited amount of extras to your order like snacks or breakfast.
The main downside of the service is that there's only 8 new dinners each week. Most mainstream meal kits offer over a dozen recipes, so we hope that Purple Carrot adds a little more variety in the future.
Purple Carrot Reddit Reviews
Despite not having as much variety as other meal kits, Purple Carrot is still a favorite among vegans and vegetarians on Reddit.

When asked which meal kit is the best for vegetarians, thatgirlonabike said:
"Purple Carrot – hands down. It's vegan but sometimes I add my own cheese. They have more options than any of the meal kits out there including lunch and breakfast options."

Another user in the same thread also praised Purple Carrot's selection, saying that they offer the widest variety of vegan recipes they've seen from any delivery service.
The main drawback of Purple Carrot is that it's a little expensive for what you get.
Usually you can save money by going meatless, but that's not the case here. Each serving costs between $9.99 and $11.99 depending on which plan you get, which is comparable to the price of other meal kits that offer meat.
But Purple Carrot does offer free shipping, which is a big plus.

Although Purple Carrot is on the pricey side, jadebeezy commented that they're still happy they have it. They say that the portion sizes are good and the recipes have taught them valuable cooking skills.
So if you're a vegan who's looking to save time and add more variety to your diet, Purple Carrot could still be a good choice despite the cost.
Pros
Offers breakfast and lunch
Creative recipes
Good portion sizes
Gluten-free options
Free shipping
Cons
Expensive for meatless meals
Only offers 8 new meals every week
---
Sun Basket: Best for paleo & clean eating
Even though 7% of Americans are paleo, very few mainstream meal kits cater to them.
That's why I like Sun Basket—they have a dedicated paleo meal plan and plenty of options for people who follow other special diets too.
They have nearly 10 different paleo recipes every week such as dijon salmon and Morrocan chicken, so signing up will add lots of variety to your diet.
To save you a trip to the grocery store, Sun Basket also sells add-on items like yogurt, soup, juices, egg bites, and more.
Their dinners range from $10.99 to $12.99 per serving depending on how many recipes and portions you order per week. The more recipes and servings you order, the lower the cost.
Although Sun Basket is a little on the pricey side compared to other meal delivery kits like Hello Fresh, Redditors generally agree that the cost is worth it.
---
Sun Basket Reddit Reviews
Sun Basket is regularly mentioned in r/Paleo as one of the best paleo meal kit options.

Xosherry said that they've never gotten a recipe from Sun Basket they didn't enjoy. Their only criticism was that the paleo meals can sometimes be high in calories.
But if you get the Lean and Clean plan, Sun Basket can definitely help you achieve your weight loss goals.
The meals are all made with whole foods and paleo-approved sweeteners. They also have fewer than 600 calories and at least 10 grams of protein per serving.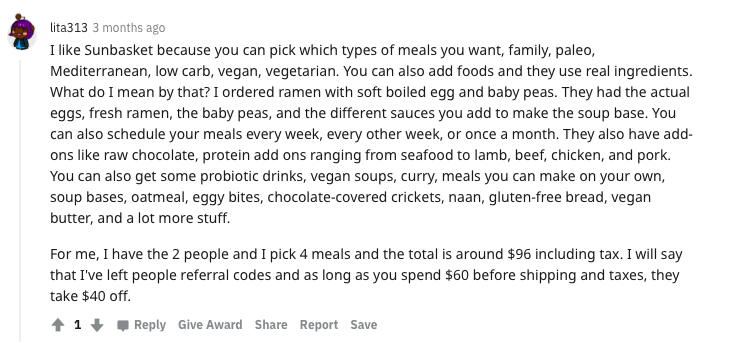 Lita313 pointed out that the Lean and Clean plan isn't the only one that Sun Basket offers.
"I like Sun Basket because you can pick which types of meals you want, family paleo, Medditerranean, low carb, vegan, vegetarian," they said.
There are also plans for diabetics, pescatarians, and people who eat gluten-free, so there's a wide variety of options to suit all diets.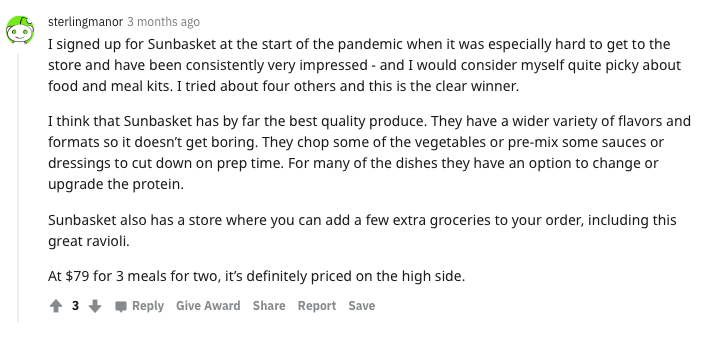 Sterlingmanor also said that they were impressed with Sun Basket's produce, which is nearly 100% organic. But they did point out that Sun Basket is a little pricey at $79 for 3 meals with 2 servings each.
However, if you're on a special diet like paleo and don't mind paying more for quality produce, Sun Basket is a great option.
Pros
Wide variety of meal plans with low-calorie options
High-quality recipes and organic produce
Pre-chopped ingredients
Add-ons like soups and juices
Cons
Expensive
Paleo meals can be high in calories
---
Wrapping up
Meal kits can save you time, help you control your portion sizes, and reduce your food waste.
They're also great for adding more variety to your diet and learning how to cook if you're not the best chef.
Most of the time, you'll save money by getting recipes online and shopping for the ingredients yourself.
But if you don't mind paying a little more for the convenience of having recipes dropped off at your door, meal kits are a great way to get a delicious, homemade dinner on the table fast.
Before you go, check out the best meal delivery services for weight loss if low-calorie is your preference!
And don't miss more healthy eating guides like:
Hope this helps!