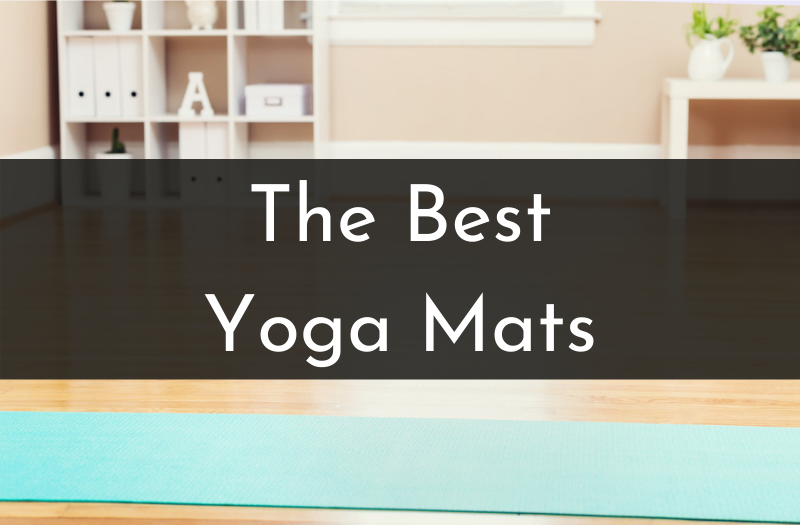 Yoga is one of the easiest forms of exercise to get involved with.
All you really need to get started is some proper workout clothes and a good-quality mat.
While you don't necessarily always need a yoga mat, a good one gives you a lot of assistance as you practice more difficult moves.
A mat also serves as comfortable padding so that your body isn't coming into direct contact with the floor.
You could spend as little as $10 for a yoga mat at Wal-Mart, but mats that are too cheap tend to break down easily. You're much better off investing in something of a higher quality.
However, it's hard to know if you're putting your money to good use. That's why I dug into Reddit to find out what real people and real yogis are saying about their favorite mats.
The best yoga mats according to Reddit are:
Best for beginners: Manduka PRO (Amazon link)
Best on a budget: Gaiam Yoga Mat (Amazon link)
Best for eco-conscious users: Jade Harmony Mat (Amazon link)
I combed through dozens of Reddit threads to read real feedback from real yoga mat owners, and these were the 3 that got positive mentions the most often.
Let's take a look at each of them and what makes them so great.
---
Manduka PRO Yoga Mat: Best for beginners
When it comes to finding a high-quality yoga mat, some brands should be at the top of your list, especially Manduka.
It tends to cost in the neighborhood of $120, which may seem like a lot, but the company takes great strides to ensure its products last a lifetime.
It accomplishes this by being made out of extremely dense cushioning to offer better joint protection and stability.
This is the kind of mat you see yoga teachers use all over the country and for good reason. It's made from a closed-cell material to help seal out moisture and bacteria.
This makes it much simpler to keep clean and disinfect when you need to.
The reason I put it best for beginners is that it's easy to give up on yoga because you don't feel comfortable as you're doing it.
However, with a mat this good, you'll actually find yourself looking forward to your next practice.
It may be your first mat, but that doesn't mean you shouldn't invest in something worthy of a more advanced yogi.
That's not even mentioning the array of colors you can get your Manduka PRO in.
You can pick the perfect one to go along with the rest of your yoga outfit, so not only are you getting in shape, you're styling the whole time as well!
Lastly, you can feel good about your purchase because Manduka makes its products without any harmful emissions.
For these reasons and more, it's easy to see why the Manduka PRO has caught on with Redditors.
---
Manduka Pro Reddit Reviews
When u/NikeFlex wanted to know the best yoga mat around, plenty of people were quick to chime in.
A few different brands get mentioned, but Manduka comes up time and time again.
Here are just a few people who have been turned onto the brand.

The greatest part of this exchange involves figuring out where you can get a Manduka mat for cheap.
You can buy one new directly from the Manduka website, but sometimes they're sold in stores for cheaper prices. It's worth a look if you're in the market for one and don't mind driving around a little bit.
Ultimately, it's worth it to spend a little extra to get a yoga mat that feels comfortable and keeps you safe.
Just take it from u/wellsorrynotsorry, who writes:
"I have a manduka pro and I use it on carpet and it doesn't slide, I have bad knees too and that's why I went with this mat in the first place, so much better for the knees while not being super thick."
Later in the thread, you can even see u/NikeFlex saying that they'll opt for the Manduka Pro.
So it would appear as though all of the other yoga enthusiasts made a compelling case!
For one last piece to keep in mind, Redditors suggest you pay attention to which exact item you purchase.
There's a pretty big difference between the Manduka PRO and the Manduka PROLite.

Pros
Lifetime guarantee
Eco-friendly materials
100 percent latex free
Slip resistance
Strong enough to withstand a HIIT session
Cons
Expensive
A bit heavier than other mats
---
Gaiam yoga mat: Best on a budget
You may not have the money to spend on a high-end yoga mat.
That doesn't mean you should just buy whatever riff-raff you find at the store.
You can usually find a $5 yoga mat at Goodwill, but it's probably only going to last you a few sessions before it starts wearing out.
Your best bet is to splurge a little bit and spend around $30 (still affordable!) on the Gaiam yoga mat.
While the mat itself is pretty comfortable, it comes with a free yoga block or free downloadable intro yoga class — depending on where you buy.
For a budget mat, the Gaiam is gorgeous and extremely sturdy. It will look and feel great for a long time to come.
But let's take a gander at what Reddit thinks.
---
Gaiam Yoga Mat Reddit Reviews
When you're just starting out, finding the right yoga mat can seem daunting.
That appears to be why u/Toxicfoxy654 asked about the best yoga mats for beginners.
This was the most highly-rated response:

A lot of people seem to buy the cheapest yoga mat they can find at first.
It makes sense, especially if you're still on the fence about whether you want to stick with yoga for a while.
But when you're ready to commit to more than just a few classes, u/tazzyrazzy also suggests a Gaiam mat.
"First yoga mat I got was from Walmart, they're cheap, not the best quality, and won't last long, but I also didn't expect to eventually do yoga on an almost daily basis.
"Once I knew I was going to commit to yoga long term I invested in a Gaiam yoga mat, more or less because I loved the design and color, it was slightly more expensive than the Walmart one, but has lasted me a few years.
Don't even waste your time on a $5 mat to start.
Just go ahead and buy a Gaiam mat if you're not sure you're ready to invest in a $100+ mat. Once you're sure you're in the yoga game for the long haul, opt for a Manduka mat or other high-end option.
Pros
Affordable
Fun designs
Simple clean-up
Good for travel
Great for a casual yogi
Cons
Not as durable as other mats
A bit thin
---
Jade Harmony: Best for eco-conscious users
Any worthwhile mat should be able to provide sufficient traction to allow you to practice yoga without worrying about slippage.
The Jade Harmony mat provides that in spades.
However, Jade mats are different from other brands in one significant way.
Jade has partnered with Trees for the Future to plant a tree for every single one of their mats that they sell, according to their website.
In fact, the company has planted over two million trees so far. So in addition to helping yourself get into better shape, you can help make the world a greener place.
Your average Redditor may not buy it for that reason. But at the end of the day, they're high-quality mats available in numerous colors to match the rest of your decor.
That's why so many people have taken to the platform to express their delight at getting one.
---
Jade Harmony Reddit Reviews
Jade mats seem to be a good middle ground between the budget-friendly Gaiam and high-end Manduka.
Still, Redditors have found ways to save even more money, and if you play your cards right, you may be able to find a Jade yoga mat for the price of a Gaiam one.
On one thread, u/iamthecosmo offers this suggestion.
"Jade mats are great. [I] sometimes see new and nearly-new jade mat's on ebay for a discount."
Through my search, I was surprised to learn that some people have actively sought out Jade mats for their eco-conscious efforts. One such user commented:

Jade mats may cost a bit more than some other brands, but you can rest easy knowing your money's going to a good cause.
Pros
Thick cushioning
Non-slip capabilities
Doesn't contain EVA, PVC, or other harmful substances
Easy to wash by hand
Cons
Strong odor at first
Attracts a good amount of lint and animal fur
---
Wrapping Up
Whether you plan on practicing yoga at home or in a class, you'll eventually need a good yoga mat.
While there are many practical reasons to get a mat (material, durability, price), there are sentimental ones, too.
A mat provides you with a clear space to get in tune with yourself. It's something you should be proud to show off, and it should suit your own personal style.
No mater what mat you choose, do yourself a favor and spend the extra money on one that's going to last.
For more Reddit recommendations, check out what Redditors say about:
And see reviews of some other mats I love like the Liforme yoga mat and the B Yoga mat.
Hope this helps!