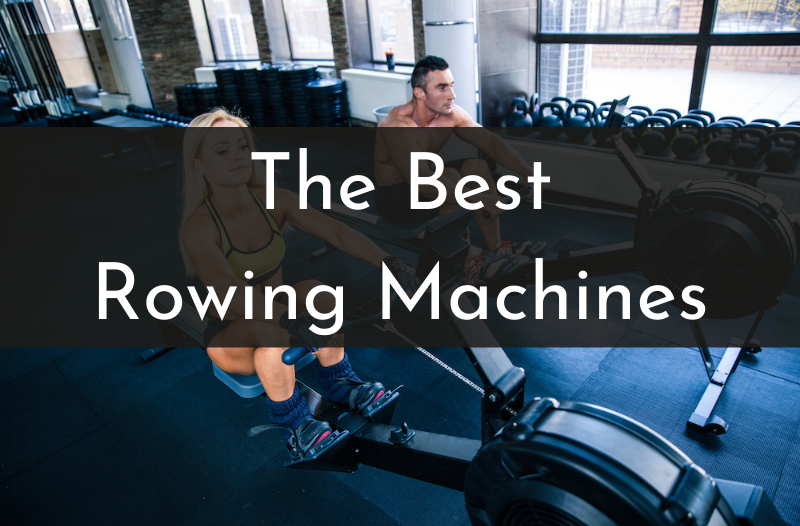 A rowing machine is a great way to get a full body workout.
Not only do you burn a ton of calories in a short span of time, but it's also low-impact, meaning you don't have to worry about placing unnecessary stress on your knees and ankles.
You can find rowing machines at pretty much any gym, but if you're dead-set on making a rower part of your regular regimen, then you may decide it's more cost-effective to simply buy one to use at home.
Everyone from experts to beginners benefit immensely from rowing machines, but it's an investment. And you don't want to spend a ton of money on a model that's not the right fit for you.
That's why I've done extensive research on Reddit to see what real rowers are using to stay in shape.
The best rowing machines according to Reddit are:
Best high-end rower: Concept2 (Amazon link)
Best rower on a budget: Stamina Body Trac Glider 1050 (Amazon link)
Best hybrid rower: NordicTrack RW900 (Amazon link)
I combed through dozens of Reddit threads to read real feedback from real rowing machine owners, and these were the 3 that got positive mentions the most often.
Let's take a look at each of them and what makes them so great.
---
Concept2: Best high-end rower
By far, the most popular rowing machine according to Reddit users by a mile was the Concept2.
This is the kind of rowing machine you find in gyms and fitness clubs around the country. It's used by amateurs and professional athletes alike, so you know you can trust the quality.
This thing comes with a ton of features, including:
Nickel plated chain
Ergonomic handle
Adjustable footrests
Quick-release framelock mechanism
Bluetooth wireless connectivity
Powerful performance monitor
You have a few different options with the Concept2.
The most affordable and popular is the Model D, which runs you about $900.
The next one up from there is the Model E, which is a couple hundred dollars more. And if you really have money burning a hole in your pocket, then you can opt for the Dynamic Indoor Rower, which costs in the ballpark of $1,250.
It's money for quality. Just take a look at what Reddit reviewers are saying.
---
Concept2 Reddit Reviews
It's clear people can't get enough of the C2.
Any time someone goes on a subreddit asking what rowing machine to purchase, a bunch of people chime in telling them to splurge a little and get the C2.
Just take a look at these back-to-back comments.

Naturally, there are plenty of people who just want the cheapest rower they can find. And it seems as though the first thing an experienced rower will tell you is that you absolutely need to splurge.
Redditor u/peterpayne wanted to find a budget machine, and one user was quick to interject.
"There are no good budget rowers. However a concept2 will last 15 years or more."
If you're serious about your rowing regimen, then it's definitely worth it to invest the time and money into a high-quality piece of equipment.
Pros
Easy to put together
Comfortable seat and handlebars
Simple storage
Adjustable airflow
Solid construction
Cons
---
Stamina Body Trac Glider 1050: Best Rowing Machine on a Budget
Based on Redditors' opinions, it definitely seems like the Concept2 is the way to go.
But quality or not, sometimes you just don't have the funds to drop on a piece of workout equipment all at once.
Plus, if you take care of your equipment, you should be able to get it to last a long time as well.
That's where the Stamina Body Trac Glider 1050 comes into play.
It's a great option when you need something that mimics the feeling of rowing through water. It even comes with a molded seat and padded handlebars to keep you comfortable throughout your routine.
There's also an electronic monitor to keep you motivated and help you track performance.
All this comes at a fraction of the cost of some of the higher-end models.
It generally only costs you a couple hundred dollars, but sometimes, you can find them on sale where they come brand new for a little over $100.
But let's see what they're saying over on Reddit.
---
Stamina Body Trac Glider 1050 Reddit Reviews
You don't see this model come up as often on Reddit.
However, it's clear that when you're looking for affordability, you can't do much better, as evidenced here:

It seems as though the old adage holds true. You get what you pay for.
However, just because this model is affordable, you shouldn't automatically assume it's cheap.
Redditor u/soswinglifeaway brought up this model on a post and received the following response.

The Concept2 still reigns supreme, and it may even be the better option if you plan on using your rower all the time.
However, if you plan on using it more recreationally, then the Stamina model should get the job done.
Pros
Steel frame construction
Gas shock resistance
Foldable arms for easy storage
Hydraulic cylinder resistance
Textured foot plates
Cons
Inaccurate calorie counter
Overheating shocks
---
NordicTrack RW900: Best Hybrid Rower
There are a lot of different types of rowing machines out there.
They all come with their pros and cons, but if you want the best of both worlds, then you'll do well with a hybrid rower.
That's where the NordicTrack RW900 comes into play.
NordicTrack is a trusted brand. It even comes with an HD touchscreen that's compatible with iFit. You can gain access to professional trainers to help guide you through your workouts (kind of like a Peloton).
That can be a major plus to people just starting out who need a little direction.
There's just the tiny matter of the price.
This machine typically costs more than the Concept2, but depending on who you ask over on Reddit, it may even be better.
---
NordicTrack RW900 Reddit Reviews
When a Redditor asked for rowing machine recommendations, naturally a ton of people suggested the Concept2.
But there were a few devoted fans of the NordicTrack RW900. Just look here:

The last comment from u/NuBit_7 brings up a good point.
There are more affordable rowing machines made by NordicTrack. They may not come with as many bells and whistles, but if money's more important, then you can do without all of the fancy extras.
Pros
1-year membership to iFit comes included (nearly $500 value)
26 resistance levels
Rotating touchscreen
Up to 4 user profiles
LIVE resistance controls
Cons
Costly
Screen adds to the machine's weight
---
Wrapping Up
A rowing machine may not be the first thing you think of adding to your home.
But it's actually a really efficient use of space — giving you a cardio and full body strength workout all at once, with amazing results.
Rowing machines are pretty expensive, however, especially good ones. So it's really helpful to hear from rowing enthusiasts who have put these machines to the test for years and can tell you which ones are really worth your time and money.
Overall, the sentiment is simple: If you can afford a Concept2 (Amazon link), you won't regret it. If you're eyeing a cheaper model, you might consider holding off and saving up until you can afford the rower to end all rowers!
For more Reddit recommendations, see what Redditors have to say about:
Hope this helps!