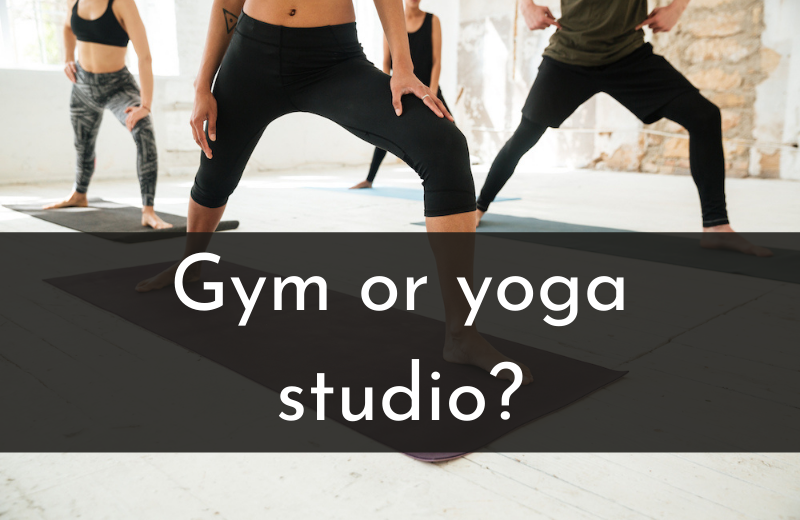 With a simple yoga mat and some comfortable clothing, you have everything you need to take a yoga class.
While online classes have become a very popular option, nothing beats the in-person instruction and motivation of a group yoga class.
However, you have a big choice to make — should you take yoga classes at a big box gym, or join a local yoga studio?
The biggest differences between a gym and a yoga studio are cost and atmosphere. Taking yoga at the gym will be far cheaper, especially considering you can still use the gym equipment for other kinds of workouts.
However, for atmosphere and immersion, a yoga studio is hands-down the better choice. You'll deepen your practice and connect better with instructors and fellow students at your local studio.
In this article, we'll dive deep into the difference between gym vs studio yoga and which one might be right for you.
---
Cost
You don't need much to practice yoga, but it's not the cheapest hobby if you plan on taking lots of in-person classes.
When looking at the costs of larger gyms vs yoga studios, a gym will be less costly in most cases.
These lower costs are due to the gym having a larger number of members and offering various other amenities.  
Gyms such as LA Fitness offer yoga classes to all of their members.
Plus, you get all the other perks of belonging to a gym. You can do other types of workouts with the gym equipment, take additional classes, and even swim in the pool or soak in the hot tub (if your gym has these amenities).
Gym Membership Costs
If you are looking to attend yoga classes at a larger gym chain, you can expect to pay an average of $25 to $60 per month for a gym membership.
For higher-end gyms like Equinox, this membership fee will be $250 per month for unlimited classes.
In certain instances, a gym chain will add a premium to access their group fitness classes.
Gyms like Crunch Fitness require an additional $10 to their base membership to have access to their group fitness classes, along with several other benefits.
Other gyms don't include group classes at all, and you'll have to pay per class to drop in.
(Gyms might also have classes like spin — see the difference between gym vs spin studio.)
Yoga Studio Membership Costs
If you decide that you need more personalized instruction and more classes per week—a yoga studio membership is a great choice.
However, with the smaller class sizes come a pricier membership fee.
One of the first things that yoga instructor Michelle Pualani Houston said when discussing the differences between these two classes was that yoga studios "can be expensive for 'just' yoga classes."
The average cost of a yoga studio membership will be between $100 to $200 per month for unlimited classes.
Some yoga studios will also offer you a per-class price option that is usually $5 to $20 per class.
However, if you plan on being a member who goes multiple times per week, the monthly memberships will be a lot cheaper than paying per class.
It's clear that joining a mid-range box gym and taking yoga classes there is the better deal. But that's not the whole story!
---
Convenience & Scheduling
With a studio's only fitness class being yoga, you will have a much easier time finding a time slot that fits within your schedule.
There won't be any other group fitness classes taking up space so that you can focus solely on reserving a spot in a yoga class.
Many yoga studios and gyms have incorporated scheduling software, allowing you to reserve a spot in class online.
This convenient scheduling makes it easy to avoid any crammed classes, creating the ideal class size.
However, this scheduling system also might result in a class getting filled with other members before you can sign-up, so be prepared to act fast to pick a class.
If you want to take a yoga class in the morning before work, a gym might be a better option.
Larger chain gyms have showers in the locker rooms that allow you to freshen up after an intense yoga workout.
Most independent yoga studios do not have showers in the locker room or have limited space to take one.
Yoga studios also do not usually offer childcare services while attending a class, which is an option in many corporate gyms.
Strict Cancellation Policies
While reserving a spot online is convenient, many yoga studios also heavily emphasize cancellation policies.
If you get stuck in traffic and can't make it to class, you may need to pay a cancellation fee.
This strict cancellation policy is due to yoga studios' primary income source from their yoga classes. If you take a spot away from another paying student, you are causing the studio to lose money potentially.
These policies are less strict in bigger gyms, as they aren't small businesses, and the impacts of not showing up won't affect them as much.
You can look at this as either a motivating force or something that can be negative.
In this category, both gyms and studios have pros and cons. Yoga studios have a full day of classes you can choose from, giving them some bonus points for convenience.
However, gyms are a little more casual with cancellations and you can use the gym's locker room and shower after class if you're heading to work — that's a nice perk!
---
Class Atmosphere
There is a significant difference in the atmosphere between these two options.
When I asked yoga instructor Michelle Pualani Houston what the major differences in these classes, she started by saying this about big box gyms:
"The environment can be noisier, not as relaxing, and more generic in studio rooms with other distracting equipment or props in sight."
With space intended for various fitness classes, you won't get the same atmosphere and experience you'd get at an intimate yoga studio.
Most large gyms are filled with harsh fluorescent lighting and loud noises of banging weights or the gym music playlist. These large gyms can't replicate the way yoga was intended to be practiced.
Yoga is a spiritual practice with an infusion of meditation, cultural traditions, and breathing exercises. To experience this style of yoga, a yoga studio will be a better option.
Houston described the type of atmosphere in a yoga studio as being:
"[The yoga studio] space and environment is meant to cultivate relaxation, grounding, or a sense of escape."
You will not need to battle with the artificial environment of large gym group fitness rooms.
With dimmed lighting, relaxing music, and a larger focus on cultural traditions—a yoga studio gives you a closer connection to your practice.
There's no question in this category. If atmosphere is important to your yoga practice (and likely, it should be), it's far better to practice at a dedicated local studio.
---
Fellow Students
A different class environment also will attract different types of members who will be alongside you.
For those willing to invest in a yoga studio membership, Houston mentioned:
"The students are more invested in integrating yoga into their daily lives."
The people who attend classes in a yoga studio will typically be more serious about their yoga practice, as they invested more into a membership.
Houston also noted that the yoga studio classes have an "Intimate, smaller community set up for connection."
Once you become a member at your local yoga studio, you will see familiar faces regularly and build strong friendships.
On the contrary, Houston notes that at big gyms:
"Students tend to be less committed to a 'yoga practice' as it involves the eight limbs."
If you are unfamiliar with the "eight limbs" of yoga, these are the philosophical principles of the practice created by Patanjali.
These principles go far beyond only working out and are the core concepts of a meaningful life.
This philosophy is not taught in large gym chains and instead is a class that members go-to for a quick workout.
If you are looking to connect with fellow students on the authentic path of yoga practice, choose a yoga studio.
---
Teachers
With a limited number of classes and lower pay for class instructors, a big box gym brings a different instructor style than a yoga studio.
Houston summed up the average yoga class instructor by saying:
"Instructors [at gyms] tend to be more 'generalists' as opposed to highly qualified yoga instructors. (As a side note – pay for instructors can be dramatically less, so we are less inclined to work at box gyms.)"
Many of the instructors at larger gyms don't focus on the practice's spiritual aspect, focusing more on the basic yoga movements.
Houston noted that these classes have a more fitness-style focus by saying:
"The focus of classes is typically more geared towards anatomy, physical movement, or weight loss."
In a yoga studio, the instructors take a more traditional approach and focus on the other aspects of the practice.
Focusing on the "eight limbs" mentioned in the previous section, you will get an all-encompassing yoga practice.
The yoga studios' class sizes will also allow the instructors to deliver more personalized instruction to you. If you need help on a particular pose or movement, the instructors will be much more likely to help.
The best and most talented yoga instructors will usually be found at studios and not gyms. Instruction will be more intimate and thorough in a yoga studio.
However, gym classes are great for anyone who wants a casual, fitness-oriented yoga workout.
---
Variety of Yoga Styles
Yoga studios have a more diverse lineup of different style yoga classes you can choose from throughout the week.
Houston noted this by saying that you can expect:
"More exposure to different types of yoga: gentle, restorative, Hatha, vinyasa, yin, etc."
Are you looking for a more intense yoga workout?
Vinyasa-style yoga can be very intense with the various movement flows. If you are looking for a more relaxing and meditative experience, you can take a restorative class.
In a large gym yoga class, you only will have a handful of different styles of yoga, with them being more focused on physical health.
Some of the most common will be Hatha and Vinyasa yoga classes once or twice per day.
Houston mentioned that the teachers at a yoga studio also put more emphasis on making things interesting, saying:
"Instructors [at studios] tend to be more qualified and willing to invest energy into planning specific classes."
If you have a gym membership, you will soon notice that many yoga classes do very similar things each class.
If you are a fan of predictability, this will be a benefit, but for many—this can take the excitement out of yoga.
---
Wrapping Up
When choosing between these options, the number one factor is how serious you are about your yoga practice.
Having a membership at a large gym is an excellent option for those who like attending the casual yoga class while also using the other amenities at the gym — like equipment, pools, and other types of workout classes.
Yoga at the gym is also usually a lot cheaper all things considered.
The main pros of taking yoga at the gym are:
Cheapest option
Can use locker rooms and showers after class
Childcare (if your gym offers it)
Use gym equipment when not taking yoga
Try other types of workout classes
A yoga studio is best suited for those who want the full experience of yoga, including the practice's spiritual aspects. Instructors here are usually more qualified and dedicated students help to form a strong community.
However, these yoga studios do come with a higher price compared to a gym membership.
The main pros of taking yoga at a studio are:
Highly qualified and dedicated instructors
Deepen your practice beyond just fitness
Meet like-minded students and build community
Escape from the grind with a relaxing atmosphere
Take a yoga class at any time of day
For more on getting started with yoga, check out:
Hope this helps!