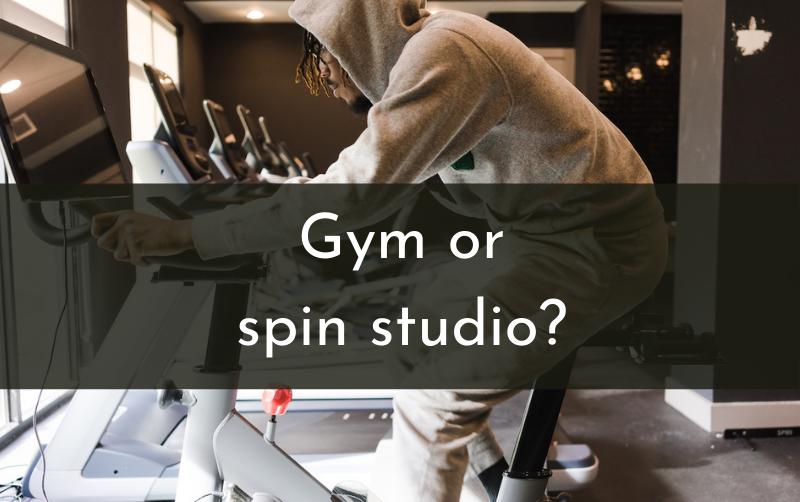 With energetic music, lively instructors, and an intense workout, spin classes have become one of the most popular workouts in the world — second only to yoga!
And for good reason, too — these classes are a lot of fun and only require a simple stationary bike to do.
If you have a stationary bike at home, you can follow along with a YouTube or Zoom workout class (or fire up your Peloton).
However, to get the full spin experience, you can't beat attending an in-person class. The question is:
Should you take spin class at the gym or a dedicated cycling studio?
The spin experience at a studio is vastly superior to the classes at the gym. At a boutique studio like CycleBar or SoulCycle, you'll find a better atmosphere, stronger community, and more welcoming instructors.
However, taking cycling class at the gym has plenty of benefits. It's way more cost-effective and you can take advantage of other classes and tons of equipment all for one affordable fee.
To learn a little bit more about the pros and cons of both gym and studio spin classes, I picked the brains of a few professional spin instructors.
Let's take a look at what they had to say.
---
Gym vs Spin Studio Cost
One of the most notable differences between these two classes is the costs associated with them.
In almost all cases, a spin studio will have a pricier membership fee than a big-box gym membership.
These higher costs are usually due to the studio being a small business with fewer members and only offering spin classes.
Personal trainer Marisa Michael highlighted these differences in cost by saying:
"Since they are often individually owned, the manager has the incentive to keep their cyclists happy. This often means friendly, knowledgeable instructors, good customer service, and a unique atmosphere that invites you in and delivers a custom experience.
"It can also sometimes come with a higher price tag per class, however."
(Marisa Michael is also the author of a fantastic book called Bike Shorts: Your Complete Guide to Indoor Cycling on Amazon.)
As we will discuss in a later section, there will be a difference in the atmosphere between these two classes.
But, it comes with a higher price tag, so you will need to weigh your priorities for your spin classes.
Costs of Spin Studio Membership
Your membership costs at a studio will depend on your state and how many classes you attend each month.
On average, the drop-in class rates are between $15-$25 per spin class at a boutique studio.
This price will also depend significantly on which area you live in, as urban areas have pricier classes on average.
If you were to attend a spin class in say New York City, many studios cost an average of $30 per class.
However, studios also offer better deals if you purchase spin classes in bulk each month.
The more classes you purchase, the better deal you will receive on a per-class basis. In the case of unlimited classes, you can expect to pay between $129-$350 per month on average.
If you plan on attending spin classes multiple times per week, unlimited class memberships are a bargain.
Before deciding which style of membership you should purchase, do some quick math into how often you plan on taking classes.
Costs of Spin Classes at the Gym
A big-box gym spin class's costs can be included with your gym membership or they may incur a small additional fee per month.
If your gym has fitness classes included in your membership, you will need to pay the average cost of $20-$50 per month for the membership.
Some major gym chains that include indoor spinning classes in the membership are LA Fitness and Gold's Gym.
Plus, you can access all of the other gym amenities, like the weight room, cardio equipment, and saunas, along with tons of other types of fitness classes.
In some cases, a gym will require an additional fee if you plan on taking fitness classes.
This extra fee is usually an extra $10-$20 per month. An example of a gym that adds an extra fee is Crunch Fitness, along with some Anytime Fitness locations.
The gym chain requires an extra $10 per month for an upper-tier gym membership.
However, included in this pricier gym membership are other benefits such as access to tanning beds or hydromassages.
---
Convenience & Scheduling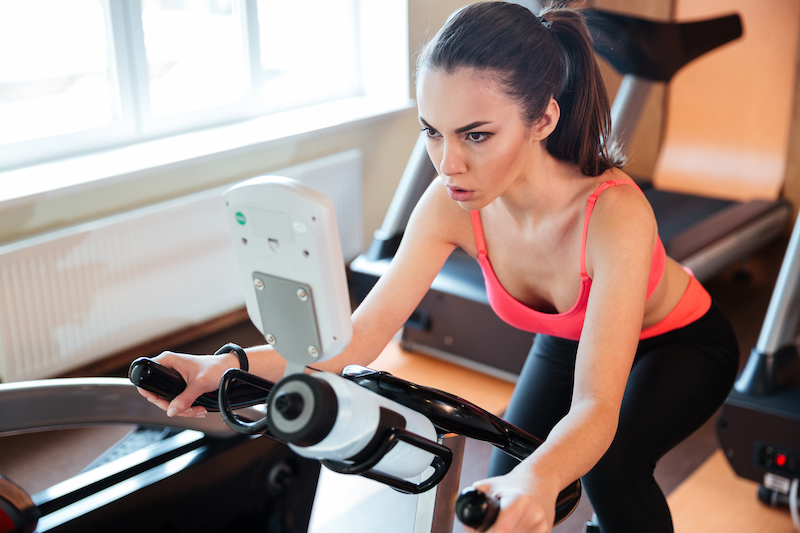 When it comes to convenience, the indoor spinning studios take the crown by far.
At a spin studio, there will be several spin classes throughout the day. Whether you want to take a class before work or after work, a spin studio will have plenty of class options.
In some cases, a spin studio will even have up to seven or more different classes each day that you can attend.
If you are a real indoor spinning fanatic, you could even take multiple classes on the same day if you wanted.
As a member of a big-box gym, you won't quite have this luxury.
Larger gyms offer a variety of different fitness classes that will take up the timeslots.
In most cases, there will be one or two indoor spinning classes offered per day at most gyms.
These classes will be available usually once in the morning or after work at around 5-pm.
Many of the teachers at these gyms work a day job, so you won't usually find mid-day classes during the off-hours like at a studio.
Reserving a Spot in Class
For both types of facilities, you will usually reserve a spot for a class online.
Reserving a spot also means that classes can fill up ahead of time, especially for popular time slots or instructors. If you plan on attending classes each week on the same days, book them in advance.
Smaller spin studios might not use this reservation method if they don't have too many members, so speak with the studio beforehand.
In the case of big-box gyms, you will have limited time slots each day, so you must book quickly.
Fortunately, group fitness classes at a big-box gym use larger rooms, so you most likely will be able to find a spot.
---
Atmosphere
If you take a class in a studio and a gym, you will most likely notice the significant difference in the atmospheres.
When I asked Sarah Pelc Graca what an atmosphere in a boutique studio feels like, she said:
"Many boutique cycling studios invest in fun lighting, high-quality sound systems, and fun technology components that allow participants to 'race' against themselves and others during class."
If you are up for a challenge, a spin studio will have added features that allow you to track your progress in class.
If you attend class regularly, you'll hit new PRs (personal records) in no time — a fun and exciting motivator.
As for how this compares to a cycling class at the gym, Graca says:
"All of these specialized components of the ride create a multi-sensory experience and an amazing workout for the riders, whereas most big box gym cycling classes only focus on the workout component of a cycling class."
Classes at the gym are usually in a standard studio without any special lighting or decor. You can often see and hear what's going on outside the studio on the gym floor, which can be distracting.
If you are looking for a straightforward workout without a lot of extra frills, a big-box gym would be a beneficial option for you since it's so much more cost-effective.
---
Teachers
With different facilities also comes different types of teachers for your spinning classes.
When discussing what type of experience you expect at a big box gym, personal trainer Marisa Michael said:
"You can definitely find a quality experience at a big box gym as well, but they are sometimes known for less friendly instructors and sometimes have problems such as impersonal service, generic equipment, and random instructors subbing in that aren't certified in teaching cycle classes."
With these insights, it seems that a big-box gym can be hit-or-miss in terms of the class experience.
If you prefer to go to a big-box gym and don't like a class at one particular gym, moving gyms may bring a better experience.
The instructors at a bigger gym typically don't make the same pay as someone teaching at a studio, so there can be newer or inexperienced instructors.
At a studio, all of the teachers are certified and have years of experience teaching spin classes.
These teachers will be more welcoming to beginners and are willing to take the time to help you learn the basics.
Additionally, teachers at a studio know how to teach different forms of indoor spinning, giving a more diverse experience.
Sarah Pelc Graca adds:
"Since big box gyms tend to offer a variety of workouts, the experience of cycling may not feel as unique or specialized as a boutique cycling studio."
This insight can either be seen as a positive or negative, depending on what style of classes you are looking to attend.
If you're just looking to get in, burn some calories, and get out — the gym is a cost-effective and convenient place to do it.
But for more hands-on instruction and community, go for the boutique studio.
---
Gym vs Spin Studio: Best for Beginners?
If you are new to indoor spinning, you may be wondering which type of facility would be best for you to learn.
Unlike more complex fitness classes like yoga or pilates, the learning curve is not as steep in indoor spinning.
(There are still a few things to learn however — check out this guide to your first spin class for expert tips.)
However, with that being said, if you want a more welcoming environment and feeling of community—a studio is the better choice.
You will see familiar faces in a spin studio each week and you'll get to know the instructors (plus pick your favorites), helping you stay accountable.
If you like to stay to yourself during group fitness classes, a big-box gym could be the right choice for you.
Most of the classes have a more independent style, and once the class is over, people typically rush out of the door.
So, take into account which style of class best fits your personality.
---
Variety of Classes
The diversity of classes at a spinning studio will be vastly greater than a big-box gym.
At studios, you can find HIIT-style classes, special playlists or themed classes, endurance classes, or even classes based on your heart-rate.
Spin studios know how to keep things interesting and have tons of class options that you can do to keep your motivation high.
Big box gyms are a lot more limited in what they can do with just one or two cycling classes per day.
Because there are only a handful of classes each week, you will probably be doing similar routines each class.
Typically labeled as a generic "indoor spin class" on the gym class schedule, you will go through indoor spinning basics.
However, this doesn't mean you won't get a great workout if you push yourself. Just don't expect the same level of diversity.
The beauty of spin classes is you get to decide how hard you push yourself, always giving yourself a great workout.
---
Wrapping Up
There are a few significant differences between a spin studio and a corporate big box gym.
One of the most evident is the cost difference. A spin studio will cost more than a big box gym, but there are tons of benefits of choosing a studio over a gym.
The variety of classes, instructors' quality, and the class schedule are incredible benefits to a boutique studio. However, a gym is also an excellent choice for those looking for an inexpensive option for indoor spinning classes.
Weigh your options and see which style is best for you.
If you're not sure, see if you can get a free introductory workout at your local studio like CycleBar or Soulcycle — or try a day/week pass at your local box gym and test-drive the classes there.
Whichever your choice, stick with it and you'll see some amazing spin class results.