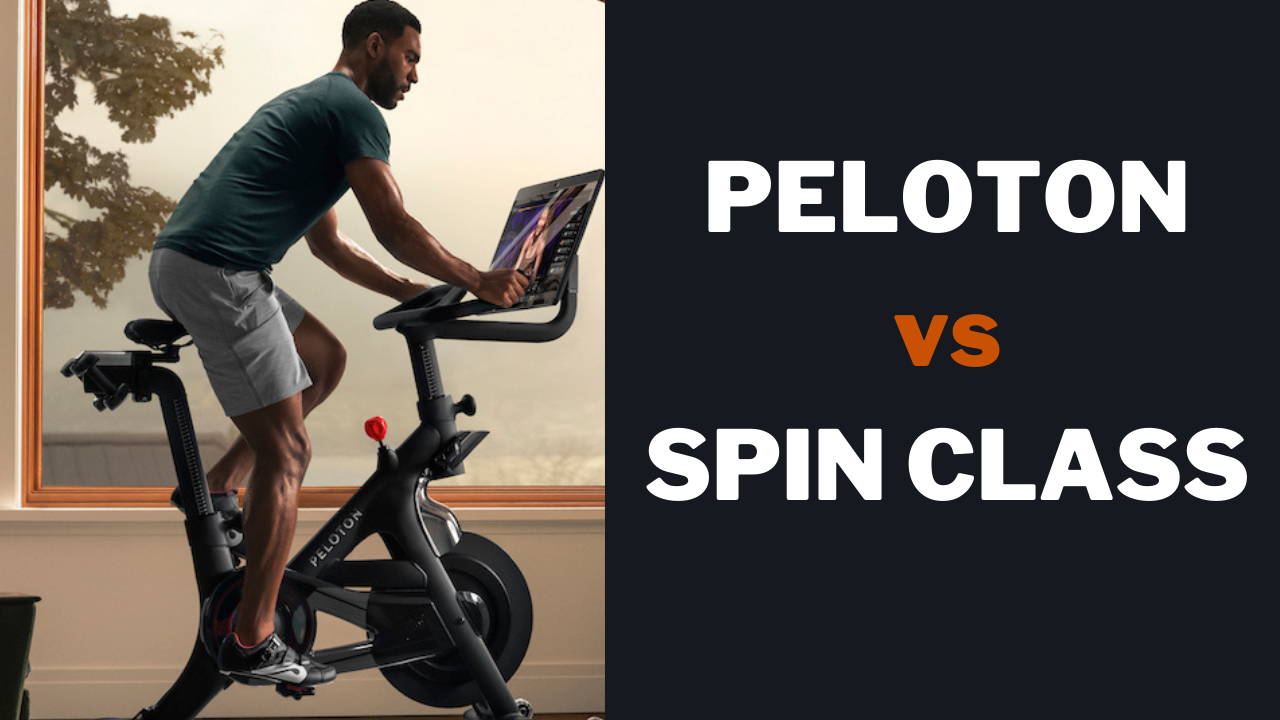 You've seen the commercial for Peloton — they're everywhere.
Peloton is the latest exercise craze, offering a high-quality home stationary bike along with trainer-led workouts you can view directly from the exercise bike's screen.
Is it just a fad, or is it a breakthrough in at-home workouts? Can a Peloton really replace your regular studio spin class?
While Peloton bikes are expensive, costing upwards of $2,000 initially, they become a great investment the more you use them over time — and the more you save on gyms and spin studio fees.
When it comes to convenience and overall value, Peloton obliterates the spin experience. Workout any time you want from the comfort of home. Try different instructors and class styles, stop and start workouts as needed, and eliminate all your old workout excuses!
However, there are some things a smart bike like Peloton just can't do.
While you can compete virtually on the Peloton leaderboards, you don't get quite the same rush as you might in the studio as you battle your fellow riders. You won't make new face to face friends riding a Peloton and you won't get individualized feedback from the instructors.
Let's take a deeper look at this Peloton vs spin class comparison to help you decide which is right for you, and it might be both!
---
Peloton advantages & benefits over spin class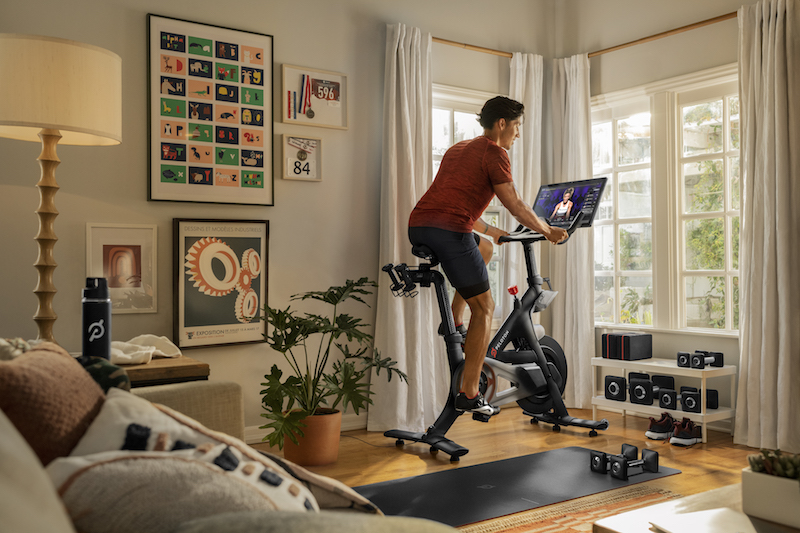 If you've seen commercials for Peloton bikes, then you've likely seen how fun and useful they can be.
(And as an actual Peloton owner myself, I can attest!)
There are some great advantages to be gained, and while the price tag is high, it may be worth it in the long run.
Take advantage of a shorter commute
With a spin class, you have to drive to a studio or gym. Plus, classes only occur at certain times of the day, and you have to arrive at the class on-time to utilize the lessons of the day.
With Peloton bikes, you can walk from your bed to the bike in less than 30 seconds.
Additionally, you can jump in (or stop) at any time. There's no reason to wait until a certain hour when a class begins because there's always something available.
No late fees or missed class fees.
This makes Peloton bikes great for individuals with busy schedules. You can exercise on your time, allowing you to get in more workouts throughout the week.
Control the vibe of your home gym workouts
With a spin class, the instructor controls the music and the look of the room.
When you cycle at home, you're in the driver's seat, so you pick classes based on your favorite tunes (or play your own) and do whatever else you please to feel comfortable.
Peloton enthusiast and host of The Clip Out Podcast, Crystal O'Keefe, emphasized this:
"You have complete control over the *feel* of the space.  Add a candle, add rope lights, party lights, make the room darker, make it bright and sunny – it's all up to you and how you feel"
When you feel comfortable in your own space, you're a lot more likely to stick with an exercise regimen. You can stay motivated and become the master of your domain.
Get everyone in the family exercising
A good way to stick with your exercise routine is to have everyone you live with all working toward a similar goal.
It can be tough to get everyone on the same schedule to go to a spin class, but you should all be able to hop on a Peloton bike at some point in the week.
Your spouse, roommates, or children can also work up a sweat by getting on the Peloton.
The best part is that the more people in your household use the bike, a better investment it becomes.
Everyone will need their own subscription to the Peloton app ($12.99/month), but everyone can share the equipment.
Get more than just cycling classes
Peloton is known for its spin classes, but once you sign up for the app, you get so much more.
The floor classes on Peloton are terrific and include:
Yoga
Meditation
Strength
Cardio
HIIT
Hybrids
And more
Of course, you can find classes like these free on YouTube or using another, cheaper workout app — but they're a great bonus to go along with your Peloton bike, and your membership gets you fresh classes and challenges to try every single day.
(For more, see what results you can get from your Peloton when combining spin and other workouts.)
Save money in the long run
A lot of people may be intimidated by the hefty price associated with a Peloton.
While it's true that you may have to spend over $2,000 initially, that price is actually lower than a spin class in the long run.
For starters, you can take advantage of 0% APR for 39 months and divide your payments into monthly installments. That way you're not spending thousands of dollars all at once.
Once you pay off the bike, you'll find that a Peloton is much more affordable than a spin class you go to every single month.
As we'll get into later, a Peloton bike becomes vastly more affordable after just two years of use.
If you want to save money in the long run, then a Peloton bike is actually the better way to go when compared to regular spin classes.
---
Spin class advantages & benefits over Peloton
There are plenty of perks with a Peloton, but you may still not be ready to give up your weekly spin class just yet.
Rest assured, there are ample benefits to cycling with a group, and they're worth considering if you're on the fence about whether to buy a Peloton.
Be more social
While a Peloton offers convenience, you're still exercising on your own at home.
One big reason why people sign up for spin classes (and other classes at gyms) is for the social aspect of it and the sense of community studios can provide.
You may have signed up with friends or have made friends over the course of a class. You may look forward to cycling with your buddies, and maybe you guys have a ritual where you work out and then meet up for coffee or a drink afterward.
While it may cost more to go to a class over the years, a lot of people think it's worth it to have an excuse to meet up with friends.
Peloton wins on convenience, but spin classes win on competition and camaraderie — both of which are massive factors in staying motivated to workout.
Hold yourself accountable
With a scheduled studio spin class, you have a time and place to be every week.
When you have exercise equipment at home, it's easy enough to look at it and say, "Eh, I'll work out tomorrow."
Personal trainer and cycling instructor, Meaghan St. Marc of Rev'd Indoor Cycling says:
"There is an innate accountability to booking a class, arriving at a studio and having the instructor see you working hard and interacting with you during class. This urgency to work hard and perform is difficult to replicate on a screen during a live streamed or archived ride."
After all, you're spending money to go to these classes, so you're less likely to shrug it off.
Gain a fully immersive exercise experience
Gyms place spin classes in separate rooms from the rest of the gym complete with speakers and lights, and dedicated spin studios are meticulously designed.
It feels as though you've been transported to another place entirely, so you can forget your troubles and get away from the world just for a little bit.
The lights are low, the music is blaring, and it can all feel like an exciting adventure.
With a Peloton bike, it's probably just going to be in the living room or bedroom. You likely aren't going to have the same expansive set-up (though you can certainly upgrade the space if you want).
Much like the difference between watching a movie in a theater and watching one at home, the former allows you to get away for a bit while you can still get distracted with the latter.
---
Peloton vs Spin Class Cost comparison
The basic Peloton Plus package begins at roughly $2,500.
You'll have to spend $12.99 monthly per person to access classes on the Peloton app as well as an extra $125 if you want new shoes to go along with your new bike, which is highly recommended.
Meanwhile, studio spin classes tend to cost between $150 and $300 a month depending on where you live and how often you ride.
At first glance, it appears as though Peloton would be more expensive, but in actuality, once you hit the two-year mark, the Peloton actually becomes more affordable.
Check it out on the chart below (costs are estimated and can change).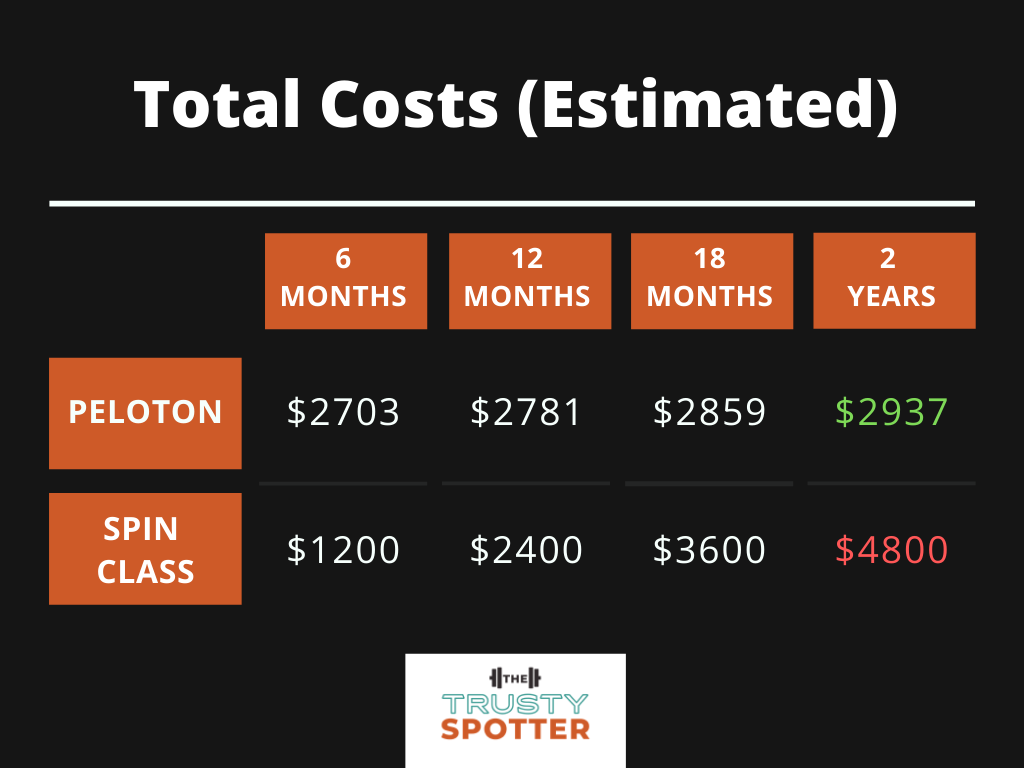 After two years, you will have only spent around $2,900 for the Peloton, the app, and all the accessories.
Since you don't actually own anything with the spin class, you end up spending $4,800 at the two-year point.
Remember, you can ride 10 times per day on the Peloton if you want!
Taking more than 2 or 3 spin classes per week at a studio can be astronomically expensive.
You may eventually have upkeep costs associated with your Peloton bike, but it will likely take a few years and even then (hopefully) you shouldn't expect any major failures in the equipment.
---
Wrapping Up
A Peloton is a great investment if you're looking for a long-term solution to your overall health.
It's also great if you have a weird work schedule and can't commit to regular classes. You can exercise on your own schedule, day or night.
However, if you enjoy the camaraderie of going to a class and meeting up with friends, then you can't really beat a spin class.
A lot of people who own Peloton bikes still go to the occasional studio spin class. If you drop in every now and then, it's not too expensive, and you'll still get that motivational boost from going in-person every now and then.
If you keep the Peloton for a few years and use it regularly, it will easily pay for itself, so it won't preclude you from still going to a gym or studio when you'd like.
For more, check out:
Hope this helps!