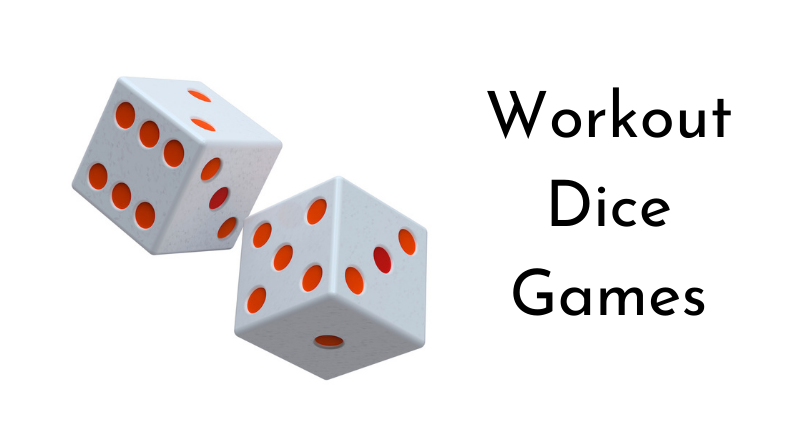 Looking to get in shape but don't like the idea of dragging yourself to the gym?
Much like you can make chores more enjoyable by turning them into games, exercising can be made fun, too. In fact, finding a way to have fun while exercising is one of the major secrets to staying motivated.
The best part is you don't even have to invest in any fancy equipment!
All you need is a pair of dice.
You can bring them anywhere you go. Plus, it's easy to mix up the rules so that you always have a new workout to try.
Some of the best fitness dice games are:
SPRI Exercise Dice
501 High Intensity Dice
Series-8 Yoga Dice
Chronicle Books Fitness Dice
Workouts with regular dice
Let's take a look at each of these exercise dice games, what makes them so great, and where you can buy them.
---
1. SPRI Exercise Dice
Either solo or in a group setting, these dice from SPRI are a great way to boost your exercise regimen.
Invite your friends over to your place for a quick session or fly solo for a unique workout at home. You can even bring these along to the gym if you're so inclined.
How it works
You receive two dice with your purchase.
One die gives you a workout option, such as jumping jacks and a myriad of other at-home workouts. The other tells you how long you perform each exercise, whether that's a certain number of reps or a period of time.
You may get lucky and only have to do crunches for 30 seconds, or you'll have to really test your limits and go for 90.
Just roll the dice and get to work! Use them for a quick jolt of activity during the day, or complete several rolls to create a full 15-20 minute workout circuit.
The dice are made out of foam, so they're soft to the touch. Plus, they come with their own travel bag, so even if you're on the go, you can effortlessly transport them.
Why it's awesome
Ideal for group fitness
Numerous exercise options
Lightweight & portable
Get your own set of SPRI Exercise Dice right here on Amazon.
---
2. 501 High Intensity Dice
If you really want to see quick results from your exercise routine, then you need to incorporate some high-intensity interval training into the mix.
HIIT allows you to burn a lot of calories in a short span of time while promoting some incredible health benefits like lowering your blood pressure and more.
These dice from 501 are the perfect way to get started with HIIT training at home if you've never liked the idea of following along with a workout vide or app.
How it works
You'll get a large, 12-sided die — each side has a different exercise and rep count (like 20 pushups).
Just roll the die and complete the movement, and for an optimal HIIT workout you'll want to rest about 10-30 seconds and roll again.
Go for as short or long as you're able!
In addition to a 12-sided die, you also receive the workout exercises guide book. It contains 192 pages with a vast selection of exercises to target every portion of your body.
Along with an exercise description, the book also provides clear images to show you precisely how it's done.
You can use this guide to create a complete workout plan for yourself when you're ready.
But if you're looking to jump right in and work up a sweat, then you can just roll the die to get started.
Before you know it, you'll be a master of HIIT. And you'll have done it without paying for expensive gym classes.
Why it's awesome
Comes with detailed guide book for additional instruction
Large die is easy to see and use
Simple, unique, and effective workouts
Check out these High Intensity Dice for sale on Amazon.
---
3. Series-8 Yoga Dice
Using workout dice doesn't always have to lead to an intense, sweaty HIIT session.
You can even use them to get started with other kinds of workouts like yoga!
This yoga die is perfect for beginners who want to learn and practice a few poses, but aren't quite ready for their first yoga class.
How it works
This one's pretty straightforward.
You receive a single 12-sided die with your purchase. Each side of the die contains a different yoga pose from downward-facing dog to cobra pose.
You may need to check out some YouTube tutorials to learn how to do each pose safely if you're new to yoga.
Other than that, you can move from one stance to the next with just a roll of the die guiding your every move.
It's fun, low-pressure, and makes learning the poses enjoyable for beginners.
Why it's awesome
Made of soft foam
12 beginner poses to choose from
A great gateway into more advanced yoga practice
Grab your very own yoga die on Amazon.
---
4. Chronicle Books Fitness Dice
Why only have one or two dice when you could have seven?
Instead of giving you just a dozen-or-so different exercise options, these dice can guide you through 45,000 different unique workouts — if you can believe it!
Plus they come in a nifty container so you can keep track — after all, you wouldn't want to lose one and miss out on thousands of workout options.
How it works
When you buy this item, you receive seven wooden dice along with an instructional booklet. It provides an easy-to-understand guide to walk you through all of the various workouts.
Six of the dice contain exercises with each one focusing on a different area of the body, namely:
Full body
Cardio
Core
Back and chest
Upper body
Lower body
The final die tells you how long you have to perform every exercise.
You may have to do it for 20 reps or a full minute.
Pick up an exercise die and the time/rep die and give them a good roll. Complete the challenge, take a short rest, and do it again. Use this to build your own workout circuit that's completely unique every single time.
With all these dice in your hands, there are 45,000 different workout combinations you could end up with.
It's a good way to take the intimidation of starting a new workout regimen.
Why it's awesome
Nearly unlimited workout options
Covers upper body, lower body, core, cardio, and more
Keeps workouts fresh
A set of Chronicle Books Fitness Dice can be yours on Amazon.
---
5. Workouts with Regular Dice
Chances are good you have a set of dice laying around your house right now.
Maybe they're from an old board game you haven't played in ages.
Whether you choose to break old that dusty old game of Monopoly or invest in some nice, new dice — you can create your own amazing workout game and exercise circuit using regular six-sided dice.
How it works
You're only limited by your imagination.
You take a die (or multiple dice depending on how many you have) and assign an exercise and rep counts to each number.
For example, you could make rolling a one equal to doing 20 jumping jacks. Rolling a two could correlate to 30 seconds of burpees.
(Here are some dice workout ideas.)
It may help to write all the options down so that you can remember what you're supposed to do!
And you can always change what the numbers mean so that you don't get bored with your routines.
Like any workout dice game, roll for a quick burst of activity or continue on for longer to get a killer workout in.
Why it's awesome
Cheap, or free if you already have dice!
Ability to personalize
Work out on your terms
---
Wrapping up
When you're exercising on your own, sometimes the hardest part is just figuring out where to start.
Do you just do a bunch of push-ups until you feel the burn? Go for a run outside?
A big appeal of signing up for a gym class is having some guidance, but if you don't want to spend that kind of money, then having some dice make your decisions for you is the next best thing.
Exercise dice are a fun and approachable way to get your body moving, plus they're pretty inexpensive and easy to find.
You may not roll dice for the rest of your fitness career, and to get in amazing shape you'll eventually want to graduate to a more structured workout program. But just getting started is the most important part.
And if you need even more inspiration, you can check out some fitness card games and fitness board games to help lead you in the right direction.
Hope this helps!