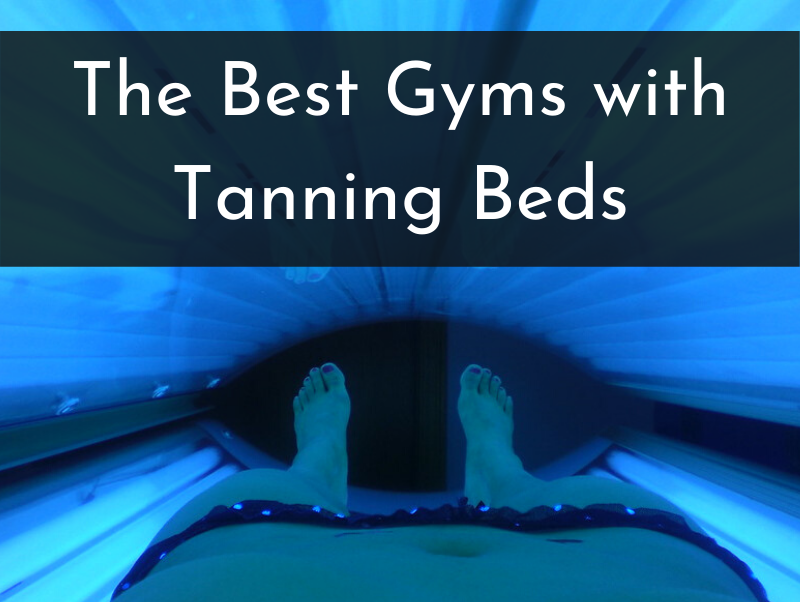 Swimsuit season is right around the corner.
You want to hit up the beach looking buff and tan, and at some gyms, you're able to do both.
Of course, tanning beds are a bit of a specialty amenity. Not every gym has this. In fact, a majority of gyms don't.
But there are a few popular, national box gyms where you can find them.
So what are the best gyms with tanning beds near me?
When it comes to gyms with tanning beds, Planet Fitness is probably your best bet. Many locations offer tanning services, and it's one of the most affordable gyms you'll find around.
If you don't happen to have a Planet Fitness near you, then Gold's Gym or Anytime Fitness can get the job done depending on the location.
Below I'll break down the major gym chains that tend to have tanning beds at a good number of their locations.
Remember, all gyms are different, and not every location operated by the same company will have the exact same thing.
---
Benefits of working out at a gym with tanning beds
First and foremost, it's worth saying that using a tanning bed can increase your risk of getting skin cancer.
That's why it's always important to tan the safe way and never spend too long in one of these beds.
Used cautiously and in moderation, tanning actually has some benefits.
Make your body produce vitamin D
A tanning bed is designed to simulate sunlight.
Not only does this leave you with an attractive glow, but it also helps your body create essential vitamin D.
You can also find this vitamin in certain foods, such as cheese, certain cereals, and some fish. But sunlight can help you get more of the vitamin in an efficient manner.
Your body needs vitamin D to help prevent cancer, reduce your blood pressure, and decrease your risk of depression. If you live in an area that's not typically prone to sunlight for large parts of the year, then a tanning bed can help you get that vitamin D your body craves.
Make it easier to lose weight
One benefit that doesn't get discussed enough is how indoor tanning can help you lose weight (which is the whole reason you're at the gym in the first place).
You won't necessarily burn a lot of calories while lying in the bed.
However, the UV rays can boost your metabolism. When your metabolism works more efficiently, you can burn more calories when you do work out next.
(If you sweat out some water weight while you're in there, all the better!)
---
Which big box gyms usually have tanning beds?
You may not want to use a tanning bed all of the time. However, when you want to make your skin glow and give yourself some vitamin D (particularly in the wintertime), then it may seem more attractive.
It's important to remember that not all gym locations have the same amenities.
You could have two of the same gym in your city with one having tanning beds and one without them. You'll need to check the locations nearest you to see what each one specifically offers.
In general, here's what you can expect out of some of the bigger names out there.
1. Planet Fitness
Planet Fitness is known, primarily, for its extremely low membership price.
However, if you're willing to spend a little more money, then you can take advantage of other services beyond just basic workout equipment, such as tanning beds at some locations.
You'll need to get the Planet Fitness Black Card membership to access certain services. While a general membership tends to cost $9.99 a month, the Black Card membership will set you back $19.99 monthly.
In addition to tanning beds, the Black Card membership will also give you access to massage chairs, Hydro-massage chairs, and Total Body enhancement beds. You'll also get a steep discount (50% off) on all cooler beverages.
Planet Fitness is typically thought of a pretty standard gym.
After you spend some time lifting weights or running on the treadmill, you can round out your workout by getting a tan and walking out feeling refreshed.
2. Gold's Gym
Is Gold's Gym worth it when it comes to tanning beds?
You bet! You can get that healthy post-workout glow in just a few minutes.
Gold's Gym also allows new members to sign up for a free pass, so you can see if the tanning beds suit your needs. Depending on the location, there may only be a few available that tend to be filled up.
Remember: a tanning bed won't do you much good if it's filled up all the time.
With a free trial, you can make sure you'll be able to do everything you want to do at your local Gold's Gym.
3. Anytime Fitness
Anytime Fitness tends to have plenty of lifestyle amenities. There is an array of classes to help you look and feel your best, such as Zumba, cardio, and yoga classes. There also tend to be tanning beds to give you that glow you've always wanted.
Some locations offer tanning beds and hydromassage beds. However, you won't find things like saunas or steam rooms.
Anytime Fitness locations tend to be fairly basic.
It wouldn't necessarily be a bad thing if the price was a bit better. Membership tends to cost between $30 and $44 a month. That's a lot more than other gyms with similar services.
Plus, it seems as though many locations only have two or three tanning beds available.
4. Snap Fitness
Snap Fitness will set you back quite a bit.
Membership tends to cost about $50 a month, and if you want to tan, you can expect to pay additional costs.
For an extra $15 a month, you get to enjoy unlimited tanning at Snap Fitness. These gyms also tend to be open 24/7, so you can work out and tan whenever it works for your schedule.
Snap Fitness is really focused on better all-around health.
There are nutrition consultants on-staff as well as personal trainers. Of course, you can always work out on your own on the wide collection of equipment available to members.
5. YMCA
Some, but not all, YMCA locations offer tanning and hydromassage beds.
After a riveting match on the basketball court or getting some laps in at the pool, you can lie down, relax, and get a tan.
You'll need to check with your local YMCA to learn more about prices.
At some spots, using the tanning bed is free to all annually-paying members. For all others, there are fees involved.
---
Gyms that DON'T have tanning beds
Tanning beds have a stigma attached to them, and some people actually view tanning beds are a turnoff when considering gyms.
Therefore, it makes sense there are a lot of gyms out there that don't typically have tanning beds as part of their amenities.
You generally won't find tanning beds at any of these gyms.
24 Hour Fitness
LA Fitness
Life Time
Equinox
---
Wrapping Up
Some people love using tanning beds. Others avoid them at all costs.
My advice is that you shouldn't pick a gym based on the tanning bed situation. You want to look at other amenities, such as what equipment is available and what classes are offered.
Tanning beds may give you a certain glow, but they don't do a whole lot in terms of overall health.
But if you do want a gym with a tanning bed, Planet Fitness is likely your best bet. It costs the least, and you get access to the tanning bed at an affordable price point.
Other gyms worth looking into include Gold's Gym and Anytime Fitness, but they'll set you back a bit more.
Hope this helps!
(Before you go, check out my list of the best gyms with racquetball courts or my overall guide to choosing the right gym.)