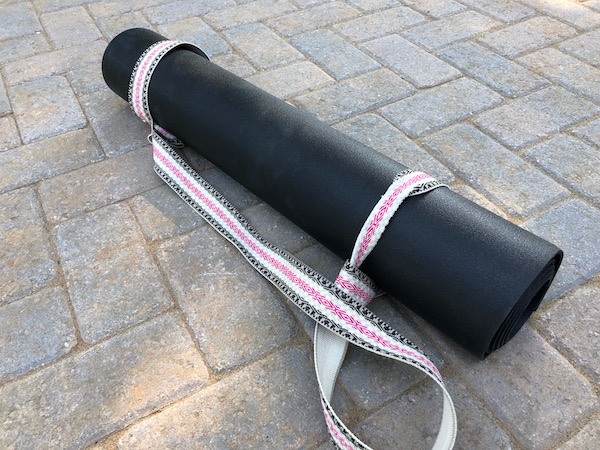 My wife and official Head of Yoga Mat Testing was recently in the market for a new mat.
She's been taking long, intense, hot vinyasa classes a few times per week and the old beater mat she had just wasn't cutting it anymore.
So we decided to try out a few of them and see how they held up.
After trying the B MAT Everyday from B Yoga for a handful of rigorous Baptiste-style yoga classes, here's our honest B Yoga mat review and opinion!
Overall, the mat holds up amazingly well in sweaty conditions. The mat is superbly sticky and you'll pretty much never slip on it unless you're literally practicing in puddles of your own sweat, and even then it does very well.
The B MAT might be a little bit too grippy for gentler classes and it can be tough to quickly and smoothly reposition yourself. But for hot yoga, it's a fantastic pick.
You can see what other yogis have said about the B MAT over on Amazon.
Now let's dive into the review.
---
What is the B MAT Everyday?
B Yoga, founded by Andrea Morris, is a Canadian company that offers a handful of mats, apparel, and yoga accessories.
In their catalog, you'll find mats like the:
Traveller – A lightweight option for on-the-go yogis
Mini – A high-quality mat for kids
And the Everyday – A mat designed for everyday use in any different kind of practice
We decided to give the Everyday a whirl because it constantly shows up on lists of the best yoga mats (especially for hot yoga), and it seems to have a lot of buzz in the yoga community.
My wife reports that a ton of people in her class own and love these mats.
(Related: What are the pros and cons of yoga for getting in shape?)
From everything we heard, these were great all-around mats.
Affordable but high-quality
Durable but lightweight and easy to carry around
So we decided to test one out ourselves to see how it performed under tough conditions!
We got a black Everyday mat and took it to a week's worth of hot yoga classes.
(We received our mat for free in exchange for an honest review. Everything in this article is our 100% authentic opinion based on actually using the mat.)
---
How big is the B MAT Everyday? (Dimensions & Weight)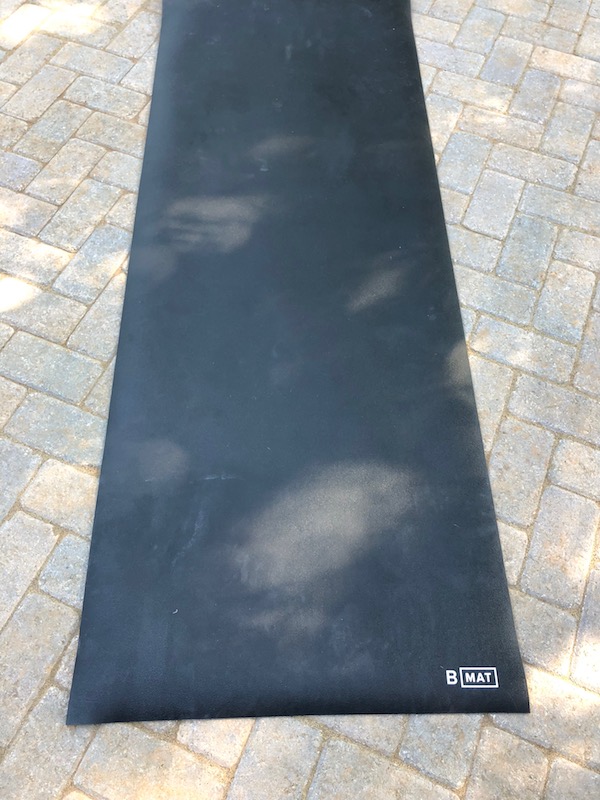 The Everyday mat, as you might expect, is a great middle-ground when it comes to size.
It's a little bit longer and wider than your typical budget mat, and should be able to accomodate most people, but it's not overly long or bulky.
The Everyday mat is 71″ long by 26″ wide. It's also available in a long version at 85″ for very tall yogis!
For reference, if you were 6 feet tall and you laid down on the mat, it would be almost exactly as long as you are from head to foot. People shorter than 6 feet will have a few inches of breathing room.
The mat is 4mm thick, or .15 inches.
That puts it a fraction thinner than your usual mat, and just a hair thinner than the Liforme yoga mat (which is another option we loved).
And finally, the B MAT Everyday from B Yoga weighs in at a respectable 4.1 pounds.
For its size and quality, that's actually pretty light, and it feels super easy to grab this thing and sling it over your shoulder.
---
Does the B MAT come with a warranty?
As far as I can tell, there's no official warranty of guarantee behind the Everyday mat from B Yoga.
On their website, they mention you can return it within 30 days as long as it's still in its original packaging.
If you buy the mat from Amazon, you'll likely be able to return it easily if it ends up not being a good fit for you and your practice.
Check out the B MAT on Amazon right here.
---
How do you clean the B MAT Everyday?
B Yoga recommends wiping your mat down on a regular basis (that usually means once every couple of classes, not every single day) with either plain water or a very mild soap solution.
You can also make your own yoga mat cleaning solution with heavily diluted vinegar and lemon juice to give it a good, gentle clean.
Never use any harsh soaps or chemicals on the mat. If you want to get it super, duper clean, you can soak it in a bathtub with just a little bit of mild soap, or spray it down with a hose.
However you choose to clean it, lay it out to dry (just not in the sun!) before rolling it back up and using it.
---
What happened when we tried the B MAT:
OK, so after using this bad boy pretty heavily in a handful of 90+ degree hot yoga classes, here were our main takeaways:
Grip
This mat is super, super sticky right out of the box.
The grip is really top-notch, and (at least in our experience) you'll have no trouble planting on this mat and doing any pose you want, even in sweaty conditions.
Some reviewers on Amazon describe the mat as a "Slip 'n Slide," but that wasn't our experience at all.
In fact, the grip might be a little too sticky for some people, especially if you plan on using it in gentler practices.
It's really hard to slide your hands or feet across the mat due to the grip, and you'll need to pick them up and move them in order to reposition, which can interrupt your flow a little bit.
But this is a far better problem to have than not being able to get any grip during a class!
Comfort
The mat is definitely comfortable.
It's thick and cushiony enough that you don't feel like you're lying directly on the floor, but not so thick that you feel like you're laying in bed.
The open-cell design gives the mat a lot of texture on its surface and helps distribute sweat and puddles, but it's not abrasive at all.
The only issue from a comfort perspective might be the grip. When lying on your back in a quiet pose, you might literally feel stuck in place.
Style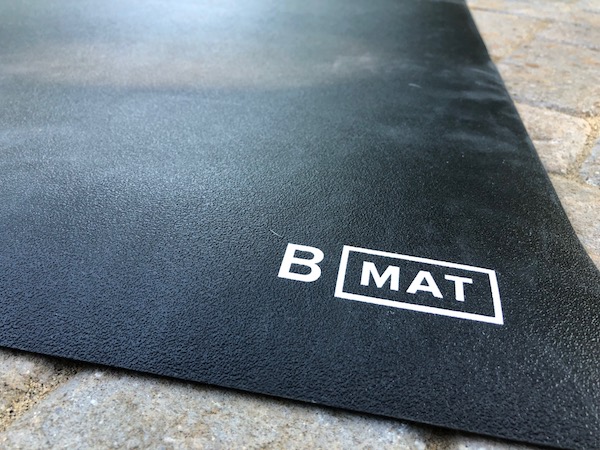 Not a whole lot to report here!
The B MAT features a really simple and minimalist design, just a small B Yoga logo in the corner and a little bit of texture on the mat, but that's really it.
The black (like we got) is honestly a little plain, but it's great at hiding stains, sweat, and dirt.
The lighter colors like Saffron and Earth Rose are beautiful but might show more wear and tear.
(I should mention, the mat does not come with a strap or bag. The strap you see in the photo at the very top of this post was purchased separately.)
Smell
OK, let's talk about this, the one significant drawback of this mat.
Fresh out of the packaging, it freaking REEKS.
The smell was truly, staggeringly bad. Not just a fresh rubber smell, but something much more sinister.
However, we're happy to report that after airing it out for a day or so, it stopped smelling altogether and it was never an issue during practice.
---
B Yoga Mat Pros
Overall, we liked a number of things about this mat!
Insane grip
For hot yoga, you'll be hardpressed to find a grippier mat than this one.
It's incredibly sticky and after a few uses is showing no signs of slowing down.
Great value
The B MAT isn't the cheapest mat on the market, but it's quite a bit more affordable than some of its super high-end competitors.
If you're looking for a great hot yoga mat without completely breaking the bank, this might be the one.
Lightweight and portable
At only 4.1 pound, this mat is super easy to carry around.
It's a full-sized mat, but because of its weight it'd be great for travelling as opposed to some other, heavier mats.
It's got great size for practicing without any of the bulk.
---
B Yoga Mat Cons
Though we love this mat overall, there are a few things about it that might not be for everyone:
Might be too grippy
This seems like a weird gripe, but if you're into gentle classes like yin, for example, this mat might be too intense and you could have trouble repositioning smoothly.
It's really best for power and hot yoga classes.
Design is a little plain
This is only a minor drawback. After all, you need your mat to perform, not look super pretty.
But as far as the design goes, there's really not much going on here. The mats come in plain colors and that's basically it, though you do have 9 to choose from!
Smells HORRIBLE… at first
The smell will bowl you over when you first open this mat up. In fact, it stunk up the whole first floor of our house.
(Not kidding.)
But once you air it out, you won't have any problems taking it to class. Phew!
---
Wrapping Up
So there you have it.
Overall, this is a fantastic mat for hot, sweaty yoga classes and an excellent value overall.
The grip might be a little intense for some of you, and we wish there were some more design option, but in the end we're really impressed and will definitely be keeping this mat in the weekly rotation.
All that's left to do now is check out the B MAT Everyday on Amazon right here and stop slipping around in your hot yoga classes!
Any questions about the mat? Hit me up in the comments!
Hope this helps, everyone.