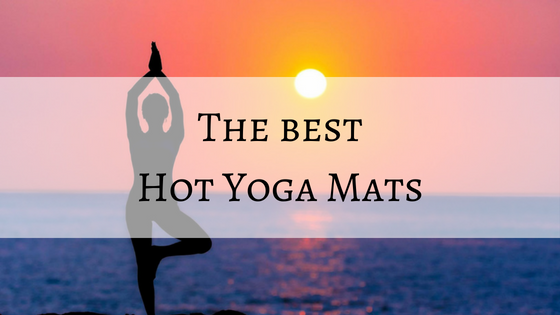 Yoga can be a sweaty endeavor.
Holding difficult poses is a great challenge for our body, and gets us pretty heated up.
And that's in a temperature controlled room!
Hot yoga, or yoga performed in rooms with the temperature purposefully cranked way high, is basically one big sweatfest.
While it's a great workout and provides a ton of health benefits, a lot of standard yoga mats just can't hold up to all the moisture. Tons of hot yogis complain of excess slipping or having to line their yoga mat with towels to get a grip and pose comfortably.
If you're looking for the best yoga mat for hot yoga, luckily there are some pretty great options out there that do a good job of limiting slippage and excess moisture.
Let's take a look at my top picks and dive in a little deeper (ordered by price, lowest to highest):
Healthyoga Eco Friendly Non-Slip Mat
Yoga Design Lab Combo Yoga Mat – Best on a Budget
B MAT Everyday
Manduka PRO Yoga & Pilates Mat
Liforme LOVE Yoga Mat – Best Overall
(Amazon links in the table below)
---
Why do hot yoga at all?
OK, so usually getting super, duper, uncomfortably sweaty is considered a bad thing.
So why choose a workout that's completely based around getting drenched in sweat?
Hot yoga has some great health benefits, that's why.
With the heat in the studio cranked up to 90 degrees or more, a couple of things happen:
(Quick note… Bikram yoga, which you may also have heard of, usually happens in a studio heated to a whopping 105 degrees. Hot yoga is usually practiced at somewhere between 90 and 100 degrees.)
For starters, your muscles warm up much faster than traditional workouts, making you more limber and able to tackle more challenging poses.

You'll also need far less time to warm up your muscles than you would if you were "cold."

The intense sweating is great for feeling slim and losing excess water weight.

All the sweating can also promote the flushing of toxins out of your body and improve your overall immune system and basic bodily functions.

There are mental benefits too: Feeling completely sweat-drenched and drained at the end of a hot yoga workout gives you a deep sense of satisfaction and accomplishment

Hot yoga melts away stress
So, yeah, hot yoga has it going on.
But pushing your body to its limit (or sometimes past it) in a very hot room definitely has its drawbacks. If you plan to do hot yoga, definitely make sure you stay hydrated and listen to signs from your body that it might be time for a break or to cool down.
Heat exhaustion can be pretty common in really intense hot yoga sessions.
---
What to look for in a mat for hot yoga
Outside of potential dehydration and heat issues, one major problem people run into when practicing hot yoga?
Their normal yoga mats just don't work.
The actual yoga flow practiced during hot yoga is usually vinyasa or a variation… mostly standard poses, with students focusing on their breath as they flow from one to the next.
But the extreme temperatures in the room make it a totally different experience.
For starters, as mentioned above, you're likely to sweat quite a bit during hot yoga.
You'll also want to consider your overall comfort, since the conditions are likely to be very… uncomfortable.
Here are a few key things to look for while you shop for a yoga mat for hot yoga:
Sweat resistant/absorbent:
Whether you need a mat that resists sweat or soaks it up like a sponge is really up to you, and how much you tend to perspire in the heat.
Some people don't really sweat all that much, and in that case you might want a mat that's totally moisture resistant. Meaning, the sweat you do create will likely stay on the surface of the mat. It might make things a tiny bit slicker than ideal, but the mat will be super duper easy to clean and wipe down after (and last longer).
If you sweat a lot, or even an average amount, moisture resistant mats will simply be too slick. You're going to want to look for a mat that will wick that moisture away and give you an awesome grip.
Easy to clean:
No matter what brand of yoga mat you choose, hot yoga is going to make it at least a little… yucky. You're going to want a mat that's easy to clean.
Machine washable is a huge plus, but something that can at least handle being wiped down with a little soap and water and hung to dry is a must.
Grippy-ness:
Your hot yoga mat should have superb grip and traction so you can hit your poses with ease.
Most good mats designed for hot yoga and Bikram actually get stickier and grabbier as they absorb more moisture, which is obviously a plus.
If you're going to go with a moisture resistant type of mat (you'll see one below), it'll have to have top-flight grip to it so things don't get too slippery as the mat collects sweat on its surface.
With those things in mind, let's take a look at my 5 favorite yoga mats for sweaty yoga sessions!
---
Healthyoga Eco Friendly Non Slip Yoga Mat
Overview: Healthyoga, as you might guess by the name, prides itself on being eco-friendly and environmentally conscious. Its mats use a non-PVC material called TPE, which is non-toxic, odorless, and almost completely non-slip. This is an affordable yoga mat you can feel great about buying due to the company's mission, and it should be an absolute perfect fit for your hot yoga class.
Dimensions: 26 x 72 inches
Material: Eco-friendly TPE
Why I Like It: The eco-friendly nature of the mat and it's excellent grip make this a great pick. It's also super thin at only 1/4″ thick, which might fit your preference (especially during hot yoga when a thick mat might just be too uncomfortable.)
Its 72″ length makes it a great fit people of almost any body type, and it comes in a ton of different bold colors.
Reviewers note that this mat is mega-grippy, and it's one of the only mats around using this material so it's definitely possible Healthyoga is onto something special here.
Potential Drawbacks: Healthyoga suggests you use this mat with a towel for hot yoga, though many user reviews noted its stickiness was impressive on its own. It's also a little thin, which might not be to everyone's liking.
While the mat is known to be odorless, there might be a slight smell when it's first unwrapped, but that should go away with use and exposure.

Check price and read more reviews of the Healthyoga mat on Amazon
---
Yoga Design Lab Combo Yoga Mat
Overview: Bet you've never seen a yoga mat quite like this. Part carpet, part towel, part yoga mat, the Combo Mat from Yoga Design Lab is specifically built for sweat-drenched hot yoga or Bikram sessions. It's actually designed to get grippier the sweatier the mat gets, which is perfect for super hot, intense workouts!
Dimensions: 24 x 70 inches
Material: Tree-rubber and microfiber
Why I Like It: It's really hard to beat a mat that's specifically designed for hot yoga, Bikram, and other sweat soaked poses.
The key here is the construction and material… it's designed like a carpet or towel, meaning the wetter is gets, the more weighed down it gets, and the more friction and traction it generates. That means less slippage as your yoga workout goes along, not less.
On top of that, the mat still works great for other kinds of yoga. So you'll get plenty of use out of this. And when it gets a little too gunky, just throw it in the washing machine (HUGE PLUS!)
And the price tag is very friendly for the offering, clocking in as one of the most budget-friendly mats on our list.
Potential Drawbacks: It's a great all around mat, but comes in a little on the thin side.
If you're hoping to use it for many different kinds of yoga, there may be better options available (unless you like thin mats to begin with). Some reviewers noted the mat was slippery upon first use but broke in nicely over time and got grippier with more exposure.

Check price and read more reviews of the Yoga Design Lab mat on Amazon
---
B MAT Everyday
Overview: Here's another yoga mat you can feel great about buying: The B MAT Everyday is made in part with natural eco-friendly rubber.
It uses open-cell design to absorb and distribute sweat puddles and prevent slippage, and it really works! This is one of the grippiest mats around, and I should know… because we actually tried it!
Read my full B Yoga mat review here.
Dimensions: 26″ x 71 / 85″
Material: Natural & synthetic rubber
Why I Like It: This mat is outrageously sticky. The grip can, at times, make you feel like you're glued to the mat!
We put it to the test in a handful of really intense, sweaty hot yoga sessions and it held up amazingly well.
I also love that this mat is pretty lightweight at only 4.1 pounds, making it really easy to lug around (even when you're wiped from a tough practice).
It's really easy to clean this bad boy. Just wipe it down after every couple of practices with a mild soap solution (or some vinegar and lemon heavily diluted) and you're good to go.
Potential Drawbacks: The smell straight out of the wrapper on this one is horrendous. Luckily, it airs out quickly and it never smelled bad when we were using it in real classes.
The design is a little bit plain. Just your choice of 9 colors, a small logo, and a little bit of texture on the mat. But it's nothing to get overly excited about.
Finally, you might find this mat too grippy for more gentle practices. But for sweaty sessions, it's one of our favorites.

Check price and read more reviews of the B MAT Everyday mat on Amazon
---
Manduka PRO Yoga & Pilates Mat
Overview: Manduka is a big name in yoga, and the PRO mat is one of the best all-around yoga mats on the planet. Get it in basically any color under the sun, and you can even get it in an absurd 85″ length for really tall yogis.
The quality of the mat is through the roof, and it's made from a non-toxic, emissions free manufacturing process. This mat is actually moisture resistant, with closed cell technology that allows sweat and moisture to pool on the surface.
That makes this thing SUPER durable and easy to wipe down, but it's very important to note that this mat will be best for very light sweaters during hot yoga. If you sweat a decent amount in the heat, you'll want to pair this with a good yoga towel (scroll down for my recommendation) or choose a different mat from this list.
Dimensions: 26″ x 71 / 85″
Material: Natural rubber
Why I Like It: So what makes this mat so great? Well for starters, it's really roomy, clocking in at 26″ wide and going all the way to 85″ in length. That means pretty much anyone can use this mat and have plenty of room to stretch and pose.
It's also thin, but somehow manages to offer tremendous support and cushioning despite its slender stature. So it's easy to carry around but still gives you amazing performance.
Probably one of the key selling points of this mat is how sweat and moisture bead on the surface and can't soak in. That makes the mat incredibly durable and resistant to breaking down over time, so it should last you quite a while. Cleaning it is a breeze, just wipe it down after each session (and never submerge it).
Again, this mat is absolutely perfect for all-around yogis, and for hot yoga it's best for people who don't sweat a whole lot and just want a great mat they can bring along to any class they feel like taking.
Potential Drawbacks: Sweat-resistant design could be a major drawback if you sweat a lot during hot yoga. You'll be slipping and sliding all over the place.
If that's you, this is still a fantastic mat, but you may want to pair it with a good towel. If you want a mat that's specialized for hot yoga and Bikram, there are some better options on this list. But as far as an all-around mat goes, it's hard to beat the Manduka PRO.

Check price and read more reviews of the Manduka PRO mat on Amazon
---
Liforme LOVE Yoga Mat (My top overall, truly one-of-a-kind pick)
Overview: If you've got the budget for a LIforme mat (they don't come cheap) they're one of the best purchases you can make for your hot yoga practice.
Liforme uses some really special, patented materials and design processes for a grip quite unlike anything you've experienced.
And you can tell, too — one quick look at the LOVE yoga mat and you know you're looking at a different breed of mat. Like many of the other companies on this list, Liforme prides itself on eco-friendly materials and manufacturing, along with producing some killer high-quality mats. If you can spare the extra change, this might be your best bet.
(I recently gave the Liforme original mat a hands-on test drive and absolutely loved it, check out my full Liforme review here.)
Dimensions: 26.8″ x 72.8″
Why I Like It: This is a bold claim, but Liforme writes about the LOVE mat: "We believe our revolutionary 'GripForMe' material is the grippiest Yoga mat material currently available on Earth. And it stays grippy even when 'sweaty wet.'"
Wow!
Reviewers seem to agree, many of them writing that the grip is amazing and that this is one of the best mats on the market for towel-free hot yoga.
It's also a gorgeous and eye-catching design, totally unique from many other mats you'll see in studios and online. It's one of a kind in every way, and backs up its boldness with amazing quality.
This mat also comes with a really high quality bag for easy carrying, which people seem to love. And the mat is a little bit wider and longer than your standard mats, so you should have plenty of room for your practice — and the LOVE yoga mat should be pretty good for taller folks, too.
Potential Drawbacks: The biggest downside to the LOVE yoga mat is the price. It's going to cost roughly twice what most other mid to high-end mats cost, and that can be a tough pill to swallow.
But the construction and quality are amazing, and reviewers agree that this is truly one of the best mats around for hot yoga and Bikram.

Check price and read more reviews of the Liforme LOVE mat on Amazon
---
For seriously heavy sweaters, get a nice yoga towel!
The mats listed above are some of the best around for preventing slippage during sweaty hot yoga sessions and Bikram (which is even sweatier at a sweltering 105 degrees!)
But the fact of the matter is, if you really sweat a lot when you get hot, you might find all of these mats just a tad slippery.
That's just simple physics, sadly. Most surfaces get a tiny bit slick when they're soaking wet. The mats above are designed as well as possible to avoid this and should be good for most yogis, but if you're still having trouble, you might want a consider buying a really good quality yoga towel to go along with your new mat.
One of the top recommended, and affordably priced, towels out there right now is the hot yoga towel from YogaRat (check it out on Amazon).
One of the top recommended, and affordably priced, towels out there right now is the hot yoga towel from YogaRat (check it out on Amazon).
These towels lay over your mat and soak up tons of moisture the way only a towel can, giving you some fantastic grip.
Hopefully, one of the mats above will be all you need, but if you have to, just pair a great non-slip mat with a high-quality yoga towel, you'll get an incredibly combination for superb grip.
---
Wrapping Up
Sweating during hot yoga is definitely a tricky problem to solve, especially because it depends on how much you, individually, sweat during a session!
But there are a lot of great mats that are designed specifically to address this problem.
To wrap up my research and recommendations, here's what I would do if I were you:
If you're on a budget or want to try a lower cost option first, go with the Combo Mat from Yoga Design Lab (Amazon link)
The awesome thing about that mat is that it's a specific blend of materials that's 100% built for hot yoga, and is designed to get grippier the wetter it gets. It's a good all around mat, though not the best, but as a lower cost solution to slipping during hot yoga, it's hard to beat.
If you have a slightly bigger budget and want a mat you can take to every single class, hot yoga or not, go ahead and splurge on the Liforme LOVE yoga mat. It's simply one of the best around, gorgeous to look at, unparalleled grip, and some of the best construction around. You can't go wrong.
Check out the Liforme LOVE mat (current price & real customer reviews) on Amazon.
I hope this guide has helped! Good luck, yogis.